New Gold: Time to Sell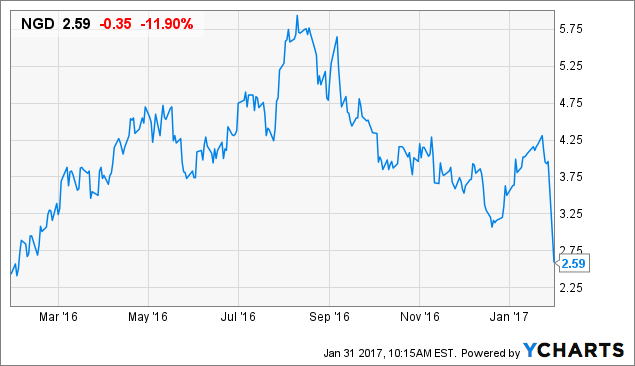 NGD data by YCharts
Well, the price of gold is rising Tuesday while shares of New Gold (NYSEMKT:NGD) plummet. That must be infuriating for shareholders. It's due to New Gold's latest news release. While the company says its achieved production guidance and had record cash costs in 2016, a negative update on its Rainy River project is really the main story here.
First, here's a quick note on my past coverage of New Gold. In my last article back in September of 2016, I reversed my bullish call because of a previous negative development at Rainy River - at the time, an additional $105 million in development costs were added to an already expensive project. Shares traded at $4.59 at that time.
So while I've been bullish on New Gold in the past, I've been bearish for the past 6-7 months or so.
The Price Tag for Rainy River... Up, Up, Up!
Well, despite the recent drop in the share price back under $3, I'm even more bearish on New Gold here. Don't be fooled - the drop is not a buying opportunity. The company just announced a three-month delay at Rainy River, as well as an increase in capital requirements yet again. Commercial production is now targeted for November 1, 2017.
The estimated capital requirements through November are now estimated at $515 million, which brings the total capex at $1.24 billion, and this is about $350 million higher than what was originally expected based on the feasibility study. The delay and cost overruns are blamed on "slower than planned ramp-up of mining rates impacting delivery of construction materials."
The amount New Gold has already spent on this project is just ridiculous. First, New Gold agreed to purchase Rainy River Resources in a $310 million deal. The original feasibility study said it would cost $885 million in capital to get to production. Even at that price tag, I would still argue that the project was not very economical, with an pre-tax net present value (5% discount) of $438 million and a rate of return of 13.1% at $1,300 gold. I wasn't a huge fan of the project even back then.
But now, forget about it. With over $1.2 billion in upfront capital and the purchase price of $310 million, New Gold has spent more than $1.5 billion on this project. Even with gold trading at $1,600 per ounce, $400 per ounce higher than current spot prices, this project carries a pre-tax net present value (5% discount) of $1 billion, far less than what it has cost the company.
If you look at the feasibility study assumptions, it says that every $50 million change in development capital costs results in a $46 million change in pre-tax NPV and a 1.3% change in IRR. So, since $350 million was added to the development costs, $322 million has been wiped out from the project's value. At $1,300 gold prices ($100 higher than current spot prices), the value of this project is a little over $100 million. At current gold prices, the project is essentially worthless.
New Gold essentially needs much higher gold prices to even gets its money back from Rainy River. But it will need to raise more money to even get the mine to production. This is also bad news for Royal Gold (NASDAQ:RGLD), which bought a gold and silver stream on Rainy River for $175 million back in 2015. As I pointed out in that article, I felt it was a risky move by the company, and it turns out I was right.
A fellow author thinks the company could sell its 4% gold stream on the Cerro Morro mine to Sandstorm Gold (NYSEMKT:SAND) or another royalty and streaming company, and I agree with this idea. Still, I think investors need to stay far, far away from New Gold stock regardless. The company has destroyed shareholder value and I see no signs of a turnaround in the near-term.
(For other gold investing ideas, here are my top gold stocks for 2017)
Disclosure: I am/we are long SAND.
I wrote this article myself, and it expresses my own opinions. I am not receiving compensation for it (other than from Seeking Alpha). I have no business relationship with any company whose stock is mentioned in this article.