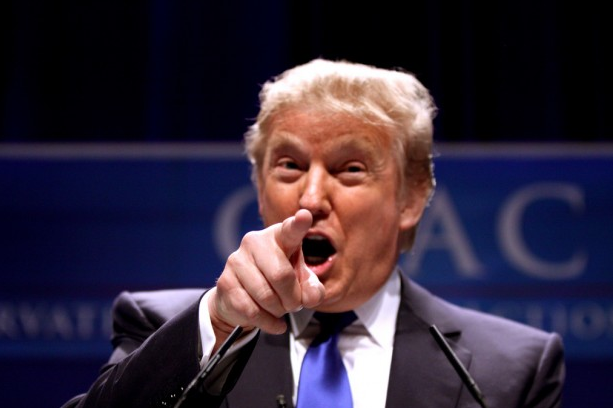 That's drug prices he's pointing at
President (and candidate) Trump has been known to complain about drug prices. Indeed, just today in a meeting with pharma executives, Trump again reinforced that drug prices are "astronomical" and vowed to bring them down. This article will show how this is at least partially easy to do, and since it's easy to do it's likely to be done.
The first idea which will come to mind, and which Trump has already expressed in the past, is that he was going to unleash the ability of Government programs like Medicare and Medicaid to negotiate lower prices. As it is today, these programs are forbidden to do so.
That seems easy enough. But as it were, it's also misleading. While the programs cannot directly negotiate drug prices, using the government's considerable purchasing power and thus bargaining power, they already have rules set in place to lower drug prices as purchased by the programs. Broadly speaking, these rules go like this:
Medicaid. Medicaid applies a formula to the average prices the drug companies actually sell their drugs at, and simply pays the resulting price. On top of this, Medicaid rules mechanically lead to rebates when drug prices rise faster than inflation - thus negating one of the most powerful sources of higher drug prices. Medicaid obtains the resulting discounts as rebates.
Medicare. Medicare relies on sponsors to negotiate lower prices and gets the resulting discounts as rebates. Notice that there's drug price negotiation going on already, it's just not by the government directly.
Finally, when it comes to Medicaid, States often negotiate further rebates on their own.
As you can see, the methods leading to government-obtained discounts are different. The results are also very different, and this has been known for many years. In April 2015, the Office of the Inspector General released a report in which it compared net prices paid by both programs, using the same 200 brand-name drugs. The conclusion was that for the same drugs, the gross prices paid were similar, but Medicaid obtained ~46.8% of the gross expenditures back as rebates, whereas Medicare obtained only ~15.5%.
Said another way, in net terms Medicare pays out a much higher price for the same drugs than does Medicaid. What's more, Medicare is much larger than Medicaid. In 2015, Medicare (parts B and D) spent ~$162 billion on prescription drugs. Medicaid spent $57.3 billion. These are gross values, but if Medicare was to get, say, 20-30% of its gross expenditures back as additional rebates, this would represent savings of $32.4-$48.6 billion/year.
Of course, savings of $32.4-$48.6 billion/year for Medicare would be a before-tax hit on pharma profits of $32.4-$48.6 billion/year, directly. Lower prices translate directly into lower profits.
What would it take to produce these savings? It would just take applying the Medicaid rebate rules to Medicare. This is a very simple and obvious measure, which would appeal to Trump the second it was proposed to him.
However, such a rule would require changing the Social Security Act, and would have to go through the (admittedly, Republican-controlled) Senate and Congress. The level of lobbying for the amounts involved would be insane and even if Trump wanted to see this through, actually seeing it through would be far from certain.
Anyway, this would be an obvious measure, and so it would just take someone whispering it on Trump's ear for this to get moving. This thing moving would, of course, hit the entire pharma sector hard.
Conclusion
At some point we're going to hear about this simple measure. Its consequences for the pharma sector are pretty negative, and the measure is too appealing for Trump to ignore it.
The measure will be simply to apply the Medicaid drug rebate rules to Medicare. I predict a battle over this is coming.
Disclosure: I/we have no positions in any stocks mentioned, and no plans to initiate any positions within the next 72 hours.
I wrote this article myself, and it expresses my own opinions. I am not receiving compensation for it (other than from Seeking Alpha). I have no business relationship with any company whose stock is mentioned in this article.