This should be a very quick article. Though surprisingly it took me quite a long time to discover just how simple things can be. Most of us want some great returns but do not want to take on the greatest risk to get those returns. What if we could have our total return cake and eat it too?
In the search for the 'best' dividend growth portfolio I "discovered" this simple approach that I kept uncovering what is hard to beat for risk adjusted returns. I will get to the ultimate dividend growth portfolio in a future article. OK, OK. On to the Perfect Portfolio.
The growth engine is the simple equal weighted version of the S&P 500 available in ETF form by way of Guggenheim S&P 500 Equal Weight ETF (NYSEARCA:RSP). As you may know, the equal weighted version of the S&P 500 has a habit of outperforming the more popular cap weighted version of the S&P 500 available in ETF form by way of Vanguard 500 Index Fund (NYSEARCA:VOO) and SPDR S&P 500 (NYSEARCA:SPY). Seeking Alpha author Ploutos has done many wonderful articles on simple market beating strategies, including the equal weighting phenomenon. In this article, Ploutos shows ...
I demonstrated that equal-weighting U.S. stocks has outperformed capitalization-weighting by 2.81% per annum for a period stretching over ninety years.
The number of professional money managers who have beat that venerable US equity benchmark by well over 2% annualized would be a small list, and likely mathematically zero.
I don't think there are any documented cases of a retail investor beating the S&P 500 by 2% annual. If you can find any, please post them in the comment section. The equal weight S&P 500 is the true benchmark for a US large cap investors, as one does not have to cap weight their holdings, they can use their talent to direct monies to their best ideas. Any investor with true talent will beat RSP, meaning they will have to beat the VOOs and SPYs of the world by 3% or 4% annual to demonstrate any ability.
Net, net, that's a very good growth engine that most of us think of as an investment that carries greater risk than the cap weighted S&P 500. But here's SPY vs RSP over the last 10 years. The period is January of 2007 through to end of December 2016, courtesy of portfoliovisualizer.com. The results are total returns and do include dividend reinvestment. Portfolio 1 is RSP, Portfolio 2 is SPY.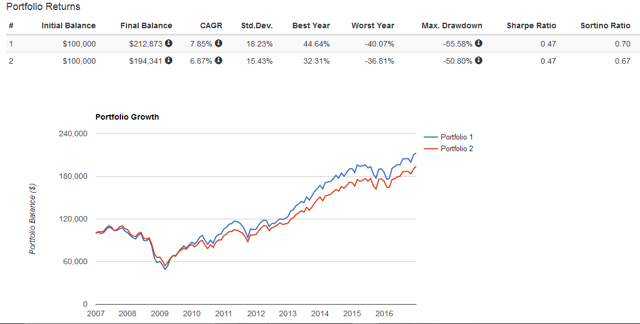 Yes there is greater standard deviation and there was a greater maximum drawdown in the recession, but hey, if you can handle a 50% portfolio correction, you can likely handle another 5%? Either way, that would be an investor with a very high risk tolerance level.
The ballast or balance for the Perfect Portfolio will be offered by way of longer term Treasuries. As I have written and repeated extensively long term Treasuries (NYSEARCA:TLT) have historically offered a wonderful low correlation and at times (when most needed) negative correlation to equity markets. Stock markets tank, long term bonds typically go up in price. Perhaps long term Treasuries offer one of the best options for 'market insurance'. Ironically the bonds that appear to offer the greatest price risk in isolation, offer the best portfolio ballast when combined with equities in those balanced portfolios. Given the price risks and that long term treasuries offer greater inverse relationship compared to a broad based bond index (NYSEARCA:AGG), one does not need a large position in those longer term bonds. Long term treasuries punch above their weight when it comes to providing portfolio ballast. After running way too many test, I've found that 20% is 'enough'. And by only requiring 20% one can leave 80% in that greater growth engine. The fact that they have been historically inversely related when required creates a rebalancing opportunity. If we enter an event when stocks are getting crushed and the bonds are going up in price, we have the opportunity to trim from the bonds and buy the stocks while they are going down in price, and perhaps offering greater dividend yields and greater earnings yields.
The Portfolio. 80% RSP/20% TLT.
OK, let's cut to the chase. Here's the Perfect Portfolio over the last 10 years to December of 2016. The Perfect Portfolio is Portfolio number 1, RSP is Portfolio number 2. The Perfect Portfolio is rebalanced annually.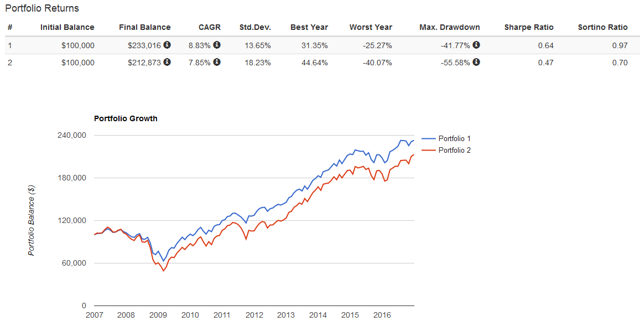 We see the Perfect Portfolio adding alpha over RSP of almost 1% annual with much greater risk adjusted returns, and the Sortino Ratio is .97 vs .70. And most importantly, here are the annual returns of the two assets, RSP and TLT.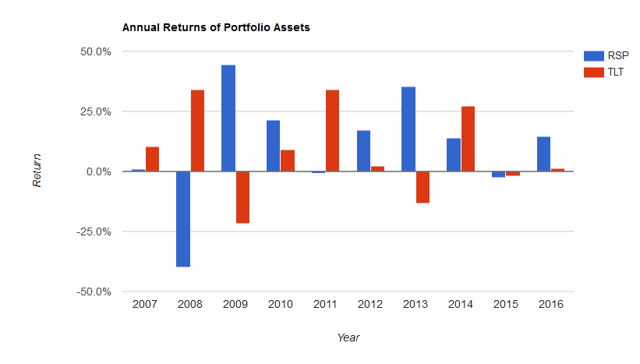 We see long term Treasuries "doing their thing" when most needed, in 2008 and 2011. 2015 was not enough of an equity meltdown for Treasuries to ride to the rescue.
I am a big fan of the managed Vanguard Balanced Portfolios. As a benchmark, the Vanguard Wellington Fund (MUTF:VWELX) offers that Balanced Growth model. Portfolio 1 is the Perfect Portfolio, Portfolio 2 if the Wellington fund.
We see that the Sortino ratio is very close (slight advantage to Wellington) but the returns for the Perfect Portfolio are much greater, perhaps worth accepting that additional standard deviation.
That's a simple portfolio that historically was likely very hard to beat straight up, and certainly on risk adjusted returns. Yes, keep in mind, past performance does not guarantee future returns or performance. But I like the consistency of the low and negative correlation of long term Treasuries and equities over the many decades and through the many recessions. I invite you to do your own research on that wonderful event. Low yields be damned. Many writers feel that both stocks and bonds have little to offer in 2017. Perhaps the magic will come from that rebalancing between stocks and bonds, should any true stock market volatility ever dare to show its face again. The greater the inverse relationship, the greater the resultant returns may be.
Investors might also consider international diversification. US investors might be wise to remember the lost decade when the S&P 500 had negative real returns from 2000 through to the end of 2009. During that period Canadian and international equities did quite well. That international diversification can also help to hedge currency risks. Here's SPY vs the Canadian equity market (NYSEARCA:EWC) from January of 2000 to December 31, 2009. That's Canada EWC Portfolio 2 in red of course, and the US Portfolio 1 in blue.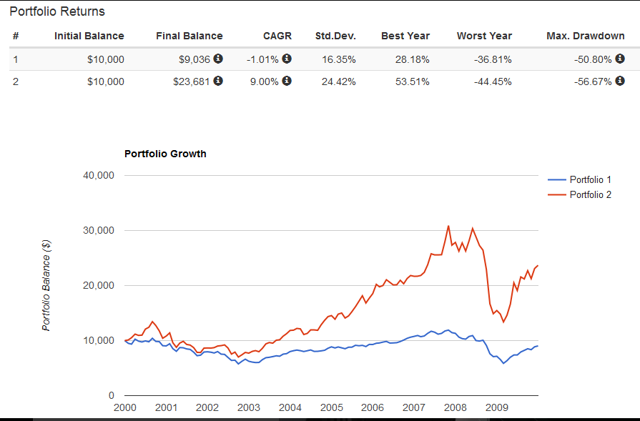 And yes, I know the above strategy is not new. Many have suggested using higher alpha equity sectors with longer dated bonds. I simply think this Perfect Portfolio hits an investable sweet spot.
Thanks for reading. I'll be back with the Perfect Dividend Growth Portfolio. Always know and invest within your risk tolerance level.
And be careful out there.
Disclosure: I am/we are long AAPL, NKE, BCE, TU, ENB, TRP, CVS, WBA, MSFT, MMM, CL, JNJ, QCOM, MDT, BRK.B, ABT, PEP, TXN, WMT, UTX, LOW, BNS, TD, RY, BLK.
I wrote this article myself, and it expresses my own opinions. I am not receiving compensation for it (other than from Seeking Alpha). I have no business relationship with any company whose stock is mentioned in this article.
Additional disclosure: Dale Roberts is an Investment Funds Advisor at Tangerine Investment Funds Limited a subsidiary of Tangerine Bank, wholly owned by Scotia Bank; he is not licensed to provide professional advice on stocks. The opinions expressed herein are Dale Roberts' personal opinions relating to his experience as an investor and are not those of Tangerine Bank or its subsidiaries and/or affiliates. This article is for information purposes only and does not constitute investment advice or an offer or the solicitation of an offer to buy or sell any securities. Past performance is not a guarantee and may not be repeated. Investment strategies are not suitable for everyone and you should always conduct your own research or speak to a financial advisor.