About a year ago, my Fitbit (NYSE:FIT) article made a comparison of the fitness tracker stock to GoPro (NASDAQ:GPRO). Investors questioned the logic of the comparison, but the better-performing stock since that article is GoPro.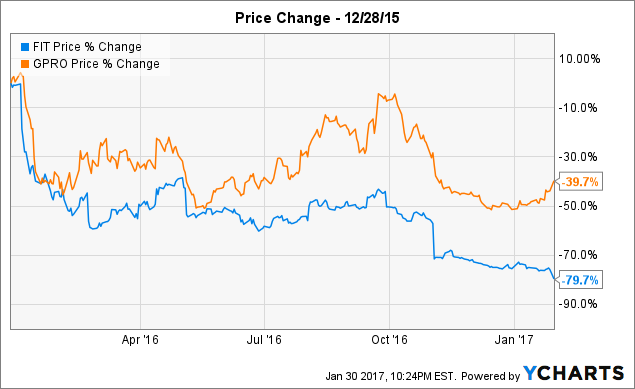 Clearly, GoPro wouldn't win any other contests. The stock though was up 7% to $10 on Monday while Fitbit plunged 16% to $6 due to a huge cut to expectations.
Ultimately, both consumer technology product companies failed to innovate enough to draw in new and repeat customers. GoPro failed to release a new product for the 2015 holidays and Fitbit didn't have a product that differentiated enough from previous versions for the 2016 holidays.
As widely disseminated by now, Fitbit provided preliminary Q4 numbers that missed estimates by a wide margin. Possibly the most devastating information was the guidance for 2017 revenues at only $1.6 billion, and lower gross margins.
Last year, the analyst community had expected sales to exceed $3 billion during 2017. Now a huge loss is expected as sales estimates have nearly been cut in half in only a matter of months.
Fitbit is restructuring with an expectation to cut about $200 million from the annual operating expenses, but the guidance is still for a large annual loss. The market will definitely wonder if the business will bottom at these lowered levels.
The inevitable question is whether the story continues to mirror that of GoPro. The action camera maker saw the stock stabilize in early 2016 after a similar warning following a weak holiday period.
The stock though has rolled along the bottom with the enthusiasm over the entry into the drone sector fading into year-end. Fitbit is making a similar push into the smartwatch market and is likely to meet the same fate as GoPro when it expanded into the drone market.
Ultimately, Fitbit sold 6.5 million devices during Q4 and has over 23 million active users.
GoPro now trades at slightly above 1x revenue estimates. Fitbit is relatively cheap assuming 2017 estimates are reasonably conservative. Worth noting is that GoPro produced these quarterly results since hitting bottom around the release of the FQ4 numbers last February.

Source: SA earnings page
The key investor takeaway is that the current price is probably right for producing some upside in Fitbit. The road will be volatile and the GoPro example suggests no reason to rush into the stock as the bottoming process will no doubt be lengthy.
Disclosure: I/we have no positions in any stocks mentioned, and no plans to initiate any positions within the next 72 hours.
I wrote this article myself, and it expresses my own opinions. I am not receiving compensation for it (other than from Seeking Alpha). I have no business relationship with any company whose stock is mentioned in this article.
Additional disclosure: The information contained herein is for informational purposes only. Nothing in this article should be taken as a solicitation to purchase or sell securities. Before buying or selling any stock you should do your own research and reach your own conclusion or consult a financial advisor. Investing includes risks, including loss of principal.