Over the past 5 years, YUM! Brands (NYSE: YUM) has been producing very volatile financial results. They are aware of this and looking to change that over the next 3 years. How volatile? Well, a quick look at the EPS (annual YoY growth) shows us the answer to that question. YUM would like to get back to growth shown from 2010-2012, and avoid the massive swings from 2012-2016. This is why I am a buyer at current levels.

(Source: Ycharts.com)
They are looking to combat the swings by:
Reduced Volatility
Increase Cash Flow
Increase Capital Return to Shareholders
Breaking this down further, YUM looks to reduce volatility due to their spinoff of YUM! China, but more so by going to more of a franchise model. YUM wants to be 98% franchised by 2018, they were at 90% as of Q3 2016. By franchising more, YUM should experience easier access to financial capital. Prospects will have to buy into the chain and less financial capital will be demanded from YUM in order for them to expand their reach. There is less risk involved as well, which also helps cut down the volatility. This is because a large majority of the risk is passed on the individual owners of the stores. YUM will essentially just collect royalties. At this rate, they will be collecting $2 billion+ in franchise fees alone by 2019.
As the franchise number goes up, the general and administrative expenses will fall. This will help increase cash flow. Along with this, the capital expenditures would also fall, once again, helping generate more cash flow.
Overall, by going to the franchise model, YUM turns into a more predictable company which is important to shareholders. No one likes surprises.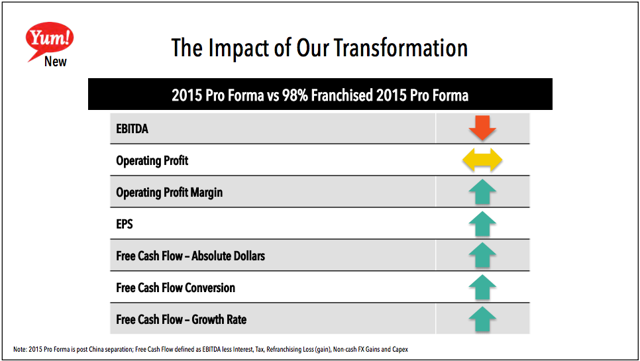 (Source: YUM Presentation)
Based on these goals, we can look forward at what to expect in terms of EPS. 2016 should be the bottom in terms of EPS as the balance sheet looks to settle down and re-set with the new plan in place to reduce volatility. After that, based on what I talked about earlier, the only way is up. EPS is expected to fall below 2.5 for the year end which will be confirmed in February. After that, the stable growth will begin. ~3.75 is achievable by 2019 if everything falls into place the way I expect it to do. Most of which is coming from better management of the balance sheet.

(Source: Ycharts.com)
Most importantly, YUM wants to return this excess cash flow back to shareholders. Keeping the payout ratio below 50% is important because not only does that ensure the dividend is coverable, but there is still extra cash left over if an attractive growth prospect comes their way. In order to maintain this new policy, the dividend was cut recently. Looking over the past 10 years, we can really see the shift in the management strategy. YUM is still yielding 2.65% even with the cuts over the last year. By no means is this a stock for your income portfolio, but that dividend is now at a level you don't have to worry about being cut any further. In fact, over the next couple years as cash flow starts to improve, I would expect YUM to get back to their old ways of raising the dividend at least once a year.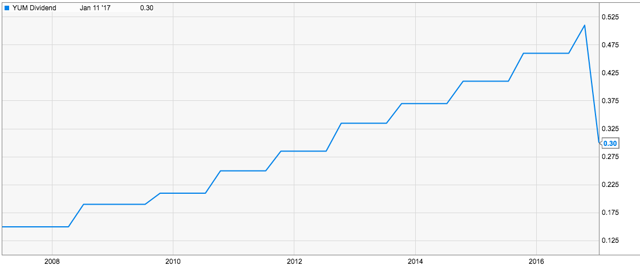 (Source: Ycharts.com)
As mentioned above, YUM wants to keep their payout ratio sub 50%. Which is exactly where it currently sits. Keep an eye on net income and how much it increases over the next year. That will tell us if a dividend increase is coming.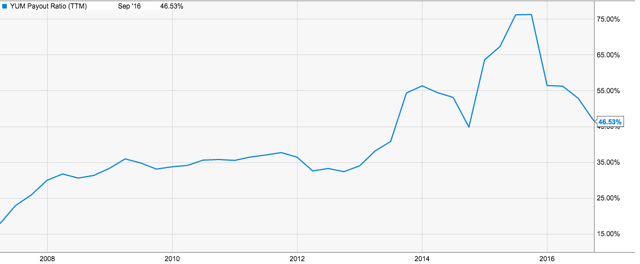 (Source: Ycharts.com)
At the end of the day, increasing cash flow, and returning that cash to investors at a steady and predictable rate will also help reduce volatility in the future.
Technical Outlook
When looking for long prospects, I like to look for four things on a chart:
A new 55 day high (close)
A bullish cross on the MACD
A cross of the upper Bollinger Band
Trading above the 200 day moving average
Sometimes I will buy names that do not meet all of these stipulations. But, when I find a chart that does, paired with solid fundamentals I jump all over it. YUM is an example of this, as shown below.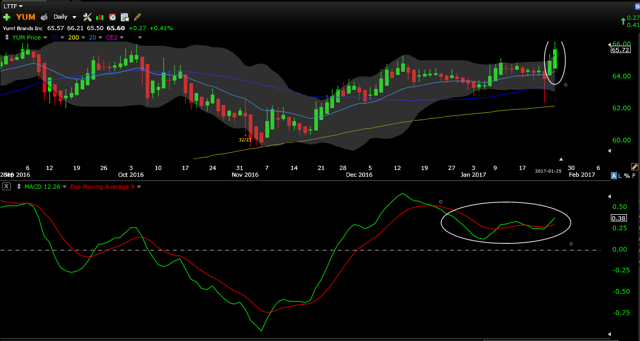 (Source: tc2000.com)
YUM is a perfect example of the 200 day moving average (dma) catching the price and launching it forward. There were three successful tests over the past 3 months. When there is obvious support at the 200dma, I feel safer investing as it is easier to set a stop, and then move it up to the most recent test as the stock marches forward.

(Source: tc2000.com)
Coming off of the most recent 200dma test, YUM was launched to new 18 month highs. Now this could serve as some resistance. However, last time we were at this level, there was a much steeper incline leading up to it with less support from the 200dma. It is possible that there's a bit of a sideways movement for a couple weeks, but I believe YUM will grind higher following that move. This level has been hit twice before early in the summer and it fell back. Closing at the highs is a very big positive.

(Source: tc2000.com)
Another reason I think YUM is ready to breakout is the large ascending triangle that has been forming over the past year. The recent attempt at new highs solidified the triangle shape and we are approaching the peak as YUM trades in a tighter range. I don't typically look for things like this as a trend follower, but when it shows up, its one of the "shapes" I like to pay attention to.

(Source: tc2000.com)
Wrap-Up
What if I am wrong and YUM isn't ready to break out? That is where portfolio management comes into play. I use stops on every stock in my portfolio. Typically I try to keep the risk from 10-15% to the downside. Doing so making the risk-reward worth while. While keeping the downside risk low in each individual position, I only risk 1% of my portfolio on any one position at an entry point.
That being said, my stop is initially set at $56.46. Being long from $65.39, I am risking roughly 13.5% of my position on this trade. This stop falls below the 200dma, but allows for a fair position size. The stop is placed at the second level of support below the 200dma. If that level is broken, it would be the second bearish signal (The first being the 200dma cross), and I would exit the position. It is always important to remember the stop line can be moved up as the stock progresses forward.

(Source: tc2000.com)
Assuming YUM can get the balance sheet under control and stabilize the earnings, I do not anticipate my stop being taken out in the near future. This is by no means an income stock, but one that could grow into one down the road due to an increase in franchise fees and a decrease in general and administrative expenses.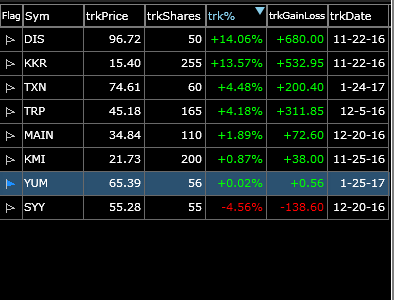 (Source: tc2000.com)
For full transparency, I have shown the stocks I own and have written articles on since late November of 2016. As you can see, the good far outweighs the bad. Finding a system and sticking to it is the most important investing lesson one can learn. You do not have to be right 100% of the time to be profitable.
Thank you for taking time to read. If you received any value out of this article, please follow me for further updates. I look forward to your feedback! Also check me out on tipranks.com (Graham Grieder) for updates on my positions and to track my recommendations.
Disclosure: I am/we are long YUM.
I wrote this article myself, and it expresses my own opinions. I am not receiving compensation for it (other than from Seeking Alpha). I have no business relationship with any company whose stock is mentioned in this article.