Acquired almost 2 years ago, by Apollo Global Management (NYSE:APO), Presidio (NASDAQ:PSDO), has now filed for an IPO. The company which specializes in complex IT business services such as cybersecurity, networking, data analytics, etc. has over $2.7 billion in annual revenue. Presidio competes with large service providers who have a global reach and strong consulting capabilities with larger corporations, as well as local and regional providers who cultivate local relationships but focus on fewer areas of IT. Among some of their competitors are Accenture (NYSE:ACN), CDW, Deloitte, IBM (NYSE:IBM), and Optiv.
Growth
For fiscal year ending June 30th 2012, Presidio had $1.76 billion in revenue, compared to $2.71 billion in 2016. That represents a 4-year growth rate of 11.4%. For the 3 months ended September 30th 2016, revenue is up 6.6%. Presidio's growth has been quite consistent and stable. For a non-unicorn company with over $2 billion in sales, I believe their growth figures are strong enough to motivate investors. Compare it to their big boy competitors like IBM who has a negative 3-year growth rate of -7.4% or Accenture who carries a positive 3-year growth rate of 4.6% and you can see that Presidio has value in their topline growth.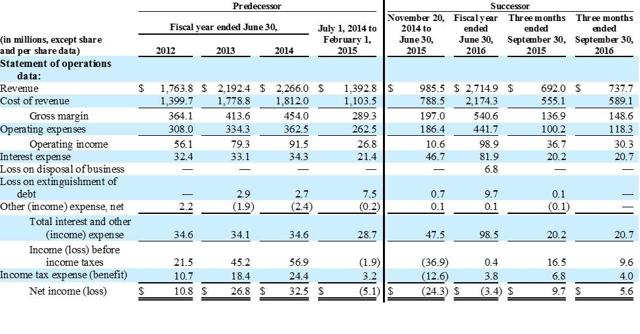 Source: Presidio's S-1
Debt Has Grown
Before the Apollo Global Management acquisition Presidio had more than $600 million in long-term debt, however today that figure is over $1 billion. Fortunately, that amount is not that much when compared to many private equity IPO spinoffs that are usually heavily leveraged with a stockholders' deficit. Presidio has a stockholders' equity of $353.1 million, although nearly $1.6 billion of their assets are intangibles. Nevertheless, their debt is very manageable and the proceeds from this IPO can significantly ease that burden and strengthen their net margins.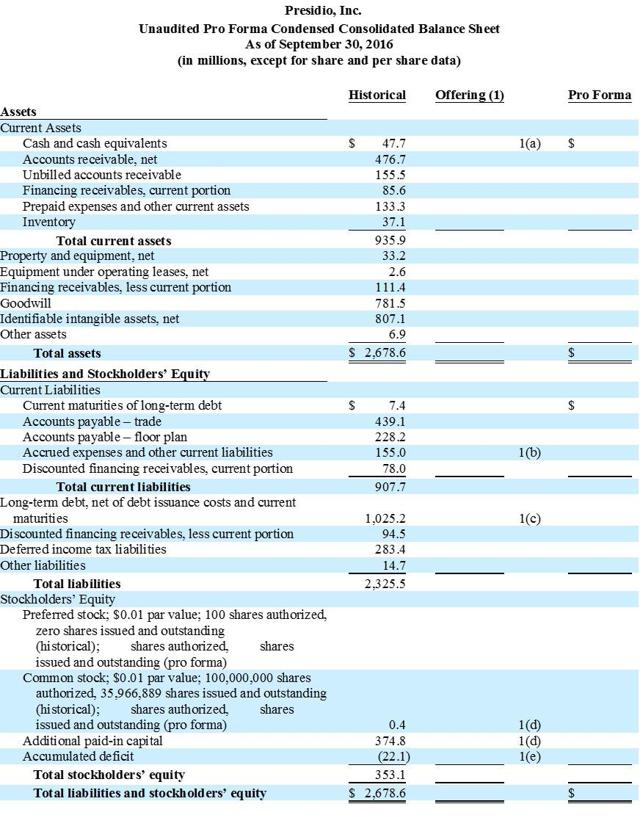 Source: Presidio's S-1
Valuation
The information technology services industry trades at about 17.5X earnings. I am going to make a projection that Presidio will close annual revenue at approximately $2.9 billion for fiscal year 2017 ending June 30th. However, Presidio has been carrying a historically low net margin, which has been become negative with the growth of their debt. Even at only a 2% net it would equate to $58 million. Assuming they turn a profit in 2017 I would expect this to trade at a significantly high PE ratio, maybe even in the three figures.
Even with a low or negative net Presidio is growing above the industry average with strong sales. Because of this I am not sure how the market will value them. Due to their thin margins and long-term debt I believe they may get a valued below the industry multiple of 1.8X sales. If we used my projection of 2017 sales and we brought the PS ratio down to 1.7, then that would value Presidio's equity at $4.93 billion. I have heard speculation that this company would only be valued at $3 billion, which I think would be a good deal for investors as I believe it has the potential to fetch a price in the $4 billion range.
Conclusion
I really believe this could be an IPO to look out for. This hasn't been priced yet so we cannot say whether it will be a good deal for investors, however the company itself is promising. If they raise enough in proceeds to ease some of the debt it will significantly reduce risk and improve shareholder value. While cash flow isn't strong with a thin operating margin of 3.6%, they make up for it in topline growth. I'd keep an eye on this IPO as it approaches and they value it. Some are speculating a valuation of $3 billion which would nearly be equal to projected 2017 revenue. If that is the case then this IPO may provide significant upside to investors.
Disclosure: I/we have no positions in any stocks mentioned, and no plans to initiate any positions within the next 72 hours.
I wrote this article myself, and it expresses my own opinions. I am not receiving compensation for it (other than from Seeking Alpha). I have no business relationship with any company whose stock is mentioned in this article.