Ten years ago this month, Apple's (NASDAQ:AAPL) then-Chief Executive Steve Jobs first introduced the iPhone to the world, and since then those smartphone sales have been powering the company's top and bottom lines.
But 2016 saw a three-quarter string of declining iPhone sales, the first in its history, and last quarter the company announced its first decline in year-over-year revenue and profit in 15 years. Might those numbers have reversed course when AAPL turns in its fiscal first-quarter 2017 results after the market closes today?
Some analysts argue that AAPL is the most important earnings report to watch. It is the most heavily weighted stock on the S&P 500 (SPX). And, as a side note, it has been the most widely held stock among TD Ameritrade investors for three straight years.
Did iPhone Sales Break the Slump?
The December quarter typically tends to be the best for AAPL because it includes the holiday-shopping season, when many consumers are buying AAPL products as gifts. AAPL already has boasted about breaking all-time sales records in the App Store, with purchases topping $3 billion in December alone. And Chief Executive Tim Cook told Reuters in early December that the Apple Watch looked to be the one of the most popular holiday gifts last year.
"Sales growth is off the charts," he told the news agency, though he didn't reveal numbers. "In fact, during the first week of holiday shopping, our sell-through of Apple Watch was greater than any week in the product's history. And as we expected, we're on track for the best quarter ever for Apple Watch," he added.
But sales of AAPL's ubiquitous smartphones - which generate roughly 60% of total revenues - are the ones that some analysts say matter the most. Q1 2017 also is the first full quarter of iPhone 7 and iPhone 7 Plus sales (there were only a few weeks of the new iPhone selling period in the last quarter), that some analysts think are likely to have helped boost total revenue back into growth mode. AAPL said in its last earnings report that it was forecasting Q1 revenue between $76 and $78 billion. Even at the low end, that would be higher than last year's $75.87 billion in sales in Q1.
Besides the new smartphone versions, AAPL also brought out its thinnest and lightest MacBook Pro in October, with new features. Some analysts are also pointing to AAPL's efforts to grow its service division as something to watch in Q1. According to the company's press release, revenue last quarter from Internet services - AppleCare, Apple Pay, licensing and other services-jumped better than 24% from the year-ago period, setting a record at $6.32 billion. Its iPad sales were flat and Mac sales slumped nearly 17% during the same period.
The Q4 consensus earnings estimate from third-party Wall Street analysts is $3.22 a share, down from $3.28 per share in the year-ago period, according to the Earnings Analysis tab on the thinkorswim platform from TD Ameritrade. Revenue is projected to climb to $76.92 billion from $75.87 billion a year ago.
The options market has priced in an expected share price move of about 3.2% in either direction around the earnings release, according to the Market Maker Move indicator on the thinkorswim platform.
Calls have been active at the weekly 122 and 123 strikes while puts have seen activity at the weekly 120 strike. The implied volatility sits at the 40th percentile. (Please remember past performance is no guarantee of future results.)
Note: Call options represent the right, but not the obligation, to buy the underlying security at a predetermined price over a set period of time. Put options represent the right, but not the obligation, to sell the underlying security at a predetermined price over a set period of time.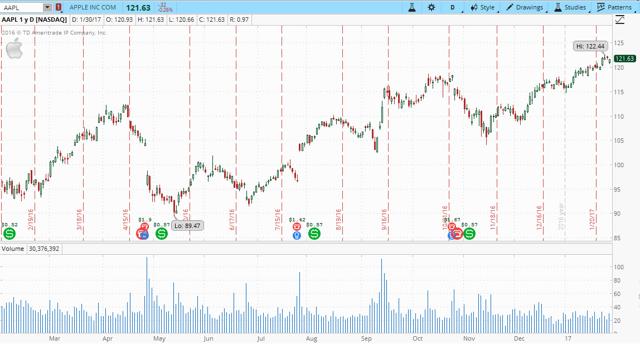 Figure 1: BIG APPLE? Since hitting a two-year low in May, shares of AAPL have rallied some 35% and are up 9% since the presidential election. Shares are trading nearly 5% above their 50-day moving average. Chart source: thinkorswim by TD Ameritrade. Data source: Standard & Poor's. Not a recommendation. For illustrative purposes only. Past performance does not guarantee future results.
TD Ameritrade commentary for educational purposes only. Member SIPC. Options involve risks and are not suitable for all investors. Please read Characteristics and Risks of Standardized Options.
Disclosure: I/we have no positions in any stocks mentioned, and no plans to initiate any positions within the next 72 hours.
I wrote this article myself, and it expresses my own opinions. I am not receiving compensation for it. I have no business relationship with any company whose stock is mentioned in this article.