Comcast (NASDAQ: CMCSA) reported earnings for the fourth quarter on January 26. As Seeking Alpha shows, the company beat expectations on the bottom line by two cents, and it also beat on the top line. It's just the beginning of more good news for the cable brand.
There's a lot of things to be happy about here. This Seeking Alpha summary serves as a useful tool to quickly absorb the information in the press release, which itself is a good read if you are a shareholder (like I am). Earnings per share increased just under 10% to $0.89 in Q4, after adjustments. Operating cash flow increased 7.8%. NBCUniversal's top line increased 13% and its operating cash flow jumped 14%.
Nothing is perfect (and I'm not suggesting the earnings report was perfect, keep in mind; still, these numbers are very, very good). As an example, on a consolidated basis and for the full year, free cash flow decreased 8.2%. Obviously, investors want to see this metric grow each year. But it doesn't always happen, and it doesn't always matter.
Comcast can be a capital-intensive company as it invests in itself for the future. The free cash flow generated compares favorably to the amount paid out in dividends and spent on share repurchase activities. As for the dividend, it has been increased by 15%, showing confidence on the part of management for the future of the company (I have to say that there was indeed room to hike the dividend).
Here are a few things that stood out to me regarding the Comcast story.
NBCUniversal: An Important Part Of Comcast
Comcast was smart to invest in NBCUniversal years ago. Supplying cable boxes, phone services and Internet connections can be a solid business, but filmed entertainment helps the company continue to find ways to grow.
Besides the network, broadcast television and all of its strong content, Universal Pictures is doing very well. Movie franchises like Despicable Me and Jurassic World continue to crank out tent-pole entertainment, and recently, the studio scored with horror hit, Split.
When you buy Comcast, in my opinion, you are buying in part the idea that NBCUniversal will continue to provide a lot of entertainment and growth. Comcast's cable platform helps to distribute that content and capture revenue from it, such as from the company's pay-per-view and digital-sales platform.
Comcast And Customer Relationships
Comcast saw an increase in its customer relationships - that is, customers who subscribe to one, two or three services. Comcast has a lot of brand equity with consumers. Yes, there have been complaints about how it interacts with its subscribers, but still, it has improved (in my opinion), and I believe management is learning how to change its practices and thus the perception of its customer base.
The company added over 258,000 customer relationships during the fourth quarter. At the end of 2016, there were approximately 28.6 million customer relationships.
When you think of NBCUniversal, you can understand how Comcast can leverage these subscribers to not only pay monthly fees, but to also buy/rent its content. There's also advertising revenue to consider. This is why NBCUniversal generates a lot of cash flow, which helps to fund its dividend.
DreamWorks Animation: A Great Acquisition
Comcast purchased DreamWorks Animation since it already had success with Illumination Entertainment. I used to own DreamWorks, and I always had confidence in its future potential. Of course, I had to remain a patient shareholder, as the studio would take one step forward and then two steps backward. There were hits, but also big misses.
In the corporate hands of Comcast, DreamWorks Animation should thrive. Comcast's cartoon output should increase, and that's what shareholders want to see - more movies, more franchises, and more consumer products based on those franchises. Comcast also owns theme parks, and in addition to licensing outside stuff like Harry Potter, the company will be able to showcase its DreamWorks Animation content in its amusement centers.
Comcast Stock
Here is a chart showing Comcast's price movement over a three-year period.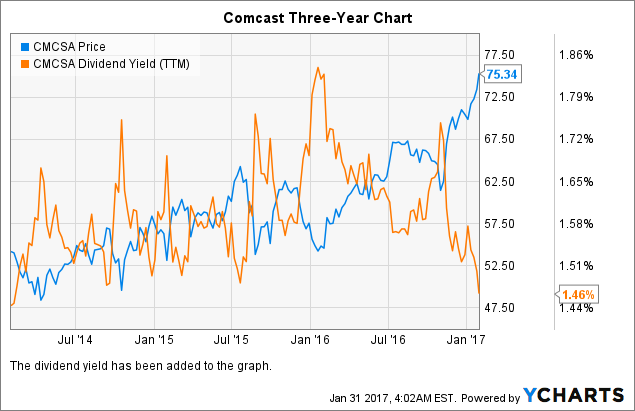 The chart also shows the dividend yield. Comcast's stock doesn't yield a lot, so it isn't something that would necessarily interest an income investor. However, more dividend increases are likely to come. So, in terms of effective yield, long-term owners should be handsomely rewarded.
A look at the chart might suggest that Comcast is overvalued at the moment. I think the company has significant growth ahead of it so, in my opinion, I don't think it's a bad investment now. Dollar-cost averaging into the name is another strategy.
As for risks, the competition is fierce on the entertainment side, and the public may dislike many of its productions. That's one thing a shareholder has to accept: If NBC has a bad season, if Universal releases movies that don't perform, if DreamWorks Animation fails to connect with animation buffs and/or the family audience, then the stock will take a hit.
But for those seeking exposure to the cable and filmed-content production industry, Comcast is a name to own. But be sure to do your own research before making a decision. Also, check out my recent article in which I compare Disney (NYSE: DIS) to Comcast.
Disclosure: I am/we are long CMCSA, DIS.
I wrote this article myself, and it expresses my own opinions. I am not receiving compensation for it (other than from Seeking Alpha). I have no business relationship with any company whose stock is mentioned in this article.