While there are an abundance of open-pit gold deposits in the world, there are very few high-grade ones. This is especially true when it comes to Canada. Over the past decade there have been several acquisitions of open-pit gold deposits in Canada, but the average grade of them has been less than 1.3 grams per tonne gold. Cote Lake (Trelawney) was acquired for $609 million by Iamgold (NYSE:IAG), Blackwater (Richfield) was acquired by New Gold (NYSEMKT:NGD) for $550 million, and most recently Coffee (Kaminak) was taken over by Goldcorp (NYSE:GG). Fortunately for investors who missed out on these opportunities, there seems to be a new high-grade open-pit explorer in town. The company's name is Marathon Gold (OTCQX:MGDPF) and they've made significant progress at their Valentine Lake Gold Camp the past 12 months. To avoid confusion, all figures in this article are in Canadian dollars, unless otherwise stated.
(Source: Company Presentation)
Marathon's deposits are situated in Newfoundland, along a 20 kilometer long gold system with several drill targets. The company has already delineated 4 deposits along this system, with cumulative resources of over 1.2 million ounces of gold. The Leprechaun deposit holds the majority of these resources, and is home to 915,000 ounces at an average grade of 2.40 grams per tonne gold. What's most exciting to me about this gold system is that the deposits delineated to date are all distributed evenly across the gold camp. This means that there is significant potential to infill between the current deposits, in addition to possibly connecting them.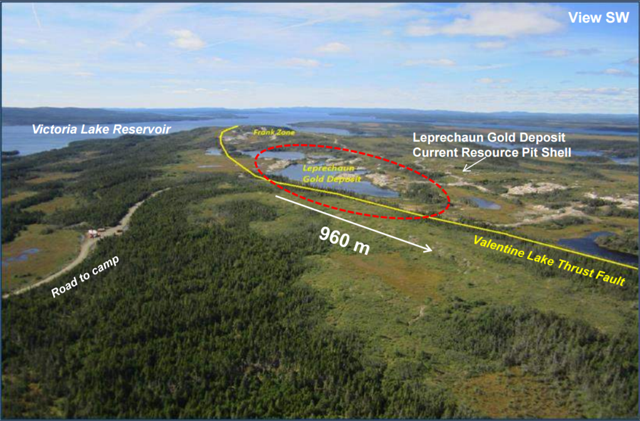 (Source: Company Presentation)
Prior to 2016, the Leprechaun deposit was the flagship deposit for Marathon Gold. I believe this changed in 2016, and the Marathon deposit which was clearly appropriately named could now be the company maker. A resource estimate was done in spring of 2015, which came up with a resource of 219,000 ounces at an average grade of 2.1 grams per tonne gold. Since this time, the company has been aggressively exploring the deposit, and I feel this resource has potentially tripled. Not only has the company been extremely successful in its step-out drilling, but the deposit has been extended at depth and remains open.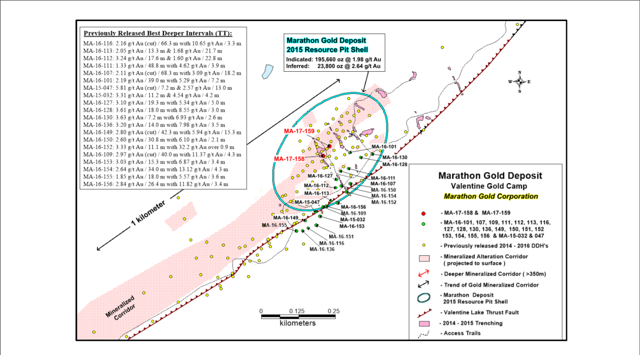 (Source: Company Website)
As we can see from the above image, the company has been stepping out to the southwest and the grades have been very encouraging. Thus far the grades are in line with the current resource grade and are of similar thickness. This is very intriguing as this debunks the potential that the high grades were constrained solely to the previous pit shell. To put in perspective how successful the 2015/2016 drill campaign has been, one only needs to look at the massive expansion in strike length at Marathon. At this time last year the strike length of Marathon was limited to 800 meters, and now we have a 1.7 kilometer strike length on our hands. Below are a few examples of significant step-out intercepts since the 2015 resource estimate:
MA-16-16: 66.3 meters of 2.31 grams per tonne gold
MA-16-153: 15.3 meters of 3.03 grams per tonne gold
MA-16-155: 18 meters of 1.85 grams per tonne gold
MA-16-136: 14 meters of 3.20 grams per tonne gold
MA-16-149: 42.3 meters of 2.80 grams per tonne gold
The above intercepts are a testament to the strength of this mineralized system. These intercepts are not only exceptional grades given their proximity to surface, they're also over very respectable thicknesses.
In addition to very promising drill results outside the pit shell, infill drill results have been even more impressive. Below are some of the more significant intercepts from the 2016 drill campaign:
MA-17-158: 73 meters of 1.53 grams per tonne gold
MA-17-159: 50 meters of 3.53 grams per tonne gold
MA-15-109: 40 meters of 3.01 grams per tonne gold
MA-15-150: 30.8 meters of 2.60 grams per tonne gold
MA-16-107: 68.3 meters of 2.11 grams per tonne gold
Not only are the above drill results more thick than the holes used in the resource estimate, they are also higher grades. If the grades can continue to come in at these levels, the company likely has a world-class deposit on their hands at Marathon. As stated earlier in the article, open-pit deposits do not often show these kinds of grades. To put in perspective just how rare high-grade open pit deposits are, I have built the below chart. This chart shows acquired and current open-pit gold deposits in the US and Canada, and is categorized by grade.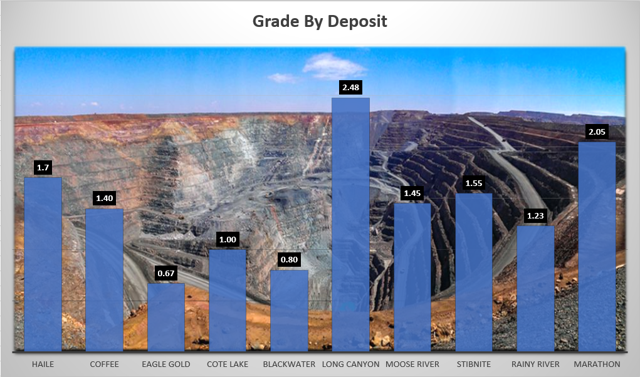 (Source: Author's Table)
As we can see, Marathon's grades rank second compared to the other 9 deposits. Coffee, Haile, Cote Lake, Blackwater and Rainy River were all acquired for over $500 million dollars, and all had inferior grades to Marathon's current resources. While these were much larger resource bases, Marathon is certainly heading in the right direction in terms of resource expansion. The only peer that had higher open-pit grades than Marathon is Fronteer Gold and their Long Canyon deposit. Fronteer Gold was acquired by Newmont (NYSE:NEM) in 2011, and they paid over $400/oz for the company's Nevada ounces.
To be fair, Marathon is no Long Canyon, and it's not in the best mining jurisdiction in the world, Nevada. The company has nowhere near the resources of Long Canyon at the time of its acquisition, but could aspire to have similar grades and resources if the drilling success continues. For this reason, I do not believe Marathon's ounces to be worth $400/oz at this juncture. So how do we put a valuation on Marathon's ounces? We can start with comparing Marathon to peers that have been acquired with open-pit gold deposits.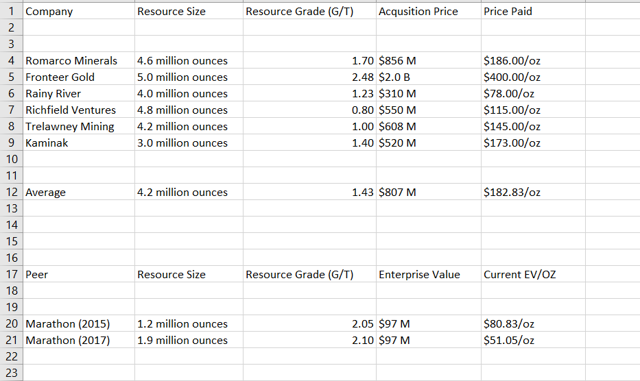 (Source: Author's Table)
As we can see from the above table, the average grade of past open-pit deposits that have been taken over in the US and Canada is 1.43 grams per tonne gold. Marathon's grades come in 40% higher than this at 2.05 grams per tonne gold. In terms of resource size, Marathon is nowhere as advanced. The average open-pit gold deposit acquired in US/Canada over the past decade is 4.2 million ounces, dwarfing Marathon's current resources. To value Marathon fairly compared to these deposits, we are going to need to apply a significant discount. This is not due to Marathon's Valentine Lake deposits being inferior to the above companies, it is simply due to Marathon not being as advanced yet. I feel that Marathon deserves a 60% discount due to the limited resources the company has compared to past acquisitions, but a 10% premium due to its grades being well above the average. This leaves us with a 50% discount to apply to Marathon's ounces.
If we use a 50% discount to the average, Marathon's ounces should have a value as of today of $91.41/oz. The current value of Marathon's ounces is $80.83/oz, and this is based on the 2015 resource estimate. I am confident that Marathon Gold can move their global gold resources closer to 2 million ounces for their Q1 resource estimate. This would bring the discount to 40% compared to peers, and leave a fair value on Marathon's ounces of $109.69/oz. Based on a resource of 1.9 million ounces and a $109.69/oz fair valuation on ounces, I feel that Marathon deserves a valuation of $208 million (NYSEARCA:CAD). This would equate to a share price of $1.50/share in Canadian dollars. Having said that, this is assuming that the company has global gold resources of 1.9 million ounces.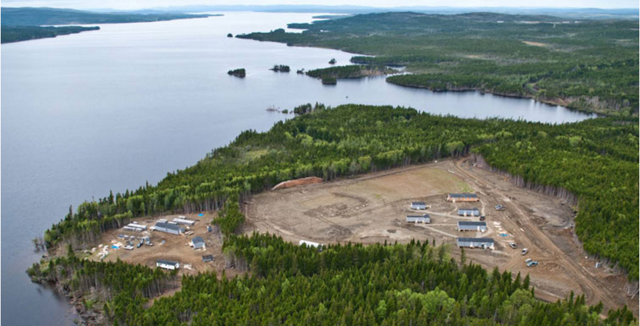 Based on a very back of napkin calculation, I feel that the Marathon deposit has the potential to hold 800,000 plus ounces from the previous 215,000 ounce resource estimate. This is due to depths at the deposit nearly doubling, and the strike length also almost doubling. This should add significant tonnage to the deposit, and boost the company's total resources significantly. I may be being too ambitious in this guesstimate, but have tried to lean to the conservative side in my calculations.
Risks associated with my thesis
When investing in junior gold companies, there are always significant risks involved. This is especially true when investing in companies that have not been de-risked, and are under the $100 million market capitalization level. The main risks are the price of gold falling to levels where a company's resources are no long considering economical, as well as potential dilution due to financing. In the case of Marathon, the company's ounces are economical even at a gold price of $900/oz in my opinion. While the PEA has not been completed yet, I expect the study to show all-in sustaining cash costs of below $800/oz. This is due to the availability of a skilled work force in close proximity, excellent infrastructure, and the ability for a heap-leach operation. In terms of financing, the company will likely need to raise funds and dilute this year. I expect this will be done at a higher share price, and the company has enough cash to get through to Q2. Marathon currently has over $7 million in cash which is just below 10% of their current enterprise value. In summary, I do not see Marathon posing the same risks as fly-by night juniors who are hoping to make a discovery. Marathon has already made the discovery, and it's a matter of letting the company build on this.
Summary
I typically do not highlight junior companies under $100 million market capitalizations, but I feel Marathon Gold is a special situation. The company is located in one of the best countries in the world for mining, and is sitting on what is potentially a world-class resource. The only question currently is whether the company can build on this resource and build a large scale mine in Newfoundland. Based on the current resources, I do not see the potential for a very large operation. Having said that, I ultimately see the Valentine Lake Gold Camp holding over 4 million ounces of gold. This is more than enough gold to justify building a mine for, and I expect the company will show us the ounces over the next 18 months.
I have started an position in Marathon Gold as of Friday, but this a starter position that I plan to build around. The stock has had a very nice run the past few weeks and I want to see what the share price does from here. I currently have a 3% portfolio position in Marathon Gold, and would like to get this to a 6% position at least. Marathon Gold is my favorite new junior miner, and I feel it has significant upside for long term investors, with limited downside. The company's current valuation is cheap even based on their current resources, and the new resource estimate should command a re-rating for the company. While Marathon has been flying under the radar up until now, I expect 2017 to be a transformational year. The company is in the midst of an aggressive drill program, and continued resource growth should put the company on the map as one of the highest grade open-pit gold deposits in Canada not owned by a major. This is a speculative position compared to the majority of the juniors I highlight, but I feel the risk is worth the reward at this valuation. Due to there being much better liquidity on the Canadian market, I am long Marathon Gold on the TSX.
Disclosure: I am/we are long MGDPF.
I wrote this article myself, and it expresses my own opinions. I am not receiving compensation for it (other than from Seeking Alpha). I have no business relationship with any company whose stock is mentioned in this article.
Additional disclosure: If you liked this article and found it useful, please feel free to follow me by clicking on the orange button next to my name at the top of this article. I also invite you to follow me at www.twitter.com/TaylorDart01 where I routinely share my entries, exits, and stops on new positions, as well as updating followers on sentiment data on markets I am following.