When Mallinckrodt (NYSE:MNK) acquired Questcor and their flagship drug, Acthar Gel, they knew they were acquiring a controversial product that was under investigation. Questcor had raised the price of Acthar by several-hundred times and Questcor had purchased a potential competing less-expensive synthetic drug, Synachten, that was never approved in the U.S. but has been used internationally for some of the same applications.
The FTC investigated Questcor, and then Mallinckrodt, on their competitive practices. Mallinckrodt settled with the FTC on this legacy investigation a couple of weeks ago. They agreed to a $100M fine and a forced licensing agreement of Synacthen for two indications: infantile spasms and nephrotic syndrome.
A couple of worries hit investors. What if Synacthen gets U.S. approval and competes with Acthar Gel? Won't that erode revenue, since Synacthen might be sold for much less than Acthar? And how does this impact Mallinckrodt's growth strategy, since the organic growth portion of Mallinckrodt's strategy is based on strengthening the proof of Acthar's clinical value, including proving it out for new indications?
Impact of the Settlement
Here's where the two Synacthen indications stand relative to the set of current indications for which Acthar Gel is being marketed.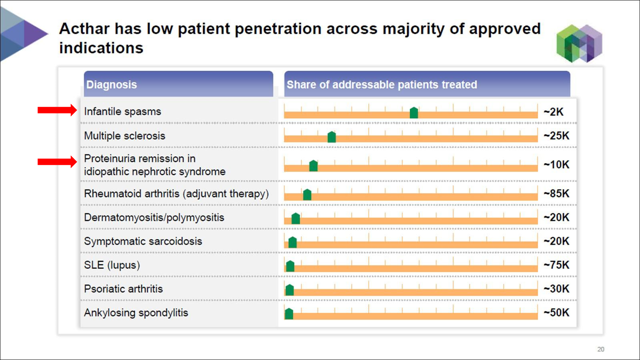 Source: Mallinckrodt
In terms of addressable patient populations for Synachten, we see that the indications of infantile spasms and nephrotic syndrome are the two lowest Mallinckrodt is going after with Acthar Gel. And infantile spasm treatment sales have been largely steady for the last several years, indicating its standing as a non-growth indication.
Looking at the numbers, these two categories represent 12K of the 317K total addressable patient population. That's less than 4% of the potential growth scenario. Currently, these two indications combine for approximately 10% of sales. That percentage will decrease as the penetration into the other indications increases.
This is consistent with Mallinckrodt's claim that the effect on sales will be negligible. Even if the current sales in those two categories are completely replaced by Synachten, it will only cut out what is a shrinking 10% of Mallinckrodt's Acthar sales in those indications.
Since Acthar sales currently sit around 35% of Mallinckrodt's total sales, that's less than 4% of current overall sales. Of course, Mallinckrodt expects this loss to be overcome by new sales.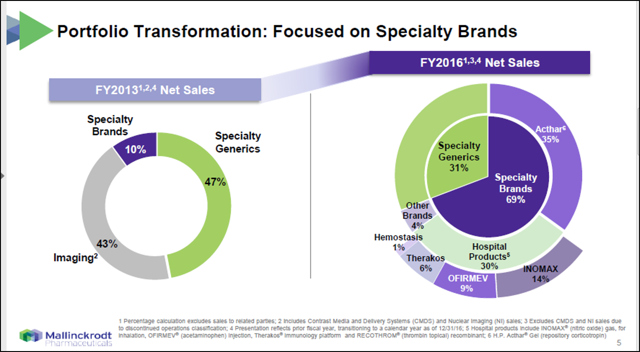 Source: Mallinckrodt
There's also a time factor here. The company expects these Synacthen indications, especially infantile spasms, to be potentially approvable only after a very long trial period. This will take many years, at least three but possibly much longer.
By the time Synachten is approved for its two indications, assuming it eventually will be, they will likely account for much less than 4% of Mallinckrodt's total sales.
Lastly, Mallinckrodt's business strategy has been to diversify within their Specialty Brands segment while organically growing and extending their Acthar Gel sales. This will not be affected by the settlement, at least probably not any time over the next several years.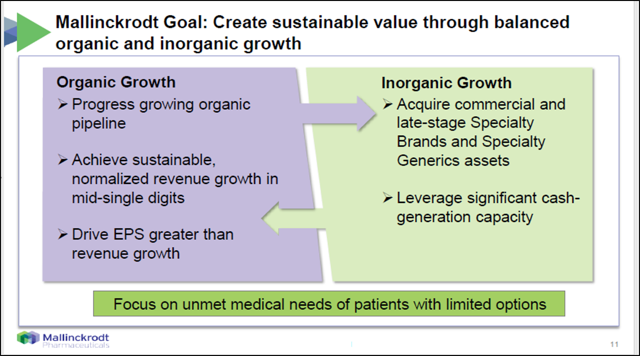 Source: Mallinckrodt
Included in this strategy are obtaining further clinical evidence for approved Acthar indications, and extending Acthar into new indications, for example into ALS (amyotrophic lateral sclerosis). Also included is testing, and potentially getting Synachten approved, in a new indication, DMD (Duchenne Muscular Dystrophy).
Investment Implications
The settlement's fine is only minorly impactful in the near term. The indications given up to potential Synachten sales are an insignificant portion of Acthar's growth story.
Mallinckrodt is working successfully to diversify their product lines through acquisitions within the broad specialty pharmaceuticals space, which currently includes a significant Hospital Products sub-segment.
The bottom line is that Mallinckrodt is well positioned for steady future growth, both organically and through new acquisitions. Their recent closing of the sale of their Nuclear Imaging business for $690M and the announcement of the divestiture of Intrathecal Therapy for $203M puts additional funds in their hands for paying the fine and future acquisitions.
Analyst recommendations lean Strong Buy with a consensus price target of $82.75 as represented by a dozen brokerages. I expect the current share-price weakness to eventually abate but it may depend somewhat on the drug-pricing uncertainty levied by the current administration which seems to be affecting the whole biotech market.
I continue to hold my investment in Mallinckrodt and may buy more shares at this relatively low valuation with the expectation that this is a long-term, on the order of years, investment.
Disclosure: I am/we are long MNK.
I wrote this article myself, and it expresses my own opinions. I am not receiving compensation for it (other than from Seeking Alpha). I have no business relationship with any company whose stock is mentioned in this article.