This article is an update to my first two articles on Protalix BioTherapeutics, Inc. (NYSEMKT:PLX). Briefly, Protalix is a clinical/commercial biotech company focused on the development and commercialization of clinically superior versions of recombinant therapeutic proteins for the treatment of genetic disorders. The company already has one FDA approved drug for Gaucher's disease, and has others for cystic fibrosis, Fabry disease, and ulcerative colitis in various stages of development. Protalix, based in Israel, uses its proprietary ProCellEx platform to develop and manufacture these unique molecules. This platform is used to genetically engineer plant-based molecules to overcome limitations and avoid adverse effects of the current FDA approved drugs.
When I published my first Protalix article, "Protalix BioTherapeutics Receives $24M Order, Is Well Funded, And Has Significant Upside," the stock was trading at 35c/share. I wrote that article to introduce Protalix to the investment public because I felt it was "off the radar," and the market cap did not reflect its inherent potential. In my second article, "Protalix BioTherapeutics Reports Encouraging Phase 2 CF Results; Its Future Is Brighter Than Ever," I discussed the positive interim results from the company's Phase 2 cystic fibrosis clinical trials of its AIR DNase drug candidate (AKA alidornase alfa and PRX-110).
Fast forward to today, January 30, 2017, and you will see in the chart below that PLX's share price has gone up significantly since my first article. But, as I will explain later, the current price might be just another step on a potential steady climb for the stock going forward.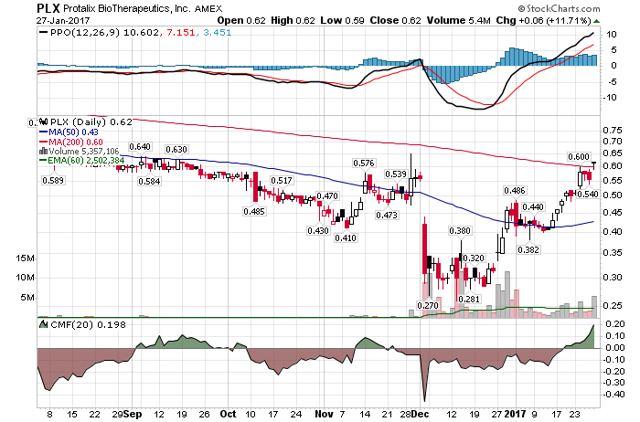 The company's progress and upside potential are being noticed as reflected by last week's announcement that Knight Therapeutics (OTC:KHTRF) (TSX:GUD), a Canadian specialty pharmaceutical firm, had acquired 6,200,000 common shares of Protalix at an average price of US$0.57 per share.
Knight now owns approximately 5% of the outstanding common shares of Protalix. Per the press release, PLX's shares were purchased by Abir Therapeutics, Knight's wholly-owned Israeli headquartered subsidiary. Abir on the other hand owns 28.3% of Medison Pharma, Israel's third largest pharmaceutical company.
Jonathan Ross Goodman, CEO of Knight, commented on the investment:
"We purchased this position in Protalix to plant a seed for a long and healthy relationship that hopefully blossoms into Canadian and Israeli product rights to Protalix's promising pipeline."
According to its website, Knight Therapeutics, headquartered in Montreal, Canada, is a specialty pharmaceutical company focused on acquiring or in-licensing innovative pharmaceutical products for the Canadian and select international markets.
PLX's pipeline is shown on the following slide to help readers as I discuss drug milestones later in this article (Source: Protalix's most recent company presentation):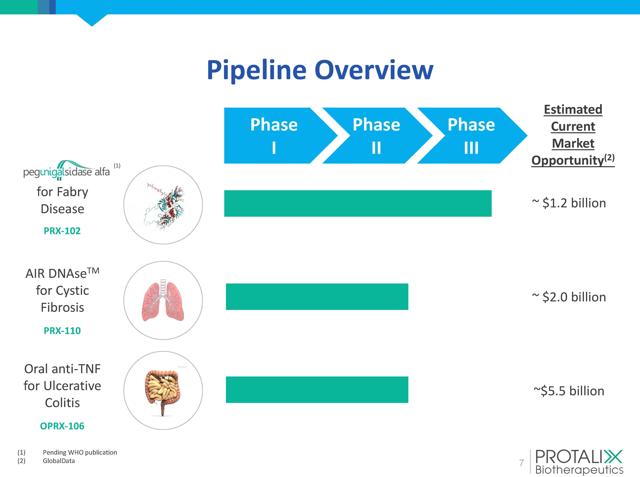 I am not certain what triggered Knight's interest in Protalix, but it could be related to the most recent 2016 review and 2017 outlook provided by the company on January 9, 2017, which I will review next.
January 9, 2017, Company Update and Outlook
This was the most comprehensive update since I started following Protalix a couple of years ago. Investors interested in PLX's shares should read this update in its entirety. I will only discuss some key aspects of the update as a follow-up to my previous two articles.
Protalix expects to announce full results for the Phase 2 efficacy and safety study of alidornase alfa (AIR DNase or PRX-110) for cystic fibrosis during the first quarter of 2017. The company reported interim Phase 2 results on January 3, 2017. To recap, AIR DNase outperformed $700M/year Pulmozyme from Roche (OTCQX:RHHBY) in two major categories, plus the results suggested that the drug could be a good therapy for all CF patients. Unlike other drugs that try to make a dent at an addressable market, AIR DNase is going after Pulmozyme's market share, and expects to make a dent on the market share of two other FDA-approved drugs with limited CF applicability.
Protalix will present full data from AIR DNase Phase 2 cystic fibrosis in June 2017, and at the Cystic Fibrosis Conference in November 2017.
The company is working on a potential collaboration agreement for its cystic fibrosis drug candidate with the Cystic Fibrosis Foundation.
PLX has previously hinted that it would consider a collaboration agreement for the development of AIR DNase, and again confirmed that intention in the latest update.
Two key opinion leaders will present clinical data for pegunigalsidase alfa (PRX-102 for Fabry disease) at the 13th Annual WORLDSymposium to be held in San Diego, Ca, from February 13 to February 17, 2017. Pegunigalsidase alfa is a plant-cell based chemically-modified version of the recombinant alpha-galactosidase-A protein. PRX-102 has proven in Phase 2 to be more active and stable molecule than the current available versions, and more importantly, it demonstrated enhanced circulatory half-life and high enzyme activity in target organs affected by the Fabry disease. Just like AIR DNase for CF has been designed to go after the $700M Pulmozyme, pegunigalsidase alfa was engineered to be an improvement over the multi-million-dollar Sanofi (NYSE:SNY) FDA approved Fabrazyme for FD.
Also, regarding the Fabry drug, Phase 3 clinical trials are underway with expected enrollment completion in 2017. Interim results are expected in 2018.
The company plans to publish Phase 2 clinical trials results for its ulcerative colitis drug candidate OPRX-106 during the second half of 2017. This Phase 2 is a randomized, open-label, two-arm study of OPRX-106 in 20 patients with active mild to moderate ulcerative colitis. The primary endpoint of the study is safety which will be evaluated by monitoring the adverse events after daily doses. Key efficacy endpoints include Mayo score, which calculates the stage of ulcerative colitis, and rectal bleeding. Per the company, OPRX-106 could become be the first ever FDA approved oral enzyme treatment.
The update stated that Protalix might also be contemplating potential partnerships for its ulcerative colitis drug candidate, in addition to its CF drug candidate AIR DNase.
Even one significant collaboration agreement would extend the runway to advance existing and new drug candidates towards FDA approval without having to resort to dilutive financing to do so. Investors reward small biotechs handsomely when they ink a significant partnership with large pharma. The announcement today that Incyte (NASDAQ:INCY) and Calithera (NASDAQ:CALA) entered into a global collaboration and license agreement for Calithera's hematology and oncology CB-1158 drug candidate caused CALA to gain almost 50%.
Management stated that its current $63M cash, and the revenues it expects from its recently announced contract win with the Brazilian Ministry of Health, will fund the company through the end of 2019. The Brazilian order is for a purchase of the company's first FDA approved alfataliglicerase to treat Gaucher patients. As discussed in my first PLX article, that order consists of several shipments during 2017, amounting to annual revenues of approximately $42.0 million.
Finally, for me, the most exciting statement from the update was this one: "New Pipeline Candidates for Indications for which there are Currently No Approved Drugs or that address Significant Unmet Medical Needs anticipated to be announced publicly and to progress into Clinical Development."
The last point confidently states that the company could potentially develop a limitless pipeline as it continues to engineer new molecules using the proprietary ProCellEx platform to address unmet medical needs and/or to replace existing drugs. This could give the company the flexibility to collaborate with a large pharma company to advance one of its current drug candidates all the way to FDA approval, and still have several drug candidates to go solo with. Protalix already has the experience of maneuvering through the regulatory FDA drug approval path as a result of having obtained approval for alfataliglicerase (Elelyso - watch the video) to treat Gaucher patients. This was a precedent-setting, first plant-based, genetically-engineered drug ever approved by the FDA (in partnership with Pfizer (NYSE:PFE)).
To sum up 2016 progress and the company's 2017 outlook, Moshe Manor, Protalix's president and chief executive officer, commented:
"2016 was a building year for Protalix. We aggressively pushed our clinical pipeline programs forward, which included high level regulatory agency discussions and the initiation of clinical trials for all three of our disclosed leading assets. Given our recent financing and the projected revenue stream from sales of alfataliglicerase in Brazil, we are well capitalized to deliver on our anticipated, value building milestones. Over the course of 2017 and into 2018, we expect to announce data from our phase III clinical trial on Fabry disease, final results from our phase II clinical trial of alidornase alfa for the treatment of Cystic Fibrosis and results from our phase II clinical trial of OPRX-106 for the treatment of ulcerative colitis."

"We expect that 2017 will be an extremely important, inflection year for us, with a number of significant commercial and clinical milestones that should bring considerable value to our stockholders."
2017 Milestone and Catalyst Table
I put together the following table to help investors visualize the many catalysts and milestones the company has provided in the January 9 update for 2017:
| | | | |
| --- | --- | --- | --- |
| Date in 2017 | Milestone/Catalyst | Drug Candidate | Condition |
| February 13 - 17 | Presentation @ Scientific Conference by two key opinion leaders (KOLs) | PRX-102 | Fabry Disease |
| 1Q 2017 | Report full results of Phase II clinical trials for cystic fibrosis | AIR DNase or PRX-110 | Cystic Fibrosis |
| April 2017 | Update 5th Nephropathy: Biomarkers, Progression, and Treatment Opportunities | PRX-102 | Fabry Disease |
| June 2017 | Full Data Phase 2 Presentation @ Unnamed Scientific Conference | AIR DNase or PRX-110 | Cystic Fibrosis |
| November 2017 | Full Data Phase 2 Presentation @ Cystic Fibrosis Conference | AIR DNase or PRX-110 | Cystic Fibrosis |
| Second Half 2017 | Publish Phase 2 clinical trial results for first oral drug for ulcerative colitis | OPRX-106 | Ulcerative Colitis |
| Undetermined | Partnership announcement related to cystic fibrosis drug | AIR DNase or PRX-110 | Cystic Fibrosis |
| Undetermined | Partnership announcement related to ulcerative colitis drug | OPRX-106 | Ulcerative Colitis |
| Undetermined | Announcement of collaboration/funding with the Cystic Fibrosis Foundation | AIR DNase or PRX-110 | Cystic Fibrosis |
| Throughout 2017 | Sales of the company's FDA-approved alfataliglicerase to Brazil | ELELYSO | Gaucher Disease |
| Undetermined | Completion of enrollment for Phase 3 clinical trials | PRX-102 | Fabry Disease |
| Undetermined 2018 | Interim Phase 3 data analysis | PRX-102 | Fabry Disease |
Risks and Uncertainties
1) Probably the biggest risk that could have a negative effect on the company's bullish outlook is failure by the Brazilians to honor their commitments to buy several shipments of the company's Gaucher drug. The company's forecast to be "well funded" through the end of 2019 relies heavily on expected revenues from this deal. South American and other third-world countries are notorious for changing their plans on a heartbeat. I would have been more nervous if the deal was inked say two years ago while the then Brazilian president Dilma Rousseff ruled the country. Brazil was associated with widespread corruption during her presidency until she was impeached in April 2016. During her tenure, Brazil's oil giant Petrobras (NYSE:PBR) was a frequent subject of corruption-related news and under-the-table dealings that sent the stock price to its lowest level in history. The oil price having crumbled obviously did not help. But since her departure, the stock price has doubled under the new country leadership.
I hope that the Brazilian government will continue to support the program to help people affected with the Gaucher disease. Brazil has the third largest Gaucher population behind the US and Israel. Recent reports indicate that Brazil's pediatric Gaucher population is growing at an alarming rate. Protalix announced in November 2016 that its Gaucher drug has been approved to treat children four years and older. The main signs and symptoms of Gaucher disease are an enlarged liver and spleen, low platelet and hemoglobin counts, and problems with bones and joints.
2) Unable to deliver the volumes of alfataliglicerase ordered by Brazil's Ministry of Health.
3) Wars and terrorist activity in Israel potentially affecting production and operations in general.
4) Failure to meet top-line results in any of the clinical programs underway.
5) Unable to stay on course regarding forecasted cash burn. Uncontrolled spending would require equity raises before 2019.
6) Loss of key talent to the competition.
At the current share price, Protalix has a market cap of less than $60M. This is one tenth of the market cap it had at the time of the FDA approval for its Gaucher drug. There have been some miscues in the past that negatively reflected in the stock price. The misses in earnings estimates were primarily related to the unpredictability of orders for the company's Gaucher drug from its partner Pfizer. Usually, when investors are turned off by performance problems and losses in shareholder value, they don't come back to the stock.
The recent share price appreciation and increasing trading volumes suggest that the market is giving the relatively new CEO the benefit of the doubt and the opportunity to execute his vision for the company. I believe that as the 2017 and 2018 milestones are successfully met, the stock price will reflect this progress.
The slide that follows shows that Protalix CEO Moshe Manor and Chairman Shlomo Yanai came from Teva Pharma (NYSE:TEVA), Israel's largest pharmaceutical company in November 2014: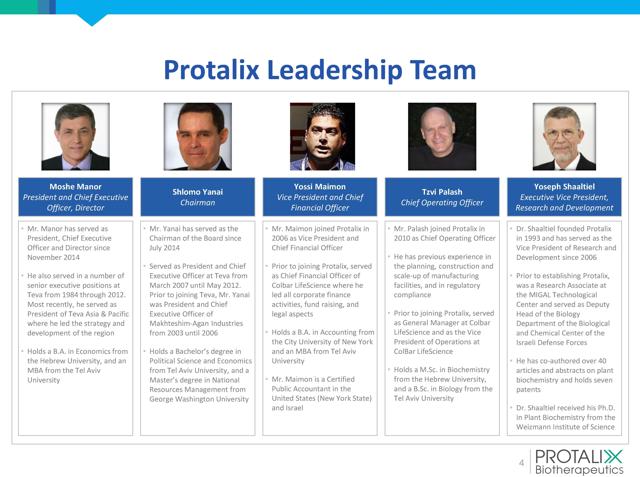 Conclusions
The most obvious conclusion from the above discussion should be that 2017 will be a busy year for the company, and potentially a rewarding one for PLX investors.
The recent large purchase of common stock made by cash-rich Knight Therapeutics of Canada might be an indication that we could expect other potential suitors to enter the race to capture a piece of Protalix.
There are exciting near-term catalysts like the February presentation of data related to the company's Fabry drug, the 1Q 2017 report of the final Phase 2 cystic fibrosis results, the potential announcements of collaborations and partnerships, etc. But the highlight of the company's update to me was the hint that there are several more drugs being developed using the ProCellEx platform. This makes Protalix a disruptive company with a potentially limitless pipeline as it keeps engineering molecules to treat rare diseases and/or to displace ineffective treatments such as what AIR DNase is aiming to do with the $700M/year Pulmozyme from Roche. One important advantage of Protalix drugs is that they can be made significantly less expensively using the ProCellEx technology platform than in conventional processes as explained in detail in my first article.
Also important is the fact that the company reiterated that it is well funded through the end of 2019 with the cash on hand and expected revenues from Brazil. Obviously, if it signs a major collaboration agreement say with the cystic fibrosis drug candidate, the runway to develop the existing and potentially growing pipeline could get extended indefinitely.
As can be seen in the above table, there are too many moving parts, which, if successfully and timely executed, could take the stock to a significantly higher level. For the time being, I will go with what the analysts covering the stock say the stock is worth, or an average price target of $2.6/share. I will be able to provide a valuation that I am comfortable with later in the year, after the company has made announcements related to its 2017 milestones.
Even though investing in PLX shares might seem safe at this point, I encourage investors to carefully review all the risks and uncertainties as detailed in the company filings with the SEC.
Disclosure: I am/we are long PLX.
I wrote this article myself, and it expresses my own opinions. I am not receiving compensation for it (other than from Seeking Alpha). I have no business relationship with any company whose stock is mentioned in this article.
Editor's Note: This article covers one or more stocks trading at less than $1 per share and/or with less than a $100 million market cap. Please be aware of the risks associated with these stocks.