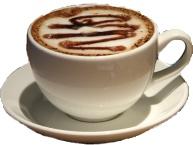 I covered coffee as a bullish investment opportunity a few months ago, despite it being early into a correction (what some critics described as actually bearish).
However all bull trends have short term and mid term corrections, which they recover from, and coffee is no different. The cyclical trading has developed into a Fibonacci arc or large scale bullish cup and handle technical pattern, (the reason for the bullish title). That has worked through and continued, so what should we expect now?
The Fibonacci arc is illustrated on the weekly chart below. Early January buying support is just over the S1 level, and developed into five rising 'Elliot waves', ending in the fourth quarter high. The expected correction took coffee down about 62% of the whole previous rise, and found the low on the rising arc trend line, which was also an absolute low on the fast stochastic.
Recent trading seems to have weakened a bit, with a red weekly candlestick, which raises the question of what happens next.
The black ADX hasn't quite crossed the red DMA over the MACD (bull confirmation), but the MACD itself is close to going bullish. The fast stochastic is mid way to the 50 level, and 'could' be turning down in a mini correction similar to that of early 2016. Is anything worse feasible?
A coffee seasonality chart based on 20 years trading, is offered by 'Equity Clock'. This suggests that there could be choppiness in late January, and early to mid February, but nothing that would itself suggest a 'new low'. In fact mid February appears to be 'prime time' for coffee, (I can smell those beans roasting from here!).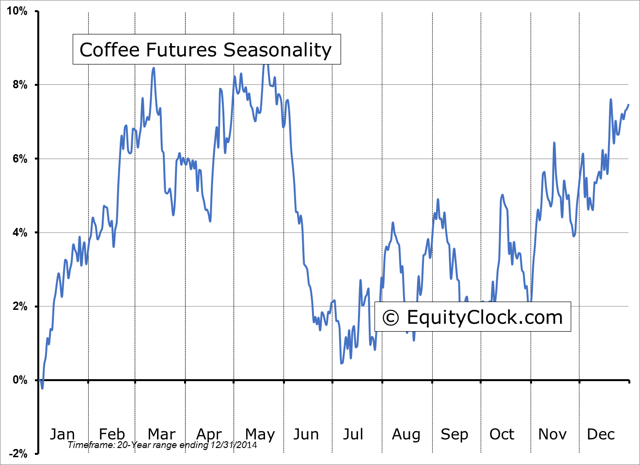 The current high is actually about 138% of the rise in January 2016. So while a correction isn't currently in play - as the rising trend line hasn't broken (so the market could still rise), it is a potential reversal point, worth considering in terms of risk management.
Should a sell off develop, support is on the green horizontal level highlighted which is also near the 50 moving average, and another Fibonacci level. That would create another bounce on the fast stochastic, to a higher low.
COT illustrates that large and small specs are still fairly bullish at this point, while producers have generally been selling this past few weeks, creating the chart weakness.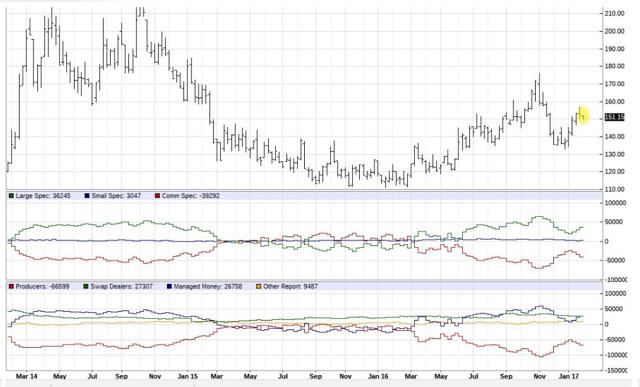 On a bullish perspective, the chart is pointing to 'wave 1' selling resistance, (meaning several bullish waves outstanding in this series) at just below the previous high near $1.72
Traders looking to profit take, could attempt to take advantage of a near term correction, however the first wave (138% of the last series) appears to be below the current high. Coffee needs to maintain the recent December low in any imminent correction, and the seasonality of coffee suggests that is most likely.
Disclosure: I/we have no positions in any stocks mentioned, and no plans to initiate any positions within the next 72 hours.
I wrote this article myself, and it expresses my own opinions. I am not receiving compensation for it (other than from Seeking Alpha). I have no business relationship with any company whose stock is mentioned in this article.