Gold (NYSEARCA:GLD) investors are waking up to a welcome surprise today as the metal has catapulted itself back above $1,200/oz overnight. The bears are likely having a less pleasant morning, but we've been warning them they've been fighting a losing battle for weeks now. They continue to obsess over the small time frames, and come out in droves for every single down day for the Gold Miners Index (NYSEARCA:GDX). While I'll admit they were briefly right as the price of gold fell back under $1,200/oz, it seems they're more interested in being right than making money. Unless trading with very large bets or using options, there's been very little money to be made shorting gold the past couple weeks. Even if one was able to catch the absolute highs and cover at the absolute lows, the best move was a 3% gain. I applaud the day-traders that are able to take a daily paycheck on JNUG and JDST like DivySeeker and Doug Eberhardt, but the majority of day-traders are not consistently profitable. Unfortunately, the bears' weapon of choice to profit from this gold move has been GDX, and the index continues to make higher lows every week. It seems that exuding bravado is high up on the bears' priority list, as they stubbornly remain on the wrong side of this miners trade.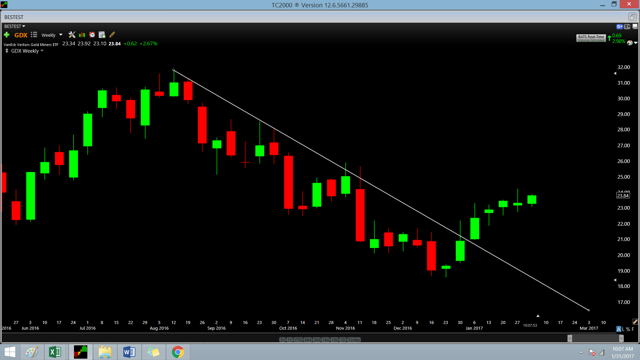 (Source: TC2000.com)
As we can see in the above chart, the Gold Miners Index broke out of its downtrend more than 5 weeks ago now. Despite the bears filling up my inbox with fan-mail daily, I was kind enough to warn them that this was not a time they wanted to be short. According to them they've been making money on this trade, which is one of the most impressive feats I've ever seen. Some of the best money managers in the world would have difficulty profiting on the short side from an index up 7 weeks in a row, but the bears have apparently done so without a hitch. Rather than spending their time duking it out on the Seeking Alpha comments section, they should be dropping their resumes off at the JPMorgan front desks for trading positions.
Ok, ok, enough poking the bears. Let's move on to some real analysis.
One of the reasons I have been so bullish on gold the past few weeks has been the complete lack of bullish sentiment. When the price of gold touched $1,220/oz last Monday, sentiment was still in bearish territory. The DSI closed at a level of 42% bulls, meaning that there was still more bears than there were bulls in the metal. This is very unusual for a market that is up 7% off its lows, and this told me that traders having a hard time trusting this move. The consensus was that gold had began a new bull market last year, and very few were expecting the correction to be as violent as it was, including myself. I believe this really shook the confidence of precious metals investors, and the majority have had a hard time being completely confident in this move. This lack of trust in a move is a great contrarian indicator, and often provides buying opportunities for those willing to stick their neck out.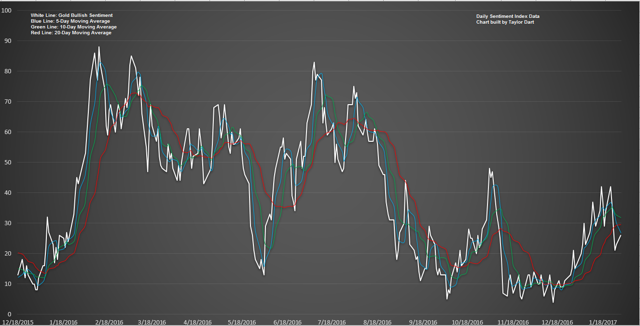 (Source: Daily Sentiment Index, Author's Chart)
As we can see from the above chart, gold closed at a reading of 25% bulls yesterday. Despite the market being up 16 of 23 days to the tune of 7%, there was still 3 bears for every 1 bull. This shows a complete lack of interest in participating in this move, and that's a market that I want to be a part of. When everyone has given up on a trade, typically that's a market that you want to stay long.
Taking a look at the above sentiment chart, it remains in very bullish alignment. The 21-day moving average (red line) continues to trend higher and the brief correction below these moving averages likely served to shake the tree and take out any gold investors without conviction. I am anticipating a close of 31% on bullish sentiment today assuming we close where we are now. This would allow bullish sentiment to close back above the 21-day moving average, and would put is in great alignment for continuation of this move. We can see on the left side of the chart that in early 2016 we saw a similar spike lower which eroded 17% of bullish sentiment before the real move started. This is a reason why the correction last week did not concern me, and I was actually happy to see one.
As we near the close of the month, I have been paying close attention to gold's relationship with its 20-month moving average. This line provided resistance for nearly 4 years between 2012 and 2016, but the metal finally broke above it in early 2016. As we can see, gold closed below its 20-month moving average in November which was a sign that the bull thesis was in serious jeopardy. Fortunately for the bulls, we are very close to closing back above the 20-month moving average. As long as GLD closes above 114.67 today, the index will register a monthly close back above this indicator. I would see this as a positive development for the bulls as this would tell us that the December correction was likely a well executed bear trap.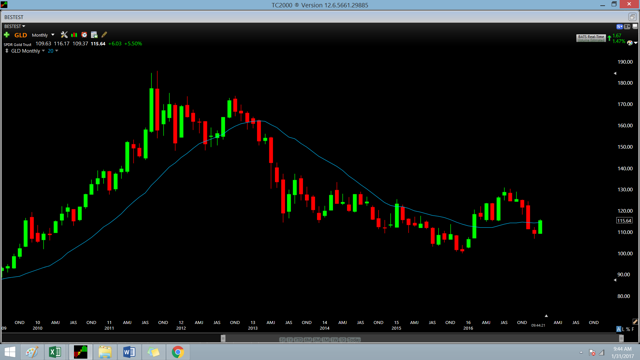 (Source: TC2000.com)
Just last week I shared this chart in my article "Gold: The Running (Away) Of The Bulls" and expressed why I felt gold's correction was likely over. Despite many panicking as we had fallen back below $1,200/oz, we were sitting right on trendline support from the beginning of 2017.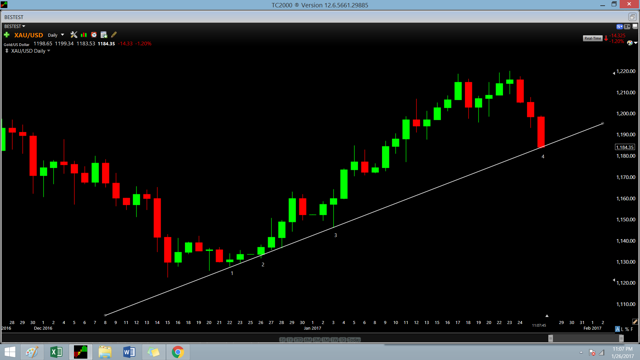 (Source: TC2000.com)
Below is an updated chart from my one posted Thursday. As we can see the trendline provided a trampoline for the metal, and gold is now trading nearly 3% higher. Bulls should take comfort in the fact that gold bounced off this trendline as it did, as a more sluggish bounce would be a potentially ominous sign. The test of the $1,250/oz trendline in October of last year was unimpressive to say the least, and this was a warning that it likely wouldn't hold.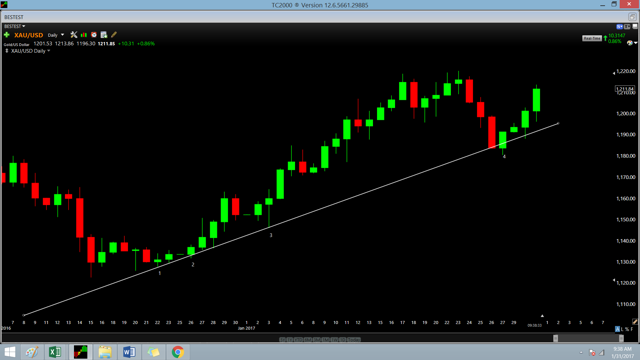 (Source: TC2000.com)
Moving to my shorter term trend system, we can see that gold has moved back into bull mode as of yesterday. The blue line (short term moving average) has closed back above the yellow line (medium term moving average) which means the bulls have their foot back on the gas. We can see that this will be the third test of the $1,220/oz level for the metal, and we'll have to see if this time's a charm for bulldozing through resistance. This is the bears last line of defense in my opinion, and above $1,220/oz I see no resistance until $1,270/oz.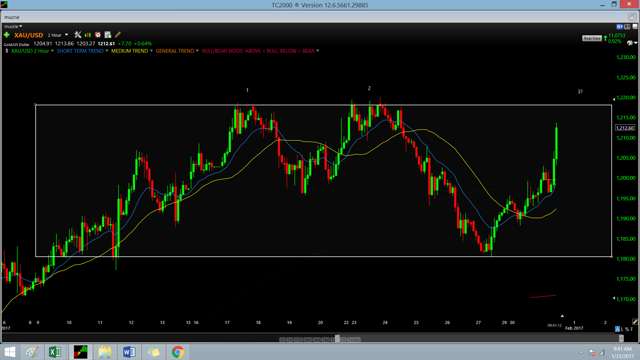 (Source: TC2000.com)
Moving to the Gold Miners Index, we can see that the GDX has made a strong follow through move to its 20-month moving average test, and never broke it like gold did. This is an extremely bullish development, and we now have what looks like a monthly morning star pattern on the GDX. While this pattern isn't perfect, morning star patterns are very bullish especially on monthly charts. The pattern represents a change in trend from bearish to bullish, and is not what the bears want to see here. To be fair this is not by any means a textbook morning star pattern, but is very reminiscent to one.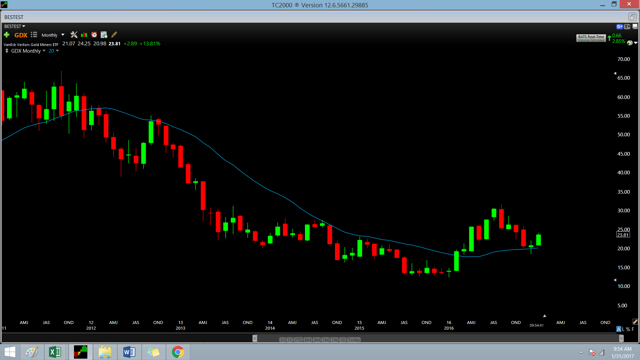 (Source: TC2000.com)
Finally moving to the daily chart of GDX, we can see that the index continues to grind higher. The 50-day moving average has assumed a positive slope, and the past resistance at $22.50 has been strong support over the past 3 weeks. In addition to this, the GDX is showing real commitment to its breakout from the descending channel, and I would be very surprised if it fell back in this channel. This is a serious chink in the bear's armor, especially as their tool for betting against gold is the GDX. Despite some minor resistance at $24.25 (last week's highs), I see very little to slow up the GDX long term. I expect any dips to be shallow and find buyers at the rising 50-day moving average. I will continue to add on the dips as I did last week with new miners.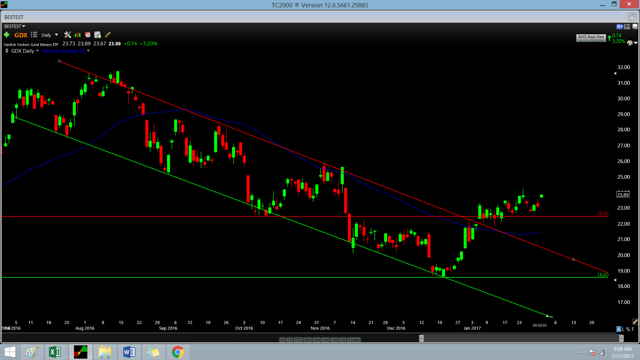 (Source: TC2000.com)
So how am I positioned?
Due to my dislike for many of the GDX components, I prefer to invest in individual miners. I am currently 48% long gold stocks across my portfolios, as well as long a half position in gold from $1,176/oz.
Sentiment in the yellow metal remains pervasively bearish, despite gold staging a strong comeback from what was a catastrophic Q4. The current sentiment reading supports a strong move higher for gold, and the sentiment trend remains in very bullish alignment. This is even more bullish than the 2016 setup from a sentiment standpoint, as we are beginning the rally from extremely pessimistic levels.
Ideally I would like to see gold close above its 200-day moving average and the downtrend at $1,270/oz in the coming weeks. This would allow the technicals to confirm the uptrend in sentiment, and put all of my indicators in bull mode. Having said that, I see no reason to doubt this move in gold as long as the December lows at $1,120/oz hold.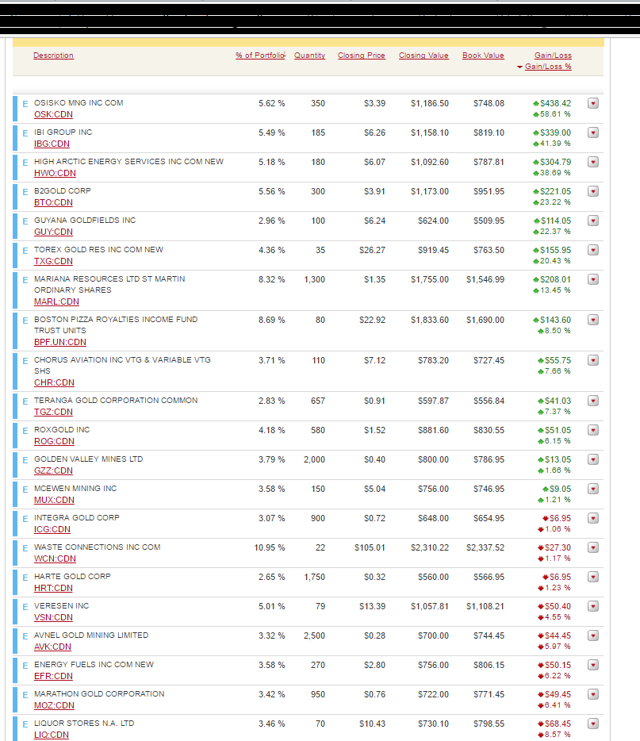 (Source: CIBC Investors Edge Account)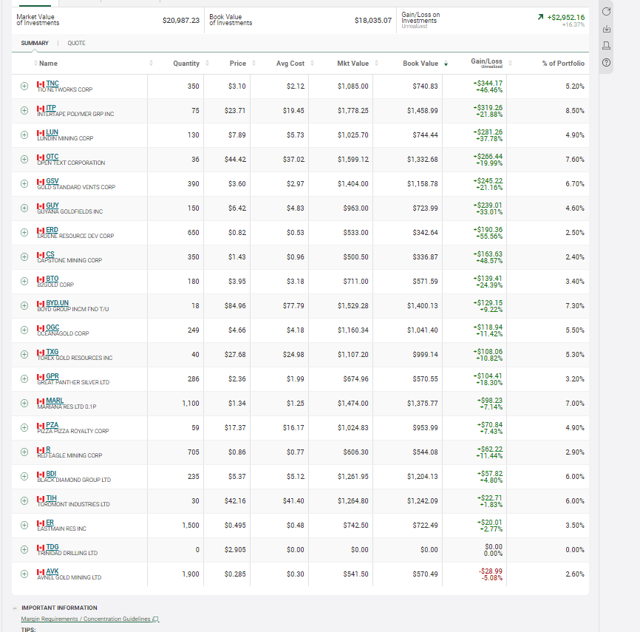 (Source: TD WebBroker Account)
For full transparency I have shown my positions above in my main two accounts to show my money is where my mouth is.
My top 3 mining positions by weight in no particular order are shown below, as well as the new junior miner I added last week.
Disclosure: I am/we are long GLD, BTG, TORXF, MRLDF, MGDPF.
I wrote this article myself, and it expresses my own opinions. I am not receiving compensation for it (other than from Seeking Alpha). I have no business relationship with any company whose stock is mentioned in this article.
Additional disclosure: If you liked this article and found it useful, please feel free to follow me by clicking on the orange button next to my name at the top of this article. I also invite you to follow me at www.twitter.com/TaylorDart01 where I routinely share my entries, exits, and stops on new positions, as well as updating followers on sentiment data on markets I am following.
Editor's Note: This article discusses one or more securities that do not trade on a major U.S. exchange. Please be aware of the risks associated with these stocks.