The presidency of Donald Trump is now underway and off to an eventful start in its first two weeks. Given all that has already taken place along with the changes that are anticipated on the fiscal policy front in the months ahead, it is reasonable to consider what impact, if any, we are likely to see on financial markets in general and the stock market in particular. In short, investors should not necessarily expect smooth sailing in the months ahead.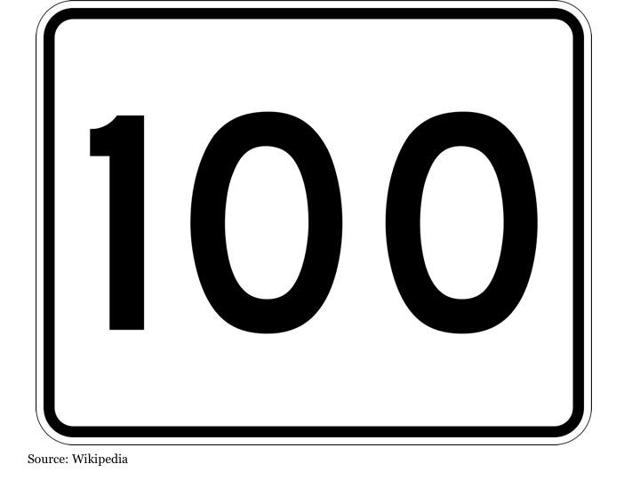 The First 100 Days
The statement about smooth sailing has almost nothing to do with politics. Instead, it has to do with the reality of investment markets and how they respond to the uncertainty associated with the inevitable changes that come with the arrival of a new administration. And just because the waters may not be smooth does not mean that stocks will not eventually find their footing and make their way to the upside over time.
But the one thing that investors should anticipate more than anything else in the months ahead is the potential for measurable bouts of downside volatility. These are not likely to be corrections that last for a few hours in a trading day. Instead, they have the potential to last for a few weeks to a month or even longer and may knock a bunch of percentage points off of the S&P 500 Index (NYSEARCA:SPY) in the process. This may be particularly true in 2017 given how strongly the market (NYSEARCA:DIA) reacted to the upside in the weeks following Election Day in the U.S. Of course, the persistent sloshing of central bank liquidity in the financial system may offset these forces. Only time will tell.
So if history is any guide, investors should prepare for stretches in the months ahead where the stock market (NASDAQ:QQQ) falls into correction for an extended period of time. And if such a correction takes place, it would not necessarily be a reflection either positively or negatively of anything the new administration has done or plans to do. Instead, it would be the market reacting as it always has in recent history following the start of a new administration in Washington DC.
To highlight this point, we will look at the price performance of the S&P 500 Index over the first 100 days of each new administration dating back to 1981.
Let's begin with the first 100 days following the inauguration of Ronald Reagan back on January 20, 1981. The S&P 500 Index immediately declined by -6.2% over the next month through late February before subsequently rallying through late March. It rolled over once again through early May in declining by another -5.4% before finding its footing and eventually ending its first 100 days effectively flat.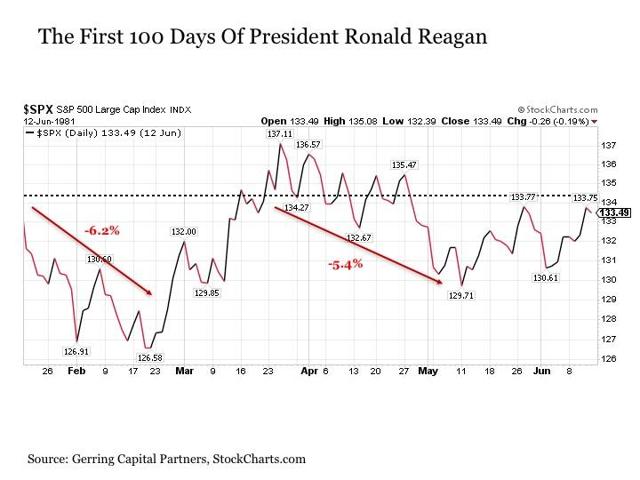 The next new administration came with the inauguration of George H. W. Bush on January 20, 1989. Despite the fact that the stock market posted a solid advance over his first 100 days in office, we still saw two measurable corrections of -4.2% in February and -3.5% in March of that year before stocks finally ramped to the upside. The fact that stocks were trading at just 11.8 times trailing as reported earnings at the time was a contributing tailwind to the upside that followed.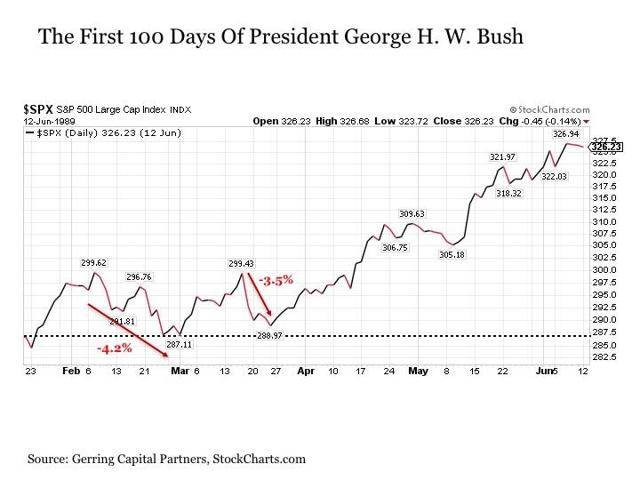 Next up was the inauguration of Bill Clinton on January 20, 1993. Markets thrashed back and forth in the first 100 days of his presidency including a -3.9% correction in February and a -5.0% drop through March and April. Of course, these pullbacks were met with comparable rallies that kept stocks trading in a channel between flat and up a few of percentage points over this time period.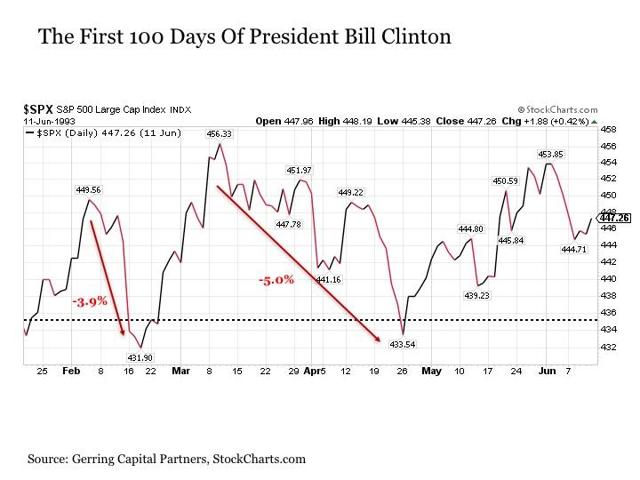 Then came the inauguration of George W. Bush on January 20, 2001. Mr. Bush, of course, was arriving into office already months into what came to be recognized as the bursting of the technology bubble. And with stocks trading at 26.4 times trailing as reported earnings upon taking office, the risks were tilted to the downside. As a result, we saw stocks fall by nearly -20% in the first two plus months after inauguration day. But after this initial decline, stocks subsequently bounced back to end up close to flat by late May.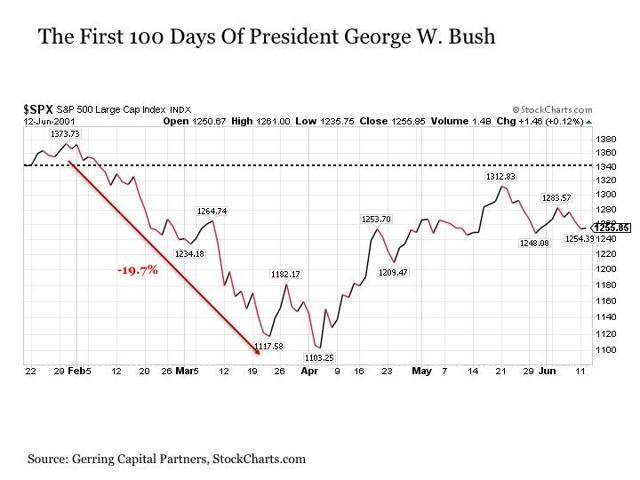 Next was the arrival of Barack Obama to the presidency on January 20, 2009. His timing was similar to his predecessor's in the fact that his presidency was beginning in the midst of a major market correction in the financial crisis. And stocks dropped by nearly -23% in the several weeks that followed Inauguration Day. But they eventually bottomed on the now famous date of March 9, 2009 and ended up higher by a solid margin over his first 100 days.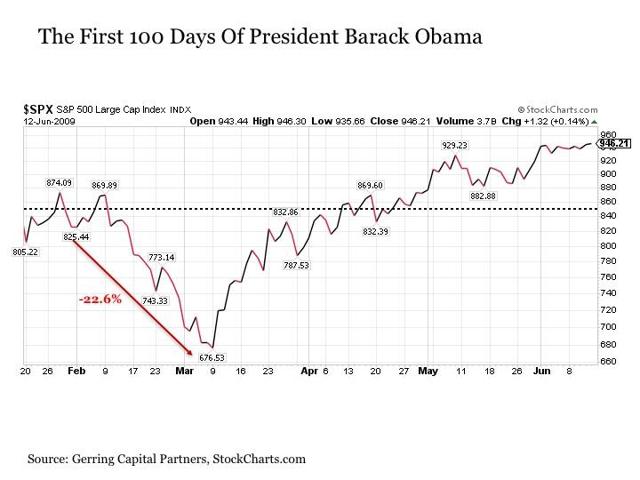 So where does this leave us today? We are currently 12 days into the Donald Trump presidency. Markets responded positively to the upside in the first few trading days and have spent the past two making their way back.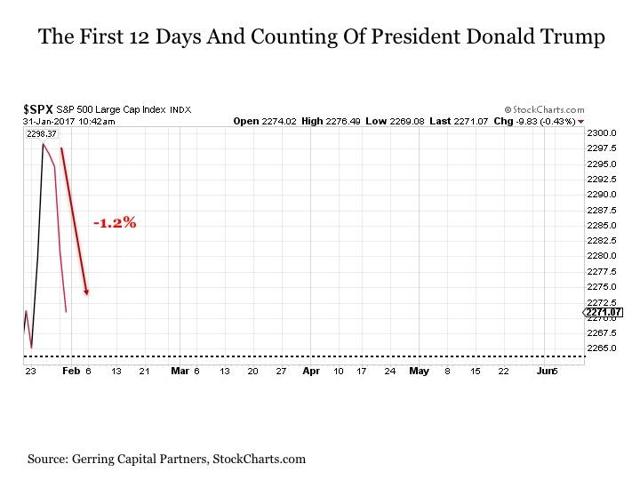 But regardless of whether Mr. Trump has been extremely active or absolutely quiet, if stocks end up thrashing around in the coming weeks to months, this should not come as a surprise to investors. Indeed, these market moves may be in direct response to a certain policy initiative. Then again, we may see equally swift market moves that have nothing to do with what may be happening on the fiscal policy front on any given trading day.
The Bottom Line
Put simply, do not be surprised if the stock market drops by -3% to -7% or much more for a measurable period of time over the next few months. For if it did not, it would be the glaring exception to the norm, as every other presidential administration dating back to Herbert Hoover has seen comparable levels of stock price volatility at least some point along the way in their first 100 days.
Instead, the bigger question for investors in the coming months will be what to do with any such correction that takes place in the near-term. Post crisis history has supported the notion of buying any and all such dips when they take place. Whether this continues to be true remains to be seen and will be dependent on the amount and nature of movement made on the fiscal policy front in the coming months. But at a minimum, any such corrections almost always bring with them selected buying opportunities on which to capitalize.
One final point is worth consideration looking out further into the future. With the exception of the Inauguration Day for Presidents Franklin Roosevelt and Barack Obama, the stock market was higher than it was on the first Inauguration Day of the previous administration in Hoover and George W. Bush, respectively (the stock market was effectively flat on a price basis from Nixon's to Carter's Inauguration Day (excluding Ford, who was Nixon's Vice President and was inaugurated in between following Nixon's resignation). Given where stock valuations are today at 25.1 times trailing as reported earnings, it will be interesting to monitor whether stocks are able to continue this rising trend over time between administrations going forward. Only time will tell.
Thank you to everyone that took part in the DIY Investor Summit 2017. I enjoyed participating in this year's event and hope that you found it to be a worthwhile experience. Thanks also to those that took advantage of the special offers to join The Universal, as it is great having you on board.
Disclaimer: This article is for information purposes only. There are risks involved with investing including loss of principal. Gerring Capital Partners makes no explicit or implicit guarantee with respect to performance or the outcome of any investment or projections made. There is no guarantee that the goals of the strategies discussed by Gerring Capital Partners will be met.
Disclosure: I/we have no positions in any stocks mentioned, and no plans to initiate any positions within the next 72 hours.
I wrote this article myself, and it expresses my own opinions. I am not receiving compensation for it (other than from Seeking Alpha). I have no business relationship with any company whose stock is mentioned in this article.
Additional disclosure: I am long selected individual stocks as part of a broadly diversified asset allocation strategy.