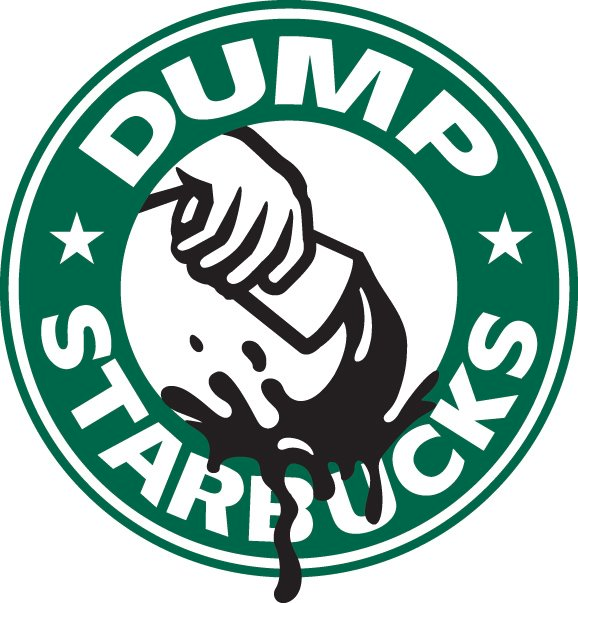 Here We Go Again
As the dust continues to settle from President Trump's travel ban, Starbucks (NASDAQ:SBUX) becomes at least the second company to be threatened with a boycott. First Uber (Private:UBER) was targeted for deletion by Trump opponents upset by its CEO's presence on President Trump's Business Advisory Council. Now Trump supporters have started a call on Twitter (NYSE:TWTR) to #BoycottStarbucks after Starbucks announced plans to hire 10,000 refugees.
One of the more widely-shared tweets on the hashtag was this one by Trump supporter Amy Mek, highlighting the company's exclusion of women in its Saudi stores: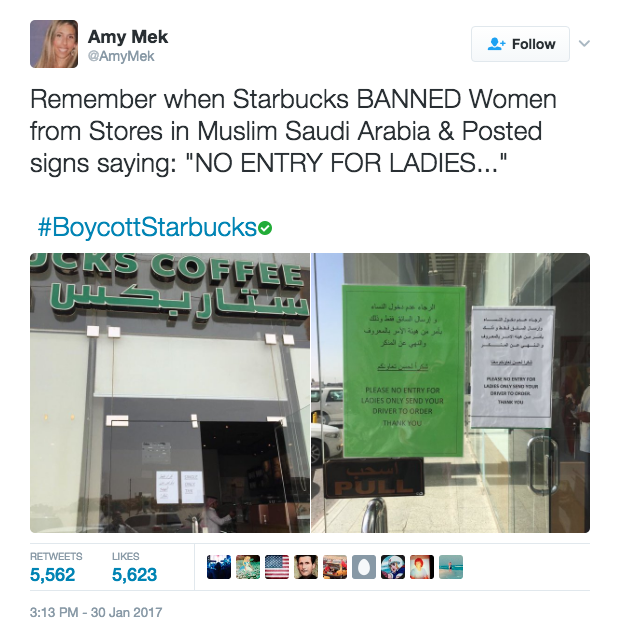 The English translation of the signs on the Saudi Starbucks door asks women customers to send their drivers in to get coffee rather than entering the store themselves. Those signs, while objectionable by Western standards, are an example of why we suggested before the election that investors shouldn't fear Trump. We focused on tech companies there, but the same principle would apply to Starbucks:
Does that mean Facebook, Amazon, Apple, United Techologies, etc., wouldn't be able to navigate under a President Trump? No. If Candidate Trump becomes President Trump, these companies will work within his policies the same way they work within the policies of foreign leaders all over the world. Mark Zuckerberg and Tim Cook may not be fans of Donald Trump, but that won't stop them from doing business in President Trump's America any more than their differences with, say, Prime Minister Najib Razak kept them from doing business in Prime Minister Razak's Malaysia now.
What we perhaps didn't give enough weight to in that article were the challenges of operating in an America fighting a "cold civil war," to borrow John Derbyshire's term. As in the Uber example, partisans are quick to assign a political valence to the statements of a CEO and then threaten to align their consumption accordingly.
The Potency Of Boycotts
We considered this in our Uber article looking at three recent examples of boycotts on PepisCo (NYSE:PEP), Kellogg (NYSE:K) and GrubHub (NYSE:GRUB). The first two had negative stock performance since boycotts were announced by Trump supporters after the election, and the third not only had positive performance, but outperformed the SPDR S&P 500 ETF (NYSEARCA:SPY) over that time frame. So, if you're a Starbucks shareholder, you might want to consider if it's more like Pepsi and Kellogg in terms of the stickiness of consumer behavior or more like GrubHub. You might also consider if this boycott might have the opposite effect, driving Trump opponents to spend more at Starbucks, as Shafeeq Yunus suggests: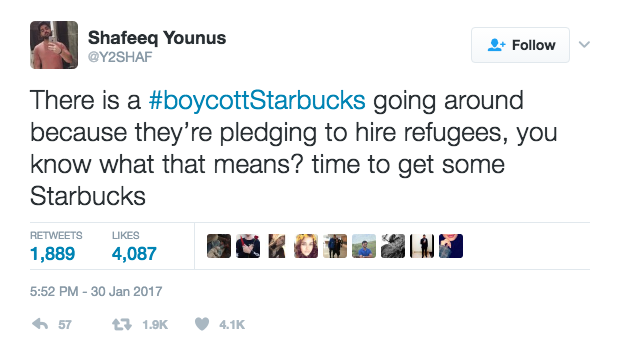 If you're not sure, we'll look at a couple of ways of limiting your risk below.
Limiting Risk For Starbucks Longs
If you'd like a refresher on hedging terms first, please see the section titled "Refresher On Hedging Terms" in this previous article of ours, Locking In Gold Gains. We used Portfolio Armor's iOS app to find optimal puts (uncapped upside) and an optimal collar (capped upside) to hedge Starbucks, but you can find them yourself instead by using the process we outlined in this article if you like working out recursive sorting algorithms. Both hedges are designed to protect against drawdowns greater than 13% (they have 13% "thresholds" in our terminology). You can hedge using smaller thresholds, but, all else equal, though, the higher the threshold, the cheaper it will be to hedge.
Uncapped Upside, Higher Cost
These were the optimal puts as of Monday's close to hedge 500 shares of SBUX against a greater-than-13% drop by late July.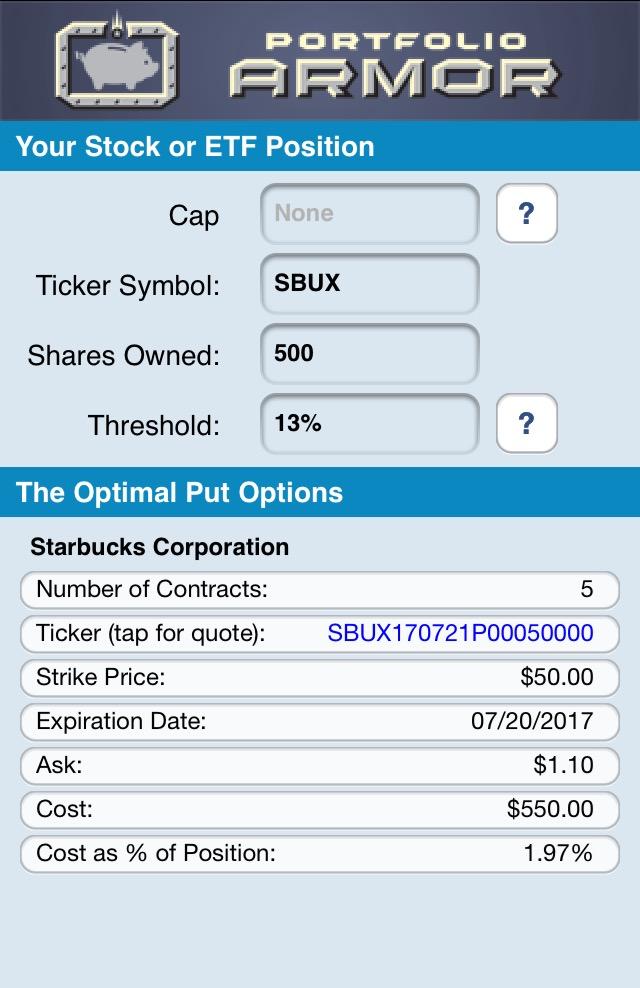 As you can see at the bottom of the screen capture above, the cost of this protection was $550 or 1.97% of position value (calculated conservatively, using the ask price of the puts). The 13% threshold includes that cost, i.e., in the worst-case scenario, your SBUX position would be down 10.44%, not including the hedging cost.
Upside Capped At 7%, Lower Cost
7% is the potential return over the next six months implied by Wall Street's consensus 12-month price target (via Nasdaq, below).

This was the optimal collar, as of Monday's close, to hedge 500 shares of SBUX against a >13% drop by late July, while not capping an investor's upside at less than 7% by then.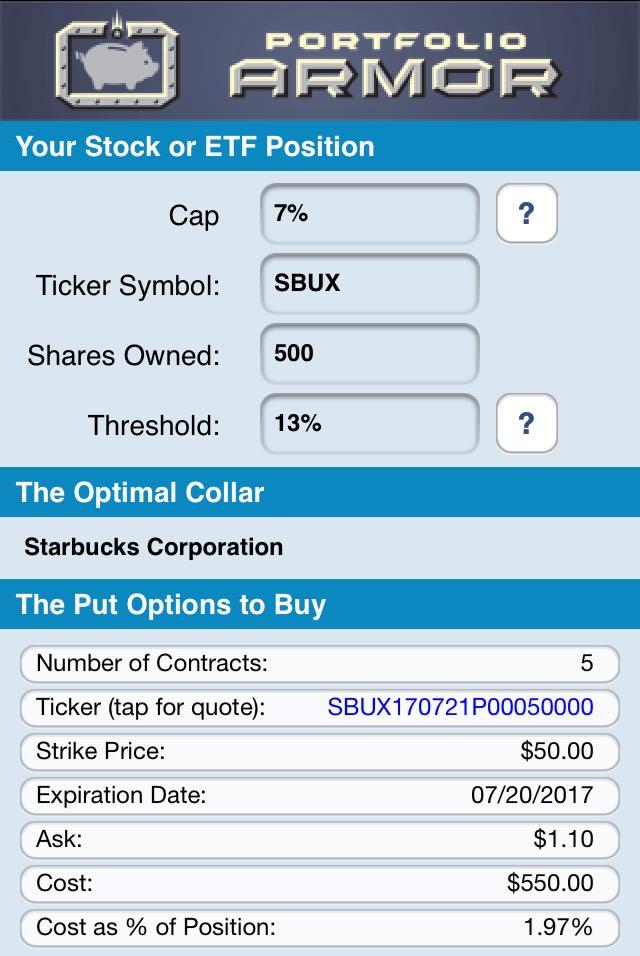 As you can see in the first part of the collar above, the strike of the put leg was the same as in the previous hedge, so the cost was the same: $550, or 1.97% of position value. But as you can see in the second part of the collar below the income generated from the call leg was almost as much, $540, or 1.93% of position value.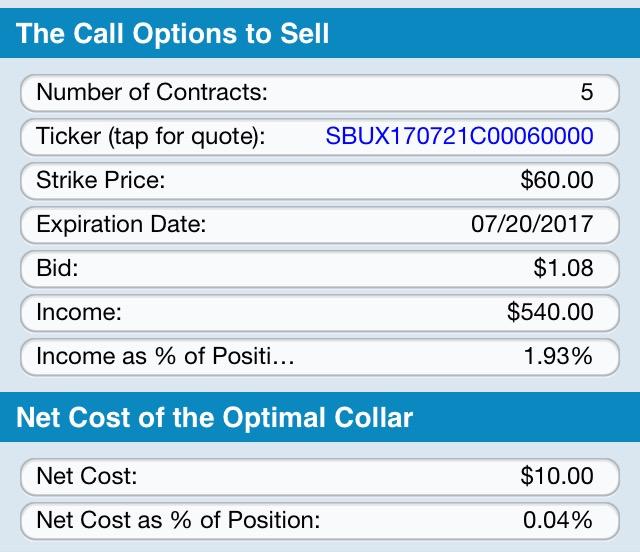 So the net cost of this collar was $10, or 0.04% of position value. A couple of points about this hedge:
Similar to the situation with the optimal puts, to be conservative the cost of the optimal collar was calculated using the ask price of the puts and the bid price of the calls - in practice, an investor can often buy puts for less and sell calls for more (again, at some price between the bid and the ask). So, in reality, an investor would likely have collected a net credit when opening this collar.
This hedge may provide more protection than promised if SBUX declines in the near future due to time value. However, if it spikes in the near future, time value can have the opposite effect, making it costly to exit the position early.
Disclosure: I/we have no positions in any stocks mentioned, and no plans to initiate any positions within the next 72 hours.
I wrote this article myself, and it expresses my own opinions. I am not receiving compensation for it (other than from Seeking Alpha). I have no business relationship with any company whose stock is mentioned in this article.