In a recessionary market, three market sectors perform well in comparison to the broader market. These "defensive stocks" allow investors to protect capital and receive attractive dividend payments. In order to mitigate the downside risk of investing in single stocks, I've focused primarily on investing in diversified ETFs. The two defensive sectors I've written about already are the Consumer Staples and Utilities Sector. The last defensive sector I wanted to cover is healthcare.
Why Might the Market Correct?
I have no magic ball, but I can certainly think of a few reasons the market may correct in the not so distant future. Why might this occur you may ask? Well - there are several reasons. The historically predictive Shiller PE Ratio certainly suggests the market is overvalued. The elephant in the room though... the recent "Trump Rally."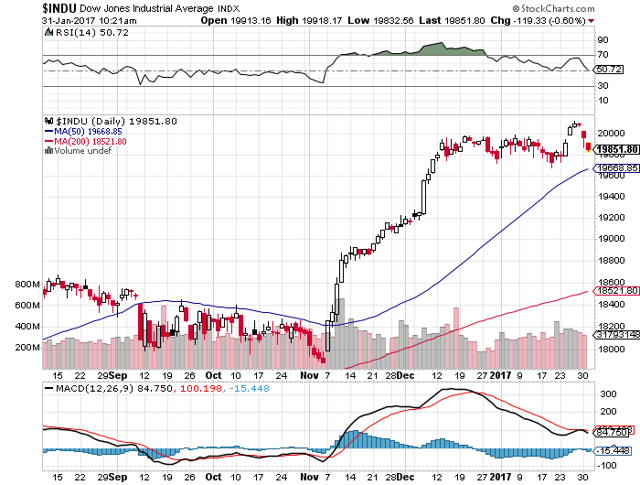 I'm naturally pessimistic, and when the Dow goes up more than 8% in 3 months based upon little more than optimism - I get a bit skeptical. Granted, the promise of lower corporate taxes, deregulation, and pro-growth policies will ultimately have a positive effect on the economy. On the other hand - trade wars, tariffs, civil unrest, and damaged international relations will not. Clearly, we are operating outside of any norms, so I honestly cannot tell you where the economy will go.
Here's what I can say: the possibility of a market correction is evident, and if you buy that theory, you should consider investing in defensive positions. One defensive sector with future growth potential is the health care industry.
Why Health Care?
Health care is an industry that will always be in demand. Personal medical concerns and serious ailments must be addressed regardless of how the economy is performing. The assumption here is that consumers value their own physical well-being over their financial status.
People will continue to consume pharmaceuticals in all market conditions, and society generally continues to seek medical advancement. This isn't a perfect model since many companies will opt to sell medical devices and perform operations that have remained unchanged for many decades. As a whole however, health care companies are constantly pursuing medical breakthroughs, and they generally perform very well in all market conditions. Additionally, medical stocks provide opportunities for significant capital gains.
In order to avoid the risk of incorrectly choosing individual stocks that are subject to company specific risk, I believe investing in a healthcare ETF is an optimal strategy. I compared the top 5 healthcare ETFs to gain a better picture of their overall strengths and weaknesses.
Comparing ETFs
The five ETFs I compared were:
| | | | | |
| --- | --- | --- | --- | --- |
| ETFs | AUM | Avg Vol. | Expense Ratio | 12-Mo. Yield |
| XLV | 13.68 Billion | 10,500,000 | 0.14% | 1.60% |
| VHT | 5.53 Billion | 232,721 | 0.10% | 1.46% |
| IYH | 1.67 Billion | 141,981 | 0.44% | 1.29% |
| FHLC | 615.32 Million | 143,618 | 0.08% | 1.40% |
| RYH | 474.16 Million | 24,469 | 0.40% | 0.48% |
| | | | | |
| Average | | 2,208,558 | 0.23% | 1.25% |
| Median | | 143,618 | 0.14% | 1.40% |
Ultimately, the most popular ETF on the market ended up being the most attractive. XLV had extremely cheap fees and the highest 12-month dividend yield of the ETFs above. Additionally, XLV is highly diversified in strong, large-cap, U.S. Health care stocks. Its top five holdings are: Johnson & Johnson (NYSE:JNJ), Pfizer (NYSE:PFE), Merck (NYSE:MRK), UnitedHealth Group (NYSE:UNH), and Amgen (NASDAQ:AMGN) for roughly ~35% of the ETF composition. XLV's gains over the past five years were ~93% compared to the S&P 500's ~71%. Clearly the healthcare industry provides opportunity for significant capital gains.
The best healthcare ETFs are XLV, VHT, and FHLC. However, my favorite of those three is without a doubt XLV.
Health Care Today
Recently, the health care industry has experienced increased volatility predicated upon uncertainty surrounding the "repeal and replacement" of the Affordable Care Act. The Republican led Congress claims to be working on a replacement plan. One such proposal that has arisen from protracted debates is the "Patient Freedom Act." Republican Senators Bill Cassidy and Susan Collins have outlined a plan that allows some states to keep Obamacare while others adopt a more free market approach. Trump on the other hand has stated a desire comprehensive coverage for all. The details of Trump's plan remain murky. Based on the semantics though, it appears Trump is supportive of a highly progressive plan that could come in conflict with his own party.
To visualize the recent volatility in the Health Care sector, I included XLV's performance graph for the last 6 months. The "Trump Bump" immediately corrected itself in December, and now the fate of the health care industry remains in limbo.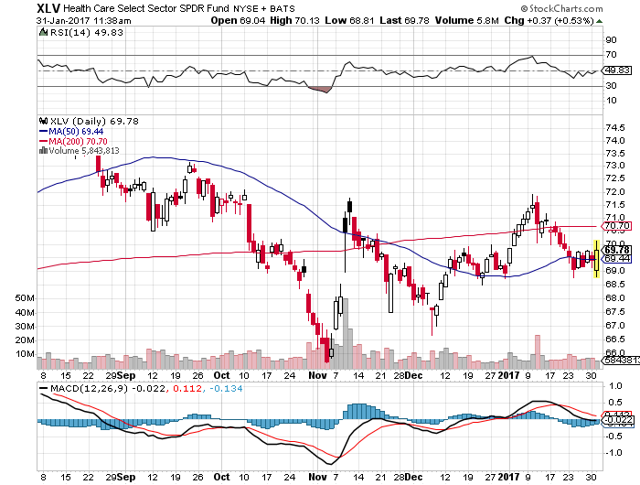 XLV Analysis Continued...
For those interested in reading up on XLV's finer details, I'll include a link to their prospectus here. I'll save you some time and outline some of the major points. The prospectus goes through some of the major risks associated with ETF investing. By investing in XLV, you are taking a passive approach to the market. The fund is structured to mimic the aggregate returns of large-cap healthcare stocks.
Here are their average annual returns:
| | | | |
| --- | --- | --- | --- |
| | One Year | Five Years | Ten Years |
| Return Before Taxes | 6.68% | 20.08% | 10.48% |
| Return After Taxes on Distributions | 6.48% | 19.66% | 10.14% |
| Return After Taxes on Distributions and Sale of Fund Shares | 4.16% | 16.37% | 8.62% |
| The Health Care Select Sector Index | 6.95% | 20.31% | 10.69% |
Frankly, I like XLV because of its safety. XLV is not overly risky, but it provides the potential for relatively attractive capital gains. I like that XLV is not overly exposed to the volatile biotech industry. I am not a fan of the gambling game associated with high risk biomed companies whose future prospects are contingent upon binary decisions made by the FDA. XLV is well covered by market analysts, and it is highly traded. These two factors allow XLV to properly perform in sync with underlying market indices.
XLV at its core is a passive approach to a single sector. If you suffer from over thinking individual stock picks like me, but you want exposure to the healthcare market - XLV is your best bet.
Disclosure: I/we have no positions in any stocks mentioned, and no plans to initiate any positions within the next 72 hours.
I wrote this article myself, and it expresses my own opinions. I am not receiving compensation for it (other than from Seeking Alpha). I have no business relationship with any company whose stock is mentioned in this article.