The earnings season for offshore drilling stocks starts in just a few days, so it is high time for a traditional look at the offshore drilling space ahead of earnings reports.
In my view, the theme of the earnings season will be "unfulfilled dreams". Offshore drilling stocks' valuations reflected hopes rather than facts following the OPEC/non-OPEC deal.
Investors' sentiment improved, speculators jumped in and stocks rallied in December. Some stocks managed to hold near their highs up until now, when market participants suddenly realized that OPEC deal was no silver bullet for the industry and any rebound won't be quick.
I won't say that there will be a problem of heightened expectations ahead of the reports as it looks like stocks may slide heading into the reporting season for offshore drillers.
As always, don't put too much emphasis on actual earnings numbers. Current earnings are a result of contracts that were made in the past, and past does not matter for an industry in such distress.
Thus, we will mostly be looking at contracts (hopefully!) and assessments of the industry situation by players. Upcoming restructurings will also be very interesting together with the companies' ability to control their costs.
Atwood Oceanics (NYSE:ATW)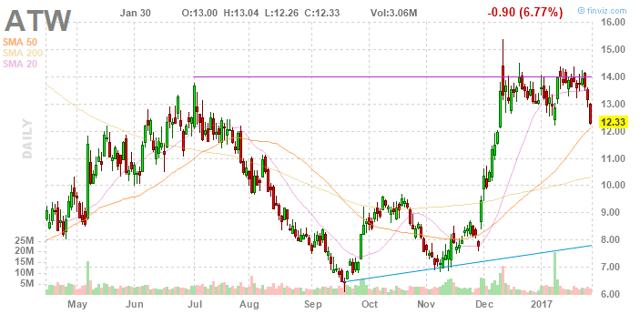 Atwood Oceanics will report its earnings on February 3, after the market close.
In my view, Atwood Oceanics is one of the most interesting stories to follow during this earnings season. The recent equity issue improved company's liquidity, but backlog worries will continue to put pressure on the company's shares unless they are resolved by new contracts.
Short float numbers in Atwood Oceanics shares have fallen back from insane numbers above 40%, so the stock became less risky for those who are bearish on the industry or on the company.
In case Atwood shows nothing significant in the report and oil remains wobbling around $55 per barrel, the company's shares may quickly correct to levels seen prior to OPEC/non-OPEC deal. Positive news may send the shares back to their recent highs with a major gap, so it's a double-edged sword.
Diamond Offshore Drilling (NYSE:DO)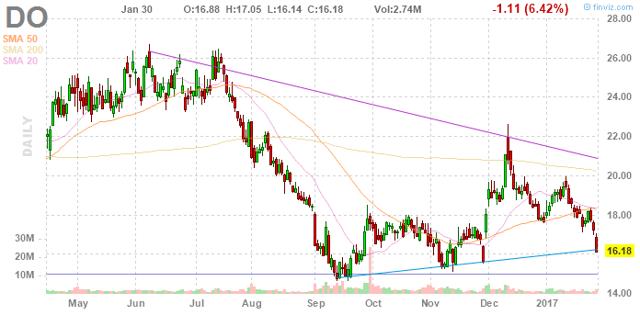 Diamond Offshore Drilling will report its earnings on February 6 before the market open.
Unlike Atwood Oceanics, Diamond Offshore Drilling shares have already given up their post-OPEC gains. Fellow contributor Fun Trading reported that Diamond Offshore Drilling got a six-month for the semi-sub Ocean Monarch, so we will be looking for confirmation in the company's fleet status report.
As always, comments from Diamond Offshore Drilling's management team are of special value, as it was the only team that correctly predicted the severity of current downturn and acted accordingly, cold stacking all non-working rigs.
Ensco (NYSE:ESV)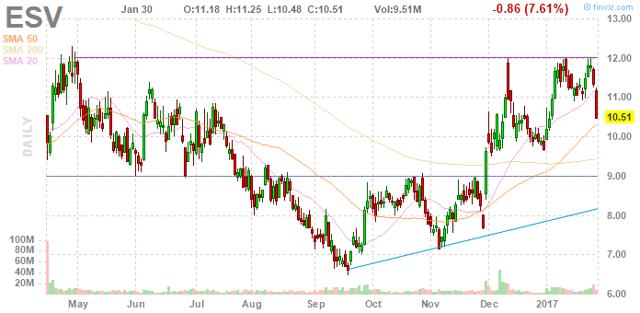 Ensco is yet to provide the exact date of the earnings report.
My expectations regarding Ensco's inability to break above $12 without help from oil prices came true, and this level remains a wall for Ensco's stock. In my view, Ensco's exposure to the jack-up segment should provide some support for the company as a business and also for the company's stock.
I expect that Ensco's shares will be less volatile than shares of most other drillers as we enter the reporting season for offshore drillers. Besides jack-up exposure, the reason for this is the low short float which shows that speculators search elsewhere to make their bets.
Noble Corp. (NYSE:NE)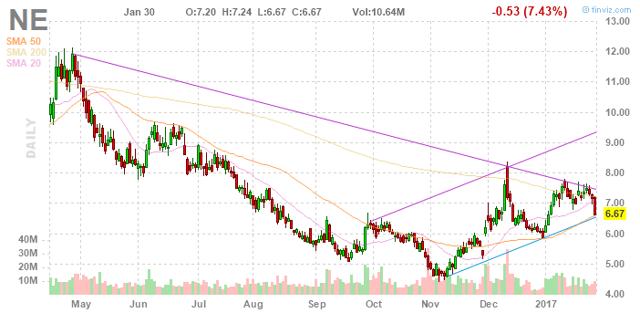 Noble Corp. will report its earnings on February 9 after the market close.
The company has recently presented its fleet status report, so we should not expect major surprises from the earnings report. The fleet status showed long-term contracts with Saudi Aramco which ensured long-term viability at the expense of profitability.
I continue to expect that Noble Corp. shares will slide closer to $6 level without additional help from oil due to lack of specific upside catalysts.
North Atlantic Drilling (NYSE:NADL)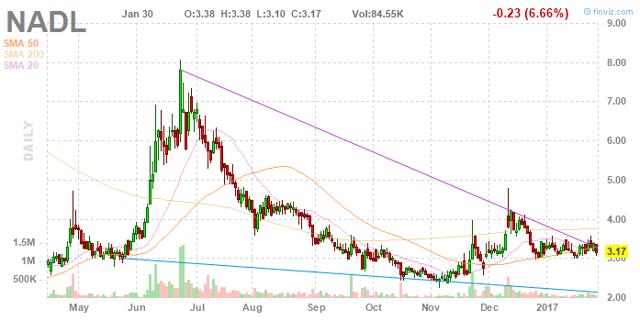 North Atlantic Drilling is yet to provide the exact date of the earnings report.
New contracts for West Phoenix and West Elara failed to change anything in trading of North Atlantic Drilling shares, which remain glued to $3 whereabouts. Contracts were small and did not change anything in the big picture for the company which can only patiently await the outcome of Seadrill's (NYSE:SDRL) restructuring.
Ocean Rig (NASDAQ:ORIG)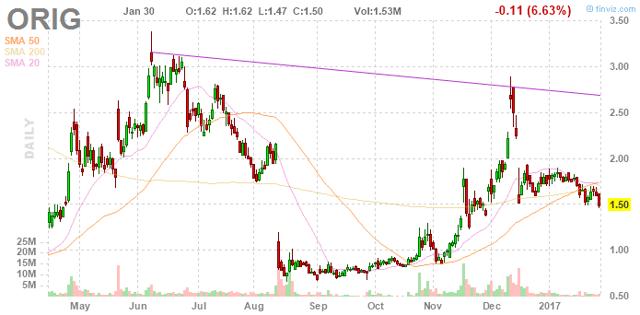 Ocean Rig is yet to provide the exact date of the earnings report.
Ocean Rig remains the most unpredictable company in the offshore drilling space. Nevertheless, I fully expect that the language about the potential restructuring and possible bankruptcy will remain in the fourth-quarter report as nothing changed fundamentally since December when the third-quarter report was published.
Meanwhile, I expect that Ocean Rig shares may slide below $1.50 in case there's no help from oil prices as the UDW market remains in dire straits.
Rowan (NYSE:RDC)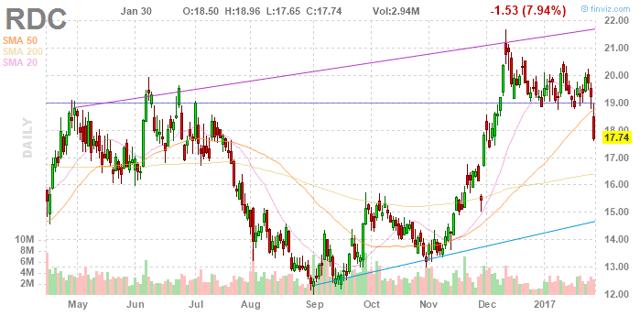 Rowan will report its quarterly results on February 24 before the market open.
Despite the leader status, Rowan shares may correct together with other stock in the industry if there's no progress on the oil price front.
Positive catalysts like the debt offering and Saudi Aramco have already been played in the short-term. Technically, the picture does not look good as Rowan shares decisively breached the support around $19.
Transocean (NYSE:RIG)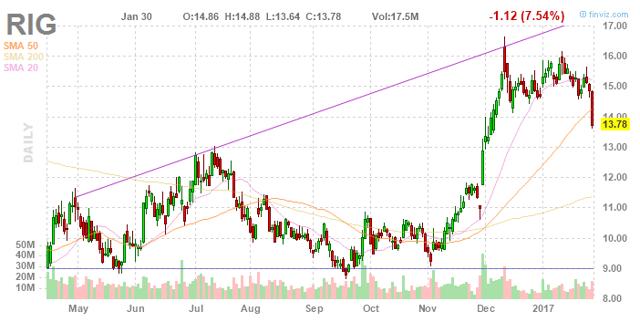 Transocean is yet to provide the exact date of the earnings report.
Previously, I thought that Transocean could have used the moment to make an equity offering like Atwood Oceanics. The share price from mid-December to mid-January made this an attractive move in my view. However, it looks like the tide might have turned (at least temporarily) and the good moment for equity offering has passed.
Seadrill Partners (NYSE:SDLP)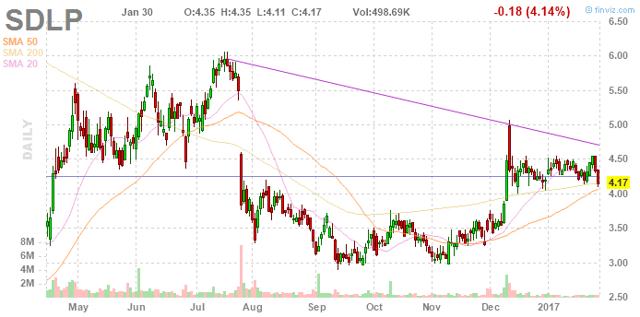 Seadrill Partners is yet to provide the exact date of the earnings report.
Seadrill Partners' shares have been trading in a tight $4.00 - $4.50 range since December. The company is awaiting the results of Seadrill restructuring and trading volume decreased in the last months. I expect similar calm fashion of trading ahead of the restructuring details announcement.
Seadrill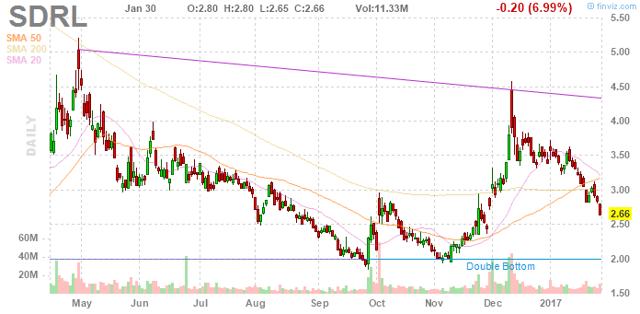 Seadrill is yet to provide the exact date of the earnings report.
Unlike North Atlantic Drilling and Seadrill Partners which calmly await parent's restructuring, Seadrill shares are active and have already given up post-OPEC gains.
Seadrill just announced first details of the upcoming restructuring. The company stated that current shareholders should expect significant dilution, which is hardly a surprise given the company's situation.
Bottom line
Offshore drilling stocks started to make downside moves ahead of earnings report. The post-OPEC euphoria ended and real market conditions weigh on shares. In my view, without help from oil, December high-flyers may return back to pre-OPEC levels.
Disclosure: I/we have no positions in any stocks mentioned, and no plans to initiate any positions within the next 72 hours.
I wrote this article myself, and it expresses my own opinions. I am not receiving compensation for it (other than from Seeking Alpha). I have no business relationship with any company whose stock is mentioned in this article.
Additional disclosure: I may trade any of the abovementioned stocks.