For the longest time I eschewed watchlists. "If a stock is a screaming buy, I shouldn't need to keep it on a list as a reminder." But as your list of strategies grows as a trader or investor, you realize that almost every stock is a screaming something, from a screaming sideways options strategy to a screaming dividend purchase.
Every month, my watchlist gets longer. It currently sits at over 100 stocks. Some of these are seasonal plays - stocks that I set monthly buy and recommendation reminders for.
As February rolls in, I'd like to share my February screaming tech buys with you. These are stocks that have statistically significant bullish patterns in the month of February. Let's begin.
Gigamon (NYSE:GIMO)
Gigamon is not a Pokemon but a relatively underfollowed company in the network traffic industry. It first made my list because of its reliable bullish earnings patterns; it stayed on my list because of an emerging seasonal trend that seems to indicate two extremely strong months within the year: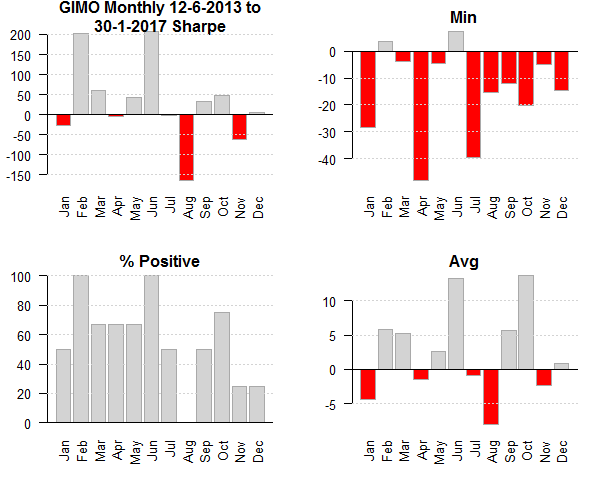 While the data is not plentiful enough for strong statistical "power," unbroken green Februaries and Junes make it a good stock for specific buy-ins for investors who enjoy seasonal versions of dollar cost averaging (i.e., buy shares twice per year, once in February and once in June). Patterns such as those you see above tend to become self-fulfilling prophecies if they hold long enough; quant models and retail investors buy the stock due to its reliable seasonality, enforcing the seasonality to become more reliable.
The fundamentals of GIMO are also interesting. During a time of near-zero rates, GIMO has taken on zero debt while increasing its net worth: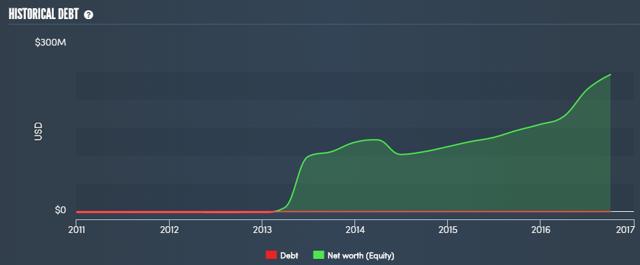 Investors looking for healthy, unfollowed companies in February should take a deeper look into GIMO.
Manhattan Associates (NASDAQ:MANH)
A tech company for the supply-chain, MANH is highly underpriced as per price-to-earnings (PE) during a time when everything seems expensive. The PE for MANH is 31, whereas it is 72 for the industry. We also have undervaluation as per the cash flow predictions:

In the short-term, relevant to buying in February, MANH shows what I believe to be an area gap:

My bread-and-butter is gap trading, so I've had this stock on my watchlist since the gap. I'm waiting for the catalyst that would allow this gap to close, as the statistics say it will. Monthly seasonality just might be said catalyst: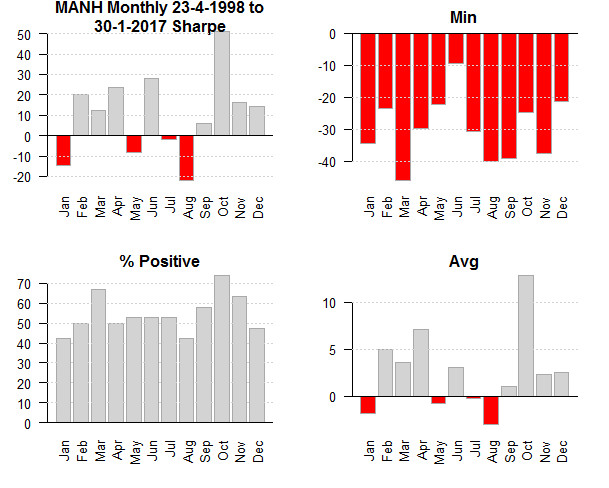 January is naturally not the company's best month, and the bullish season begins when January ends. With earnings not yet out at the time of writing, MANH might recover its lost value via an earnings beat. Call buying is significantly up, although the purchasers of these options could be long for other reasons, such as the increasingly common reports of successful implementations of MANH software in various industries. Here is one such report, showing a 25 percent increase in productivity and nearly perfect inventory accuracy.
Overall, MANH's valuation seems to be a divergence from the actual success stories of their products. With February looking to be a strong month, MANH could be worth a look. Remember to wait until earnings if you are worried about a possible selloff.
Fortinet (NASDAQ:FTNT)
Up nearly 10% since I recommended it last month in Exposing Earnings (read the report here), Fortinet is a stock that not only outperforms in February but has actually averaged nearly 10% gains over the past 8 Februaries: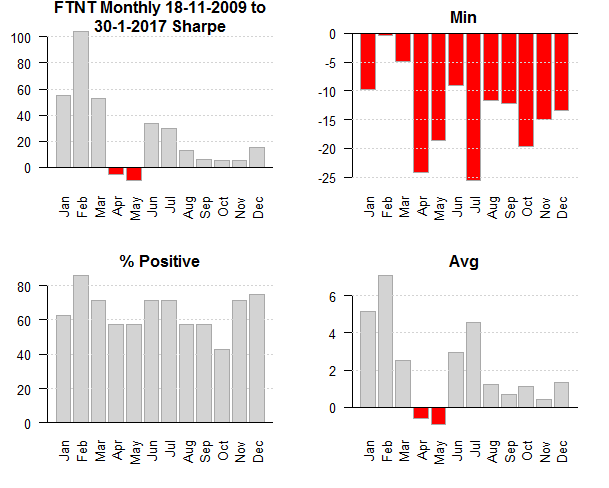 One of the reasons I recommended this stock as an earnings play is the company's ability to win large contracts based on the quality of their product, not their brand name. As FTNT is still relatively new to the industry, its successful acquisition of Canada's cybersecurity contract is impressive. And like a young IBM (NYSE:IBM), FTNT is growing with grace, such as being named one of British Columbia's top employers.
Many investors are used to thinking of brand name before the product - and in most areas they are right. Coca Cola (NYSE:KO), for example, has been shown in blind taste tests to be inferior to Pepsi (NYSE:PEP), but the brand name carries the stock forward. For many tech industries - especially cybersecurity - it's the quality of the product that matters most.
Even if you're not tech savvy, you can follow the contracts cybersecurity companies win to gain a general gist of how the company's product is being received. FTNT's growth shows no slowing down, making it my favorite tech pick for February: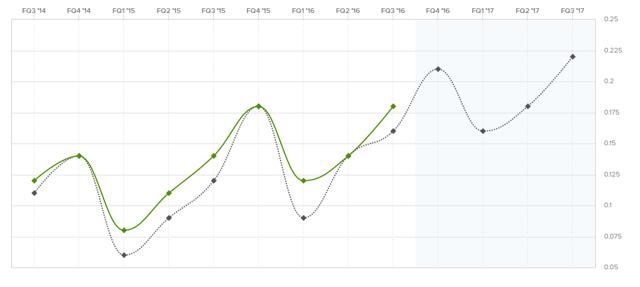 Green: Actual EPS
Gray: Analyst EPS predictions
Conclusion
As tech remains one of the few reliable growth industries, I hope my February tech picks will at least spur you to further research. I spend the majority of my time analyzing stock from fundamental, financial, seasonal, and technical perspectives. If you really understand tech, then you also understand leverage - so I implore you: Leverage my research and take a long position in one of these 3 tech picks today!
Notes:
Note: Get my articles as soon as they are published by clicking the big orange "follow" button at the top of this page. Make sure you choose "real-time alerts." Trade alerts sent through "Copy My Trades."
Note: All unlabeled figures were created by me from data pulled from Yahoo and ADVN through R. Charts with blue backgrounds are from Etrade Pro. Fundamental charts from a paid subscription at simplywall.st.
Upcoming Earnings Predictions
Exposing Earnings - click here for my earnings predictions. To- date, we are 94% accurate on earnings report predictions.
Disclosure: I/we have no positions in any stocks mentioned, and no plans to initiate any positions within the next 72 hours.
I wrote this article myself, and it expresses my own opinions. I am not receiving compensation for it (other than from Seeking Alpha). I have no business relationship with any company whose stock is mentioned in this article.