"Absolute power does not corrupt absolutely, absolute power attracts the corruptible." ― Frank Herbert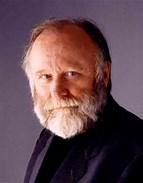 It was a tumultuous day of trading to start the week. A ban on certain travelers from seven largely war-torn nations was rolled out in a completely botched manner igniting large protests and disrupting travel over the weekend. The market saw its highest volatility in five months and all the major indices declined nearly one percent on the day.
One stock that bucked the downward trading action was Calithera Biosciences (NASDAQ:CALA) which was up nearly 50% on the day and heading the top gainers list for the day. The trigger for the huge rally was a major collaboration deal with Incyte (NASDAQ:INCY) which we will get into the details on in a minute.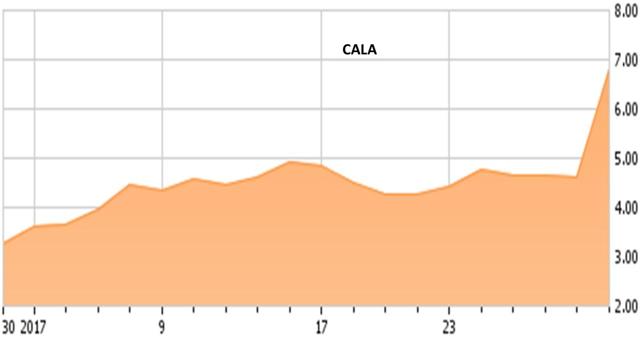 I profiled this stock favorably on my other handle "The Insiders Forum" less than a month ago. If you bought the stock then, congratulations! You are sitting on roughly a 100% return. Second, remember to cull some profits using the "Jensen Rules" which is one my "Five Golden Rules Of Better Biotech Investing". So why did the stock shoot so much higher today and where might the shares go from here?
The global collaboration and license agreement with Incyte is around Calithera's lead drug candidate research, develop and commercialize CB-1158 in the areas of hematology and oncology. CB-1158 inhibits an enzyme called arginase that is found in myeloid-derived suppressor cells which plays a key role in suppressing the immune system's anti-tumor activity.
It is a significant agreement for a small cap concern that had a market capitalization of under $100 million as we started trading today. Calithera will receive $45 million upfront. The small cap concern can also receive up to $430 million in milestones as well as tiered royalties from low- to mid-double digits. Incyte will also buy $8 million worth of stock in Calithera @$4.60 a share. Development costs will be funded on a 70/30 basis with Incyte paying the majority share. U.S. profit and losses will be shared on a 60/40 basis (greater share to Incyte). Calithera will have co-promotion rights in the United States.
Calithera will retain the rights to certain other arginase inhibitors in certain orphan indications outside of hematogy and oncology which is in the parameters of this collaboration deal. Calithera also has the right to opt out of its co-funding obligations and instead receive up to $750 million in milestones instead of a share of the future U.S. profits and losses (in addition to tiered low-to-mid-double-digit royalties).
This deal follows a much, much smaller collaboration deal with Bristol-Myers Squibb (NYSE:BMY) on December 21st using a combination of CB-1158 with its emerging blockbuster immunotherapy agent Opdivo in kidney cancer.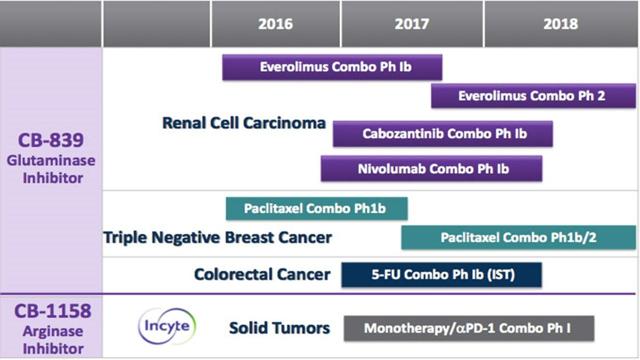 Obviously, it has been a very good six weeks for the company and the stock. I would not be chasing the stock here. As can be seen above, its pipeline is still early stage and it is years away from any commercialized products. In addition, its other primary compound CB-839 just had a trial disappointment in November.
The collaboration deal means any funding concerns about development of Calithera's pipeline are behind it for the moment. It probably also means the company is a much lesser buyout target. I would not be surprised if the stock gave back some of today's huge gains over the rest of the week. I also would not be surprised if at least one analyst firm raises its price target on CALA this week either. My plan is to hold the remaining 70% of my original stake (culling profits using the Jensen Rules) and continue to monitor how Calithera's pipeline development progresses after this major vote of confidence by Incyte.
Note: To get these types of articles on attractive biotech and pharma stocks as well as my instablogs as soon as they are published, just click on my profile and hit the big orange "Follow" button and choose the real-time alerts option.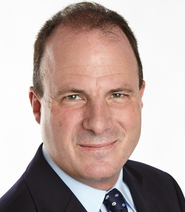 Thank You and Happy Hunting
Bret Jensen
Founder, Biotech Forum
Disclosure: I am/we are long CALA, BMY.
I wrote this article myself, and it expresses my own opinions. I am not receiving compensation for it (other than from Seeking Alpha). I have no business relationship with any company whose stock is mentioned in this article.