Dividend investors seeking decent yield from the big banks in the US cannot find much value anymore following the strong post-election rally which has seen high double-digit stock price increases across the board. One exception here, even though it has appreciated sharply as well, is Wells Fargo (NYSE:WFC). Wells is one of the world's largest banks with a market cap of more than $280B, and despite its scandalous sales practices, it continues generating lots of cash that it distributes to its shareholders. Here is why I am still accumulating this stock even at these elevated valuation levels via a regular stock plan.
Putting the rally in perspective
The post-election rally has catapulted financial stocks and equally depressed yields. For the five big US banks - Wells Fargo, J.P. Morgan (NYSE:JPM), Bank of America (NYSE:BAC), Morgan Stanley (NYSE:MS) and Citigroup (NYSE:C) - the situation looks like this: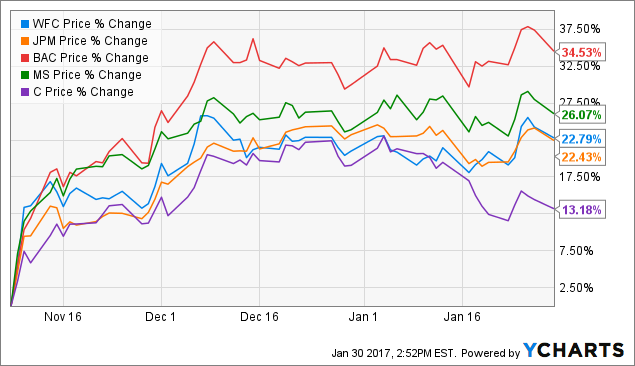 All the big banks have appreciated significantly with Bank of America topping that list by some distance. On the other hand, due to the inverse price-to-yield relationship the dividend yield an investor can generate with these stocks has dropped in similar fashion: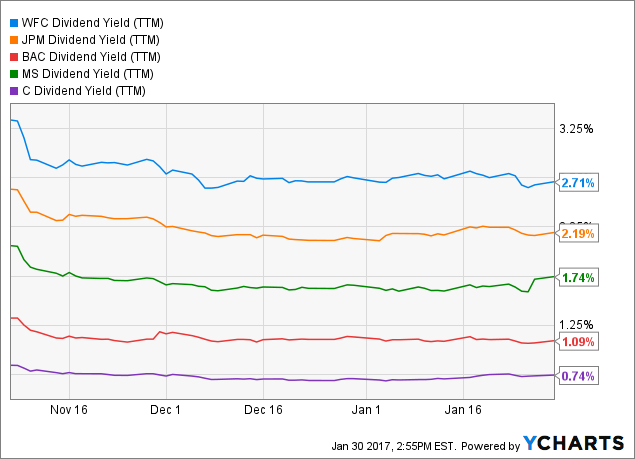 WFC Dividend Yield (NYSE:TTM) data by YCharts
Zooming in on Wells Fargo, the stock with the highest yield in that sector, shows a drop in yield of more than 50bps. So what does that mean?
An investor having bought shares of WFC worth $10,000 the day before the election at a price of $45 would have earned a dividend of $84 every quarter whereas as an investor currently investing the same amount of capital into Wells would only earn around $69.
So, while we as dividend investors are trying to maximize income by getting in as low as possible, sometimes you have to accept that you have missed that point. You can then either go for a lower yield now by investing into a stock you expect to perform consistently well or wait until that price retreats to previous levels which could take years. As in absolute terms a yield of 2.7% is still above the average S&P 500 (NYSEARCA:SPY) yield and also above the 10-year Treasury rate, such an investment may still make sense.
What is going on at Wells Fargo?
Let's digest the recently released Q4 figures for the bank.
Prior to that, let's provide some context on Wells Fargo. The bank is currently dealing with the fallout of the sales scandal which damaged the bank's reputation and led to increased pessimism of investors regarding the stock.
Overall for the quarter, Wells Fargo's net income declined to $5.3 billion, or 96 cents per share, from $5.6 billion, or $1.03 per share, a year earlier. Fourth-quarter revenue was $21.6 billion, the same as a year earlier.
For all of 2016, profits declined 4% to $21.9 billion compared to the previous year. This drop came despite a 3% increase in revenue to $88.3 billion.
Such a downbeat earnings report is very atypical for Wells Fargo as it has grown its earnings substantially following the aftermath of the big financial crisis: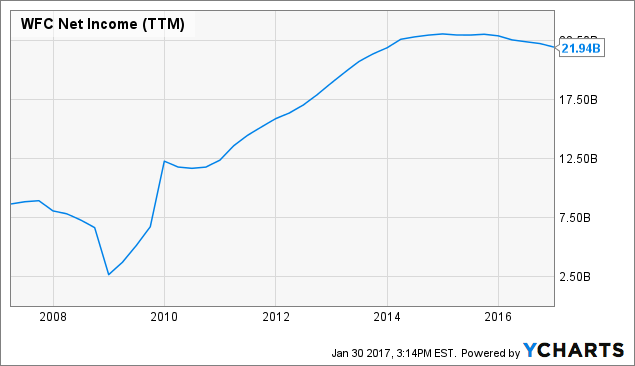 WFC Net Income (TTM) data by YCharts
Unlike its main competitors which have all reported very strong earnings growth in Q4 Wells Fargo certainly disappointed at first sight. Taking a deeper look at earnings investors should consider three factors here:
1) Trading activities: although JPM and BAC have trimmed down their trading operations compared to their pre-financial crisis high, they are still substantially higher than what Wells Fargo is doing which is primarily a "diversified, community-based financial services company" with more than $1.9 trillion in assets (Source: Wells Fargo Annual Report). As a result, the increased trading activities following the US presidential election did not strongly impact Wells Fargo bottom-line unlike its main competitors.
2) Interest rate hedges: Wells Fargo apparently was not expecting higher interests and hedged itself against it. This cost the bank dearly in Q4 reporting a loss of $592M in net hedge ineffectiveness. Excluding this effect from reported net income in Q4 would already move the bank into slim growth territory on year-over-year basis.
3) Impact of fraudulent sales practices: considering that the bank is confronted with its largest corporate scandal, a narrow decline in net income should not be exaggerated. Importantly, the bank is observing a stabilization in recent trends and already seeing some improvements across key metrics such as customer satisfaction or customer deposits. The highly feared small bank run has never appeared despite the bank rigorously cheating on customers. Growth in the loan and deposit business segment continues and is up another 6% on a YoY basis. Also in response to the scandal, Wells Fargo has gotten rid of sales goals for its branch employees and has put in place various initiatives to prevent such a scheme from occurring again (e.g. dedicated communication to 40 million retail and 3 million small business customers or establishing a Sales Practices Consent Order Program Office).
4) No imminent loss of trust among institutional investors: Warren Buffet, probably Wells Fargo's best known institutional investor, expressed concerns and disappointment about the sales scandal but also stressed that he does not intend to sell any shares. Instead he is quoted as saying that although the company had a "dumb incentive system" in place it is still an "incredible institution" (Source: CNN Money)
How about the dividend?
Wells Fargo has been increasing its dividend for 6 years in a row now and is currently paying $0.38 per share per quarter which translates to a yield of 2.7%. Generally, its dividend track record is very solid but in the financial crisis the company cut its dividend by a whopping 85%. Only 5 years later the company has now reached and surpassed its pre-crisis levels and there are no real danger signs in sight why it should stop there.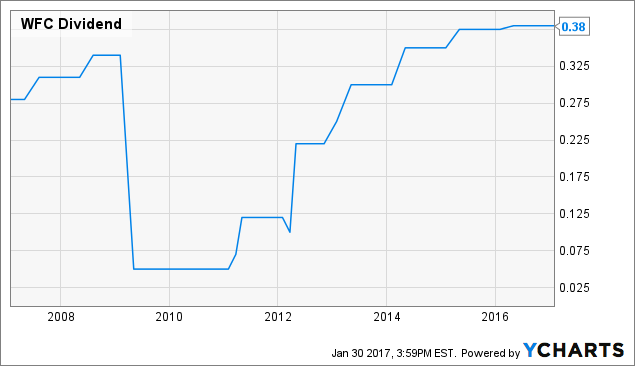 WFC Dividend data by YCharts
Dividend investors holding Wells Fargo for income may feel unease seeing their income slashed by 85% and quite frankly this is not what we are looking for. However, if a company is able to quickly weather the storm of the worst financial crisis within five years in terms of boosting its dividend to pre-crisis levels, it is demonstrating a clear commitment to return money to shareholders and, more importantly, showcasing how fast its business model is able to adapt to changing conditions and gain even further momentum.
Recently, that impressive dividend growth which has seen the dividend increasing by approximately factor 7, has slowed down. A mere $0.005 increase in May 2016 was all investors got and despite the company's payout ratio remaining very healthy in the high thirties it will probably not massively hike the dividend in 2017 again, certainly not as long it has not fully recovered from the sales practices scandal. Beyond that, providing that customers do not lose confidence in the bank on broad terms and on a permanent basis this should pave the way for further double-digit dividend increases in the future.
Conclusion
For dividend investors Wells Fargo offers an attractive investment into the US financial sector. While the company is still suffering from the fake account scandal, it shouldn't take that long to leave it behind and set light on what lies ahead. We can expect a mid-to-high-single digit dividend hike during the second quarter and more growth to come in the future. At current valuations (the dividend discount model hints at a fair to slight overvaluation) the stock is more a hold than a screaming buy. I have set up a small-scale regular investment plan for the stock by which I buy stock worth between $50-100 every month and never look back. As the company goes ex-dividend February 1, 2017, investors wanting to grab the next dividend need to hold the stock by end of trading on January 31.
Let me know what you think about this company. If you found this interesting and relevant please leave a comment and hit the "follow" button on top of this article.
Disclosure: I am/we are long WFC, JPM, MS.
I wrote this article myself, and it expresses my own opinions. I am not receiving compensation for it (other than from Seeking Alpha). I have no business relationship with any company whose stock is mentioned in this article.