Before I start with the main part of this article, it is important to write that I have been long several oil stocks over the past few months. Mainly independent oil companies like Marathon Oil (MRO), Devon Energy (DVN) and Oasis Petroleum (OAS).
I also owned shares from oil & gas equipment providers like Helmerich & Payne (HP) and Atwood Oceanics (ATW).
The main reason of my longs, have been higher US growth and optimism after Trump's election. Trump's energy policy should give these companies more room to grow. Anyhow, I am now changing my mind and I sold my oil exposure. In this article, I will explain why I did this, and why I think that oil is going to perform poorly over the next few months.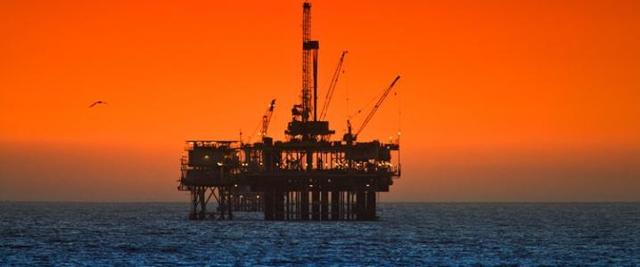 Source: Oilprice.com
First, let me start with one simple, but very important indicator. The USD is a massive force behind cyclical commodities. Mainly because commodities get relatively more expensive if the USD rises. This hurts countries who buy a lot of oil. In addition to that, we are in a situation where many foreign countries have tremendous USD debts. This is a result of the low interest rates after the recession and the need to leverage growth.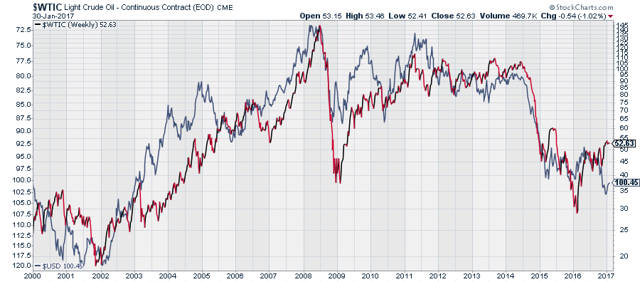 Of course, it would be foolish to suggest that oil cannot rise without a weak USD. However, the odds are pretty high. The correlation has been over 90% on a weekly basis.
A very well respected macro investor named Raoul Pal has been interviewed on CNBC's Fast Money. He mentioned that Trump's 'America First' protectionism policies are supporting a USD. This makes total sense since the amount of Dollars in the world will go down. In addition to that, we see a massive growth acceleration in the US which is everything except bearish for the USD.
The graph below shows the ISM manufacturing index and the crude oil price (United States Oil Fund USO). I use the ISM indicator to display the US economy because it is the most important indicator for US growth. It is clear that the oil price can fall without dragging the US economy down. It is also very possible that oil ignores growth upswings.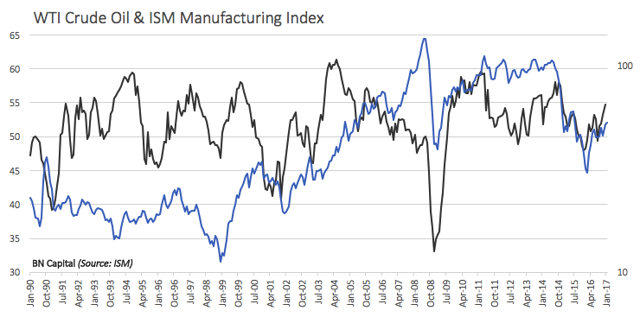 And of course, it is difficult to short oil during times of strong economic growth. Oil is the blood in the economy's veins. There are just other important factors that drive oil prices.
Oil inventories for example, are very important when it comes to the sustainability of oil rallies. Even though we saw an OPEC oil cut in the fourth quarter of 2016, we didn't see an extended oil rally. Oil inventories stay at multi-year highs and show no signs of declines. A streak of inventory draws would be part of an oil bull case.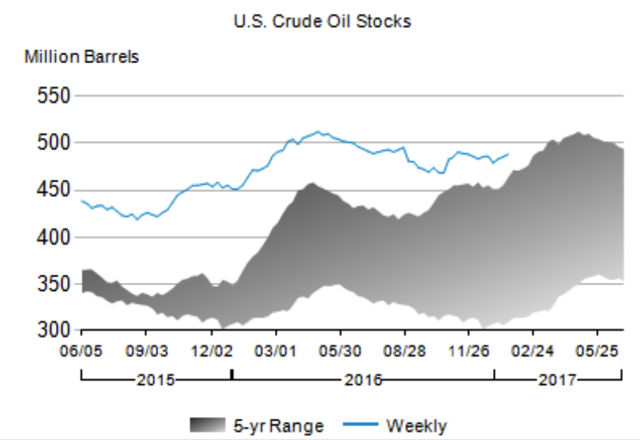 Source: EIA
Not only are inventories very high, we also see that US oil production is about to increase again. The US rig count has had one of the steepest increases of the recent years. One of the reasons is the slightly higher oil price versus one year ago and the need to produce due to high leverage.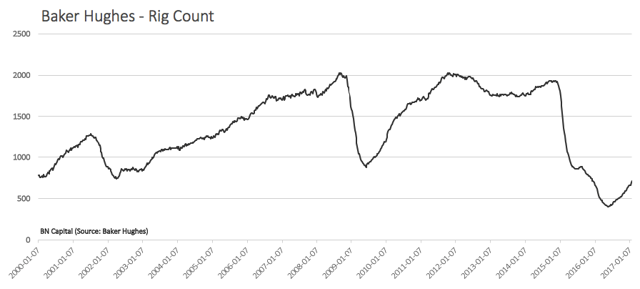 Last but not least, net non-commercial oil positions are at record highs. A oil decline could trigger a serious sell-off because almost everyone is long oil at the moment.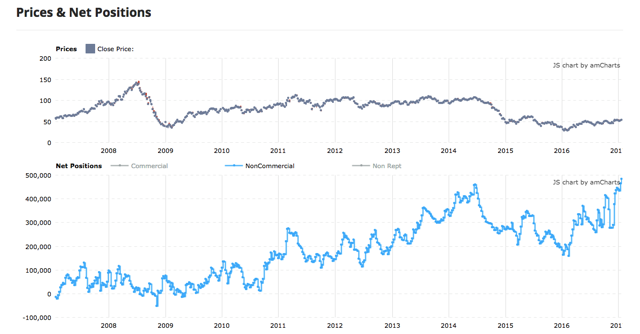 Source: Tradingster
Conclusion
The current situation is a bit difficult. US growth is accelerating which is bullish for cyclical commodities. However, there are many factors that play a role. Inventories are still very high and not about to go down anytime soon. Production in the US is about to accelerate again and probably able to offset the OPEC production cut. That being said, we also face the current USD strength.
I personally have ignored many indicators due to the OPEC cut and growth acceleration. However, I often found myself thinking 'this time it's different'. I don't think that this is the case. Oil has gone nowhere since the OPEC cut and oil stocks are underperforming again. I believe that oil is going to have a hard time over the next few months until things fundamentally change. I am not calling for a big crash, but I wouldn't bet against it. The best thing to keep into account is the very high likelihood that you won't get any alpha from the oil industry (SPDR S&P Oil & Gas Exploration & Production ETF XOP). At least not on the long side.
Many thanks for reading my article. Please leave a comment below if you have questions, remarks or just a completely different view.
Disclosure: I/we have no positions in any stocks mentioned, and no plans to initiate any positions within the next 72 hours.
I wrote this article myself, and it expresses my own opinions. I am not receiving compensation for it (other than from Seeking Alpha). I have no business relationship with any company whose stock is mentioned in this article.