I think its safe to say now, its no secret that New York REIT (NYSE: NYRT) is liquidating its portfolio. Even Chris DeMuth Jr. announced it here as his favorite REIT for 2017. The real question is though, is there upside potential still. I will go over a few events that led up to this special situation, and present what I believe is fair value of the company.
For over the past two years its been a back and forth on what to do with the company. Strategic alternative reviews were announced both in 2014 and 2015. In 2014 the board decided to end the review because they believed none of the proposals from interested parties reflected the fair value of the company. In October 2015 again the company wanted to explore strategic alternatives and didn't push on. Shareholders Michael Ashner and Steve Witkoff became frustrated and sent a letter to the board (Please see here). Over the last three years it appears there have been rumors of offers in the $12 - $12.75 range, but no action has been taken and now the company is in the process of liquidating the portfolio. There was a merger proposal before the announcement of the liquidation or sale of the company, but I think the board realized the merger wasn't going to go through with major shareholders believing the merger was going to be a value destroyer.
So here we are, finally at the liquidating process, and shareholders in better position with the board now having three new members appointed by Michael Ashner and Steve Witkoff (Please see here). I do believe these members will act in shareholders best interest and will try to maximize shareholder value through this liquidation. Ashner and Witkoff have presented what they believe the liquidation NAV of the company is. They estimate its worth at least $11.39 a share and upwards of $12.39 a share. So lets try and break it down, and see if these numbers are in line with what would be a fair price?
Valuation
New York REIT owns 19 properties, with them highly concentrated in Manhattan. Only one property is located in Brooklyn. The properties are mostly a mixture of Retail and Office space with one lonely hotel.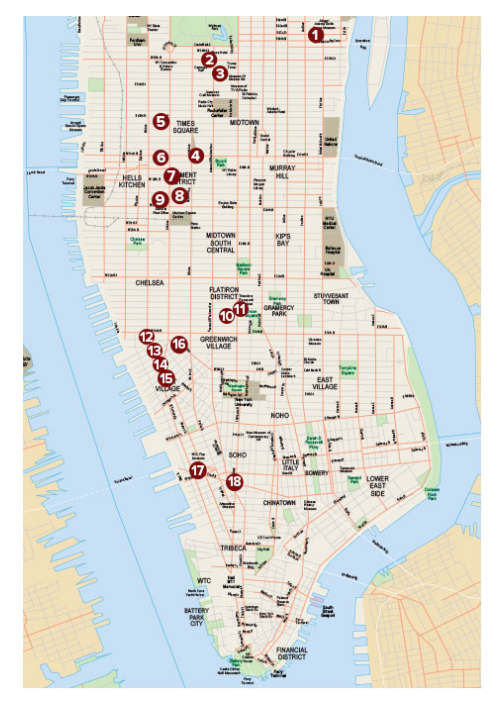 Source: Company Website
The properties consist of 3.3 million of leasable space with average remaining lease terms of 9 years. Occupancy is at 93.4%.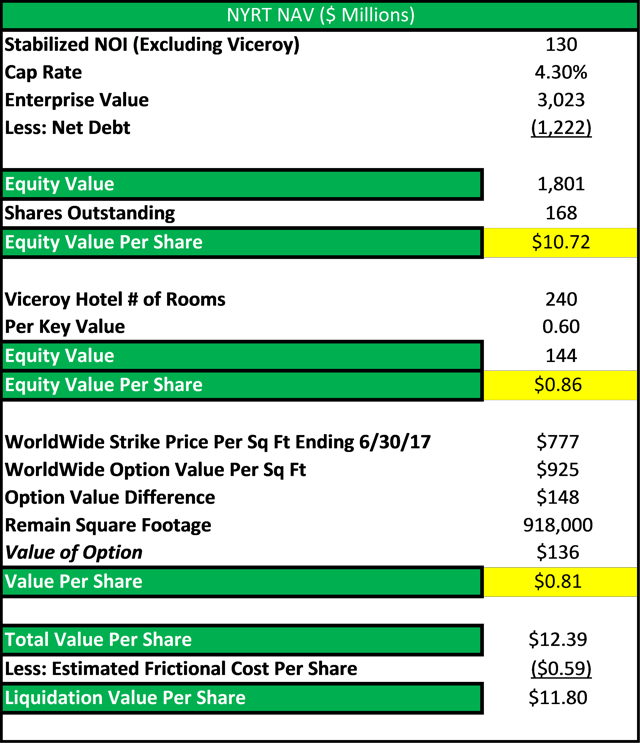 The biggest valuation factor in the analysis is the cap rate. Manhattan has seen average cap rates around 4%, and to be conservative I used 4.3%. Also, a portion of the lease agreements have annual rent increases or escalators. The company does have a targeted NOI of $144 million from the August 2016 presentation which would provide more upside.
The Per Key Value seem reasonable at $600,000 with the property being a luxury hotel. Manhattan real estate has seen tremendous demand from Asian buyers. Over the past two years there have been multiple iconic hotels sold for $1 million plus Per Key Values. This property might not be as iconic, but still a luxury boutique hotel in the heart of Manhattan near Central Park.
The WorldWide option is a option agreement to purchase the remaining 51% interest into the WorldWide Plaza for a set $1.4 billion. The property is worth upwards of $1.8 billion. This option is valuable and will expire on 6/30/17. The company has secured financing to exercise this option, and hopefully will be able to move forward with it (please see here).
Takeaway
The investment is asymmetrical in nature because of the limited downside. The 20% upside isn't a home run, but with very conservative estimates I would say the downside almost doesn't exist. The majority of the risk is how long will it take for management to liquidate the portfolio? I estimate about a year, which would provide an incredible annualized return in a market that is overpriced.
To read more research on stock spin-offs, fund holdings, micro-cap companies, and special situations please consider following me (by clicking the "Follow" button at the top of this article next to my name) to receive notification when I publish research next.
Disclosure: I am/we are long NYRT.
I wrote this article myself, and it expresses my own opinions. I am not receiving compensation for it (other than from Seeking Alpha). I have no business relationship with any company whose stock is mentioned in this article.
Additional disclosure: This article is intended to provide information to interested parties. As I have no knowledge of individual investor circumstances, goals and/or portfolio concentration or diversification, readers are expected to complete their own due diligence before purchasing any stocks mentioned or recommended.