Intro
In my previous article, I discussed the benefits and shortcomings of the Pure Value strategy and the most popular ETF in the space - RPV. The Pure Value strategy invests in stocks with distinct value characteristics. Very often the targets are out of favor companies, which have low valuations and undergo serious business or management changes.
I thought it would be a logical extension if I delve into the opposite side of the pure value trade - the pure growth.
Pure growth investing takes the growth investing one step further by focusing on stocks with high growth metrics. The growth parameters include but are not limited to price, earnings and revenue growth.
Growth stocks were the driving force behind the second longest bull market. They have outperformed Value strategies in the past 6 out of 10 years. Of those four years of underperformance, the gap was material only in 2008 and 2016.

Source: Morningstar
Guggenheim S&P 500 Pure Growth ETF (RPG)
With AUM at $1.85 billion, RPG is the biggest large-cap pure growth ETF. Launched in mid-2006, this ETF has a 10-year performance track record tested through the Great Recession of 2008-2009. The ETF currently charges a 0.35% expense ratio, which is a bit higher than the regular growth funds in the space.
Construction Methodology
RPG replicates the S&P Large Cap Pure Growth Index. S&P calculates growth and value scores to each stock in the S&P 500 using three growth metrics (12-month price momentum, three-year change in earnings scaled by price, and three-year sales per share growth) and three value metrics (price to earnings, price to book, and price to sales). All factors are weighted equally. Each stock is ranked by the difference of its growth score to its value score.
The qualifying pure growth stocks, currently 112, represent the group with the highest difference between growth and value score. The index mythology does not allow overlapping and therefore contain the stocks with the highest growth potential.
The Pure Growth index is calculated following the divisor-based methodology of the S&P Dow Jones Indices' Equal Weight Indices, giving larger weight to stocks with higher growth ratings. To avoid outliers, each stock is capped at 2% of the total.
Return
In the past 10 years (2007-2016), RPG had outpaced the S&P 500 (NYSEARCA:IVV) by 2.54% per year on an annualized basis. For comparison, the Pure Value strategy beat the S&P 500 only by 0.74% per year.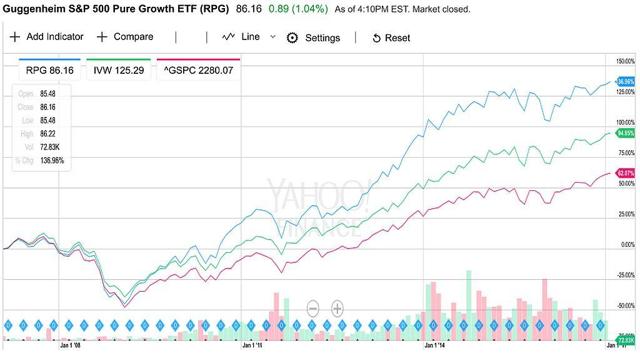 Source: Yahoo Finance
During this period, RPG outpaced the S&P 500 in six out of 10 years. It also outperformed the Large Cap Growth (NYSEARCA:IVW) category in seven of the last 10 years.
In addition, RPG beat RPV in six out of the past 10 years. RPG vs. RPV performance record matched that of RPG vs. the S&P 500, except for 2009 and 2013, which were exceptionally strong years for both strategies.

Source: Morningstar
Risk
Despite its impressive returns, RPG comes with a catch. Its 10-year standard deviation is 15% higher than the S&P 500 , and 19% higher than the S&P 500 Large Cap Weighted Growth Index ETF . The beta tends to run a little higher as well: 1.09 versus 1. The increased risk associated with this ETF is partially driven by the higher exposure to mid-cap stocks. I will touch on this in the next section.
On the bright side, RPG rewards well for the additional risk. It reported a 10-year Sharpe ratio of 0.56, which is at par with IVW, and significantly higher than the S&P 500's 0.47.
RPG performs well with some of the other risk metrics - Alpha is 2.06 versus 1.41 for IVW. Treynor ratio is 8.02 vs. 7.83 for IVW and 6.19 for the S&P 500. Sortino Ratio is 0.85 versus 0.82 for IVW and 0.67 for the S&P 500.

Source: Morningstar
However, keep in mind that as an investment with higher volatility, RPG comes with a price tag. In years like 2016, when value and blend strategies outperform growth, RPG can report pretty gloomy stats. The pure growth ETF reported a 4% return and a 12.7% standard deviation versus the S&P 500, which posted a 11.52% return and a 9.92% standard deviation. The 1-year Sharpe ratio between two strategies was 0.35 for RPG versus 1.12 for the S&P 500.
Market Cap
Similarly to RPV, RPG is not market cap weighted. The underlying portfolio is constructed based on the growth score of each company. Stocks with the highest growth minus value score receive the largest weighting in the index.
Currently, Pure Growth is overweight in Large and Medium cap companies. This tilt towards the bottom half of the market cap range partially explains why RPG's standard deviation tends to run a bit higher compared to the blend S&P 500 and value index.

Source: Morningstar
Holdings
Applied Materials (NASDAQ:AMAT) 2.62%, Nvidia Corp. (NASDAQ:NVDA) 2.12%, Ulta Salon Cosmetics (NASDAQ:ULTA) 2.04%, Lam Research (NASDAQ:LRCX) 1.7%, Broadcom (NASDAQ:AVGO) 1.64%, Quanta Services (NYSE:PWR) 1.57%, Idexx Labs (NASDAQ:IDXX) 1.56%, UnitedHealth (NYSE:UNH) 1.5%, Facebook (NASDAQ:FB) 1.49%, and Prologis (NYSE:PLD) 1.48% are the top 10 holdings of RPG. Combined these stocks make up 17.7% of the portfolio. As you can see from the list, there is a strong tilt towards mid-cap.
In contrast, the S&P 500 Large Cap Weighted Growth Index is dominated by giant super nationals like Microsoft (NASDAQ:MSFT), Amazon (NASDAQ:AMZN), Facebook, Alphabet (GOOGL, GOOG) Johnson & Johnson (NYSE:JNJ), Comcast (NASDAQ:CMCSA), Home Depot (NYSE:HD), Visa (NYSE:V), Altria (NYSE:MO), and General Electric (NYSE:GE)
On a side note, UnitedHealth, Facebook, Starbucks (NASDAQ:SBUX) 1.4% and Amazon.com 1.3% are the only four holdings in the top 25 that are also top 25 holdings in the S&P 500 Large Cap Weighted Growth Index. For comparison, the Pure Value ETF, RPV had only one overlapping holding with the Cap Weighted Value Index. That was Berkshire Hathaway (NYSE:BRK.B)
Sector Exposure
In comparison with its parent index, the S&P 500, the Pure Growth strategy is overweight on Basic Materials, Consumer Cyclical, Real Estate, Industrials, and Technology.
There are few interesting observations compared to the Pure Value trade.
· RPG is heavily invested in real estate while RPV had no exposure at all.
· RPG has no exposure to utilities while RPV was slightly overweight on them.
· Both RPG and RPV are overweight on Consumer Cyclical. RPV is invested in Auto and Traditional Retail, while RPG has bigger exposure to online retail and entertainment, food, and travel, discount stores like Dollar Tree (NASDAQ:DLTR), Ross Stores (NASDAQ:ROST), and Dollar General (NYSE:DG)
· Both RPG and RPV are underweight Healthcare. The pure growth trade has exposure to mostly biotech names such as Idexx Labs, Biogen (NASDAQ:BIIB), Becton Dickinson (NYSE:BDX) and health insurance companies like UnitedHealth, Humana (NYSE:HUM) and Aetna (NYSE:AET)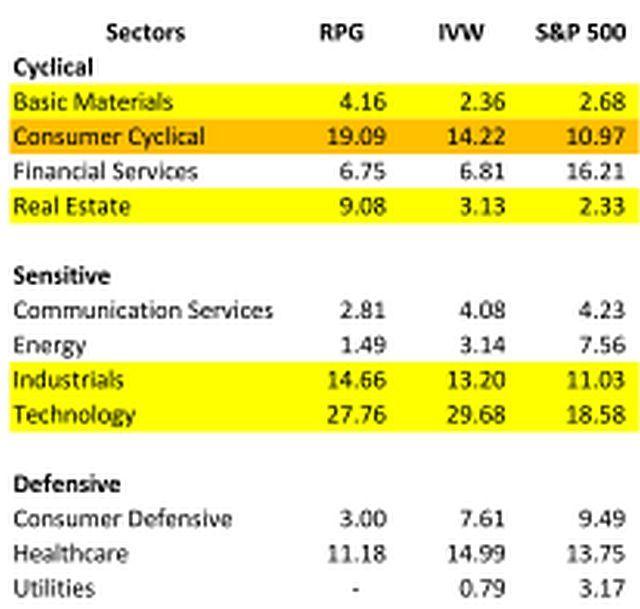 Source: Morningstar
Final thoughts
The pure growth ETF invests in stocks with strong price momentum and high than average earnings and sales growth. Stocks included in the portfolio are those with the highest growth score amongst the S&P 500 members.
The portfolio construction is based on the composite growth score instead of market cap. Therefore, companies with stronger growth characteristics will have a bigger allocation over companies with the larger market cap.
RPG has a sizable sector tilt. The current portfolio is overweight materials, online retail and entertainment, discount stores, technology, real estate and industrial companies. Because of its annual rebalancing and no sector limits, sector exposure can deviate significantly year over year.
Despite its higher risk premium, the Pure Growth strategy had reported substantial long-term absolute and risk-adjusted returns. However, due to its stronger tilt to particular sectors and smaller size companies, RPG can experience periods of lower returns and high volatility, with 2016 being the most recent example. Therefore, the benefits of this strategy stand out in a long-term investment horizon.
Disclaimer: Past performance does not guarantee future performance. Nothing in this article should be construed as a solicitation or offer, or recommendation, to buy or sell any security. The content of this article is a sole opinion of the author. The opinion and information provided are only valid at the time of publishing this article. The content should be only used for educational and research purposes. Investing in these asset classes may not be appropriate for your investment portfolio. If you decide to invest in any of the instruments discussed in the posting, you have to consider your risk tolerance, investment objectives, asset allocation and overall financial situation. Different investors have different financial circumstances, and not all recommendations apply to everybody. Seek advice from your investment advisor before proceeding with any investment decisions. Various sources may provide different figures due to variations in methodology and timing.
Disclosure: I/we have no positions in any stocks mentioned, and no plans to initiate any positions within the next 72 hours.
I wrote this article myself, and it expresses my own opinions. I am not receiving compensation for it (other than from Seeking Alpha). I have no business relationship with any company whose stock is mentioned in this article.