Over the past few years, I have had the idea bouncing in my mind for an amazing PhD thesis in Economics. A prospective student could analyze the three-, six-, and twelve-month stock performance of every Goldman Sachs (NYSE:GS) Conviction Buy/Sell list ratings change. My theory, and this is why we need the empirical data, is that if you did the exact opposite of what Goldman recommended, then you would outperform the market. Perhaps, you would even have better performance than most hedge funds.
As readers are aware, in early January 2017, we bought some shares of GNC Holdings, Inc. (NYSE:GNC) at $11.15 based largely on the fact that this is a good business that is deeply out of favor and that nine out of ten Wall Street analysts currently rate neutral or sell. This was a 3% allocation to our investable assets. If you buy good or decent businesses when they are deeply out of favor, especially if there is lots of negative press that the company will (yes, will not may) go bankrupt, then you can make a lot of money if/when these businesses show modest signs of improvement.
This leads me to my next point. The most lucrative time periods for hedge funds' shorts is when they catch the perfect negative feedback loop, which I will describe below. This negative feedback loop has three elements:
1) Poor short-term fundamental financial performance
2) Tier 1 sell-side analysts reducing their earnings estimates and downgrading the stock
3) The popular press picking up the downgrade narrative for TV and website ratings
When these three elements converge, hedge funds can make a lot of money exacerbating a negative move to the downside. For a case in point, look at how low the bond prices and stock prices of oil and gas companies got during the late Q4 2015 and in January and February of 2016.
Specifically, look at the price action and volatility of Chesapeake Energy (NYSE:CHK) from November 2015 through March 2016: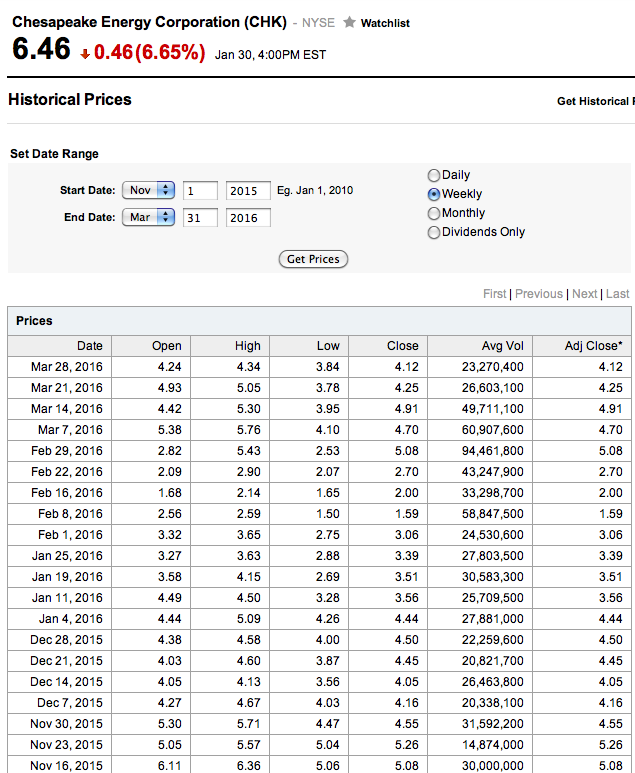 In fact, and I don't have access to Bloomberg, but if you look at CHK's unsecured bond prices, during this same time period, you would see prices crashing from $50 to $12 at the lows. Fast forward to Q4 2016 and these same bonds were trading in the $90s.
For more contextual analysis on my negative feedback loop theory interpretation, Tier 1 sell-side research firms like Goldman Sachs, JPMorgan (NYSE:JPM), Morgan Stanley (NYSE:MS), Citigroup (NYSE:C), and Bank of America (NYSE:BAC) have vast distribution networks, so their research gets widely disseminated to nearly every important member of the buy side, as well as important allocators of investment capital. Next, the popular press in their quest for elusive eyeballs and television ratings spreads the story like a wild fire. A day or two later after the buzz is lathered and fear is fever pitched, the sell-side analysts make special guest appearances to discuss their downgrade on programs like CNBC, Bloomberg, and Fox Business Network. And finally, retail investors, who are usually last to know, catch the wind of the story (after the hedge funds placed their bets) and often panic sell at or near the bottom driven mostly by fear and emotion. I have seen this movie so often.
I would argue that Goldman Sachs understands and uses these negative feedback loops to benefit its lucrative trading relationship with its best hedge fund clients. A poignant example of this was when Jeffrey Currie was boldly proclaiming that oil could hit $20 and that global oil storage could be breached causing cascading prices. These people are spin masters and seem convincing, at least to retail investors, with their fancy suits, Top 5 MBAs, very articulate presentations.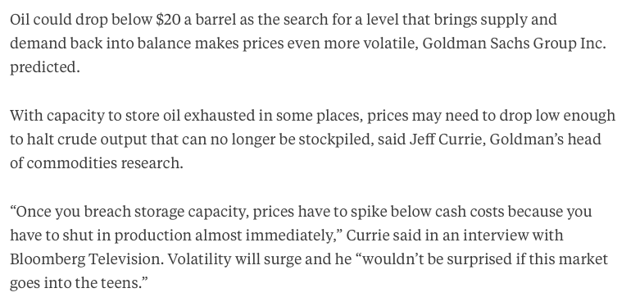 Source: Goldman Sees The Risk of Oil Below $20 (Bloomberg - Published February 9, 2016)
Moreover, during that time frame, I distinctly remember Mr. Currie making the television rounds, as if he was some clairvoyant person, who was always right. Lo and behold, this was the precise moment and perfect timing to have borrowed $1 million in order to have bought a basket of decent quality oil stocks (Tier 2 names).
This leads me to my point about GNC.
If we look at tape from December 30, 2016, through January 17, 2017, it appeared that GNC was consolidating and building a base; in fact it briefly got above $11.70 twice.
However, on January 17th and 18th, GNC's stock started to trade weaker, and on January 19th, Goldman Sachs published its downgrade report and slapped an $8 price target on GNC.
What is even more fascinating is that shorts were able to add 2 million from December 30, 2016, to January 13, 2017, without causing the price to drop. Anyone that has closely watched how GNC trades knows that a block trade, a buy or sell, of 100K shares can move shares by $0.25. The timing of the increase in short interest and Goldman Sachs' downgrade is too convenient for critical thinkers. However, I had no concrete evidence to make any bold assertions.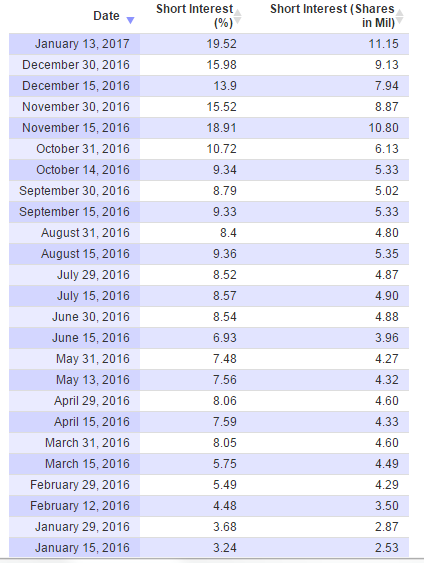 Source: Guru Focus
Another element of the Goldman Sachs downgrade timing was that JPMorgan analyst Chris Horvers raised the issue of losing the gold card revenue on the October 27, 2016, Q3 conference call: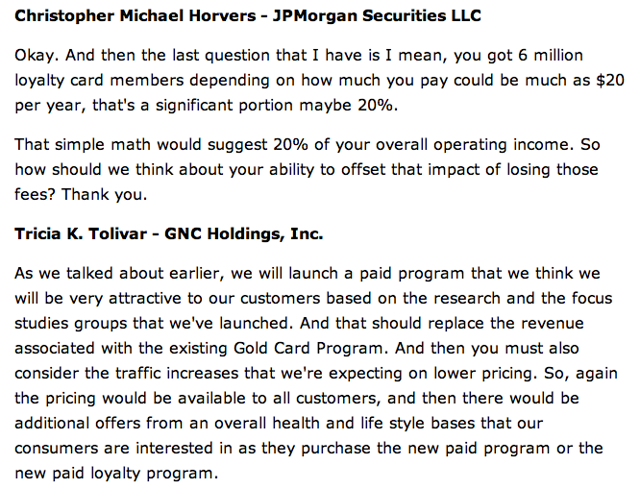 Moreover, on December 23, 2016, Piper Jaffray downgraded GNC citing the elimination of paid membership revenues: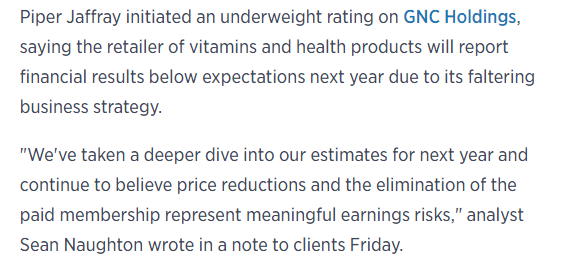 Source: CNBC (12/23/16)
So these concerns were widely cited and known both in the analyst and popular press communities, yet mysteriously, when Goldman Sachs makes the very same arguments and publishes a few financial models with its underlying assumptions, it drives the stock down another 25%.
Here is the latest consensus estimates from Yahoo Finance. They haven't materially moved lower, yet GNC's stock is trading like they have.

Source: Yahoo Finance
Here is a list of the recent GNC downgrade history: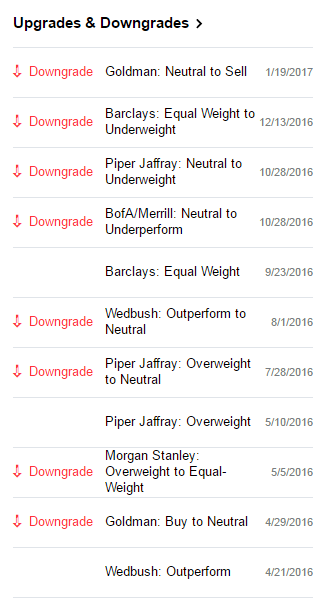 Source: Yahoo Finance
Finally, I found yesterday's price action rather odd. GNC came out yesterday and said it will release earnings on February 16, 2017.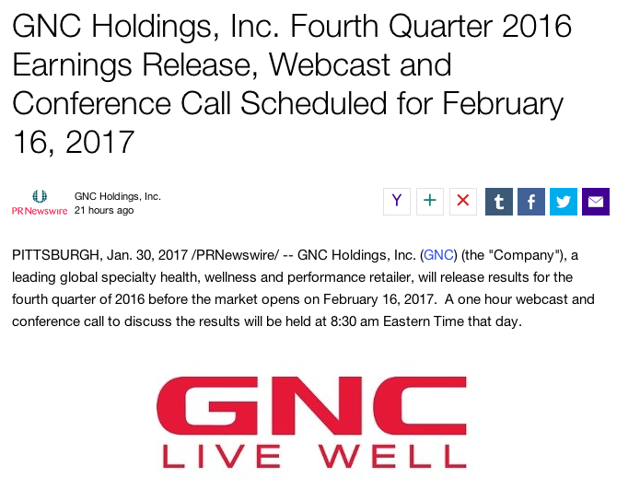 Please note that the company didn't pre-announce negative results, granted Robert Moran stopped issuing guidance on GNC Q2 2016 conference call. I know the Walgreens (NASDAQ:WBA) and Rite Aid (NYSE:RAD), a popular M&A arbitrage play here on Seeking Alpha, deal is on the rocks, but I am not sure analysts were factoring in that GNC would seamlessly be able to roll out its existing Rite Aid partnership to every Walgreens. So I find it interesting, yesterday, that shorts tried to push GNC lower again despite the company not pre-announcing, and the stock finally found a bid.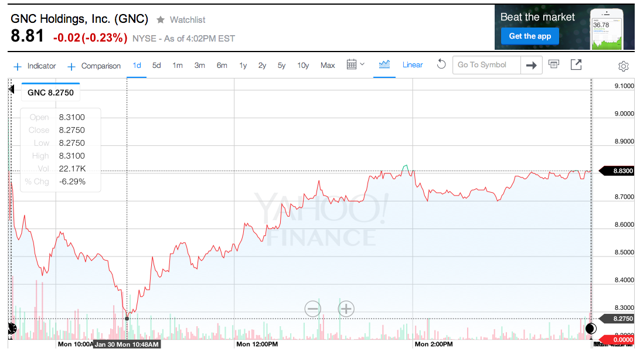 Source: Yahoo Finance
And one last thought. I love when readers boldly and declaratively write in the commentary section of my GNC articles that the company will go bankrupt. I am writing to thank them for the perfect contrarian indicator and for kindly signaling that we are gearing up for a V-type recovery.


Disclosure: I am/we are long GNC.
I wrote this article myself, and it expresses my own opinions. I am not receiving compensation for it (other than from Seeking Alpha). I have no business relationship with any company whose stock is mentioned in this article.