A long history of increasing dividend payments, strong fundamentals, and loyal customers have consistently fueled the share price of Altria Group (NYSE:MO). The recent bullish momentum, however, is attributable to increased chances of a merger deal between Altria and Philip Morris International (NYSE:PM), following the acquisition Reynolds American (NYSE:RAI) by British American Tobacco (NYSEMKT:BTI).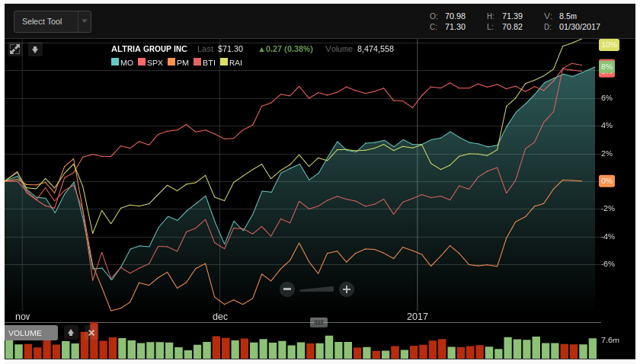 Source: NASDAQ
The tobacco industry has a history mega-merger and divestiture deals, but the amalgamation of British American Tobacco and Reynolds American will change the global competitive landscape altogether. The merger will create a much bigger tobacco company with an annual revenue base of over $28.5 billion - a bit higher than Philip Morris' trailing 12-month revenue of approximately $26 billion. But the deal is not about a mere addition of numbers. The combination will create sizable savings and synergies while accelerative EBITDA growth will allow the deployment of more resources to launch and expansion of multiple lines of next-generation products.
Impact of Shift In Competitive Landscape
The global tobacco industry is suffering from austere regulatory policies. For instance, the tightening of foreign investment rules for the tobacco industry will threaten the market position of Philip Morris in India. Similarly, authorities in Saudi Arabia, Bahrain, and Sultanate of Oman have doubled the taxes on cigarettes to curtail smoking rates, and Philip Morris will feel the heat due to considerable loss of sales in the coming quarters.
According to Euromonitor's optimistic scenario, the global cigarette volumes will drop at a compounded rate of 0.5% annually between 2015 and 2030. But the pessimistic scenario shows that volumes will plunge at a faster compounded annual rate of 1.8%, which seems more likely. The implementation of stricter regulations, enhanced awareness of health harms, higher taxes, and plain packaging rules will accelerate smoking quit rates in several major markets, including the U.S., Russia, India, Ukraine, Italy, Germany, and Japan. Philip Morris has greater exposure to emerging and developing markets where price elasticity of demand is unfavorable as compared the developed markets. Thus the potential loss of volume sales and increased cost pressure may impact the profitability of Philip Morris.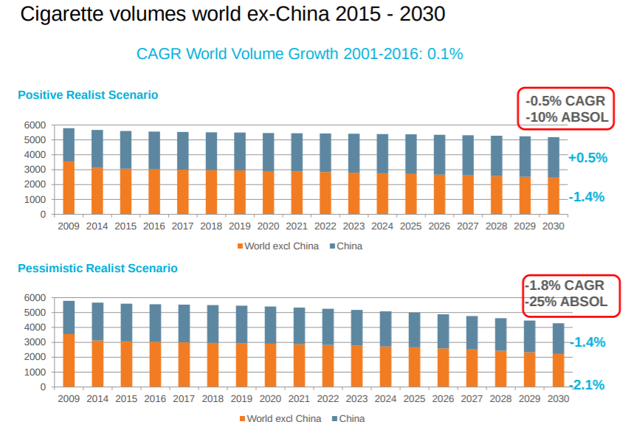 Source: Euromonitor 2030 Outlook
According to the Center for Disease Control and Prevention (CDC), adult smoking in the U.S. has slipped from 20.9% in 2005 to 15.1% in 2015, which is significantly below than the global average of 20.4%. The Center for Disease Control and Prevention estimates that smoking rate will drop down to at least 12% by 2020, due to reduced consumption of 2.5% annually over the same period. Despite tumbling volumes, Altria will benefit from comparatively low price sensitivity in the U.S. At the same time, Altria will face more challenges in protecting its market due to increased competition from Reynolds American and British American Tobacco.
Because the size of the target market is expected to squeeze further, the retention of market share has become a critical success factor for tobacco companies. Although Altria still dominates the domestic market and Philip Morris has greater share outside the U.S. and China, the post-merger market share of British American Tobacco will increase considerably. And by leveraging the extensive supply chain network of Reynolds American, British American Tobacco will try to gain market share in the U.S.
However, due to a loyal customer base of Marlboro brand, stealing share from Altria in the traditional cigarettes won't be easy. Thus the shareholders should not expect a radical shift in market share. Instead, I think, British American Tobacco will focus on exploiting the weak spot of Altria.
The U.S. is by far the largest e-cigarette market in the world, and yet Altria has a small presence in the next-generation tobacco market. Despite its expansion efforts, Altria's MarkTen XL has gained a market share of only 15.7%. On the other hand, the aggressive expansion has helped Reynolds American's Vuse capture 33.6% share of the U.S. e-cigarette market.
The market research report shows that the global e-cigarette market is expected to grow at a CAGR of 24% between 2016 and 2020. In the meanwhile, Bonnie Herzog estimates that the U.S. vapor industry will grow to $4.4 billion in 2017 and will reach $10 billion by 2020. The e-cigarette category is just a fraction of the overall industry, but it is evolving and growing rapidly. Thus maintaining a dominant position in this lucrative market in the early stages is very crucial for the long-term growth.
Altria lacks a wider range of e-cigarette brands, and its geographic reach is also limited. In the meanwhile, British American Tobacco is making technological advancements to innovate and create new markets. The introduction of British American Tobacco's new innovate brands Vype and Glo iFuse through Vuse channels will help extend the lead over Altria.
The most critical weak spot of Altria is no presence in the heat-not-burn category while almost all players are developing and testing the product. Even Reynolds American is developing a new heat-not-burn product called ''Core'' despite previous two failed attempts. The access to new research and technological advancements made by Reynolds American will enable British American Tobacco to develop multiple lines of reduced-risk products. In the meanwhile, British American Tobacco will try to extend the lead over Altria with the help of its hybrid cigarette brand Glo iFuse, and will also launch heat-not-burn tobacco brand Glo against the iQOS.
A New Threat?
The tobacco industry in China has flourished over the years, but the smoking rate in 2015 plunged for the first time in two decades. Smoking ban in some public places, advertising restrictions, and higher taxes resulted in a sharp two and a half percentage point drop in volumes of China National Tobacco Corp. Chinese tobacco industry could shed 5% of total volumes by 2020, primarily due to new stringent smoking regulations.
Tobacco revenues account for approximately 6.5% of the annual budget income of China, which means a drop of 124.5 billion sticks by 2020 will dent the annual revenue stream of the state-owned company. It seems that China's tobacco monopoly is planning on exploring opportunities outside the domestic market to compensate for the lost revenue. In a very smart move, China National Tobacco Corp. and Imperial Brands have entered into a strategic relationship that will allow a two-way swap of two key brands of each company.
The partnership in its current form is not threat to Philip Morris. The possibility, however, has surfaced that China National Tobacco Corp. could eventually acquire Imperial Brands, or even Japan Tobacco, for geographic diversification. Another risk is that Japan Tobacco might be interested in buying Imperial Brands in the midst of lackluster sales in the domestic market. In both cases, Philip Morris will experience increased growth headwinds because Japan Tobacco has very competitive product portfolio, including heating tobacco and e-cigarettes brands like Ploom and the Pax. On the other hand, with the help of a wider range of affordable as well as premium brands, China National Tobacco Corp. could steal market share from Philip Morris.
Unity Is Strength
In addition to risk factors discussed above, there are some other solid points to support the merger of Altria and Philip Morris. First off, despite an impressive per unit revenue generation, Altria has relatively weak gross and net margins, as shown in the following graph, primarily due to higher manufacturing costs. Similarly, Philip Morris also needs a cost-cutting program to fuel the profitability, as I said in this article. Both companies will have the opportunity to slash the excessive operating costs during the merger.

Source: SEC Filings
Secondly, Philip Morris is facing uncertainties over its potential investment in India that could hinder the progress iQOS. On the flip side of the coin, Donald Trump is encouraging the companies to set up production facilities in the U.S. The merged company will be able to set up a plant to produce iQOS and Marlboro HeatSticks locally. The combination will also allow an extensive optimization of existing facilities by boosting the output from efficient plants and divesting the poor performing assets.
According to Philip Morris, more than one million smokers have converted to the iQOS since its launch, and the company plans to make iQOS available in thirty markets by the end of 2017, including the U.S. The streamlining of supply chain and distribution network as well as local production will result in a smooth expansion of iQOS in North America. Moreover, the launch of multiple lines of new innovative brands, including Mesh, Nicocig, Vivid, and Steem, will help better compete with British American Tobacco in the next-generation tobacco market.
Buy and Hold
Philip Morris and Altria need each other to generate long-term profitable growth because declining volumes will increase cost pressure. Sooner or later, the shift in market structure due to the seemingly final round of major consolidation and ongoing developments in the global tobacco industry could force a merger of Philip Morris and Altria.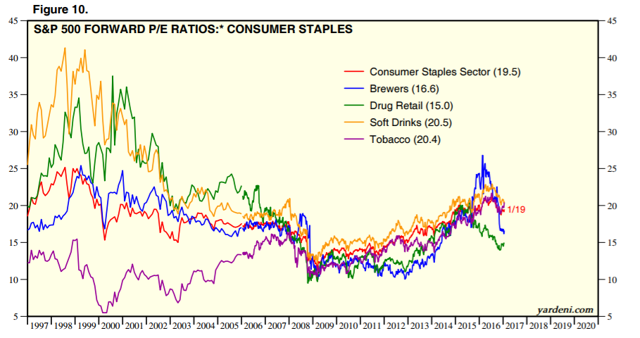 Source: Yardeni
The enterprise value of Philip Morris is $175.9 billion and its stock is trading at an EV/EBITDA multiple of 16.1x. The enterprise value of Altria is just over $150 billion, but the market is valuing the stock at a similar EV/EBITDA multiple of 15.8x. Philip Morris and Altria are trading at a forward price to earnings multiple of 20.4x and 21.3x, respectively, and these valuations are fairly in-line with the valuation levels of tobacco, soft drinks, and consumer staples sectors.
I would stick with my opinion of holding Philip Morris for long-term dividends. Whereas Altria is still a reasonable option to buy for the long-term, though the shareholders should wait for a pullback. While currency headwinds could negatively impact the top-line of Philip Morris in 2017, the favorable cigarette price to wage rate ratio and the recent acquisition of super-premium tobacco company Nat Sherman will fuel Altria's top-line growth despite steadily decreasing volumes.
Disclosure: I/we have no positions in any stocks mentioned, and no plans to initiate any positions within the next 72 hours.
I wrote this article myself, and it expresses my own opinions. I am not receiving compensation for it (other than from Seeking Alpha). I have no business relationship with any company whose stock is mentioned in this article.