Fannie Mae (OTCQB:FNMA) and Freddie Mac (OTCQB:FMCC) are two government sponsored enterprises (GSEs) that are in conservatorship governed by the Federal Housing Finance Agency (FHFA). Since they were placed into conservatorship, FHFA pushed the plunger on their assets and consistently wrote billions off for quarter for several years. After a few years, they ran out of easy accounting tricks to write off assets and were forced to report profits and decided to sweep the net worth of Fannie and Freddie to the government to conserve and preserve their assets. The government now battles private investors in court by saying that it can do whatever it wants with GSE assets and several judges have agreed but in a ruling that came out Monday, Judge Sweeney's order to produce documents saying that the government has improperly withheld them from plaintiffs found solid footing. The government appealed Sweeney's order to produce documents and their appeal was ruled on and the majority of the documents were declared to be improperly withheld from plaintiffs.
Investment Thesis: I've reviewed the cash flows under the government agreements and they simply do not support the accounting write downs that FHFA put through the GSEs income statements in the early years of conservatorship. In spite of their consistent cash profitability, the government was making the enterprises produce income statements hemorrhaging losses as it had an interest in doing so. By forcing the GSEs to hemorrhage money on their income statement, it was able to inject itself like venom into their capital structure. The problem is that doing so doesn't just put equity shareholders at risk because it was followed up with the net worth sweep which puts debtholders at risk. In effect, Treasury and FHFA have complete control over how much money they dividend themselves out of the GSEs and have a history of covering things up and doing things in their own best interest at the expense of taxpayers. A court recently extended Lamberth's ruling saying that public shareholders can't even question the accounting firms and hold them liable for signing off on the GSE accounting statements. Fortunately there is light at the end of this tunnel. Judge Sweeney ruled that covering things up improperly is wrong and ordered them to hand over documents but the government under the previous administration fought that. Now, they have lost that fight and are quickly running out of options and legal experts are speculating that a Trump administration isn't as keen on hiding from the public the truth behind the 'bailouts' of Fannie Mae and Freddie Mac. I own preferred shares as a bet on their recapitalization and I think that upon the implementation of a recapitalization plan dividends will resume sending my shares soaring 3x.
High Court Highlights Importance Of Documents
Famed analyst Joshua Rosner went through the legal ruling Monday and highlighted sections that show that the nature of the documents is indeed relevant to plaintiff's cause: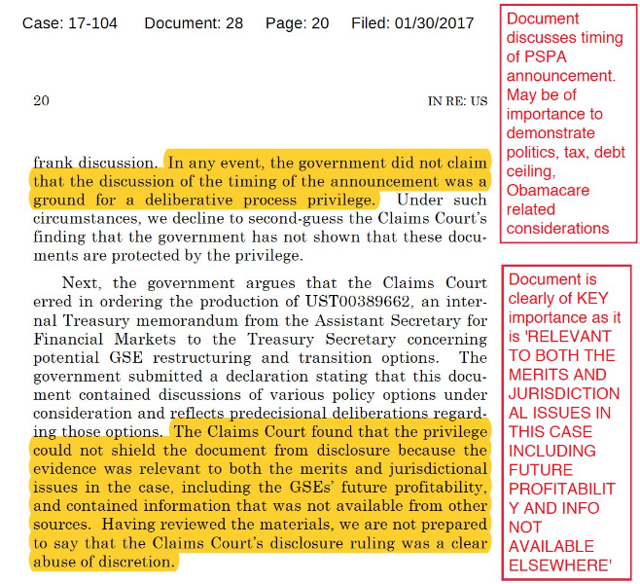 In addition, the court suggests that the seriousness of the litigation and the government's role in this litigation favors disclosure: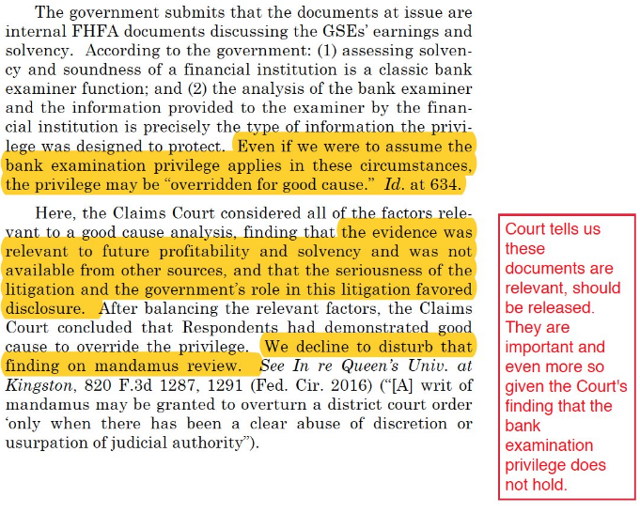 We also find that the presidential communication's privilege documents that were randomly picked do not seem to have importance to this lawsuit: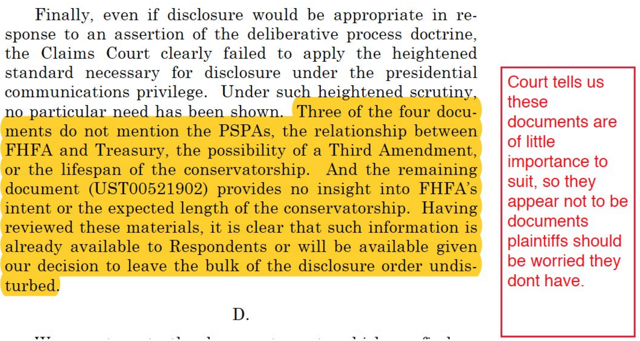 The fact that the government tried to withhold documents that discuss the future profitability of Fannie Mae and Freddie Mac is not surprising to me, but that's because to me it is clear that they knew Fannie and Freddie were going to be profitable and that is the sole reason behind implementing the net worth sweep. There is simply no other viable explanation because an agreement that sweeps the net worth of an enterprise makes it impossible for them to retain earnings in exchange for nothing. It is the definition of an unfair trade where the government takes all because it could get away with it for a while as it has since 2012.
Fairholme Notices Perry
Fairholme noticed the Perry Capital court of the ruling and its implications: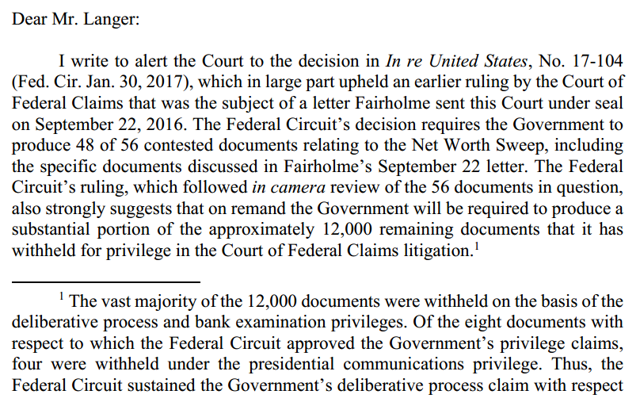 Fairholme thinks that the government has been skirting court rules: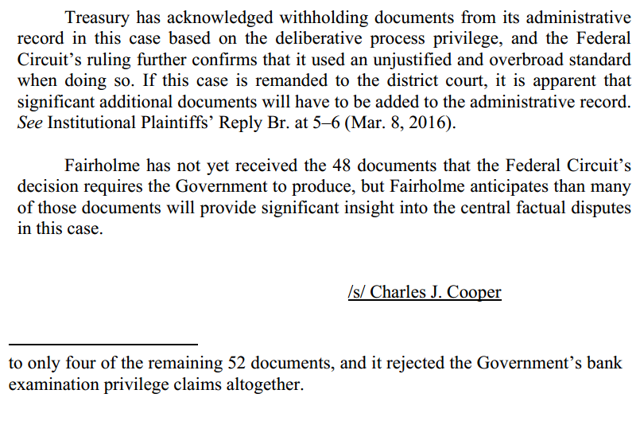 Fairholme hasn't yet received the documents but it sure is looking forward to seeing documents that prove its case.
Summary & Conclusion
Howard on Mortgage Finance celebrated its one year anniversary and is a blog authored by prior Fannie Mae CFO Timothy Howard and is the gold standard for GSE news along with David Fiderer and others. I own 4050 FMCCH, 18238 FMCCP, 7370 FMCCT, 1341 FMCKO, 17885 FMCKP, 13207 FNMFN, and 5 FNMFO. Mnuchin's confirmation hearing was pushed back from Monday night to Tuesday morning. I think he gets confirmed in the next two weeks but probably this week. From there, it will be interesting to see if he decides to administratively stop the net worth sweep. Based on his most recent statement one would think it sounds like that's the plan. With the net worth sweep out of the way, the only thing left to do is to recapitalize. The new administration is at a crossroads.
Do they continue to fight transparency or do they hand over the documents? Do they continue to fight to maintain the status quo which is to sweep the net worth of two Fortune 50 companies being run as off balance sheet government agencies after multiple years of backdoor accounting or do they change gears? We don't know yet but the stock has soared since Trump won and Mnuchin was announced. People say you shouldn't count your chickens before they hatch but I've been counting mine for years now and it beats counting sheep.
Disclosure: I am/we are long FMCCH,FMCKP,FMCKO,FMCCP,FMCCT,FNMFN,FNMFO.
I wrote this article myself, and it expresses my own opinions. I am not receiving compensation for it (other than from Seeking Alpha). I have no business relationship with any company whose stock is mentioned in this article.
Editor's Note: This article discusses one or more securities that do not trade on a major U.S. exchange. Please be aware of the risks associated with these stocks.