The vast majority of companies that I own in my portfolio are of the large and mega-cap variety. A lot of this comes down to my fondness of strong cash flows and reliably increasing dividend payments. I'm also a sucker for defensible moats and established, well-known brands.
With this being said, it gives me great pleasure to take a break from the highly covered names that I've been writing about for the last couple of weeks and talk about a company that seems to fly under the radar of the DGI community. I recently purchased shares of a company whose name you will surely recognize, but whose stock, you are less likely to follow: Whirlpool Corporation (NYSE:WHR).
The average market cap of the previous seven companies that I bought, Goldman Sachs (NYSE:GS), Citigroup (NYSE:C), Morgan Stanley (NYSE:MS), JPMorgan (NYSE:JPM), Bristol-Myers Squibb (NYSE:BMY), Johnson & Johnson (NYSE:JNJ), and Nvidia (NASDAQ:NVDA), is $156.67b (ranging from NVDA's $60.2b to JPM's $311b). Whirlpool's market cap comes in at $12.83. Technically, this is still a large cap stock, though in my heavy weight portfolio, I think of WHR like a more nimble mid-cap holding that is potentially attractive as a bolt-on industrial acquisition target for a larger entity looking to widen its moat and bolster cash flows.
Buying Whirlpool Dips:
WHR just reported its Q4 numbers, which were a miss by analysts' standards. WHR did manage to grow revenues 1.8% y/y, but missed by $0.06 on the top line as EPS came in at $4.33. This 1.3% EPS miss caused the stock to drop 8%, which is why I bought shares for $174.36. Simply put, it seemed like an overreaction.
This was actually my second purchase of WHR shares in the past couple of months. I initiated my WHR position in late October at $151.56 when the company similarly missed its Q3 numbers and sold off 10%. WHR was a major beneficiary of the Trump rally and shot up like a rocket from $150 to $190 and I enjoyed the ride immensely. If the American economy picks up, WHR will likely do very well. Consumers need to be confident (and have excess cash available) to purchase the expensive, durable goods that this company produces.
Rising rates could put a bit of a damper on the housing market, though recent data shows this isn't happening yet (the homebuilder stocks have performed very well of late due to bullish guidance on their part) and a strong housing market bodes well for WHR as well. I felt comfortable adding to my position on the Q4 miss because while the company didn't hit analyst expectations, it still posted solid growth on the year and currently trades at a very low valuation.
In the Q4 report, WHR management posted highlights for the 2016 year as a whole, which included 14% EPS growth, restructuring and M&A synergies which delivered $216m in benefits, continued innovation in the pipeline (WHR recently announced that it is working with Amazon (NASDAQ:AMZN) to integrate Alexa into its machines.
I find this exciting from both a consumer's and an investor's standpoint), the 11% dividend increase and $525m of stock repurchases that the company gave to investors, and the one year total return of 27%, which, as management boasts, put the company in the top quartile of the S&P 500. The main issue I see when looking at 2016 FY results is that revenues fell from $20.891b to $20.718b. This is a small drop, but obviously, I'd like to see top line growth.
WHR posted FY EPS of 14.06 for 2016, representing a TTM EPS of 12.3x. This is essentially in-line with the company's long term, 20-year normal P/E of 12.2, but below the company's 10-year normal P/E of 12.7.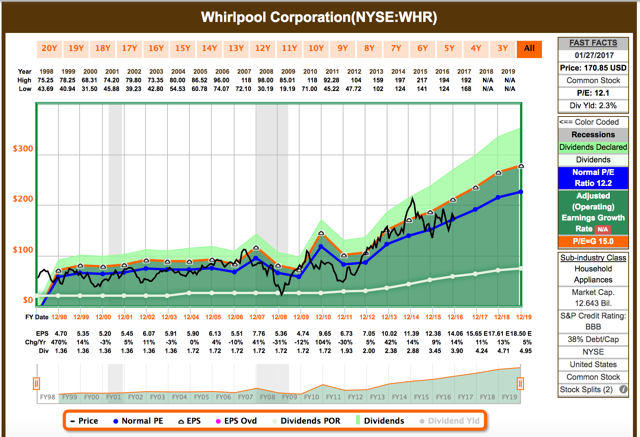 Source: F.A.S.T. Graphs
If one believes that we're headed into a period of domestic growth, I suspect that a bit of a premium valuation is warranted here being that 53% of net sales comes from North America.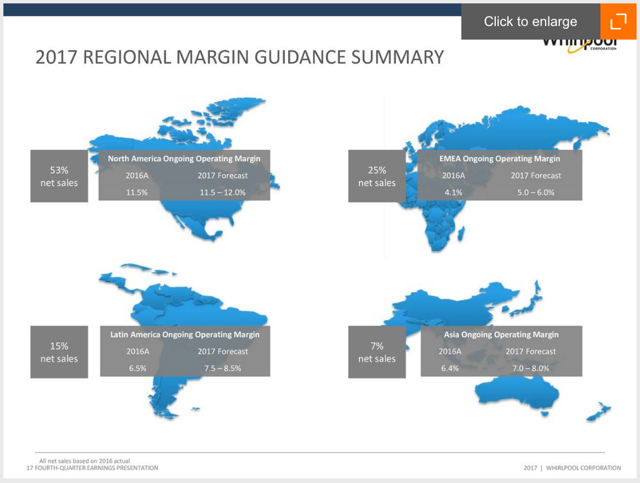 Source: WHR Q4 Slide Show
On the flip side of this coin, I will caution investors considering investing in WHR that this company did not perform well at all during the 2008-2009 financial crisis. WHR's EPS dropped nearly 40% from 2007-2008. That said, once the economy recovered, so did WHR, which more than doubled its EPS in 2009. EPS then fell 30% in 2010, before rising 42% a couple of years later in 2012. I'm not calling for a financial crisis in the present, though the market is at all-time highs and I wouldn't be surprised to see increased volatility as we continue to see rates normalize and move our way into what's proven to be a controversial Trump presidency.
Investors should have a long-term mindset when buying shares of this cyclical company because fundamental peaks and troughs here are going to be higher and lower than your typical holding and I suspect that timing these highs and lows is going to prove to be a very difficult thing to do.
Still, we don't buy stocks because of what they've done in the past, but instead, because of our future expectations. Well, WHR's management is very bullish on 2017 and the future beyond. Below are several slides from their Q4 report, which I found very exciting. Management calls for strong double-digit EPS growth and for free cash flows to increase to $1b, representing 59% growth. WHR expects to see an ongoing business EBIT margin of 7.75-8.25% on the year.
WHR has traditionally been a low margin business, with net margins coming in at the low single-digit range over the last 5 years. This means that FX headwinds and operational slip ups have a greater effect on this company than most. These low margins impact the premium that investors are willing to pay, which is why WHR commonly trades with a below market multiple. However, even with these margins taken into consideration, if management is able to deliver on top line growth guidance, I expect to receive a nice return on my shares over the long term.
The average analyst estimate for 2017 EPS is $15.67. This represents a forward P/E ratio of 11.04x. I think this is too low, which is why I've been buying shares. Using this 2017 estimate and the company's long-term normal multiple of 12.2x, we arrive at a 12-month price target of $191.17. This theoretical share price growth from the $173 WHR trades for today, plus a year's worth of dividends, equates to 13% return by year's end.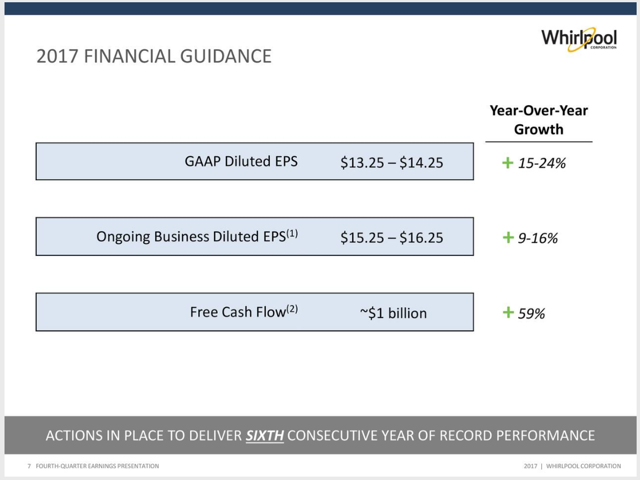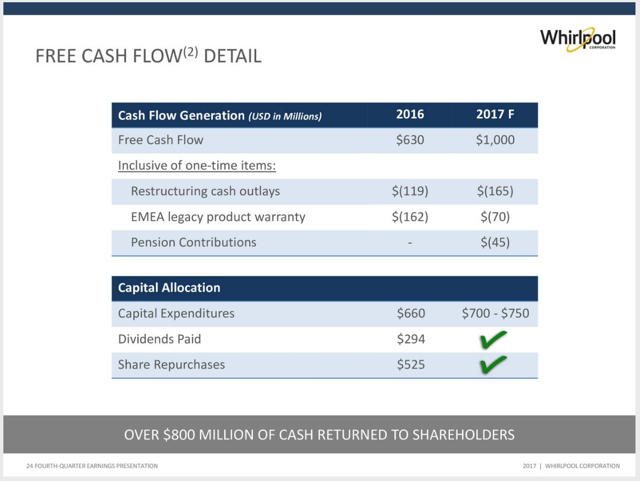 Source: WHR Q4 Slide Show
The Dividend:
The best thing about buying these undervalued shares and waiting for the potential turnaround is that WHR is going to pay me to stick around and wait for it. WHR shares currently yield 2.3%. The company's 5-year DGR is 15.1%. As previously stated, 2016's dividend increase was 11%, from $0.90/share to $1.00. WHR's forward payout ratio sits at a conservative 25.5%. This, combined with the fact that management is calling for double digit top line growth in 2017 leads me to believe that investors should expect another double digit dividend increase this year as well.
WHR has a 6-year annual dividend increase streak. This company is not an aristocrat by any means, having frozen its dividend for much of the 2000-2010 decade. However, it's worth noting that the company didn't cut its dividend during either of the previous two recessions. This is commendable and represents conservative management of the balance sheet, in my opinion, anyway.
You Don't Have To Take My Word For It:
Before I spoke about the relative lack of coverage that WHR receives; well, this is highlighted by the fact that even Morningstar does not release in-depth coverage on the stock. The only major analyst firm that I follow that does cover WHR is S&P Capital IQ, and the firm is very bullish indeed. S&P Cap IQ rates WHR a 4-star "Buy" with a fair value calculation of $248.40, meaning they believe the stock is currently undervalued by 43.5%.
The firm puts a $201 12-month target on the shares, assuming a 12.5x multiple on 2017 EPS expectations of $16.05/share. The firm expects to see 4.7% sales growth due to increased volumes on the year. I think all of this is reasonable. Should S&P Cap IQ be correct here, we're talking about a 16% gain over the next 12 months. Not too shabby.
According to S&P Capital IQ, a total of 12 analysts publish reports on WHR; 6 of them rate the stock a buy, two rate the stock a buy/hold, and 4 rate the stock a hold. Yahoo Finance tracks 8 of these analysts and posts an average analyst price target of $198.25 for WHR shares. Downgrades have been popular since the company missed on its last two quarterly reports, though I'm still bullish on the shares looking at management's long-term guidance combined with today's relatively low valuation.
Conclusion:
When it comes down to it, I simply believe WHR is trading too cheaply right now and that, therefore, it represents a long-term bargain for investors. Management's bullish guidance combined with the growing dividend that I expect to receive gives me confidence that I will reap sizeable rewards with this investment over the long term.
As stated in the article, this is a highly cyclical company, so investors should be cautious of the swings in the fundamentals. However, looking backwards, these metrics are trending in the right direction, and I suspect that the strong brand name, sizeable moat, scale relative to its peers, and innovative technology/pipeline will continue to push results higher.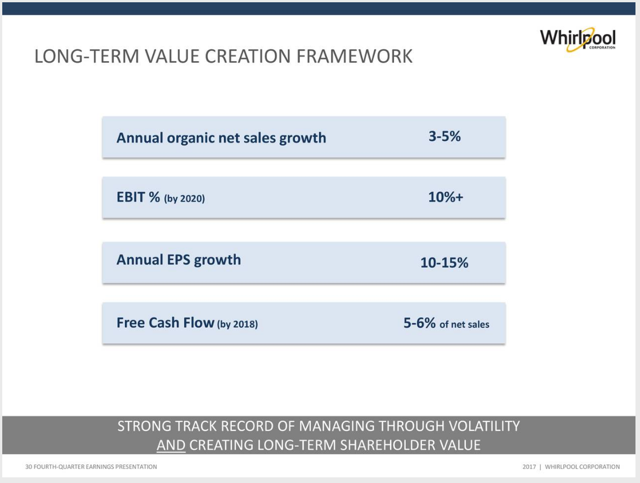 Source: WHR Q4 Slide Show
Disclosure: I am/we are long WHR, AMZN, C, MS, JPM, GS, NVDA, BMY.
I wrote this article myself, and it expresses my own opinions. I am not receiving compensation for it (other than from Seeking Alpha). I have no business relationship with any company whose stock is mentioned in this article.