Article Thesis
While the company seems to be trading at an attractive discount from intrinsic value, investors need to be extra cautious with The Buckle (NYSE:BKE). The generous dividend certainly provides a good margin of safety for long-term investors, but the company is walking on fragile ground, and this justifies the low price against the fundamentals. 2017 comps might not turn positive despite an easy comparison with those of last year, leaving room for further downside. While many apparel names, including Buckle seem to have entered oversold territory, BKE does not particularly stand out among them.
The Bearish Case Unfolds in 2016
First fact investors should confront: dividends unaccounted, BKE shares lost over 26% of their value in 2016. Below is a brief recap of the reasons for the selloff.
1. Negative comps
A same-store sales negative trend is the simplest way investors can see "how deep the rabbit hole goes." And while in the first part of the year a reduction of roughly 10% was the norm, in the second part of the year, the figure climbed to around 15%. As the company barely opened new stores in 2016, comps provide an almost perfect estimate of revenue trend.
| | | | | | | | |
| --- | --- | --- | --- | --- | --- | --- | --- |
| Jan16 | -11.3% | Apr16 | -13.2% | Jul16 | -9.8% | Oct16 | -15.5% |
| Feb16 | -8.9% | May16 | -10.4% | Aug16 | -14.8% | Nov16 | -16.2% |
| Mar16 | -11.8% | Jun16 | -10.6% | Sep16 | -15.5% | Dec16 | -15.1% |
Needless to say, this is the most important indicator in the industry, and numbers are openly revealing the company's top line is under heavy fire. Total revenues for FY2016 are likely to slide back below 1 billion - a result not seen since 2011.
2. Erosion of Buckle's core product strength
This was nicely pointed out in a recent SA article. BKE's core product, denim, seems to be suffering an accelerating decline in customers' preferences. While facing falling revenues, the change occurring in the sales mix is challenging the company's bottom line as well. Gross profit has been declining, after standing steadily at 44% between 2009 and 2014. It may fall below 40% for the first time in a decade. A decrease in Buckle's branded products is an alarming sign as it reduces the firm's franchise value and its ability to grab a premium from customers.
3. E-commerce not a fad, brick and mortar retailers under pressure
Investors might have noticed that while traditional mall shops faced a tough Christmas season, Amazon (NASDAQ:AMZN) trumpeted it just had its "best holiday season ever." Let's make it clear: I am not among those who believe brick-and-mortar stores are going to disappear any time soon to be taken over by digital ones. Regardless of my personal beliefs, it is unquestionable that changes in demographics are giving e-commerce players long-term tailwind while traditional mall retailers are facing a headwind for the same reason. Millennials, a generation of natural online shoppers, are now full-fledged professionals with ample spending possibilities and this bodes well for Amazon, eBay (NASDAQ:EBAY), Alibaba (NYSE:BABA) and the like. It was surely important for Buckle to throw itself in the game and open its online shop, but it would be foolish to remain blind to the business model differences between pure online retailers and brick-and-mortar ones with an online presence. As e-commerce is here to stay and play a significant role in retail, The Buckle and most other physical retailers that are not able to shield themselves behind some competitive advantage are likely to face a long-term mildly negative impact on both their top and bottom lines.
What is Going to Happen Next?
I admit I have been quite optimistic on Buckle last year, assuming that the stock's malaise was just momentary and the management had the ability to right the ship. While the stock has been trading cheap by almost every fundamental, the price is discounting the adverse events described above. Given that future revenue trends are unpredictable, it is hard to tell to which extent such discount may be unwarranted. Under the presented scenario, it's hard to be optimistic and think about growth, but optimism can take different forms. In the case of BKE, being optimistic may mean believing that the worst is behind and the sales decline will eventually end. As a matter of fact, this is exactly the sort of scenario analysts are now "predicting" for the stock.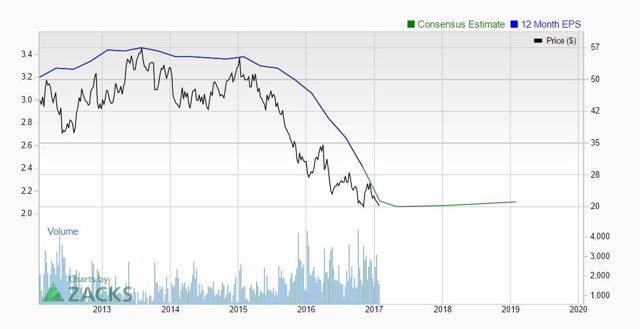 Unfortunately, I remain wary of such an EPS consensus trend chart, and I invite fellow investors to be equally skeptical when presented with such data. Rather than be relieved by the forecasted stabilization, readers should question the quality of such information. Psychological studies show how those directly involved tend to attach a certain amount of personal bias to the predictions, so where longs will probably see a rebound, bears will see a continuation of the trend.
Is there an indisputable reason why BKE earnings cannot bounce back (or fall more) rather than stabilize? The answer is no, and this is the issue with most consumer discretionary goods. One day the customer is there, and the next may be not. Buckle's VP of women merchandising is retiring: will a new face be brought in and operate the necessary changes to win customers back? I have read before on discussions over The Buckle that "apparel customers are fickle." Agreed, but again, there is no certainty that the clients will return once they have left for somewhere else. The future remains uncertain, but while the company is still abundantly profitable, I assume that the cigar should have some more than one last puff left.
Reasons to be Bullish in 2017
The presence of value stocks in investors' portfolios is likely to pay off in a market that seems to be getting overvalued by most metrics. Needless to say, as far as investors can avoid value traps. The profile of Buckle hasn't changed much from the conservative pick I firstly described in my article last year. Now as back then, I am convinced long-term investors in Buckle have been doing and will do just fine (maybe except the ones who accumulated shares in 2014, which is when the company was not a value pick anyways).
1. A fat dividend yielding over 8%
As long as revenues do not decline substantially further, the dividend is fully sustainable. The company is mature and able to throw off substantial cash flow, capex is stable and will likely remain very low in the next future. Valuing the business conservatively using DDM or DCF models, therefore, seems to be an appropriate choice. Things might change if the company decides to launch itself internationally or go through some major restructuring plan to return to growth, but both options seem to be off the table for now.
2. It's an industry-wide malaise
The issues faced by BKE are, at least to some extent, shared with other well-known apparel names. Gap (NYSE:GPS) and Abercrombie & Fitch (NYSE:ANF) have been suffering similar problems with their top line. A clear bull thesis for The Buckle is that, unlike the aforementioned names, BKE has a clean balance sheet and high operative margins, so it is well positioned to withstand the storm passage. While this is certainly true and it's a good plus for the stock, investors should also note that on the other hand, size does not play well for Buckle when compared to Gap or other names. Moreover, investors might want to draw their attention on other names such as Urban Outfitters (NASDAQ:URBN) and American Eagle Outfitters (NYSE:AEO) which, despite lower operative margins, have similarly strong balance sheets and have retained much better same-store sales than Buckle in 2016. Their shares have recently gone through similar sell-offs and might provide substantial opportunities to fundamentals investors.
3. Easy comps can turn into positive earnings surprise
No doubt about it: lower sales are a bad thing. But when sales are already down, and negativity gets priced in the stock, that is when upturns become a possibility again. Surely there is a lot of negativity priced in BKE now, but the company is far from terminally ill: if the management pulls out a couple of decent initiatives and gets a grip on the situation, I believe the situation can turn around. When the company finally starts to see a few positive comps again or even better a positive earnings surprise, the news will help to reverse the negative mood now surrounding the stock.
Valuation
Based on DDM and DCF valuations, shares of Buckle should trade between $25 and $27. The lower end of my estimate is a Gordon DDM which assumes no growth (g=0%) from the current $1.75 coupon (this includes the special dividend which BKE regularly pays out to shareholders). The cost of equity in my model is quite inexpensive, but it has been calculated taking into account the "new normal" low yield on long-term T-bonds.
I obtained a slightly higher valuation of $27.5 by using a 10-year DCF model valuation. Fundamental assumptions were a negative growth of 2.5% in 2017 and then a "recovery" in sales to a constant 1% y/y growth rate. Normalized EBITDA three points down from the ~22% peak level of the period 2009-2014. Finally, I used an EV/EBITDA exit multiple of 5.5x to calculate the terminal value of the firm, which is roughly in line with the current values of industry peers.
When relative valuation through multiples is considered, undervaluation of BKE seems either absent or shared with few names in the industry. If convinced the discount is unwarranted, investors might consider hedging company-specific risks diversifying their holdings across the sector, even if this requires sacrificing part of their dividend yield.
| | | | | |
| --- | --- | --- | --- | --- |
| Value | BKE | GPS | AEO | URBN |
| P/E | 8,5 | 13.4 | 11.5 | 13.5 |
| fwd P/E | 10.0 | 11.0 | 11.0 | 12.7 |
| P/S | 1.0 | 0.6 | 0.8 | 0.9 |
| P/B | 2.3 | 3.3 | 2.3 | 2.4 |
| P/OCF | 5.8 | 5.5 | 7.1 | 7.5 |
| Div. yield (1/30) | 8.5% | 4.1% | 3.4% | N/A |
BKE is currently trading below $21. The above valuations suggest a 20% to 30% discount from intrinsic value. The apparel industry as a whole is getting no love from the Street at the moment. The hazard, as outlined in the article, remains related to the ability of the company to put a quick end to the sales hemorrhage.
Disclosure: I am/we are long BKE, AEO, URBN.
I wrote this article myself, and it expresses my own opinions. I am not receiving compensation for it (other than from Seeking Alpha). I have no business relationship with any company whose stock is mentioned in this article.