I'm going to ruffle a few feathers with this article. I'm certain of that.
That is why I'd like to make something clear up front, if you are a hardcore Tesla (NASDAQ:TSLA) or Elon Musk fan and shareholder I'd just like for you to read this with an open mind. Especially if you have lot of money invested in Tesla.
If you own shares in any company the most important research for you to expose yourself to is the bearish side of the story. Continually reading bullish material will serve only to reinforce your own opinions and not critically examine your investment.
If you'd like to discuss my views in the comment section I'll be there. For full disclosure I have no long or short position in Tesla. I am completely unbiased. Reviewing this presentation is what opened my eyes to the risks Tesla shareholders are facing.
Electric Cars - Are Unquestionably A Huge Opportunity
There may be no bigger growth opportunity over the next three decades than the electric car. There is no doubt that 25 years from now there will be many multiples of electric cars on the road than there are today.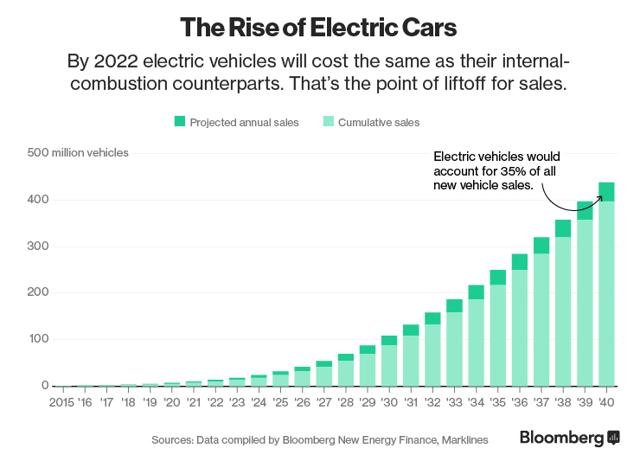 Source: Bloomberg
They are a viable transportation option today and with the rate that technology changes I literally can't imagine how much better electric cars will be 20 years from now.
Personally, because of how rapidly technology changes I think it would be foolish to try and pick any specific car maker as the winner here. I think picking Tesla as the vehicle (no pun intended) to profit from electric cars is an especially big mistake.
Tesla - Three Strikes And You Are Out
A wise man once said that the most important rule for investors is "do not lose money." That same wise man said that investment rule number two is "do not forget rule number one."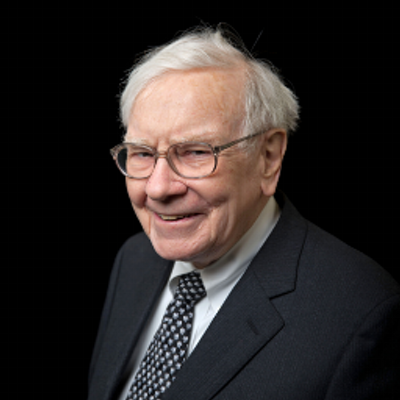 Source: Twitter
Tesla shareholders need to think about these wise words very carefully. As a completely unbiased outsider I believe that there are three very large red flags that are warning that an investment in Tesla is going to cause you to violate both rules number one and two.
Here are the red flags:
Red Flag #1 - Against Very Little Current Competition Tesla's Operating Results Are Already Awful
Tesla is losing money on every car sold. In fact, it is losing a lot of money on every car sold. The company's most recent quarterly filing shows a company that continues to bleed cash.
On a GAAP (Generally Accepted Account Principle) basis Stanphyl Capital calculates that Tesla lost $4,710 per car sold or leased.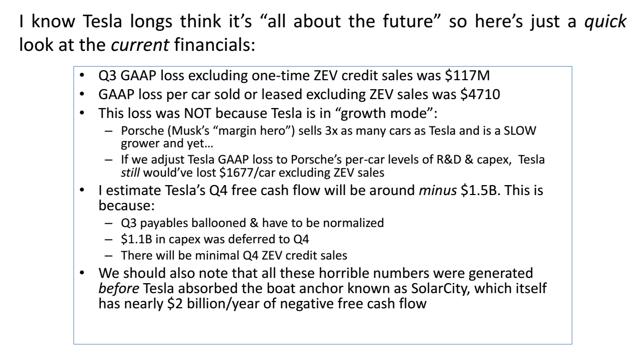 Source: Stanphyl Capital
The excuse/counterpoint for this would be that the company is focused on growth currently and not on profitability. Growth first, profits later.
There is some merit to that business approach obviously, Amazon (NASDAQ:AMZN) has had doubters (some very smart) all through its existence who pretty clearly were wrong.
Stanphyl has a strong argument against the idea that Tesla is currently intentionally unprofitable. Stanphyl believes that if Tesla's numbers were adjusted to have Porsche's (a mature company) much lower level of R&D and capex Tesla would still have lost $1,677 per car sold.
If Tesla can't turn a profit with Porsche's level of R&D/capex spending then why should we think that Tesla can ever turn a profit without much higher automobile prices?
If you are for some reason a current Tesla shareholder who hasn't spent any time looking at the company's financials I suggest that you spend some time doing that. The picture they paint is not a pretty one.
If you back out the working capital benefit of skyrocketing accounts payable in the third quarter of 2016 Tesla's free cash flow was roughly negative $1.5 billion. That is one quarter of operations folks. This isn't a company developing electric cars, this is a company selling electric cars.
It gets worse - that is the ugly picture before Tesla acquired the cash gushing SolarCity in a very questionable deal (more on that in a minute).
Q4 numbers are going to be even worse with SolarCity included.
Red Flag #2 - Tesla's Competitors Are The Companies With The Financial Staying Power
Tesla is obviously the leading name in the electric car business. Do date it has faced modest direct competition.
Despite that the company can't make any money.
What are the numbers going to look like when competition arrives? That is a very important question for investors to consider because competition is coming and it is coming from some very deep-pocketed competitors.
The major car manufacturers have finally taken to the fact that getting into electric cars has to be at the core of their business plan.
Over the next few years a massive number of long-range electric cars will be on the market, often at prices subsidized by profits from their makers' conventional vehicles.
This is an option Tesla doesn't have and the pricing pressure on Tesla will be intense. Remember, Tesla can't make any money at current prices. Lowering prices is not an option.
Here are just a couple of examples of what Tesla is going to be facing:
From the Chevy Bolt which is rolling out an option that is better than what Tesla has for consumers: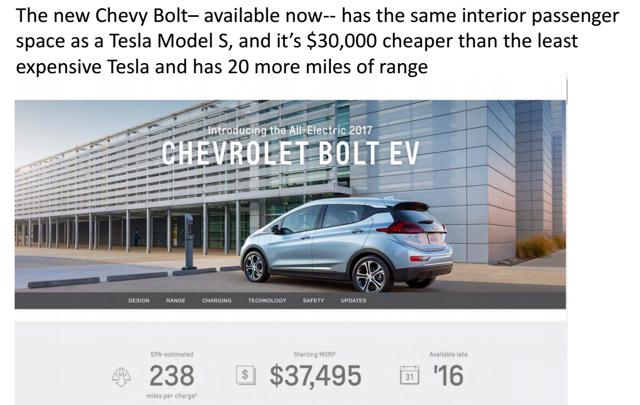 Source: Stanphyl Capital
From Daimler Chrysler which is a company with much greater financial clout than Tesla: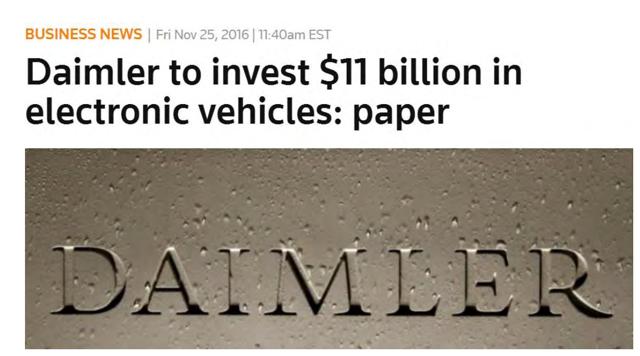 Source: Stanphyl Capital
From Ford which can outspend and out-market Tesla at every turn: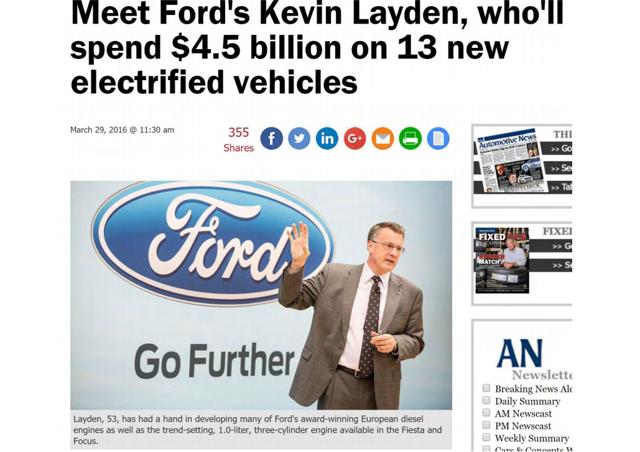 Source: Stanphyl Capital
Those are only three of the competitors. There are plenty more. Tesla can't survive today with internally generated cash flows. What is going to happen when all of this competition reduces the price point for electric cars?
Red Flag #3 - You Should Be Thinking Hard About Investing Alongside This Management Group
When you invest in a company you are essentially handing your money over to the CEO and Board of Directors that control the business.
When it comes to Tesla I think you need to be asking yourself whether the people in charge have the best interests of your money in mind when they make decisions.
That is after all what their primary job is acting as stewards of shareholder capital.
There is obviously an interesting and charismatic CEO in charge of this company. He has accomplished some pretty amazing things from humble beginnings. I love people who dream big and chase those dreams, but there are a lot of inconsistencies that are coming out of this company that should give investors pause.
As an outsider I don't know how the SolarCity transaction can be viewed as a sensible business decision. How exactly can it be justified as being in the best interests of Tesla shareholders?
Honestly that deal alone should be reason enough for you to withdraw your capital from this company.
Then there are the CEO's repeated instances of not being truthful.
Stanphyl points out a couple in its presentation. Like this one: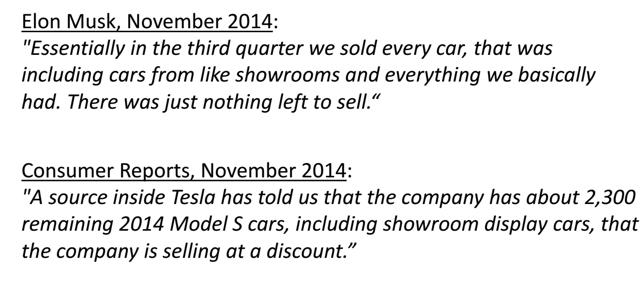 Source: Stanphyl Capital
And this one: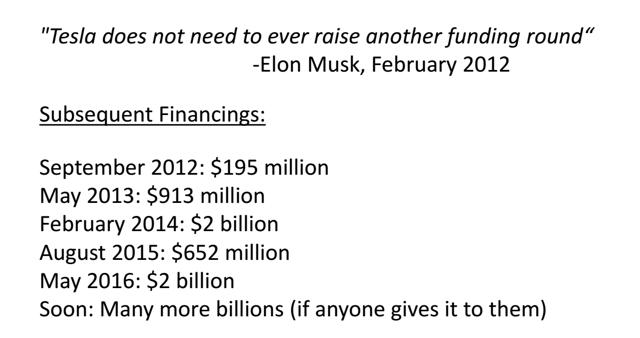 Source: Stanphyl Capital
Call my crazy but I think a CEO should be accountable for making misleading statements like these. I realize that we have come to accept the fact that the president of our country often misrepresents the truth (not just the current one), but we only have one vote in an election and can't decide the outcome.
When it comes to investing your money you have full control over whether you turn it over to someone you believe is always being honest with you.
A Quick Summary
Again, I have not interested in what happens to Tesla one way or another. I am a big fan of electric cars.
As an outsider here is what I see:
Red Flag #1 - There is nothing in the financial performance of this company that would make me want to invest in it.
Red Flag #2 - There is a massive wave of competition coming that is only going to make the financial performance worse.
Red Flag #3 - There are reasons to question whether management and the Board have shareholders best interests in mind.
Three red flags and you are out. This company does not deserve your money.
If you would like to receive future articles from me please click the follow button at the top of this article.
Thanks for reading.
About The Superinvestor Bulletin
Every company in our portfolio is a high conviction position (portfolio weighting) of one of the world's greatest investors. We are building a "best of the best" portfolio.
Our latest portfolio addition is from an investors who has generated a 19.56% annualized rate of return (after fees). You can get a free look at that idea by taking a free trial of our market beating newsletter.
Disclosure: I/we have no positions in any stocks mentioned, and no plans to initiate any positions within the next 72 hours.
I wrote this article myself, and it expresses my own opinions. I am not receiving compensation for it (other than from Seeking Alpha). I have no business relationship with any company whose stock is mentioned in this article.