By Michael Clarfeld, CFA, Hersh Cohen and Peter Vanderlee, CFA
Expectations for higher inflation and higher interest rates have risen since Donald Trump won the race for the White House. The potential inflationary effects of Trump's pro-growth policies have caused the 10-year Treasury yield to rise over 20% since the election, causing sharp losses for bonds and pressuring equity sectors considered bond proxies. Traditional dividend-paying utilities, real estate and consumer staples stocks have been among the worst performing sectors in the post-election period (Exhibit 1). The ClearBridge Dividend Strategy portfolio has managed to avoid much of the drawdown as it maintains lower exposure to these areas compared to competing dividend-oriented strategies. Instead of solely targeting high current yield, we have always taken a diversified approach across sectors with an emphasis on dividend growth.
Exhibit 1: Most Income Sectors in S&P 500 Index Have Trailed Post-Election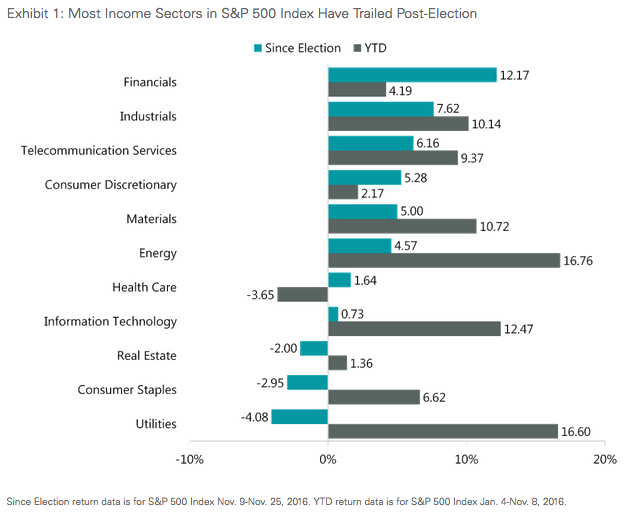 Well before the surprise election result, the U.S. Federal Reserve had indicated the likelihood of an interest rate increase by year-end and a gradual path of future tightening. Trump's potential policies could change that calculus and hasten a more aggressive program of rate increases.
At first blush, dividend-paying stocks would appear susceptible to losses as yields on competing income sources rise. These stocks do tend to decline in the early stages of a period of rising rates as investors weigh the length and severity of rate tightening. Yet a study of high dividend stocks by MSCI going back to 1927 found that in markets where the fed funds rate is below 3% at the start of a rate tightening cycle, these stocks outperformed the market by an average of 2.4% per year. The impact of higher rates may be tempered by two other factors: the low absolute rate environment that we have experienced since the global financial crisis and a general overweight to bonds.
Longer term, not all dividend stocks will be impacted equally by higher rates. Stocks that pay a static dividend have fared worse in past tightening cycles than the companies we favor in the portfolio: those that consistently grow their dividends. Meanwhile, stocks of companies forced to cut their dividends have underperformed stocks that pay no dividend (Exhibit 2).
Exhibit 2: Performance of Dividend Stocks Following Fed Rate Hikes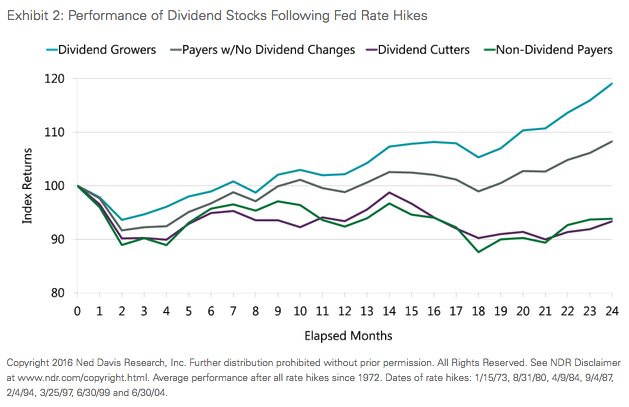 One way we can cushion this rate impact is by targeting companies with a track record of dividend increases and the combination of financial strength and growth which should enable them to continue raising their dividend payments. These companies typically feature healthy balance sheets and consistent cash flows that provide plenty of capital to effectively operate their business and fund a growing dividend. We seek to own companies in the portfolio with the ability to compound dividends over the long term. This is one reason why we own a fair number of industrials stocks as these are businesses that are not easily replaceable.
Our active approach to portfolio construction also provides the ability to manage risk in periods unfavorable to equities in general or dividend equities in particular. A case in point is the utilities sector. Post-crisis quantitative easing and monetary policy have distorted utilities valuations. The sector is at its fullest valuations ever and we think that's risky. We are marginal owners of slow growth, high current coupon utilities as our perennial focus on dividend growth has kept us away from these bond proxies.
The good news is that years of accumulating cash on the balance sheet has left quality U.S. large cap stocks well positioned as dividend growers. For the 12 months ended June 30, 2016, 82% of the 416 dividend-paying stocks in the S&P 500 Index had increased their payouts according to FactSet. Having a wide universe of companies from which to select allows us to gravitate to the highest-quality dividend growers. We believe the corporate tax reform and repatriation policies proposed by Trump have the potential to unlock more cash that can be directed toward rewarding shareholders. Stocks in the technology sector, which hold 53% of their aggregate cash outside the U.S. according to Credit Suisse, health care (19%) and industrials (12%) stand to free up the most cash from repatriation.
After many years of relatively predictable macroeconomic factors (e.g. low interest rates), it seems that the recent election results are likely to mark a turning point. If that's true and interest rates do start to move higher, we believe we are relatively well positioned. Our focus on strong dividend growth should provide investors with a meaningful offset to higher inflation and higher interest rates. Thus we view a portfolio of dividend growers as one of the places to be in a rising rate world, not a place to avoid.