Fiat Chrysler (NYSE:FCAU) enjoyed tremendous growth in Europe in 2016. This looks set to continue into 2017. Along with economic improvement in Latin America this could be the trigger for the company's growth in 2017 and accomplishment of its 5-year plan. This follows on excellent Q4 results just announced.
The North American market looks less certain. Many analysts see the top of the vehicle sale cycle there. The policies of the Trump Administration cast further uncertainty over the North American market, though CEO Sergio Marchionne has described Trump's plans as "overall positive for FCA".
Europe.
FCA's sales in Europe were startlingly good, especially in regard to small vehicles. Sales for FCA for the full year rose 14.1% compared to 6.5% for the industry as a whole. The company sold 993,000 vehicles in total.
Fiat dominated the small car sector. In the "European A" category, the Fiat 500 and Fiat Panda had 29.4% market share. In the "Small MPV" category, the Fiat 500L had a 25.5% market share. In the "Small SUV" category, the Fiat 500X was a market leader.
In this small vehicle area, Fiat benefited no doubt from the diesel emission problems of Volkswagen (OTCPK:VLKAY). The Golf and Polo models are its closest competitors. Of course Fiat has encountered an emissions dispute of its own. This does not look too threatening at the moment. It must though be counted as a potential negative for the company in the coming year. It has engendered quite a spat between the Italian and German governments.
This spat just illustrates how important Volkswagen is to the German economy and Fiat to Italy's. Most recently Renault also has gotten dragged in to an emissions scandal of its own. The company is 20% owned by the French government. It may be that the European giants all end up agreeing to do nothing much for their mutual benefit.
Sergio Marchionne has based his strategy on worldwide brand development. So far this has been highly successful. In regard to Europe this held true in 2016. Jeep sales were up 19%, Alfa Romeo up 16.5%, Fiat up 13.6%, Lancia up 9% and Maserati up 29.8%.
At the analysts call for the Q4 results, CFO Richard Palmer explained:
The Fiat Tipo launch and improved LCV performance in Europe: these more than offset the negative volumes in NAFTA and Latin America."
Net profits in Europe were not as high as might be desirable because of the emphasis on less profitable small cars. However the company did achieve higher volumes and better product mix. New launches included the Fiat Tipo family, the Alfa Romeo Giulia and the Jeep Renegade.
In the coming year the Alfa Romeo SUV, the Stelvio, which I examined in a previous article, will be launched. This will take place in Q1 in EMEA (Europe Middle East & Africa) and Q2 in NAFTA. The company has high hopes for substantial sales at high margins as part of the build-out of the Maserati/Alfa Romeo complex. The Jeep Compass is also launching in 2017 and a new Wrangler is due at the end of the year.
The company will be looking for further increases in the more profitable Jeep, Alfa Romeo and Maserati brands in the coming year. Maserati, in 2016, more than doubled its margins to 9.7% and was greatly boosted by the new SUV, the Maserati Levante.
My article in November gave details on how and why Maserati and Alfa Romeo should be strong revenue generators in the coming years.
The chart below from The Economist details worldwide passenger car registrations for 2017.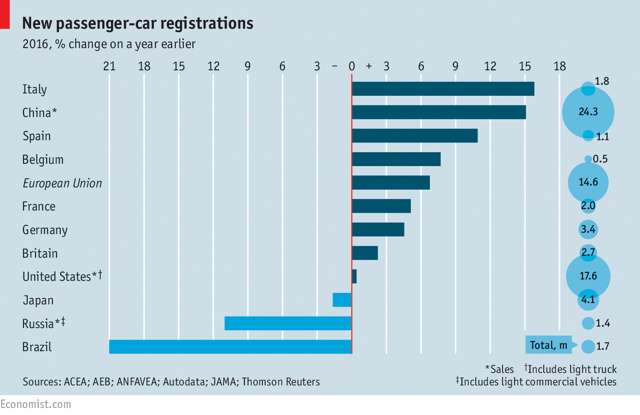 This was the third consecutive year of growth for Europe and the trend is forecast to continue. FCA benefited in particular from the fast growth in Southern Europe where it is strongest.
The figures also show the very poor performance of the overall market in Brazil. My article in December touched on why FCA is very well-positioned to ride the crest of the wave when the Brazil and South American markets finally pick up. This was much predicted to take place this year. However the protectionist policies of the Trump Administration may adversely affect this.
The company has new locally manufactured models there in the form of the Fiat Tipo and two Jeep models at its new state-of-the-art plant at Pernambuco in Brazil. Their old Brazilian plant at Betim and their facility in Argentina are also being upgraded in expectation of the market upturn.
2016 Results.
The detailed results make good reading for FCA, and indeed the stock price reacted favorably.
EBIT of EUR 6.06 billion was up 26%.
Margins at 5.5% up 120 basis points.
Adjusted net profit of EUR 2.5 billion up 47% on better operational performance and lower financing costs on reduced debt.
Net industrial debt reduced to EUR 4.6 billion from EUR 6.5 billion.
2018 financial and operational targets confirmed. These had previously been considered overly optimistic by many analysts.
A major theme, and one which Marchionne had promised as part of his 5-year plan leading up to 2018, was the improvement in margins.
Adjusted EBIT between 2015 and 2016 improved in every sector:
NAFTA from 6.4% to 7.4%
LATAM from 0.1% to 1.4%
APAC from 1.1% to 2.9%
EMEA from 1% to 2.5%
Maserati from 4.4% to 9.7%
Components from 4.0% to 4.6%
The company released positive and optimistic targets for the 2018 date which represents the conclusion of the 5-year plan. Some are detailed below.
Net revenue in 2016 = EUR 111 billion.
Target for 2018 = EUR 136 billion.
Adjusted EBIT for 2016 = EUR 6.06 billion.
Target for 2018 = EUR 8.7 billion to EUR 9.8 billion.
Net industrial debt in 2016 = EUR 4.6 billion.
Target for 2018 = Net Cash of EUR 4 to 5 billion.
However on this latter point it should be noted that the net industrial debt figure equates to total debt less cash on hand plus debt relating to its Financial Services division. There is still a high total debt figure of EUR 24.04 billion. This is reflected in the fact that the company's enterprise value, at US$21.8 billion, is high compared to its market cap of US$14.2 billion.
Diesels & EVs.
FCA does of course face investigation by the EPA (Environmental Protection Agency) over its diesel emissions testing procedures. Marchionne seemed confident he would be able to fight this off. He has described the charges as "absolute nonsense" and "unadulterated hogwash". That confidence may not be unconnected with the meetings he has had with President Trump and the almost certainty that the EPA will become fairly toothless under the new Administration.
The vehicles under question are the Ram 1500 EcoDiesel pick-up and Jeep Grand Cherokee. Anyone making a comparison to the Volkswagen diesel scandal must have been "smoking illegal material" Marchionne rather flamboyantly stated.
Marchionne believes that the very strict diesel standards being instituted in Europe will anyway make diesels a thing of the past within this decade. FCA is less reliant in Europe than most of its competitors are, so it is better placed for a switch away from diesel. Diesel cars emit less carbon dioxide (CO2) but more nitrogen dioxide (NO2). Some European cities, such as Paris, Madrid and Athens have recently targeted to ban all diesels cars by 2025. This is despite the new more stringent Euro 6 standards. These standards in Europe are harder to enforce than those by the EPA in the US, and penalties likely to be far less stringent.
FCA has been somewhat slow to invest in electric vehicles. Its Chrysler Pacifica hybrid, about which another contributor here wrote in detail, looks like it could be a hot seller for FCA in the North American market.
The company has strengthened ties with Google's (NASDAQ:GOOG) (NASDAQ:GOOGL) vehicle development arm, Waymo, particularly with regard to autonomous vehicles. The Chrysler Pacifica will feature Waymo's self-driving sensors and software. The company has also brought out its Chrysler Portal all-electric mini-van concept car illustrated below: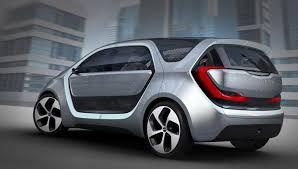 North America.
North America is by far the most important market for FCA in revenue terms. It had been increasing market share at a tremendous pace for several years now. This has been on the back of its Jeep and Ram brands.
2017 is full of uncertainties for the Big Three of Detroit. The auto cycle may have peaked in general. What is transpiring between Trump and the CEOs of the Big Three is still uncertain. The auto companies may or may not be negatively impacted. Quite obviously though they cannot overnight close plants in Mexico and open new ones in the US.
Marchionne has revived his talk of a merger between FCA and GM (NYSE:GM). This is probably just as some sort of a bargaining chip in negotiations. It is not expected to happen.
On a purely product basis, FCA should continue to thrive in the US. Its focus on pick-ups and SUV's are what the American consumer wants. Actual vehicle shipments by FCA declined in 2016 due to the phasing out of the Chrysler 200 and Dodge Dart models. Somewhat surprisingly, new media reports are speculating that FCA could open a further 400 dealerships in the US in the near future.
Conclusion.
When Marchionne first launched his highly ambitious 5-year plan for 2014 to 2018 the market was very doubtful of his optimism. This called for an increase in vehicles sold of 59%, to 7 million. It also called for increased profit margins, increased revenue, improved EBIT and debt reduction.
Three years in and it is on schedule. As Marchionne said at the earnings call:
"Accomplishment of the 2018 plan, I mean this is the only priority we have... We are 60% of the way there."
If indeed this is achieved, then the current stock price shows the stock is substantially undervalued.
There are currently a lot of uncertainties as regards the U.S. market. In Europe, FCA is going from strength to strength. It is better positioned than any of its rivals to take advantage of any improvement in Latin America. A recent S&P report (subscription required) affirmed this. S&P were moderately bullish on FCA because of what they saw as European growth and a bottoming out of conditions in Latin America.
In general terms, improved profitability and a lessening of the debt burden give the stock price plenty of room for improvement in the coming year. The PE of 10.2 and forward PE of 5.38 reinforce this perception that the stock has room to move further upwards. Marchionne's tenure as CEO has been one of almost unbridled success. There seems little reason to doubt the continuation of this up to 2018. That is when the 5 year plan comes to its conclusion, and when he has said he will step down.
Disclosure: I am/we are long FCAU.
I wrote this article myself, and it expresses my own opinions. I am not receiving compensation for it (other than from Seeking Alpha). I have no business relationship with any company whose stock is mentioned in this article.