Before market open on the last day of the month, Exxon Mobil (NYSE:XOM) reported a mixed 4Q16 that sent shares down about 1% by mid-trading session - on a day that the broad market was down about 0.5%.
Revenues of $61.0 billion in the quarter represented a slight year-over-year increase of +2%, but failed to meet consensus expectation of $62.3 billion. EPS adjusted for a $2 billion asset impairment charge on gas reserves came in at $0.90 - but a comparison to consensus, because of the write down, is not very meaningful in this case.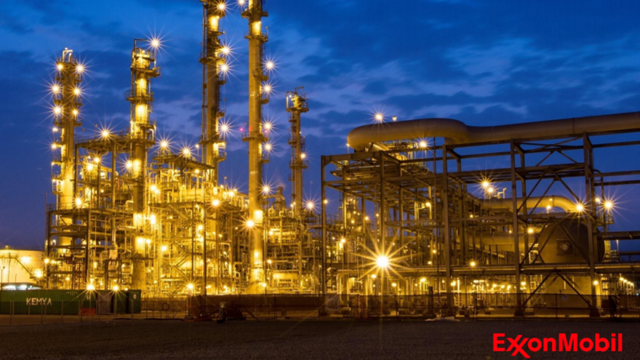 Credit: Exxon Mobil Investor Relations presentation
How do the results stack up against the investment thesis?
Sifting through the results, one might point out that Exxon continues to spin on key growth metrics. To start, total revenues in the quarter have been up only marginally YOY, while main competitor Chevron (NYSE:CVX) announced 8% YOY improvement in 4Q16 just last week. For the full year, Exxon's -16% top-line dip was slightly better than Chevron's -17%.
Exxon's upstream volumes compared to the same quarter last year were down -3%, driven mostly by lower entitlements - Chevron's was flat for the quarter. For the year, Exxon was lower -1%.
As I mentioned in a previous article, Exxon's stock stalled in the second half of 2016 in part due to the company's conservative approach to managing its reserves during the down cycle, just as oil prices started to recover. A proved reserve replacement ratio of only 67% in 2015 was by far the lowest compared to previous five-year averages going back to at least 1995, as the graph below indicates. The low volumes and the reserve write off just announced this morning are likely to turn off investors looking for a more aggressive approach to playing the oil and gas recovery. Some of those concerns, however, might be put to rest following Exxon's large acquisition of 3.4 billion barrels of oil equivalent in the Permian basin earlier this year.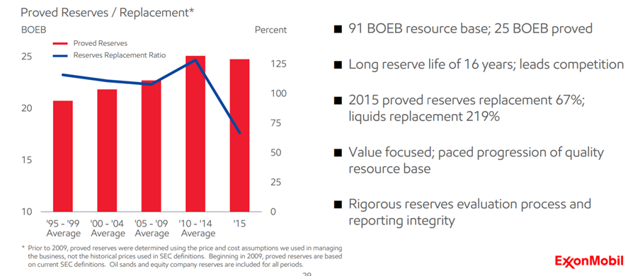 Source: Exxon's investor relations presentation
But more importantly, I think Exxon's 4Q16 results will satisfy those who believe in the company for what it does best: prudent and solid execution. So even if Exxon does not please everyone, the company continues to play to its investor base.
As I have mentioned in the past, Exxon produces a barrel of oil more cheaply than any of the supermajors. It also has the best return on average capital employed in the industry - its ROCE during the thick of the downcycle, in 2015, was about on par with Total's (NYSE:TOT) and BP's (NYSE:BP) average over the much more robust 2011-2015 period. The operational advantages that Exxon has over its peers seem to be showing through.
Upstream earnings increased a very solid 62% YOY in the quarter (excluding the $2B impairment charge) despite the previously mentioned dip in volumes on much higher realizations (as oil price picked up) and lower operating expenses - see graph below. Downstream margins dipped YOY by a sizable $570 million, but the number was better than Chevron's $665 million margin compression, especially considering Exxon's larger downstream business.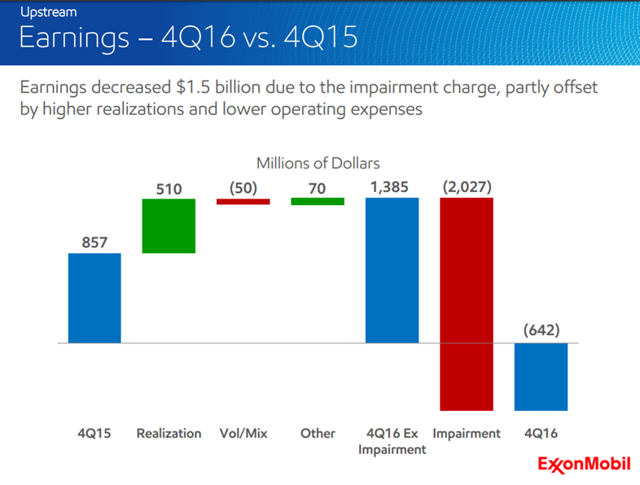 Source: Exxon's 4Q16 earnings slides
And of course, Exxon continued to deliver strongly on the cash flow side. Despite a rough 2016, the company generated $26.4 billion in CFOA (cash from operations), ending the year with the same cash balance that it started with - already accounting for capex and cash distributions to shareholders.
The two graphs below compare Exxon's and Chevron's sources and uses of cash. Notice how Exxon has been much more competent at generating CFOA ($22.1 billion in FY16) than its competitor ($12.8 billion). Chevron has leaned much more heavily on debt issuance ($7.5 billion vs. Exxon's $2.8 billion) to cover its sizable capital expenditures ($18.1 billion vs. Exxon's $16.7 billion) and dividend payments.
Solid performance on cash management and generation is only another aspect of owning XOM that the more conservative investor will probably appreciate as this turbulent 2016 in the O&G business comes to an end.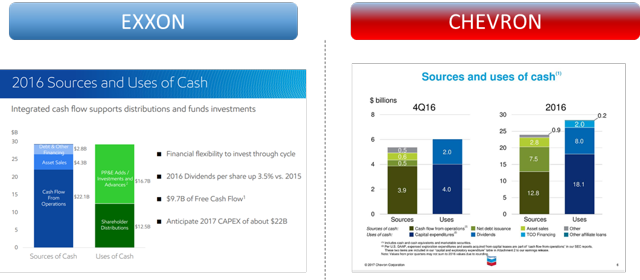 Source: DM Martins Research, using charts from company presentations
Conclusion
In the end, I believe Exxon's 4Q16 results have only reinforced the line that divides investors who dislike the company for its conservativeness and slower growth prospects vs. those who like the company for its methodical execution.
I own XOM in my Storm-Resistant Growth portfolio and consider it a cautious but compelling approach to playing the expected rebound in the energy sector this year. I see any further weakness in share price as an attractive entry point for a long-term investor willing to ride out the bumps while the stock catches up with the business upcycle after its relative underperformance in the past six months.
Note from the author: I would like to invite you to follow me as I build a risk-diversified portfolio designed and back-tested to generate market-like returns with lower risk. I call it the Storm-Resistant Growth portfolio. The very early results have already exceeded my expectations. Take advantage of the 14-day free trial, and get immediate access to all the premium material that I have published recently.
Disclosure: I am/we are long XOM.
I wrote this article myself, and it expresses my own opinions. I am not receiving compensation for it (other than from Seeking Alpha). I have no business relationship with any company whose stock is mentioned in this article.