On December 7, 2016, DH Corp (TSE:DH) (OTC:DHIFF) announced the formation of a committee to evaluate a possible sale of the company. Likelihood that an acquisition will actually occur is growing by the day, with the news on January 27 about growing interest from large Private Equity (NYSE:PE) firms such as the Canadian Pension Plan Investment Board (CPPIB). DH is currently an extremely attractive acquisition target for a Private Equity acquirer, and I would not be surprised if they received offers valuing the company at over $29 per share.
We will first take a look at why Private Equity firms would be interested in DH in the first place, followed by a valuation of the company based on a Sum-of-the-Parts valuation and an analysis of precedent transactions in the financial technology industry that are similar to this situation.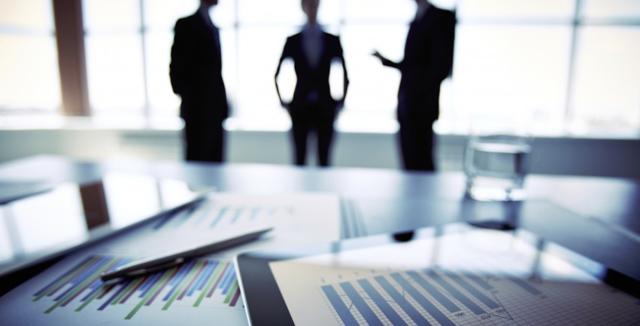 Why Are Private Equity Firms Interested?
It all began three months ago when DH posted surprisingly poor financial results for Q3 2016. In the two weeks following the release, DH's stock price fell nearly 50%. My previous article goes into more detail on the causes of the poor performance and also the situation DH is currently in. In short, here are the two main factors I think heavily influenced the earnings miss:
Macroeconomic instability in the U.S., Europe, and Asia lead to fewer contract renewals and new contract signings. A large portion of the revenue DH earns on a contract is recognized up front, so this had a large impact on their revenue and EBITDA figures. The number of contracts that came up for renewal in 2016 was far lower than average, especially for DH's flagship Laserpro software. This is an issue with contract cyclicality, and should stabilize in 2017.
In my opinion, the long-term growth prospects for DH remain relatively unchanged, and it is still an excellent investment. The earnings miss has caused DH to trade at a significant discount to its fair value, and it appears that PE firms think this as well.
CPPIB's Interest
Anonymous sources have stated that the CPPIB is in talks with DH about a possible acquisition. The interest may have stemmed from the fact that the CPPIB has been working towards diversifying their investment capital away from public equity and fixed income. However, they do not have much experience in Private Equity investments, and so sources indicate it is likely that the CPPIB would partner with a PE firm if they decide to go through with this acquisition. The same sources have said there has also been interest from U.S. PE firms such as TPG, Cerberus Capital Management LP, and Thoma Bravo. Those may be potential candidates for partnership with the CPPIB.
DH Checks All Of The Boxes
Attractive Leveraged Buy-out candidates have the following characteristics:
Stable cash flows Low-risk business Capability of cutting costs and increasing margins Have a strong management team Are undervalued with respect to industry peers
We will briefly discuss why DH is attractive in terms of all five of those characteristics, followed by an analysis on the price per share Private Equity firms may be willing to acquire DH for.
Stable Cash Flows
PE firms want stable cash flows that are predictable so that they can reliably estimate the debt repayments they will be able to make. As far as cash flow stability goes, it would be difficult to find a business more stable than DH: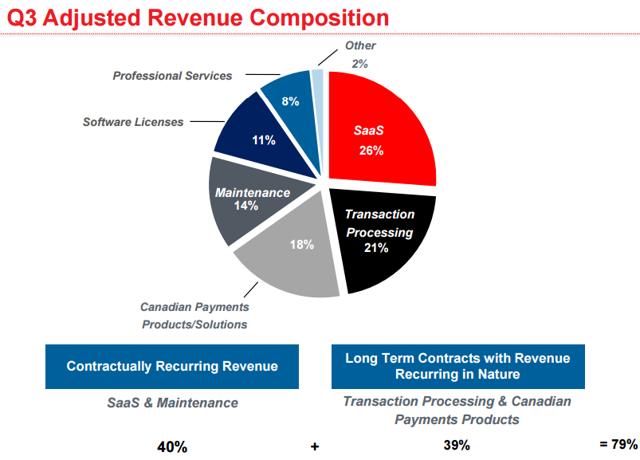 Source: Q3 Investor Presentation
Take a look at the bottom portion of this chart. In total, 40% of DH's revenue is contractually recurring maintenance and Software as a Service (NASDAQ:SAAS) revenue, with another 39% fixed by long term contracts. In total, that is 79% of DH's revenues that are guaranteed to recur in coming years.
Not only are DH's revenues stable, but their free cash flows are huge:
DH is trading at a 10x Price/Free Cash Flow multiple, compared to industry peers trading at over 20x. This is highly attractive for PE firms, who will require these Free Cash Flows to make debt repayments.
Low-Risk Business
In terms of cash flow stability, DH is low risk. However, they do operate in a relatively risky industry; DH needs to ensure their technology is cutting-edge so that financial institutions do not switch service providers when their contract expires. DH has been consistently investing in their software and products to ensure this does not happen, and has several new services planned for release in 2017.
Capability to cut costs and increase margins
DH has very high margins, which is unsurprising considering they are a software company. They have many ways to further increase margins in the future, including bundling their services together, more efficiently utilizing technology systems, and streamlining the process they undergo to deliver software-related services to customers.
Have a strong management team
No weak management team could have been able to make the changes that DH has made. In less than 10 years, the business has gone from depending on revenue from cheque processing to a global player in the financial technology industry.
Undervalued Compared To Industry Peers
As mentioned above, DH is trading at a steep discount to industry peers following their poor Q3 earnings results. Aside from the above reasons, PE firms are likely interested in acquiring DH because they see the potential for expansion of valuation multiples in the next few years.
Potential for Multiple Expansion
PE firms typically look at a business with an investment time horizon between four to seven years. They are expressing interest because they see future potential in DH for multiple expansion - but how much expansion can be expected?
Based on DH's severe discount to industry peers, PE firms could purchase DH for a large premium to its current price and still expect to earn a great return in four to seven years. Let's take a closer look at how this is possible.
Sum-of-the-Parts Valuation
DH provides earnings data for each of its three business segments, the Global Transaction Banking Systems (GTBS) segment, the Lending and Integrated Core (Lending & I.C.) segment, and the Canadian segment (Lending Solutions and Payments Solutions). Since each division operates within a different segment of the market it makes sense to value them separately based on the EBITDA each segment generates: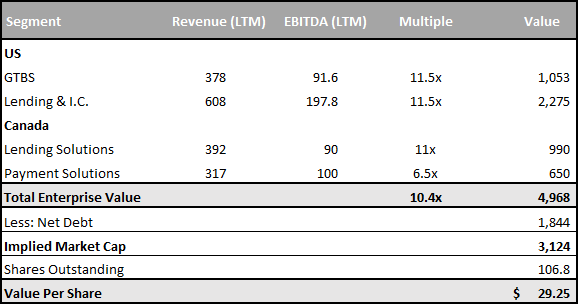 Figures in millions CAD. Assumes EBITDA margin of 31.5% for Payments Solutions and 23% for Lending.
The implied share price from this valuation is $29.25, which represents a 26% return above DH's most recent closing price of $23.25. The implied EV/EBITDA multiple for the entire firm under these assumptions is 10.4x. Here is my reasoning behind the multiples I used for each segment:
GTBS
Industry comparables such as Fiserv Inc. (NASDAQ:FISV), Fidelity National Information Systems (NYSE:FIS), and Jack Henry & Associates Inc. (NASDAQ: JKHY) are trading for a mean EV/EBITDA multiple of 13.6x.
Macroeconomic conditions are likely to delay financial institutions investment decisions in the near term, but the outlook for this segment long-term is positive. I think the introduction of Payments Processing as a Service (PPaaS) will positively impact DH's top line in 2017, since it significantly reduces the amount of investment a financial institution has to make into its technological infrastructure.
Lending & I.C.
There are many small industry comparables in this segment such as CoreLogic Inc. (NYSE:CLGX), Infosys Ltd. (NASDAQ:INFY), and Nucleus Software Exports Ltd. that are trading for a mean EV/EBITDA of 13x.
Like for the GTBS, short term growth will be limited as Laserpro contract renewals have fallen short due to the cyclicality issues briefly discussed at the top of this article. Moving into 2017 and beyond, this segment should experience growth as financial institutions in the U.S. begin to invest in light of the more positive economic outlook and the increasing necessity to invest in financial technology to remain competitive. Additionally, DH's new push towards bundling their services has been well received, with 29% of Laserpro contracts now including another lending product. This should lead to an increase in lending revenue per customer moving forward.
Canadian Lending Solutions
Similar to the reasoning behind the Lending & I.C. multiple discussed above. The difference in the Canadian lending market is upcoming regulatory changes in response to a potentially overheated Canadian housing market. These new regulations may slow home sales and lending activity in 2017; as a result, I discounted this segment more than its U.S. counterpart. An expected increase in revenues associated with their recovery business, however, should offset some of the lending decline. DH has also been winning contracts to manage student loan programs across Canada. Overall, the outlook for this segment is positive.
Canadian Payments Solutions
Deluxe Corporation is one of the only comparables to be found for this segment. They are trading at an 8.4x EV/EBITDA multiple. I heavily discounted DH's payments solutions segment because Deluxe is a more diversified company, and also because the Payments Solutions segment of the business is on the decline.
Note that the multiples given in the table above are still steep discounts to industry peers, so even if a PE firm acquires DH for the price I derived above they could still expect a substantial return if they are able to improve DH's valuation multiples to be more in line with the industry over the next few years. Additionally, EBITDA growth would further increase the return generated from acquiring the company. Given the positive outlook for most of DH's business segments, I do not think that would be unreasonable.
If you disagree with the assumptions stated above, here are four other valuation scenarios to consider; the left three are more conservative, whereas the far right is a more optimistic estimate: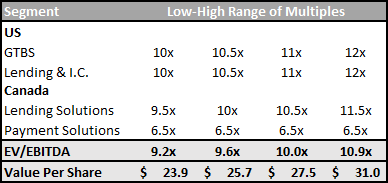 Precedent Transactions - EV/Revenue Valuation
There are plenty of precedent transactions from financial technology acquisitions over the past two years that can help us value DH based on a EV/Revenue multiple. Please note that these acquisitions were made by strategic buyers; PE firms are unlikely to pay as much as the median. Here is a chart containing the relevant transactions since 2015:

Financial technology acquisitions have been made for a median 3.4x EV/Revenue multiple. Let's take a look at the valuation we could derive for DH based on more conservative multiples: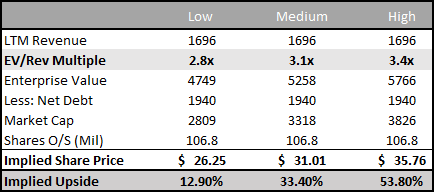 As you can see, an acquisition that even approaches the median would imply significant upside from today's price. Additionally, the valuation derived from a 3.1x EV/Revenue multiple in this analysis are in line with my Sum-of-the-Parts valuation above. At an acquisition price of $30 per share, I believe there is still a lot of room for PE firms to create value while also pleasing shareholders with a 30% return.
What If They Are Not Acquired?
At the very least, the interest from PE firms will set a price floor for DH. Even if an acquisition does not take place as a result of these discussions, investors now know that if the stock price were to depreciate further in the future, interest from Private Equity funds would likely return - unless, of course, there are indications that DH has deeper rooted issues than the ones discussed briefly at the beginning of this article.
In that case, the stock price would likely trend downwards to the $20 per share level until there are indications of operational improvements - DH's Q4 2016 earnings release will be on February 21.
In my opinion, DH is an excellent investment even if an acquisition does not occur. Management has been making intelligent decisions that position the company well for future growth, including cutting their dividend and placing greater emphasis on un-levering the business. They also have a lot of new services and investments in the pipeline, including the release of their Payments Processing as a Service which I discussed in my previous article.
The Bottom Line
Whether or not DH is acquired by a Private Equity firm, they are a great investment at this price. The company is trading at a steep discount to industry peers, and the acquisition interest will set a price floor for the stock into the foreseeable future. A Sum-of-the-Parts valuation suggests the company would be more fairly valued at nearly $29 per share, while analysing the EV/Revenue multiples of precedent transactions in the industry suggest a $31 price per share is not unreasonable. That would represent a return of 26% to 33%.
Disclosure: I/we have no positions in any stocks mentioned, but may initiate a long position in TSE:DH over the next 72 hours.
I wrote this article myself, and it expresses my own opinions. I am not receiving compensation for it (other than from Seeking Alpha). I have no business relationship with any company whose stock is mentioned in this article.