In 2013, I took my retirement planning to the next level by developing a realistic plan to acquire financial security. Being 33 years old with two young children and plans for a third, I knew I was already starting too late. But up to that point, I had been investing without clear goals. Until then, speculative investments made sense. Until then, I considered my retirement as a single number - the bigger the better.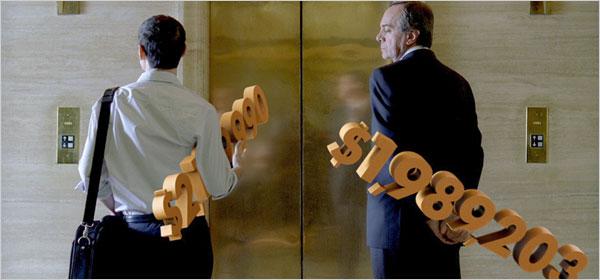 (Source)
But when a secure retirement became my goal, the merits of dividend growth investing became obvious. Four years ago, I began formulating a sensible plan. Despite having tried several times already to organize the information and publish this write-up of SA, I would like to now share my DIY plan following a dividend growth investing strategy.
First, I would like to provide a little background on my investing career. I began investing in the stock market fresh out of college in 2001. Over the ensuing 15 years, I experienced the downturns in 2001 and 2008, dabbled in small-cap biotech investing, and tried an asset allocation strategy and an ETF-only approach using bonds and equities. It wasn't until 2013 that I decided that the tenets of dividend growth investing fit my personality best. For one, I like to pick stocks! I also like knowing my investments and how they organize to meet my goals. Secondly, targeting a specific retirement income makes a lot of sense, particularly if it is one that is predictable and growing. I developed a retirement plan based on dividend growth investing in 2013 and call it RetirementRx. Instead of a targeting a number for retirement, I think of my portfolio as a printing press. Through routine maintenance and reinvestment into new parts and processes, its cash flow will eventually supplant my employment income.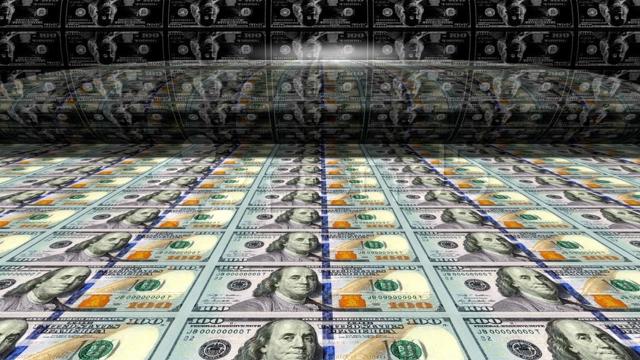 (Source)
RetirementRx is both a plan and a portfolio. In the following paragraphs, I describe the objectives, a set of goals, and list of current strategies. I will then provide an overview of my progress to date and share my current portfolio and some metrics I track. In future articles, I will dive deeper into my investment selection process along with providing semi-annual performance updates. Through these writings, I hope to illustrate a DIY framework for retirement planning while gaining the critical thinking involved in the writing process. I also plan to benefit from the insight and wealth of experience in the SA community, which has been a part of my investing career since 2006.
First, a few disclaimers: Nothing here is groundbreaking. I am not an expert in retirement planning, and I don't have any certifications or professional affiliations with the wealth management industry. This is a real portfolio and a real person's retirement plan! Constructive feedback is always appreciated!
The following is my plan as it stands today.
RetirementRx: The Plan
Objective: Earn a sufficient dividend income stream to maintain our lifestyle in retirement without harvesting principal
Goals:
1. Generate a dividend income stream equivalent to my pre-tax inflation-adjusted salary in 2013
2. Manage a portfolio of 25-50 companies whose management demonstrates a history and commitment to maintaining a growing dividend
3. Minimize costs including transaction fees, taxes, and time out-of-the-market
4. Stay true to plan's objective and goals while allowing conservative adjustments to stock selection criteria, model assumptions, and investment vehicles, i.e. keep learning and adapting but stick to the plan
5. Compare the annual performance and effort required relative to investing in a low-cost dividend growth ETF
Goal 1 will be achieved using the following strategy:
a. Use conservative assumptions to model a target dividend income stream that will replace employment income upon retirement
b. Review actual income generated from Roth, Traditional IRA, 401K, and after-tax accounts relative to target income stream on a quarterly basis, adjusting contributions as needed and setting short-term milestones along the way
c. Establish and maintain a 6-month cash buffer in case of income disruption, medical issues, and family needs
d. Reward the portfolio with money saved from minimizing everyday costs (savings on home improvement projects, cheaper lunches, reduced or eliminated bills, etc.)
Goal 2 will be achieved by:
a. Identify companies in CCC list maintained by David Fish and emerging dividend growers using screens available via Mark Foller and Dividend Kingdom
b. Follow companies that are leaders in their industries or have clear competitive advantages, are greater than $1B in market cap, have BBB or higher S&P credit ratings, have strong and stable dividend growth potential, and have long-term tailwinds supporting revenue and earnings growth
c. Buy companies at sound valuations using a consensus approach (to be expanded on in a future article)
d. Maintain diversity across the self-managed portion of the portfolio by limiting exposure to any one industrial sector or company to under 20% and 10%, respectively, of the portfolio's value or dividend income
e. Manage speculative investments to never exceed 5% of self-managed portfolio value
Goal 3 will be achieved by:
a. Target annual fees/transaction costs of less than 3% of annual retirement portfolio income stream
b. Purchase stocks in reasonable chunks of >1% of self-managed portfolio value
c. Sell sparingly; sell only in cases of extreme overvaluation, impending M&A, or when DGR of a company no longer satisfies portfolio needs
d. Identify and practice tax-efficient methods of holding and disbursing funds into/from Roth IRA, Traditional IRA, 401K, and after-tax accounts
e. Utilize low-cost investing opportunities like dividend reinvestment, low-cost brokerages, free trading accounts, etc.
Goal 4 will be achieved by:
a. Read, read, read (books on investing and saving, seeking alpha retirement and DGI articles from Chuck Carnevale, David van Knapp, Brad Thomas, Dividend Growth Machine, FerdiS, Eric Landis, RoseNose, and others).
b. Entertain perspectives contrarian to my own (discuss strategy and tactics with family, friends, and financial advisors to learn about their approaches)
c. Consider alternative investment selection criteria (e.g. valuation based on EVA and NOPAT, asset allocation, industry diversification, use of options and fixed income products, etc.)
d. Elicit constructive feedback by sharing retirement plan and progress on a semi-annual basis with SA community. Yes - this article is part of the plan!
Goal 5 will be achieved by:
a. Track YoY dividend growth and total return of the portfolio relative to a highly liquid dividend growth ETF
b. Routinely consider the trade-off between active (RetirementRx) and passive management approaches (e.g. ETFs) to achieve objective and, if necessary, alter strategy.
RetirementRx: The Model
I chose my inflation-adjusted pre-tax 2013 annual salary as my target dividend income in retirement. I use an inflation rate of 2% to model the equivalent income in the future. With the addition of Social Security and a likely lower tax rate in retirement, this dividend income will allow a comfortable retirement without the need to sell investments. I expect our effective tax rate in retirement to be lower than what we currently pay as we will possess significant funds in our Roth and Individual investing accounts which incur either zero tax or the long-term capital gains tax rate. While we do have other assets like our home, restricted company stock, and my wife's old 401K, they are kept separate from the plan.
Next, I rely on a simple compounding dividend income growth model to estimate a future income stream based on my current finances and a set of assumptions about the portfolio's performance. The key things to consider are how much can you grow your annual contribution each year, what is a reasonable average dividend yield to target, and what is an achievable dividend growth rate. In addition to the initial starting balance and 1st year contribution in 2013, I have committed to increasing my contributions by 4% annually, a 2.5% long-term dividend yield, and an average portfolio dividend growth rate of 8%. Committing to and achieving these rates or higher is my on-going commitment to my retirement plan. I chose 2.5% for the long-term dividend growth rate as I want to allow for a mix of low-yield, fast growers and high-yield, slow growers. As retirement approaches, I may decide to lean more on the high yielding equities. For now, I want to diversify across the yield and DGR space.
I have prepared a simple excel worksheet (Box link to spreadsheet) to facilitate your own dividend income projections. I use this exact spreadsheet myself to consider different inputs and contribution rates before settling on my current plan. It also allows you to project your future dividend income based on current progress if you should surpass your model or fall behind on your original capital commitments and organic dividend growth performance. This is not a fancy tool, but I hope it is helpful to those interested in this approach to retirement planning.
To illustrate the idea and not have the absolute numbers distract from the concept, I normalized each year's cash flow by the inflation-adjusted pre-tax 2013 salary for each year so that my income objective is achieved when I reach 100% of the annual target income stream. Based on my current contribution plan and target dividend growth rate, I expect to meet my income objective at the age of 70 (i.e. in year 2049) as shown in the chart where the blue crosses 100%. While this target retirement age is older than I would like, it is also based on what I consider realistic assumptions. Personally, I am ok with the idea of working to this age, but I would like the comfort of not needing to. Besides wanting to stay mentally active and busy, those practicing a DGI strategy may also find it difficult to interrupt the dramatic dividend income acceleration that occurs in the later years.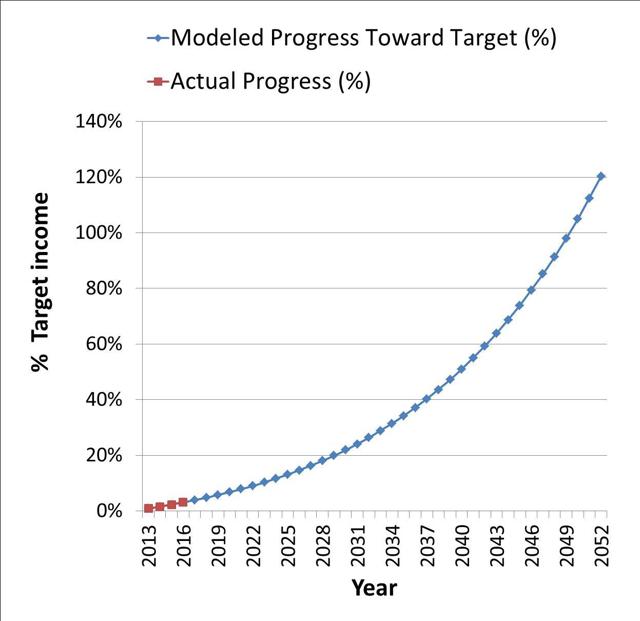 In the second figure, we zoom in on the current 7-year period. The actual annual dividend income stream produced by my portfolio is shown in red for the first four years of the plan. As of EOY 2016, I am slightly ahead of my targets and currently meeting 3.2% of my total retirement income needs. While this is a far cry from where I want to be, retirement is still 30 years away.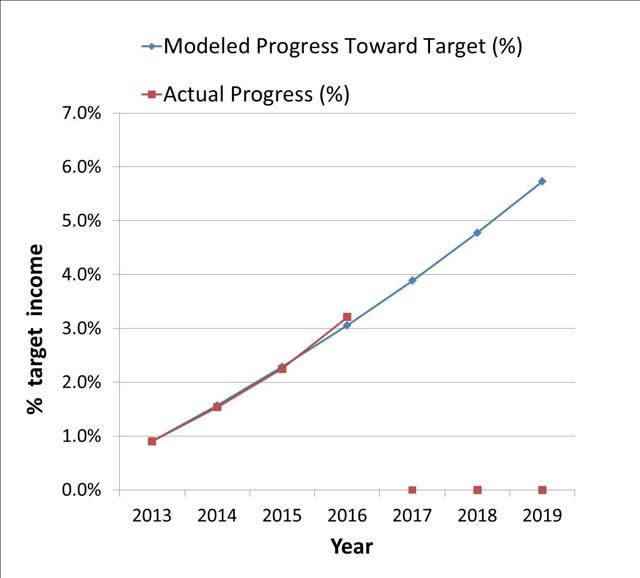 RetirementRx: The Portfolio
As of EOY 2016, the dividend cash flow is produced by 37 stocks across a Traditional IRA, Roth IRA, and individual account plus an employer-sponsored 401K with 3 Vanguard funds (2 large-cap domestic value funds and 1 International). Below is a summary of the stocks I hold across the three non-401K accounts, which I call the RetirementRx portfolio.
My largest positions by % of portfolio are Aflac (NYSE:AFL), Cummins (NYSE:CMI), IBM (NYSE:IBM), Ross Stores (NASDAQ:ROST), and Target (NYSE:TGT). In the past 4 years, the stocks of these excellent companies have experienced periods of undervaluation while offering a good blend of yield and dividend growth. Thus I have accumulated them. I do not own any utilities or fixed income products due to their sensitivity to rising interest rates and the fact that most are overvalued or do not currently fulfill my DGR requirements.
The few speculative investments I own are GoPro (NASDAQ:GPRO) and EBIX (NASDAQ:EBIX). I am down about 50 percent on GPRO and up over 400% on EBIX. I still like EBIX for the long term as its software-as-a-service is well positioned in the insurance exchanges market. I hope GPRO can recover with its latest drone offering and next generation cameras, but this small position could be sold at any moment.
Four of my investments are not performing as desired in terms of DGR. These are Norfolk Southern (NYSE:NSC), Ford (NYSE:F), Schlumberger (NYSE:SLB), and Conoco Phillips (NYSE:COP). I have held F and COP since 2013 and therefore experienced the 66% dividend cut by COP in early 2016. I added SLB and NSC based on their low valuations due to the drop in crude prices in 2015 and plan to hold until oil prices normalize further. Both positions have performed well despite the lack of dividend growth. In 2017, a few of these stocks may be sold in favor of investments providing better dividend growth.
| | | | | | | | |
| --- | --- | --- | --- | --- | --- | --- | --- |
| Company | Ticker | Industry | Account | Date of last Dividend Increase | % of last Dividend increase | % Portfolio's Dividend | % Portfolio Market Value |
| Apple Inc | AAPL | Consumer Discretionary | Ind, Roth | 4/1/2016 | 9.62% | 2.82% | 4.04% |
| Abbvie Inc | ABBV | Healthcare | Ind | 1/11/2017 | 12.28% | 2.09% | 1.44% |
| Abbott Laboratories | ABT | Healthcare | Ind | 1/1/2016 | 8.33% | 0.85% | 0.89% |
| Aflac Inc | AFL | Financial | Ind, Roth, Trad | 11/1/2016 | 4.88% | 5.05% | 5.78% |
| Amgen Inc | AMGN | Healthcare | Ind, Roth | 12/15/2016 | 15.00% | 3.57% | 3.21% |
| Boeing Company (The) | BA | Industrial | Roth | 12/15/2016 | 30.28% | 1.74% | 1.35% |
| Cash | CASH | CASH | | NA | 0.00% | 0.00% | 1.76% |
| Chatham Lodging Trust (Reit) Of Beneficial Interest | CLDT | REIT | Roth | 3/1/2016 | 10.00% | 2.05% | 0.90% |
| Cummins Inc | CMI | Industrial | Ind, Roth, Trad | 8/18/2016 | 5.10% | 8.56% | 8.07% |
| Conocophillips | COP | Oil/Energy | Trad | 2/1/2015 | -66.22% | 0.92% | 1.30% |
| Cisco Systems Inc | CSCO | Technology | Ind, Roth | 4/4/2016 | 23.81% | 4.54% | 3.73% |
| Cvs Caremark Corporation Com | CVS | Consumer Staples | Trad, Roth | 12/15/2016 | 17.65% | 4.32% | 4.82% |
| Walt Disney Company (The) | DIS | Entertainment | Roth | 12/12/2016 | 9.86% | 0.73% | 1.38% |
| Digital Realty Trust Inc. | DLR | REIT | Roth | 3/1/2016 | 3.53% | 1.74% | 1.38% |
| Ebix Inc Com New | EBIX | Technology | Ind | NA | 0.00% | 0.62% | 3.15% |
| Ford Motor Company | F | Consumer Discretionary | Trad | 2/1/2015 | 15.38% | 3.70% | 2.11% |
| Fedex Corporation | FDX | Industrial | Roth | 6/14/2016 | 60.00% | 0.39% | 1.28% |
| Gilead Sciences Inc | GILD | Healthcare | Ind, Roth | 6/1/2016 | 9.30% | 3.32% | 3.58% |
| Gopro Inc | GPRO | Consumer Discretionary | Trad | NA | 0.00% | 0.00% | 0.24% |
| International Business Machs | IBM | Technology | Ind, Roth, Trad | 5/6/2016 | 7.69% | 6.79% | 5.69% |
| Intel Corp | INTC | Technology | Ind, Roth | 2/1/2016 | 8.33% | 2.44% | 2.40% |
| Medtronic Plc. | MDT | Healthcare | Roth | 7/6/2016 | 13.16% | 1.06% | 1.24% |
| Norfolk Southern Corporation | NSC | Industrial | Ind | 2/1/2015 | 3.51% | 0.92% | 1.19% |
| Omega Healthcare Investors Inc. | OHI | REIT | Roth | 10/1/2016 | 7.94% | 3.84% | 1.39% |
| Qualcomm Inc | QCOM | Technology | Ind, Roth | 5/27/2016 | 10.42% | 3.57% | 3.10% |
| Reynolds America Inc | RAI | Tobacco | Ind | 9/8/2016 | 9.52% | 0.43% | 0.37% |
| Ross Stores Inc | ROST | Consumer Discretionary | Ind, Roth | 3/15/2016 | 14.89% | 1.62% | 5.58% |
| Schwab Strategic Divdend Trust | SCHD | Large Value ETF | Ind | 12/1/2015 | 10% | 1.14% | 1.11% |
| J.M. Smucker Company (The) | SJM | Consumer Staples | Roth | 8/10/2016 | 11.94% | 1.10% | 1.32% |
| Schlumberger Ltd | SLB | Oil/Energy | Trad | 2/1/2015 | 25.00% | 1.94% | 2.31% |
| Stag Industrial Inc. | STAG | REIT | Roth | 1/1/2016 | 0.72% | 2.80% | 1.31% |
| Teva Pharmaceutical Ltd - Adr | TEVA | Healthcare | Ind | 12/1/2016 | 0.00% | 1.10% | 0.83% |
| Target Corp | TGT | Consumer Staples | Ind, Roth, Trad | 8/15/2016 | 7.14% | 9.33% | 7.95% |
| United Technologies Corp | UTX | Industrial | Trad, Roth | 5/18/2016 | 3.13% | 3.18% | 3.73% |
| Ventas Inc. | VTR | REIT | Roth | 12/15/2016 | 6.00% | 2.22% | 1.35% |
| Wells Fargo & Company | WFC | Financial | Roth | 5/4/2016 | 1.33% | 1.33% | 1.36% |
| Williams Sonoma Inc | WSM | Consumer Discretionary | Ind, Roth, Trad | 4/27/2016 | 5.71% | 5.12% | 4.73% |
| Exxon Mobil Corp | XOM | Oil/Energy | Trad, Roth | 5/11/2016 | 2.74% | 3.07% | 2.62% |
The Roth holdings are held in a Motif called RetirementRx on Motifinvesting. You can look it up yourself. I add the yearly maximum to my Roth and close to the maximum for my 401K accounts. The new Roth funds are invested throughout the year. Biweekly transfers of fresh capital go into my individual after-tax account, and I make purchases every 3 months or so. My traditional IRA does not receive new funds due to the lack of any tax-advantage in doing so. However, it would receive significant inflows of case from a 401K roll-over. The contributions plus accumulating dividends provide enough money to make 8-10 new investments each year.
My 401K account is simplified into a single investment vehicle with an estimated dividend yield of 2.5%. Fidelity was not able to provide the actual dividend yields of the three funds. I estimated them by calculating the weighted-average yield of the top 10 holdings across each of the three funds. Some may be more comfortable separating the 401K holdings from the self-managed accounts when looking at dividend income. I include the 401K as it receives the most fresh-capital each year and its funds will eventually end up in my self-managed accounts. Currently, my estimated 401K income constitutes 41% of the total annual dividend income. The biggest concern I have with including the 401K dividend is that its cash flow is directly dependent on the market value of its holdings. The dividend income's dependence on market price makes the income growth misleadingly positive or negative in bull or bear markets, respectively. I plan to offset this effect in bear markets by increasing my contributions to my after-tax account, a practice that I believe this will work well for me over time.
Below is the sector breakdown of my self-managed portfolio across my individual account and Roth and Traditional IRAs. Sector allocation is important to consider when planning transactions. I want to avoid adding to a sector that already contributes close to 20% or more of my dividend income or total portfolio value. I will not be adding to the technology sector in the near future as it already represents over %18 of the portfolio's dividend income and value. I am currently looking at investments in the healthcare, REIT, and financial sectors.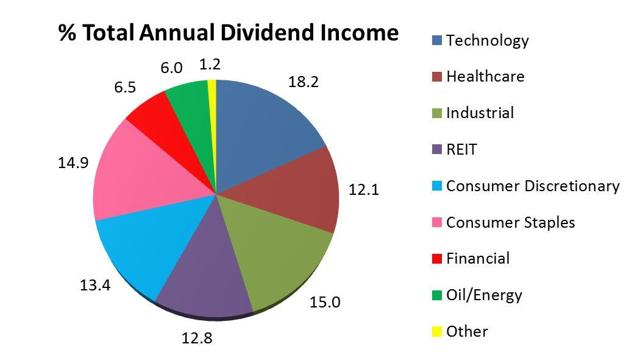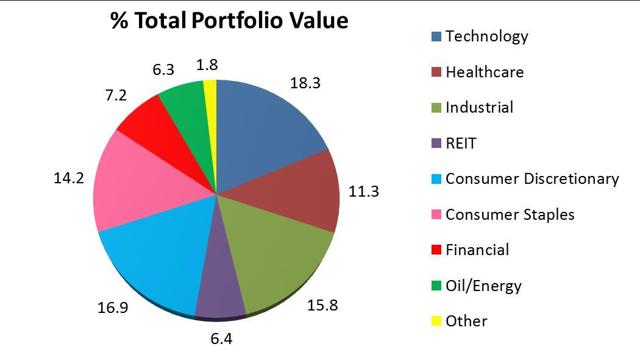 To keep my management costs in check, I track the transaction costs across my Roth, Traditional, and Individual accounts as a percentage of the total dividend generated. I would like to keep annual transaction costs to less than 3% of the total annual dividend. Many people, including the wealth managers, prefer to look at transaction costs or fees relative to net portfolio value. I do not agree with this approach as the transaction fees directly eat away at the dividend returns of each investment. For example, it is a wash if one of my investments grows its dividend 10% over two years if I pay 10% of the dividend cash flow in commissions when buying and selling the stock. Unfortunately, I have not been very successful in meeting the 3% of self-managed portfolio income target. However, my inflated transaction costs have been driven by stock and fund transfers between accounts which had relatively large one time fees. In 2016, I reshuffled my Motif holdings from 6 different Motifs to one. In 2017, I do not intend to make any major changes in brokerages or investments methods. By keeping my total number of trades to around 10 transactions (8 buys and 2 sells), I will be in good shape.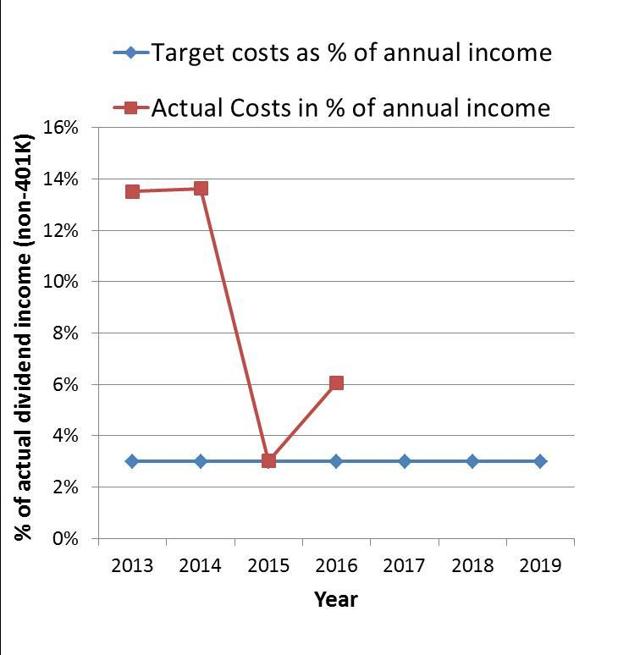 Tracking Performance
The portfolio's primary performance comparator is the target income stream as this is the only thing that truly matters to me. However, an alternative strategy to meet my goal could involve low-cost, dividend growth oriented ETFs. An ETF-based approach has several advantages over a self-managed one, including less time needed for portfolio management and a significantly simpler hand-off of the portfolio to a loved one or custodian. There are also disadvantages to using ETFs for long-term investing purposes; the primary one being the absence of valuation considerations when buying or selling shares. David Van Knapp provides a wonderful write-up on the merits of passive and active portfolio management by comparing his Dividend Growth Portfolio relative to a low cost dividend-growth ETF offered by Charles Schwab (NYSEARCA:SCHD). Following his lead, I have also selected SCHD as a comparator for YoY total return and YoY dividend growth. I hope to beat the YoY dividend growth and total return of SCHD in three out of every 5 years. The plots below show the relative performance of SCHD and RetirementRx since 2014 including new money invested. Transaction costs and SCHD's administration fees are not included in these return estimates. The YoY performance for Year 2014 is influenced by portfolio transitioning effects occurring in 2013 as it was during 2013 that RetirementRx came into existence. Considering 2015 and 2016, I am 1 and 1 for both YOY Total Return and YOY DGR relative to SCHD.
For those wondering about time commitments, there is no doubt that purchasing SCHD would require less time than my current process. Currently, I spend a few hours a month organizing and managing the portfolio. I probably spend 10-15 hours each month researching buys. Most of all, I enjoy reading articles on SA, identifying my next investment, and watching my cash flow grow.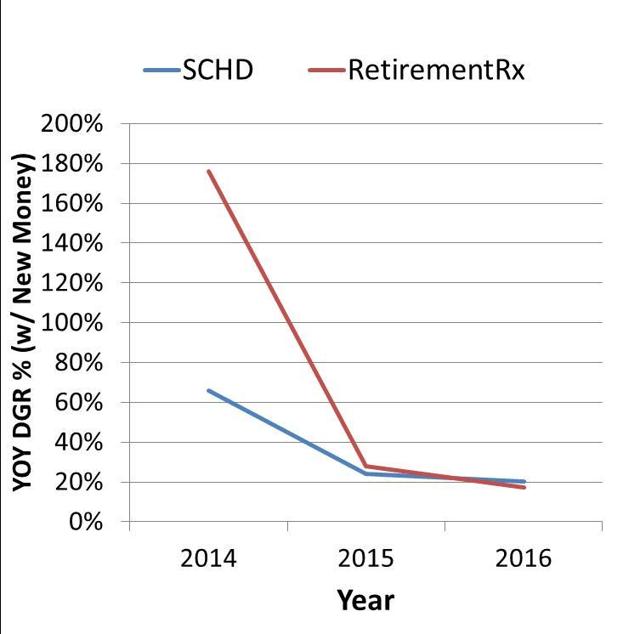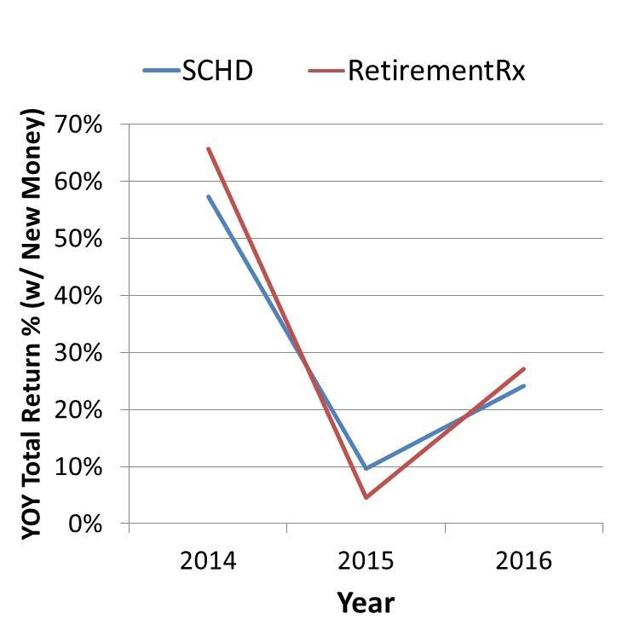 In summary, I have committed to a DIY approach to securing financial security in retirement through dividend growth investing. RetirementRx is a trackable plan and an actively managed portfolio. I hope the approach I am using for my retirement is helpful to many in the SA community considering their own retirement goals and savings plans. In a future article, I will review my stock selection process on an anticipated stock purchase. Thanks for taking the time to read my article. I am long all the stocks mentioned in this article.
Disclosure: I am/we are long ALL STOCKS MENTIONED IN THIS ARTICLE.
I wrote this article myself, and it expresses my own opinions. I am not receiving compensation for it (other than from Seeking Alpha). I have no business relationship with any company whose stock is mentioned in this article.