Another January and one more Shot Show is in the books.
Even though I spend my professional life involved in the world of finance and investment advisory, my hobby time is spent in the world of guns and competitive shooting. Having started a vibrant firearms forum over 8 years ago, I have been blessed with the ability to visit Shot Show with media credentials over the last 6 years.
While during my previous visits to the show centered around looking at the new products, my visit this year had a specific agenda. This year I wanted to focus on and learn about the state of the industry and to see how the firearms industries' insiders' views may impact your gun stock investments.
There is no doubt that it has been a phenomenal time to be in the firearms business over the last 8 to 10 years. As we all know, nothing drives consumer habits and investor appetites more than the two basic instincts of fear and greed. That constant fear of the ever looming gun ban has sold more firearms in a shorter period of time than ever before. As a result, many new firearms businesses were formed and prospered during that time, while the publicly traded companies such as Sturm Ruger (NYSE:RGR) and American Outdoor Brands (NASDAQ:AOBC), parent company of Smith & Wesson, reached all-time highs. Now, however, the billion dollar question is what will the future hold in light of fairly safe times ahead for the Second Amendment under President Trump.
Overall Impressions
The Shot Show is the 5th largest trade show in Las Vegas and the 16th largest trade show in the United States. With over 1,600 exhibitors and visitors from over 100 countries and all 50 states, the Shot Show is the largest and most diverse firearms trade show in the world. For anyone wanting to get a sense of what is going on in the industry, this is the place to be.
For my research, one of my goals for the show was to speak with some of the executives of the publicly traded companies such as American Outdoor Brands, Ruger and Vista Outdoor (NYSE:VSTO). Unfortunately... that did not work out, be it their packed schedules or me being able to attend only 3 out of the 5 days of the show. Fortunately, I was able to speak with numerous other executives of private or globally traded firms in a variety of places in the firearms distribution chain.
Overall, the question that investors should be asking themselves is, "Is the artificially highly stimulated demand for firearms experienced over the last few years likely to continue over the next few years, particularly in light of President Trump?"
I posed that question to representatives from a number of firearms manufacturers, but none of them wanted to come out and straight out admit that the best days are behind them, at least in the immediate future.
Representatives of CZ and Taurus were cautiously optimistic; however, they placed emphasis that the way they will succeed in the future will be through offering feature packed firearms at attractive prices, actively stealing market share from competitors and not necessarily depending on overall growth of the market.
Not wanting to settle there, I sought out people in the distribution chain and hit a gold mine. If you want first hand info, get it from the sales people. Sales people... we all love to talk.
One person whose conversation I found particularly interesting was someone who worked as a sales & marketing executive for a company which sets up selling agreements between the firearms manufacturers and the firearms distributors, everyone from the large distributors to the mom and pop gun dealers.
Slowing Firearms Sales
In a nutshell, yes. Year-over-year firearm sales are slowing down, and I believe there are two reasons for it.
First, the demand for firearms seen over the last few years was not just the organic growth of the market as a result of new shooters, but also the multiple quarters of stimulated demand as a direct reaction to the fear of President Clinton or last minute executive orders by President Obama. Now that the 2nd Amendment is arguably safe from attacks, that stimulated demand will continue to be taken out of the pipeline.
Secondly, even accounting for the organic demand from new shooters, the market for the most part is over-saturated, and thus will dampen the sales for the near future.
Speaking with fellow gun owners on my own forum and others, the sense is that for the most part, whatever firearms people wanted to purchase because they were afraid that they were going to be banned or whose ownership would be severely restricted, have already been purchased. One characteristic of experienced gun owners is that they will typically have a firearms budget for the year. When the gun ban scares popped up, they borrowed against their future gun budget and bought it then and there. Today, they either don't have that firearms money set aside OR they have already purchased the firearms that they wanted to buy.
Gun Manufacturers Are Not Helping Either
It seems during every Shot Show, at least with the major manufacturers, there is some sort of a theme or focus area. Over the last few years, we have seen manufacturers go through the AR-15 craze, the .300 Blackout phase, or the "big league" concealed carry handgun mania. From Glock we had the much awaited Glock 43 handgun chambered in 9mm which joined the popular Springfield Armory XD-S line, which was joined by Smith & Wesson's Shield line. Those firearms were truly market moving and innovative. For the first time, you were able to get a light weight, pocket concealed carry firearm shooting a 9mm luger rounds versus the snappier and less powerful .380 round.
This year I feel there was a lack of that innovative, market stimulating theme. Yes, there were at least two that I noticed, a variety of night vision accessories and handguns with slides that are milled to accept a variety of optics; however, neither of them seems to have that market moving impact.
Smith & Wesson introduced the M&P 2.0 line of pistols, which is the original M&P with a slightly nicer trigger and a few frame and slide updates.
Springfield Armory's biggest introduction was their entry into the AR-15 game with "The Saint". They also introduced an update to their concealed carry 1911s and yet another caliber in the XD Mod 2 series.
Ruger added to the revolver lines, most notably the LCRx in .357 Magnum.
The one situation that caught me off guard and gave me a laugh was meeting Glock at Media Day, which is held a day before Shot Show officially opens. Media Day is a day at the range where selected media members and invited buyers are able to look at and shoot the latest products at the range.
Typically, most manufacturers would have media kits available to media members which would typically contain high resolution images and copies of catalogs and press releases. When I asked for one at Glock, the response made me chuckle.
"We don't have any."
"Why not?" I asked.
"We don't have anything new at the show this year, it is the same as last year."
Notable Trends
One of the changes that I noticed at the show from last year to this year was the seemingly bigger and better booths exhibited by the larger players in the field. The show is split into 3 levels, with the majority of the largest exhibitors on the main level and the smaller companies on the lower level. While the lower level booths are your typical 5x10, 10x10 up to 20x20 sized booths, the booths on the main floor by comparison are massive. Not only are they massive, but significantly more expensive, especially versus last year.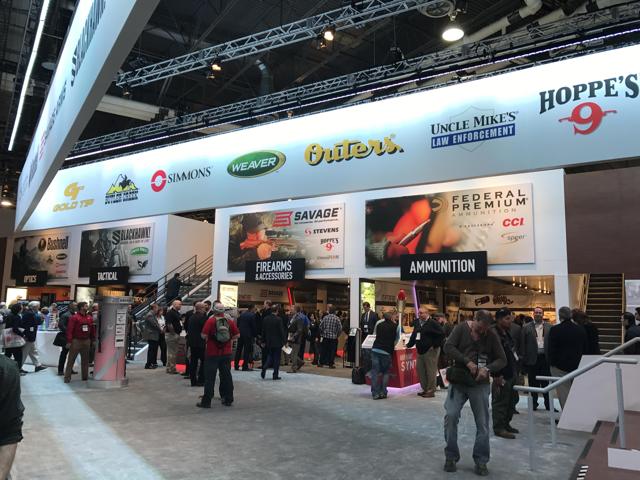 Source: Captured by self at Shot Show 2017, Las Vegas, NV
Pictured above is a 2-story booth from Vista Outdoor. Did they need a booth this big? How many hundreds of thousands of dollars were spent on this booth?
If there was a 2007 Great Financial Crisis lead up for the gun world... this seems a lot like it.
Overall Trends & Notable Exceptions
While everything I saw at the show seemed to reaffirm my initial impressions that at least for the next few years, the best sales days in the firearms world are behind us, I do think there are some areas of opportunity. Let me explain.
Even though I don't believe the major manufacturers released anything that would overcome the ongoing market headwinds which we discussed before, I did see a number of manufacturers that are trying their hardest to increase their own market share even though the market as a whole may not grow.
CZ, the Czech firearms manufacturer, released the CZ P-10 C, a compact 9mm handgun that I feel is every bit as good if not better than the competitive offerings from Glock, Smith & Wesson and others. It is a polymer pistol with an exceptional trigger. The few law enforcement officers I ran into at the show all loved the firearm. Best of all, is its low price point of around $499, up to $100 less than a comparable Glock 19 or an M&P 9mm.
Taurus released a number of concealed carry firearms, including an updated Taurus Curve with an updated Viridian laser/light and a brand new Taurus Spectrum, available in a variety of colors, certainly going after the growing female and millennial markets. MSRP... a very low and affordable $289, meaning you will likely be able to buy it for about $250 from your dealer.
One firearm that truly impressed me was from Walther Arms. Besides the updates to the bread and butter PPQ line, Walther rolled out the Walther Creed, a polymer pistol with everything you would expect from Walther including superior ergonomics and a great trigger; however, the Creed is delivered with an unbelievable MSRP of $399. While it is not a shock to see such a cheap firearm from a major manufacturer, after all, we have seen the terrific value of a Smith & Wesson SD VE series, the Creed is leaps and bounds ahead of it in terms of its build quality and construction. In fact, it does not feel like a $350 firearm, but well worth a $550 price tag.
Those are just 3 examples, so what do we notice?
I hope you noticed me describing some terrific firearms at quite low prices.
While I am quite happy about that as a gun buyer, as an investor, I would be worried. Simply put, I believe we are starting to see more signs of pricing pressures as a result of weaker demand, none of which is helped by smaller manufacturers releasing new firearms hundreds of dollars below their competitors' price points. One perfect example of that is a company such as H&K, which is known for its $1,000 MSRP and up HK P30 and HK 45 firearms, bringing out a relatively inexpensive HK VP 9 and 40 line that retails for about $650 and can be had for around $550 to $600.
Takeaways for the Investors
So far, we have discussed the slowing gun sales and what I believe will be depressed sales figures going forward. Furthermore, we discussed what I see as signs of pricing pressures now and for the future. What we have not yet discussed is what I believe is the 800lb Gorilla in the room, the ever growing debt load for a number of the publicly traded stocks.
The smallest offender is Ruger with $94 million in liabilities covered by $214 million in assets. The debt has grown from $59 million in 2014.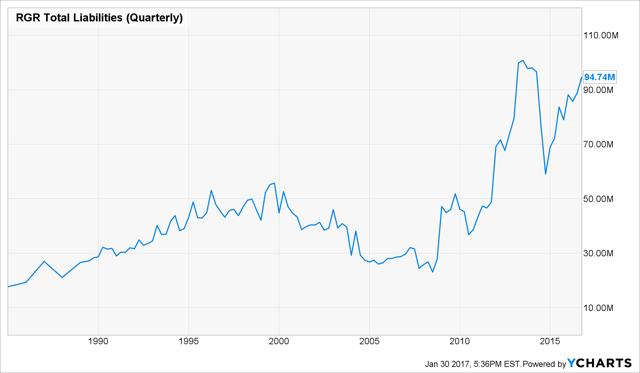 The big ones for me right now are American Outdoor Brands, formerly Smith & Wesson, and Vista Outdoor.
AOBC's debt level is now over $350 million versus its assets of $728 million. I will caution though that a whopping $296 million of those assets are "Goodwill & Intangibles." You can read up on that yourself.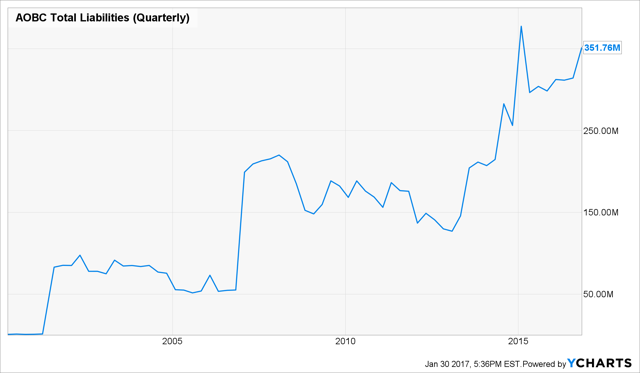 Finally, there is the all around diversified Vista Outdoor. $1.8 billion in liabilities, against $3.521 billion in total assets, of which only $1.2 billion are current assets, the rest being "Intangible & Goodwill."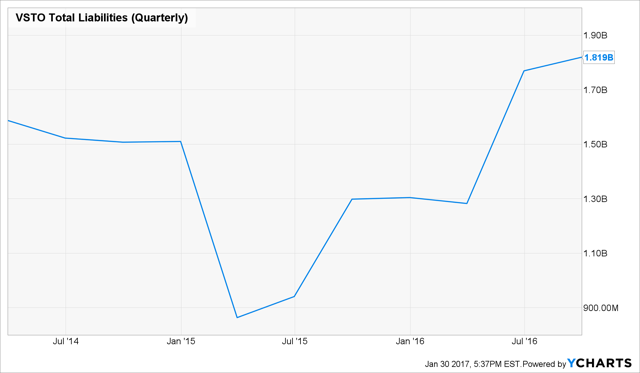 In one of my more recent articles, I wrote about Vista Outdoor as an insurance policy against a Clinton Presidency, which would have almost certainly caused another firearms rush. Unfortunately, what I feel will be a great time for gun rights and gun owners, just might have burst the bubble of the primary firearms players. More concerning is that the publicly traded stocks were able to raise relatively large amounts of debt which may now be hurt by rising interest rates.
Conclusions
We often hear at parties those friends or family members of ours who always go on about how there is no money in curing the disease because once cured, there is no money to be made on the treatment of that disease.
Those same people can now say adamantly knowing that there is no better driver of gun sales than an anti-gun government threatening to restrict gun ownership. What is a moment and a sigh of relief for gun rights and gun owners, is unfortunately a punch in the gut for the large firearms and accessories manufacturers and most likely firearms dealers too.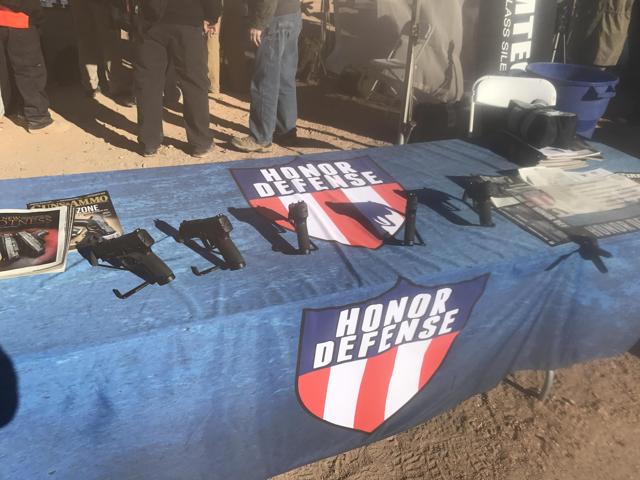 Source: Picture taken by self at Media Day, Shot Show 2017.
As a gun owner and gun rights enthusiast, I am proud of the progress that was made recently and will most likely happen over the next 4 years. I am also proud of the many small entrepreneurs at Shot Show whom I am sure will make the most out of this opportunity to grow their market share at the expense of the incumbent large players. Companies such as Honor Defense, which produces firearms that are 100% made from US components and assembled in the United States by veterans, will surely find their place and grow their market share. Larger manufacturers who globally source components or simply slap their logo on a firearm made overseas? Perhaps there will be some challenges ahead.
Bottom line, even though there are long-term growth catalysts for the firearms markets, I feel the large, publicly traded players will have to digest the debt accrued and find the bottom in the sales numbers before I would feel comfortable making an investment. With value stocks, you don't want to catch a falling knife. With gun stocks, I would not want to stand in front of a firing gun with a bullet proof vest past its expiration date.
I hope you found this article interesting, worthwhile and helpful to your due diligence process. Join me as we take a deeper dive into the firearms markets and the various stocks over the next few articles.
Thanks!
This article is related and applicable to a variety of firearms related companies such as: Ruger, Taser (TASR), Vista Outdoor, National Presto Industries (NYSE:NPK), Olin Corp. (NYSE:OLN), Sportsman's Warehouse (NASDAQ:SPWH), Cabela's (NYSE:CAB), Dick's Sporting Goods (NYSE:DKS), Big 5 Sporting Goods (NASDAQ:BGFV) and Orbital ATK (NYSE:OA).
Disclosure: I/we have no positions in any stocks mentioned, and no plans to initiate any positions within the next 72 hours.
I wrote this article myself, and it expresses my own opinions. I am not receiving compensation for it (other than from Seeking Alpha). I have no business relationship with any company whose stock is mentioned in this article.