To say that I haven't been a fan of M&T Bank (NYSE:MTB) in the past is a vast understatement. The company's acquisition-heavy strategy hasn't worked in the past and it has continuously underperformed its valuation. That being said, the Trump Bump has fueled a $50 rally for MTB, and given that I thought MTB was too expensive before, it won't take you two guesses to figure out how I feel about it now. The problem with buy-everything rallies is that subpar also-rans like MTB rally as well, and if you're long, you should take the gift the market has given you and run as quickly as you can the other direction. Q4 was yet more proof that MTB's strategy doesn't work and also that the stock is ludicrously overvalued here.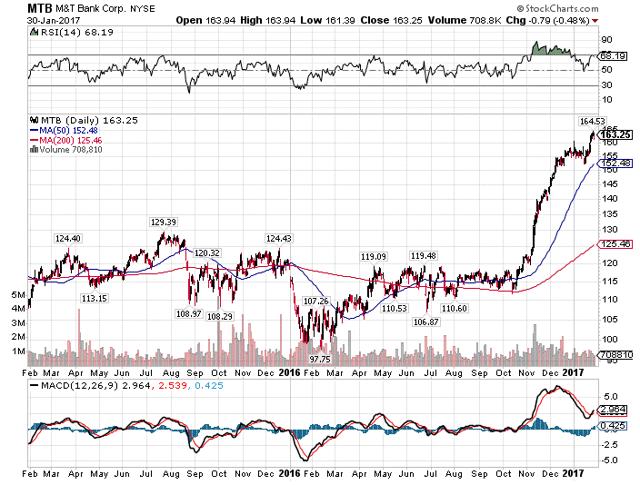 Net interest income was up 9% over last year's Q4 as the Hudson acquisition is still in play here. But average loans were up 11% during the quarter with the difference being a narrowing of MTB's net interest margin. That number fell 4 bps to 3.08% against last year's 3.12%, and while that difference isn't huge, remember we got a rate hike in December. The theme thus far for bank earnings has been higher NIM - albeit slight - but MTB is underperforming. MTB said higher rates on time deposits at Hudson are to blame, and if that's true, we should see NIM move up early in 2017 as those become part of the comparable base. NIM was up 3 bps over Q3 so that bodes well, I suppose, but I'll reserve judgment until we get some additional clarity on 2017's NIM prospects.
While MTB's credit metrics remain strong - weak credit metrics are difficult to find these days - all of them deteriorated in Q4. Net charge-offs were up to 22 bps in Q4 against 19 bps in Q3 and 18 bps in last year's Q4. Non-accruing loans also moved significantly higher as that number came in at 101 bps of total loans against 91 bps in last year's Q4 and 93 bps in Q3. Management said Hudson loans that were previously performing became non-performing during the quarter as though that was a good reason. That isn't any different from any other loans souring so I'm not sure how it is relevant that they were Hudson loans. At any rate, MTB's acquisition has caused its credit metrics to continue to worsen and yet more evidence of that came from the Q4 report. MTB used to have stellar credit metrics and they are still strong, but Hudson is muddying the waters to be sure.
Expenses were higher by 2% Q/Q but lower by 2% Y/Y as lower salaries and benefits helped a great deal. MTB's core operating expenses were still up $57M over last year and $19M over Q3, however, as the merger is proving yet again to be expensive. MTB was tremendously efficient before the Hudson buy, and while it still is with its efficiency ratio in the mid-50s, it is deteriorating. Perhaps that will end some time soon, but given the track record here, that's not something I'm willing to bet on. Yet another place that is showing up is in its expenses, as they are still moving higher despite being more than enough into the lifecycle of the acquisition that we should be seeing some efficiencies building. But we aren't, and it is yet another reason not to own MTB.
MTB's low capital position is something else I've made a point of in the past and it is still true. MTB impaired its capital position by purchasing Hudson and that has had downstream impacts, notably against its ability to buy back stock. It bought back just $641M in shares in 2016, good for 3% or so of the float. Anything is better than nothing, but once again, MTB is trailing its peers where 5% or better is more the norm. MTB's capital position is - and will be - impaired because of the Hudson acquisition so EPS growth via a lower share count is going to be tough to come by.
Despite all of this, MTB is going for an absolutely incredible 18.7 times this year's earnings. That is an unbelievable multiple for a bank, and in particular, one that is shooting itself in the foot with its terrible strategy. MTB on its own - pre-Hudson - wasn't a top tier bank, but it was a lot closer to that distinction than it is now. Even with a significant amount of time to work on the acquisition, we are still talking about higher expenses, higher loan losses and lower NIM. What in the world is going to turn those things around? And how will MTB turn all of them around? That's the question you have to ask yourself if you're long, and finally, why in the world would somebody pay an industry-high multiple for a company that is certainly below average?
And that's really it, isn't it? Why would you buy this stock for 18.7 times earnings when the money center banks are going for 14 or so and the other regionals - while not quite that cheap - are still going in the 15 or 16 range? MTB has clearly erred by purchasing Hudson and the evidence is all over the place. Q4 confirmed for me that MTB is barely worthy of an average multiple, but that is 20% or 25% lower from here. If you're long, please consider taking some profits because the market has overshot in a big way here.
Disclosure: I/we have no positions in any stocks mentioned, and no plans to initiate any positions within the next 72 hours.
I wrote this article myself, and it expresses my own opinions. I am not receiving compensation for it (other than from Seeking Alpha). I have no business relationship with any company whose stock is mentioned in this article.