Ahead of Twitter's (NYSE:TWTR) earnings report, a lack of growth in MAUs, coupled with increasing competition from Facebook (NASDAQ:FB) and Snap (Private:CHAT) for online engagement, means investors will continue to expect little in total shareholder returns.
A stagnancy in MAU growth has a huge effect on ad load and investors have discounted the slow growth or lack thereof in Twitter's share price.
On the other hand, Twitter's broken down train might just pick up more pace if its investments in the following growth drivers keep improving in 2017.
Update to the mobile algorithm
I don't know if you have observed it, but Twitter has introduced a number of new features to increase user engagement on the platform. Anecdotally, I have observed more notifications, a more relatable news feed and a decline in the number of troll accounts.
All these are drivers of ad load as users get to spend more time on the platform. This means they get to interact with more ads, a development that can offset the lack of MAU growth.
A two-fold increase in ad load can compensate for the stagnancy in MAU growth as the number of ad impressions that can be served will increase in kind.
This highlights the positive result of the improvements highlighted in management's letter to shareholders in the last earnings call.
Mopub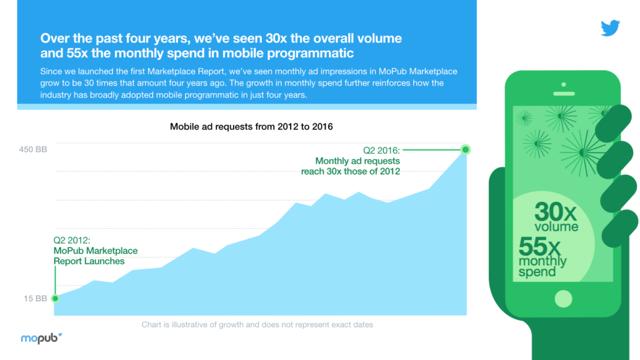 The Mopub ad marketplace has grown tremendously over the past four years. A 55X increase in monthly ad spend demonstrates the value generating capabilities of the platform.
Also, the continuous increase of mobile ad inventory versus desktop means Twitter will hardly feel the pain of losing out on a big desktop fan base like YouTube or Google (NASDAQ:GOOG) (NASDAQ:GOOGL) Search. In terms of mobile apps, the growing number of mobile app downloads will continue to fuel the Mopub fire.
Also, the recent sale of Fabric to Google which doesn't appear to be the best move as explained ensures more attention can be focused on products that drive revenue.
Mobile App Install Campaigns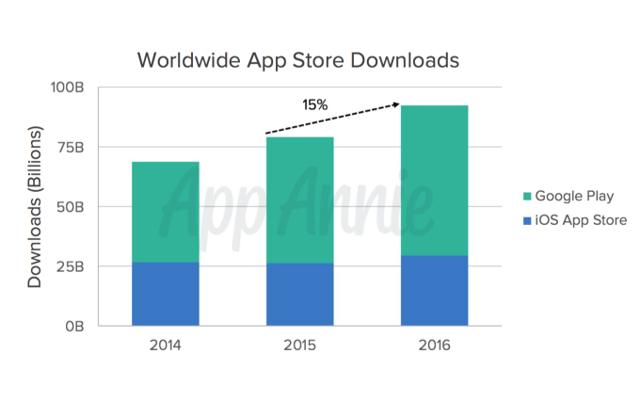 Source: TechCrunch
Talking about mobile apps, Twitter recently released a new ad format called mobile app install. This gives advertisers the opportunity to create app install campaigns. Mobile app growth has been on a continuous upward trend since the invention of the Android OS. The growth continued in 2016.
According to TechCrunch:
Worldwide downloads were up 15 percent year-over-year, time spent in apps was up 25 percent, and the revenue paid to developers increased by 40 percent.
Source: TechCrunch
Revenue paid to publishers grew to over $35 billion with app install campaigns providing a perfect opportunity for publishers to increase their user base which they later get to monetize.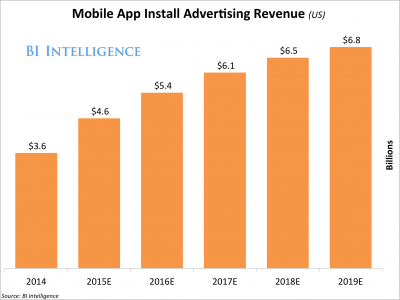 Source: BI Intelligence
A recent research from Bi Intelligence puts the market size for mobile app install ads in the US at $6.8 billion by 2019, a 14% CAGR from 2014.
This is a fresh market for Twitter to grow its revenue, given the huge premium of app install ads. Since it was released last quarter, the effect of this new release is yet to be felt and I expect it to be a significant revenue driver this year.
Live Videos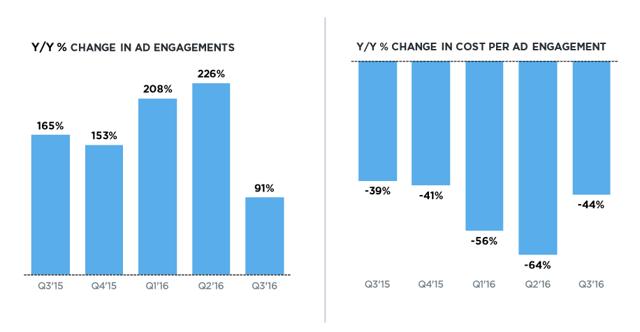 The trend in video ad engagement has been rising. Also, cost per engagement has been declining driven by increased ad engagement. This means more ROI for advertisers. With more ROI comes more advertisers flocking to the Twitter ad network.
Video ads naturally have more engagement. The introduction of 360 video further fuels the growth in interactivity on the platform. This has the potential to increase ad load.
Conversion targeting
Twitter is yet to say much about the conversion tracking objective that was released last year. For all advertisers, the conversion rate is the ultimate goal. It is the leading indicator of better ROI.
Already, Twitter announced that advertisers who have adopted this goal have witnessed a 2.5 X increase in conversions compared to other targeting objectives.
However, the performance has not been great enough to foster advertisers to allocate more budget to target the Twitter ad network. Even if they have been doing that, the effect is not yet palpable.
Conclusion
On the downside, the sale of Fabric coupled with the economies of scale of Facebook and Google in the ad industry will continue to put Twitter at a disadvantage when advertisers are allocating their ad spend.
Regardless, I expect Twitter to have a really great quarter while ending the year on a brighter note due to a combination of positive catalysts that will more than offset the lack of MAU growth.
I have decided to leave out the positive effects from the live streaming of major political events last quarter. When we factor events like the US election, live video streaming deals and the cost optimization measures, investors stand a bigger chance of generating positive returns than they might realize.
Disclosure: I/we have no positions in any stocks mentioned, and no plans to initiate any positions within the next 72 hours.
I wrote this article myself, and it expresses my own opinions. I am not receiving compensation for it (other than from Seeking Alpha). I have no business relationship with any company whose stock is mentioned in this article.