The stellar growth of Amazon's (NASDAQ:AMZN) top and bottom line in recent quarters, backed by the unprecedented success of its cloud computing division, has not convinced everyone that the company is infallible. Genuine concerns regarding the "quality" of Amazon's cash flow and earnings have been raised by analysts, many of whom also incessantly criticize Bezos' firm for not being able to convert revenue into profit. In this article, I reexamine some of these criticisms, while employing other standard tools to assess Amazon's profitability. In addition, I'll also attempt to arrive at a fair value for Amazon stock.
There can be no doubt that the company has been tinkering with its cash flow metrics in order to appear more profitable on paper. An excellent article on this issue was published by fellow contributor Celeritas Investments, who discussed how Amazon had managed to post "great" cash flow numbers by delaying payment to its suppliers. As it turns out, this is not the only way the company is misleading investors regarding its cash flow situation. If we take a closer look at its reported TTM "Net Cash Provided from Operating Activities," we can see that Amazon is barely producing any cash from business operations. As shown in the chart below, ~52% of its reported Cash from Operations ("CFO") consists of depreciation of short-lived assets including servers, 18.5% consists of cash generated from paying employees with stock, and 15% is derived from working capital. This means the real cash provided from operating activities amounts to merely $2.1 billion. This figure is significantly below capital expenditure figures of the past five years, implying that Amazon has actually been financing the building of its warehouses by selling equity and, in some ways, borrowing money from its customers. The trouble is that if top line growth slows down, the company won't have additional funds available from payables to finance the growth in PP&E, and this is likely to lead to an increase in long-term debt and capital leases.
| | |
| --- | --- |
| | |
| Depreciation of Short-Lived Assets | $7.60B |
| Cash Generated from Paying Employees with Stock Instead of Cash | $2.70B |
| Working Capital | $2.20B |
| Real Cash Provided from Operating Activities | $2.10B |
| Net Cash Provided by Operating Activities | $14.60B |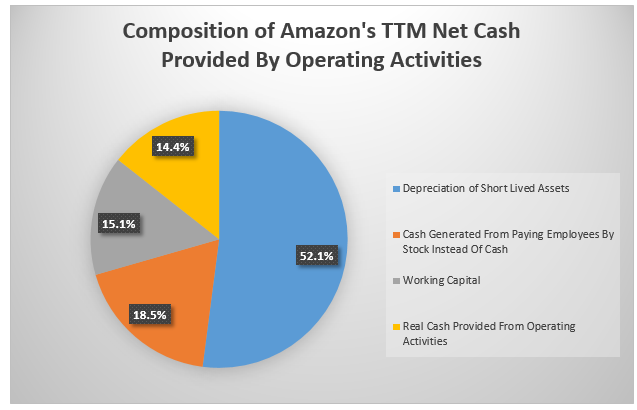 (Source: Amazon's Filings, Author's Calculations)
In connection with the points above, Amazon's current ratio has been declining consistently in the last five years. Given the fact that it isn't really generating sufficient "real cash," the company could be easily beset by a liquidity crisis following a decline in revenue growth.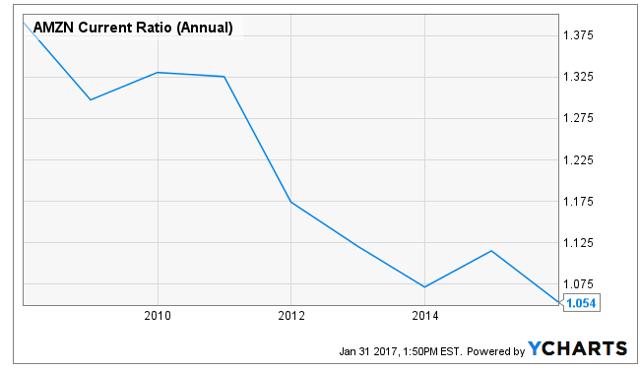 Aside from inspecting its cash generating potential, it is also worth assessing the company's ability to generate value for its shareholders. A firm creates value when its Return On Invested Capital ("ROIC") exceeds its cost of capital. Amazon's TTM ROIC stands at 10%, while the three-year average ROIC equals 1.73%. Let's compare these figures with the company's cost of capital.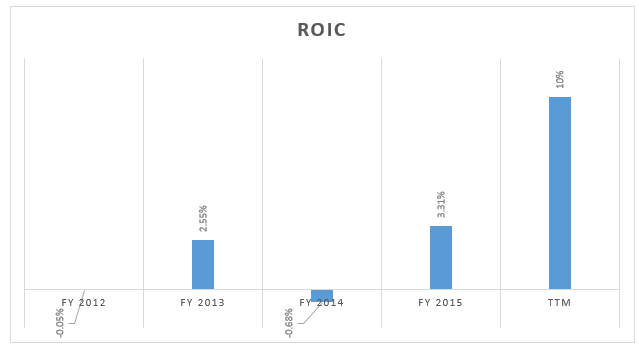 (Source: Morningstar)
Cost of Capital, or more accurately "Weighted Aggregate Cost of Capital" ("WACC"), can be estimated by the following formula:
WACC = (Weight of Equity X Cost of Equity) + (Weight of Debt X After-tax Cost of Debt)
Where After-tax cost of debt = Pre-tax cost of borrowing X (1 - Tax Rate) and Cost of Equity = Risk-free rate + (Beta X Implied ERP)
I first calculate Amazon's cost of equity. As Amazon belongs to the Retail (Online) industry, one can assign a beta of 1.23 to the company using the table given on professor Aswath Damodaran's website. I further use 10-year constant maturity rate as the risk-free rate and an implied Equity Risk Premium ("ERP") of 4.5% (trailing 12-month, with adjusted payout). Simple calculations then reveal its cost of equity is 8.02%.
Cost of equity can also be calculated using the CAPM. In this case, with a "standard" market premium of 7.5%, Amazon's cost of equity comes out to be 11.6%. One can therefore assume its cost of equity lies approximately in the range 8-11.6%.
The company's pre-tax cost of borrowing can be computed by simply adding its "default spread" to the risk-free rate. Because Amazon's interest coverage ratio is above 4.25, it can be assigned a default spread of 1.1%, corresponding to a "synthetic" rating of A2/A. You can refer to the table here for reference. Adding this to the risk-free rate gives pre-tax cost of borrowing equal to ~3.6%. Using Amazon's two-year average tax rate, we get after-tax cost of debt equal to ~5.21%.
Now total debt constitutes roughly 38% of Amazon's capital (total debt plus equity), so debt can be assigned a weight of 0.38, while equity can be assigned a weight of 0.62. Plugging these numbers in the formula for WACC, we get WACC of ~7% for Amazon using cost of equity equal to 8.02%. If one uses cost of equity computed from the CAPM, the company's WACC comes out to be 9.2%.
Amazon's current ROIC of 10% is ever so slightly greater than the high WACC figure of 9.2%. This tells me the company is not generating sufficient value for its shareholders. In fact, if we compare Amazon's estimated WACC with its three-year historical ROIC, it is clear that the company is actually eroding value and not making any economic profits.
Valuation
There can be no doubt that Amazon has been the reason behind the emergence of a range of amazing industries, including e-readers, e-books, cloud computing, digital technology like Alexa and, of course, e-commerce. Bezos has instilled a culture of innovation and inventiveness in the company, and there seems to be more focus on invention and risk-taking than profits. This partly explains its penetration in multiple industries like the logistics and auto industry. Whether Amazon's push into these industries will be successful or not remains to be seen. As it stands, though, the company's growth prospects are most closely tied to the success of the Amazon Web Services (AWS) unit. Despite facing severe competition from the likes of Microsoft (NASDAQ:MSFT) and International Business Machines (NYSE:IBM) in the Infrastructure as a Service (IaaS) industry, AWS has shown remarkable growth.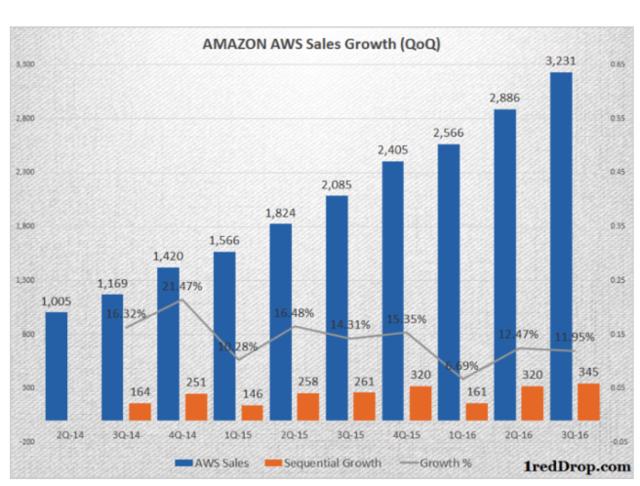 The IaaS industry is expected to grow by approximately 30% each year, according to forecasts by IDC, which is great for Amazon. Furthermore, AWS is currently the leader in the cloud market, and as more businesses switch their tech infrastructure from on-premises to cloud, it could extend its market share, becoming an even more important growth driver for the company. Amazon's revenues could easily exceed $200 billion by 2020. The question is whether all good news regarding Amazon's exciting products and entry into new markets and the great prospects of AWS is already baked into the company's stock price.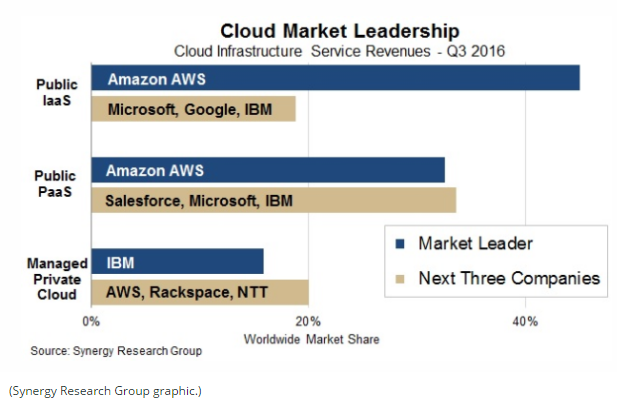 Using WACC (calculated earlier) as the discount rate, one can use a DCF model to determine the fair value of AMZN shares. Assuming Amazon can grow revenues by 20% per annum from 2017-20, backed by the growth of AWS and digital technology like Alexa, the company will have $250 billion in revenue by the end of 2020. This figure is much higher than the average analyst estimate. Using consensus estimates for Amazon's EBITDA growth, one can arrive at a fair value of $779.79 for Amazon stock, with a perpetuity growth rate equal to 4%. This implies downside of ~6%. Readers can see my detailed calculations below. As can be seen, I have worked with three models, the most accurate one being the "mid" case.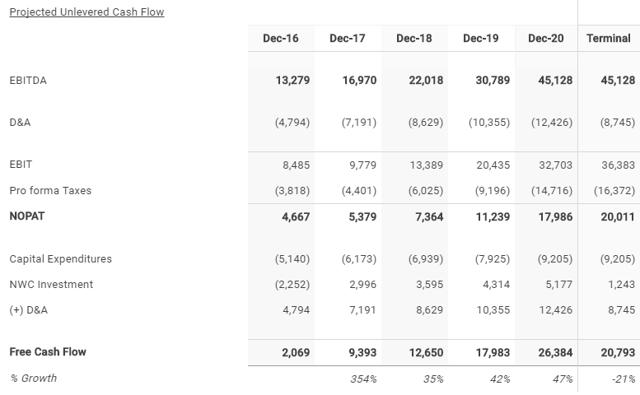 Calculation of EV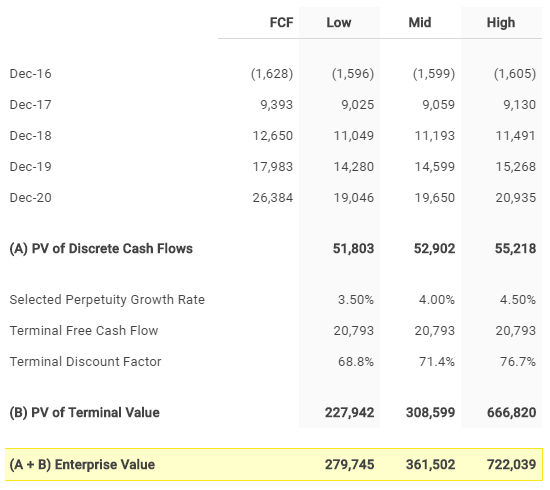 Model

Low

Mid

High

Market

Enterprise Value

279,745

361,502

513,299

384,820

(+) Cash & Equivalents

13,656

13,656

13,656

13,656

(+) Investments & Other

4,691

4,691

4,691

4,691

(-) Debt

(8,205)

(8,205)

(8,205)

(8,205)

(-) Minority Interest & Other

0

0

0

0

(-) Preferred Stock

0

0

0

0

(-) Other

0

0

0

0

Value of Common Equity

289,887

371,644

523,441

394,962

(/) Shares Outstanding

477

477

477

477

Implied Stock Price

608.25

779.79

1,098.30

828.72

Upside / (Downside)

-26.6%

-5.9%

32.5%
Conclusion
It is crucial to stress that investors and analysts need to distinguish between "Amazon as a business" and "Amazon as a stock." It is no secret that the movement of a stock does not always reflect financial strength of the associated business. In Amazon's case, although the stock has shown tremendous growth, the company's fundamentals aren't as solid as many might think. By no means is it a cash cow, and as discussed above, the company is not a solid value generator either. As far as the intrinsic value of the stock is concerned, Amazon looks overvalued and the shares are priced for perfection. Even with rather optimistic assumptions, Amazon's fair value is lower than the current share price. For these reasons, I am staying away.
Disclosure: I/we have no positions in any stocks mentioned, and no plans to initiate any positions within the next 72 hours.
I wrote this article myself, and it expresses my own opinions. I am not receiving compensation for it (other than from Seeking Alpha). I have no business relationship with any company whose stock is mentioned in this article.