This review updates my initial look at AdCare Health Systems (NYSEMKT:ADK) from my October 16,, 2016, article, "AdCare Health Systems Viewed Through The Eyes Of A Preferred Investor."
Though I hope you will read the original linked article in full, my bottom-line assessment and buy recommendation at the time were as follows:
Frankly, I believe this company is in serious trouble, and is scrambling to right a sinking ship. I could be wrong about this tentative sale and whether or not its budding partnership is a good or bad thing, but I'm unwilling to stick around to suffer the outcome. Consequently, the final ring has rung, and my 1,000 shares have been sold. ADK's fortunes are no longer my concern.
Let's see how ADK's commons have performed over the past quarter since I wrote the previous article. Because of the greater volume of common shares traded as opposed to the limited liquidity of most preferreds, I find the commons to be a better indicator of a company's overall performance.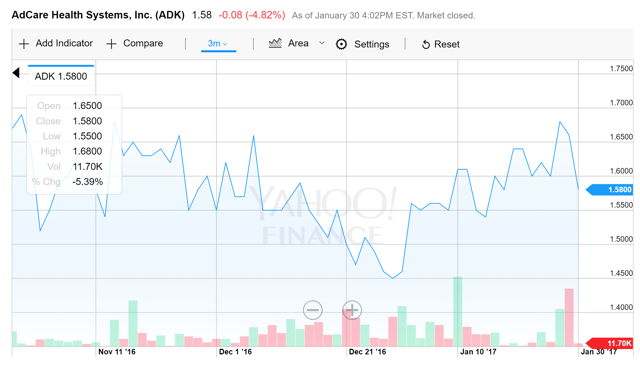 It appears that over the past three months, ADK's share price movement has fallen slightly below the price it traded at as it began the quarter. On October 31, 2016, it traded at $1.67, now it's priced at $1.58. That's a loss $0.09 over the past three months.
Now let's compare ADK's share price performance over the past three months in relation to a number of its peers. Chart provided by Yahoo Finance:
This quarter, ADK has underperformed its long-term healthcare service providers' peer group and the S&P 500. The peers as charted above: Brookdale Senior Living (NYSE:BKD), Civitas Solutions (NYSE:CIVI), Capital Senior Living (NYSE:CSU), and National Healthcare Corp. (NYSEMKT:NHC).
Before we discuss ADK's future prospects, let's see how its preferred has fared during the past three months. The following chart is provided by MarketWatch: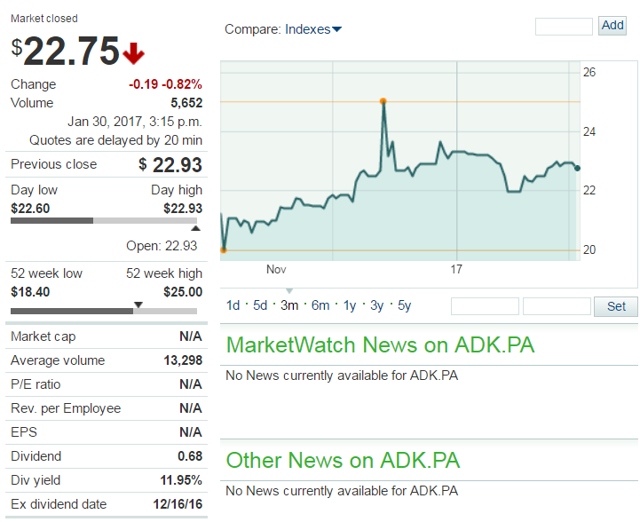 The initial time I reported about ADK on 4/22/16, ADK-A was priced at $21.91. On July 21, its price was $20.95. At the time of the last report, it was priced at $21.60, and now a stunning $22.75 a $1.15 price increase over the past three months. I admit to being flummoxed and can only attribute the increase to the humongous yield it offers, considering its IPO coupon rate was a hefty 10.875% for a $2.71875 per year dividend total, which signified that this company had to offer Olympian high interests rates to induce investors to bite on its preferred offering.
Now for a little forward guidance

According to the above snapshot of AdCare Health's financial highlights provided by Finviz, ADK's common share performance these past three months did not quite capture the full reality of its terrible performance. ADK has a market cap of a paltry $31.51 million, even less than the $37.30 million of three short months ago. And on sales of $27.70 million, it lost another $15.50 million.
Consequently, I continue to believe this company is in serious trouble, and I am mystified by the past quarter price increase of its single preferred. Yes, it offers a tremendous yield, but is the attendant risk worth it? I think not.
Disclosure: I/we have no positions in any stocks mentioned, and no plans to initiate any positions within the next 72 hours.
I wrote this article myself, and it expresses my own opinions. I am not receiving compensation for it (other than from Seeking Alpha). I have no business relationship with any company whose stock is mentioned in this article.
Editor's Note: This article covers one or more stocks trading at less than $1 per share and/or with less than a $100 million market cap. Please be aware of the risks associated with these stocks.