After a solid earnings report, American Airlines Group (NASDAQ:AAL) slumped over 5% followed by another big hit from the travel ban. Typical of the airline sector in the last few years, the market tends to overreact to mixed signals by expecting the worst possible outcome.
The stock is now trading at $44 and back into the middle of the range for the last couple of years. Should investors flee this stock that just announced another massive share buyback plan?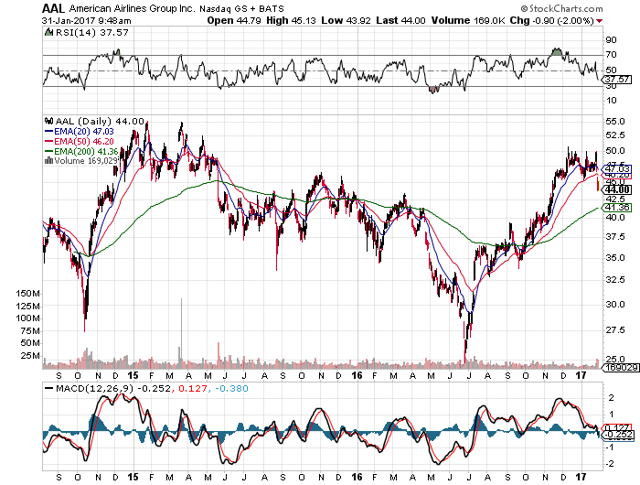 Cost Pressures
The big issue with analyzing the legacy airlines is figuring out more normalized cost numbers. The volatile fuel prices and catch up labor costs placed the sector on a cost roller coaster of the last couple of years.
The airline earned an incredible adjusted EPS of $9.10 in 2016, only slightly below that of the prior year. Ultimately, the market doesn't care because the future profits are the issue and the inclusion of taxes throws off the comparison.
What matters is that the market is overreacting to some of the cost pressures to end 2016 and start 2017. The airline went from a period where costs were exceptionally low to one where costs are too high relative to revenue expectations.
I believe American Airlines will experience cost pressures to start 2017, when Q1 CASM ex-fuel surges to 10%.
The end result is a forecast of pre-tax margins of only up to 5% in Q1. The market though predicts a rebound in profits going forward based on improved revenue yields.
The company didn't disagree with the following statement from Dan McKenzie of Buckingham Research on the earnings call that a nearly $3 billion opportunity exists to increase revenues relative to what Delta Air Lines (NYSE:DAL) generates now.
At least as I look at it there's about $3 billion in revenue that needs to be made up. You've got some geographic exposure which I put at a $2 billion revenue hit.
The forecasted revenue estimate is around $41 billion, so a $3 billion boost over a few years is very material to American Airlines.
Share Buybacks
Before turning too negative, the question one needs to ask is why the BOD would approve another $2 billion share buyback if cost pressures were out of control. Remember, the stock is only worth $23 billion so the amount is very material.
American Airlines has a recent history of massive stock buybacks. As the chart shows, the company is likely to quickly spend the new buyback with the stock trading down.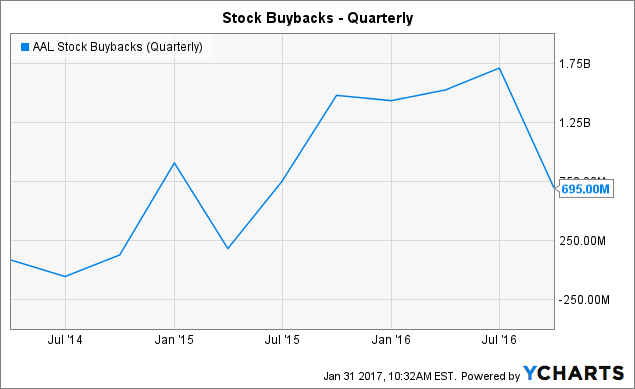 AAL Stock Buybacks (Quarterly) data by YCharts
The company repurchased another $554 million worth of shares during Q4 alone and paid a dividend which factored to a 1% dividend yield. In total, the airline returned an incredible $4.6 billion to shareholders in 2016.
The selloff is due to the traditional negativity surrounding the ability of legacy airlines to meet stated goals. The reversal in the EPS estimates is a good sign of a change in the trend.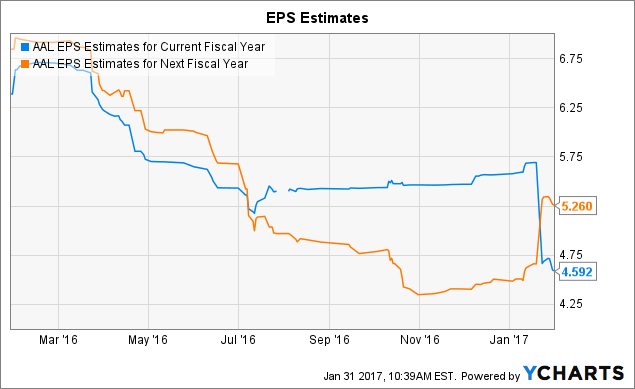 AAL EPS Estimates for Current Fiscal Year data by YCharts
Remember that these numbers assume the airline pays taxes. American Airlines has a $10.5 billion federal net operating loss that eliminates most cash taxes.
The airline stock is cheap based on an EPS estimate, assuming full tax payments, but even cheaper considering taxes aren't being paid. For this reason, American Airlines will easily have the cash flows to complete the additional $2 billion share buyback.
Takeaway
The key investor takeaway is that the airline stock remains cheap and misunderstood. Investors see ramping costs causing plunging profits, but the reality is that American Airlines still has integration improvements that will dramatically improve yields over the next couple of years leading to higher profits. Use this dip to own this airline stock.
Disclosure: I am/we are long AAL.
I wrote this article myself, and it expresses my own opinions. I am not receiving compensation for it (other than from Seeking Alpha). I have no business relationship with any company whose stock is mentioned in this article.
Additional disclosure: The information contained herein is for informational purposes only. Nothing in this article should be taken as a solicitation to purchase or sell securities. Before buying or selling any stock you should do your own research and reach your own conclusion or consult a financial advisor. Investing includes risks, including loss of principal.