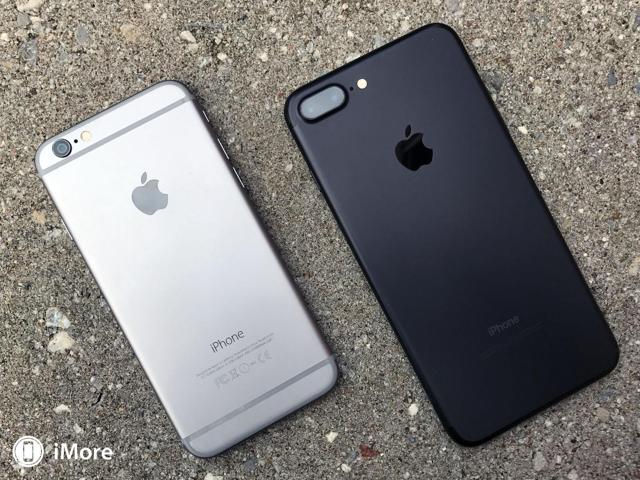 iPhone 7 doing better than the iPhone 6s? Hard to say.
I'm currently neutral on Apple (NASDAQ:AAPL), but still follow the stock as Apple exerts a large influence on the entire market, through having the largest market capitalization.
Apple just released its Q1 FY2017 earnings report, and I have a large number of observations to make. Here we go:
Apple continues to be an extremely profitable company trading at an undemanding valuation. It trades for 13.9x FY2017 EPS consensus, and 10.6x ex-net cash ($158.54 billion).
Apple is ever more reliant on the iPhone. As of Q1 FY2017, the iPhone represented 69.4% of sales, and a much higher share of profits (I put the iPhone's share above 80%).
The iPhone itself grew 5% year on year both in units and revenues. That's an additional 3.5 million units. However, last year's quarter did not have the iPhone SE (launched in late March 2016). Thus, it's likely that either the iPhone 7 or the 7+6s+6 complex actually stagnated or decreased in terms of sales.
The iPhone ASP (Average Selling Price) increased in spite of the inclusion of the iPhone SE ($690 in Q1 FY2016, $694 in Q1 FY2017). This was positive but somewhat expected, since the iPhone 7 Plus has been a large success, gaining mix share. I attribute its attractiveness to more-evident changes, like the inclusion of the double camera. Also certainly helping ASP, but not disclosed by Apple, will have been the inclusion of a lot more storage in the higher tiers, making it more of a deal to buy at least the middle tier. Previously, the lower tier had 16GB in storage and the middle tier had 64GB. With the iPhone 7 this jumped to 32GB and 128GB, so while previously an additional 48GB cost $100, now $100 bought an additional 96GB. In my view this shifted the mix towards higher capacities and thus higher ASPs.
The iPad continued its implosion, down 19% year-on-year in terms of units and 22% in terms of revenues. iPad's shrinkage is now lasting for years.
The Mac grew surprisingly little in terms of units (+1%) but a bit more in terms of revenues (+7%). I say "surprisingly little" because Q1 FY2017 included the launch of the new MacBook Pros.
Apple Services was a bright spot, showing 18% year-on-year growth. There is an ongoing effort to focus on this line as a way to dismiss the iPhone's overwhelming importance. However, if iPhone demand ever flags, services would just follow it with a delay. Services also will have some component of increased new revenue streams helping growth.
Apple guided for Q2 FY2017 revenues of between $51.5 billion and $53.5 billion. The midpoint ($52.5 billion) as well as the high-end of the range are below the existing $53.94 billion consensus. At the midpoint the guidance represents revenue growth below 4%.
The rest of Apple's guidance also implies midpoint EPS of ~$2.01 per share, which comes slightly below existing consensus at $2.09, even though this consensus had been heading lower recently.
Apple is known to sandbag, so guidance being only slightly below consensus might not be seen as much of a negative.
Apple reported a large (-12%) year-on-year drop in Greater China revenues. However, I put this down to an early iPhone 7 release there, which fell on Q4 FY2016 this cycle, versus Q1 FY2016 last year.
My Additional Take
Before Apple reported, I was actually surprised at how undemanding the revenue consensus was (+2.0%). There were no news of in-quarter iPhone 7 weakness going into the print, plus:
Apple had the iPhone SE which wasn't in the comparison base.
A direct competitor, the Samsung Note 7, was removed from the market in Q1 FY2017, versus a Samsung Note 5 competing healthily during Q1 FY2016.
Apple had the MacBook Pro launch during Q1 FY2017.
Unsurprisingly, Apple beat the revenue consensus. But it didn't beat it by much, and the guidance for next quarter was actually pretty weak. Not just was guidance below the existing consensus, but it implies a sequential revenue drop of 33% this year versus 33.3% last year, or nearly the same. Last year Q2 FY2016's report was seen as very weak and actually led to a significant sell-off in Apple shares.
All of this said, we're now approaching the moment where the iPhone 8 will start being leaked. We can expect the first realistic leaks around mid-March. Apple is likely to already be trading "under the influence" as the market is buying a super cycle, plus I expect Apple to try and wring higher prices from its customers, just like Samsung and Google seem set to do.
Putting it all together, this all seems very neutral to me. Not warranting much of a rally, and not warranting much of a sell-off either. Come mid-March, and just from the first iPhone 8 leaks, we should have a better perspective on how Apple stands to do. After all, this earnings report just continued to confirm that Apple is the iPhone, and wherever the iPhone goes, so will the stock price.
Disclosure: I/we have no positions in any stocks mentioned, and no plans to initiate any positions within the next 72 hours.
I wrote this article myself, and it expresses my own opinions. I am not receiving compensation for it (other than from Seeking Alpha). I have no business relationship with any company whose stock is mentioned in this article.