Today, Seadrill (NYSE:SDRL) announced that the restructuring of the company is on the way, but as communicated earlier it's turned out to be more difficult than expected. They now hope to get all of the parties to come to an agreement by end of April 2017. That is when the $317M facility on the rig West Eminence matures. Lenders have already given them more time, as the deadline for payment was, in fact, in the middle of 2016, which was initially pushed out to the end of last year. Recently, SDRL managed to get four additional months of breathing room.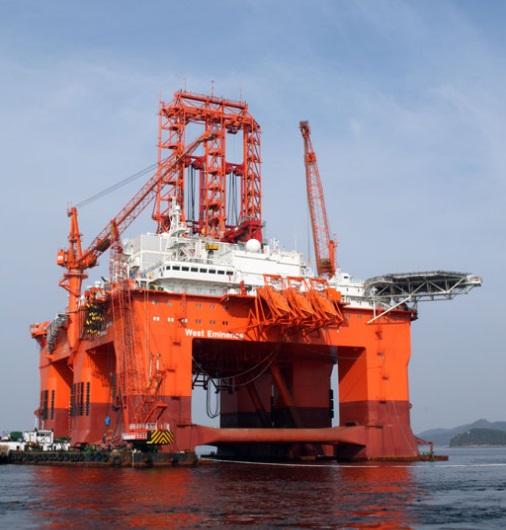 Source: Seadrill
In the announcement, SDRL's CEO admitted that current shareholders, in all likelihood, are looking at a major dilution of their shares in the company. Here's why: SDRL's financial restructuring is like a three-legged stool.
One leg is the bond holders.
This debt is basically unsecured and amounts to $2.3B. An informal group of bondholders have come together and are trying to deal with management. Obviously, they want to protect their own interest. So, to get something they will give something. They will agree to push the maturity of the bonds out from 2017 to 2020. In exchange, they want roughly $1B of the unsecured bonds to be swapped in to equity. In addition, they want the option to swap some other bonds.
The second leg is the debt held by banks.
This debt is secured and amounts to $8.2B. Very little is known about what the banks are saying. Most importantly, this is the majority of the debt. In the past, they have said they are willing to give SDRL more time. SDRL is hoping that the banks will allow the maturities to be pushed from 2021 to 2023, reducing fixed amortization and amending some of the financial covenants. I believe the banks will show leniency.
The third leg is the equity.
The equity is inadequate when you look at it in relation to the total debt outstanding of $10.5B. They hope to inject an estimated $1B of fresh equity into to the company. As of Sept. 30, 2016, SDRL had 504,444,280 common shares, with par value of $2.00. That value is very close to yesterday's closing price of $2.66. This means that the market valuation of SDRL is $1.34B. If SDRL is able to sell an additional 500,000,000 shares at $2.00 per share, they could raise the expected $1B. That would bring the total number of shares to roughly 1 billion outstanding.
Much has been written about SDRL's illustrious large owner Hemen Holding, which is controlled by the Fredriksen family. They will probably pony up a large part of the money, but will surely also want some benefits in return.
Conclusion
In terms of new business for the growing fleet of idle rigs, it does not look good. If the last couple of months is an indication of what is to come this year, it's clear that the few new deals that have been made are for very short durations. Gone are the days when the oil companies wanted to secure drilling rigs for multiple years. It has now become apparent that this drip feeding in all likelihood is going to continue for the next 12-18 months.
This is the main reason why shorts are piling in to the name. After the dust has settled, by the middle of this year shares of SDRL will probably be half of what they are today.
Disclosure: I/we have no positions in any stocks mentioned, and no plans to initiate any positions within the next 72 hours.
I wrote this article myself, and it expresses my own opinions. I am not receiving compensation for it (other than from Seeking Alpha). I have no business relationship with any company whose stock is mentioned in this article.