According to a new Reuters survey, OPEC has reduced its production in January in an attempt to comply with the cutbacks agreed upon in the "Algiers Accord" and "Vienna Agreement" to restrain output to 32.5 million barrels per day. However, the tabulations require some explanation because that ceiling includes Indonesia, which suspended its membership during the November meeting.
In total, it produced about 32.270 million barrels per day. However, when Indonesia's figure of 740,000 b/d is included, the "OPEC-14" totals 33.0 million barrels per day, 500,000 barrels above the 32.5 quota.
In the first three weeks of the year, U.S. net crude oil imports have actually been rising, especially from Saudi Arabia. U.S. total petroleum stocks have risen by 20 million barrels since OPEC's production cut went into effect. OPEC has vowed to reduce OECD stocks to their 5-year average by June, but that would require a stock draw of about 300 million barrels, which I believe will not happen.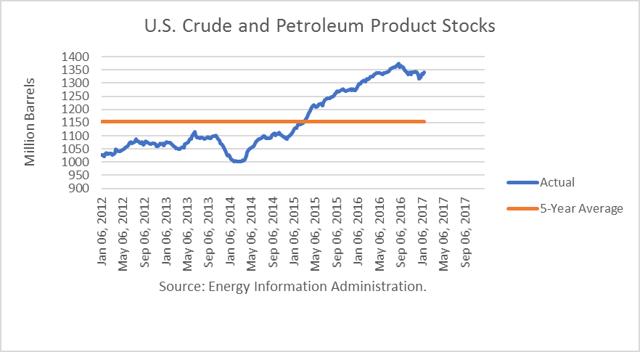 OPEC's decrease in production is supposed to lead to lower exports, but the quantity is difficult to estimate. Excluding Nigeria and Venezuela, OPEC exported 2.031 million barrels per day to the U.S. in the first quarter of 2016. I have excluded those two countries because the Venezuelan oil minister has said that his country's exports to the U.S. will remain steady, and Nigeria's production is not subject to limits. If the other OPEC members reduce their exports to the U.S. by 5%-10%, that would add up to 100,000 to 200,000 b/d.
The Energy Department has begun the process of selling nearly 200 million barrels from the U.S. Strategic Petroleum Reserve, according to the schedule below.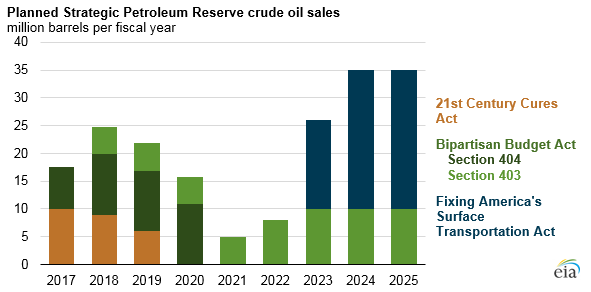 In its Outlook for 2017 and 2018, it estimates a draw rate of 70,000 b/d. And so the net impact will be 30,000 to 130,000 b/d, if OPEC cuts as indicated above, which will enable U.S. stocks to build in the first half of 2017, according to my projections, the Energy Department's, and OPEC's implied supply/demand balance.
However, it is possible that the OPEC producers could "target" the U.S. for much higher losses of imports in an attempt to force U.S. stocks lower. U.S. refiners might just replace the barrels from non-OPEC sources, if refining margins justify it.
Or there could be a political response from the United States if it becomes the target of higher cuts. U.S. Senator Ed Markey asked secretary of state nominee Rex Tillerson in writing whether he agreed "that the United States should unequivocally reject any efforts by OPEC to collaborate to manipulate oil markets and take all measures within our power to reduce OPEC's ability to artificially limit production or increase prices." And he responded "Yes."
As I have stated before, one such measure could be to accelerate the draw from the SPR to offset the decrease in exports from OPEC. Some have commented that the U.S. could not, or should not, do that. My counterargument by showing the SPR drawdown table above is that the U.S. is going to sell these stocks anyway, and by selling them at a faster rate, it could achieve the dual purpose of nullifying OPEC's targeted cuts, as well as bringing the benefits of the sales forward. It would be an easy, no-cost counter-punch to OPEC.
Conclusions
I think OPEC has "oversold" the effects it expects from its cutback. The market is likely to be disappointed from not seeing inventories dropping as it has predicted. For that reason, I think sentiments will change, and the crude market will test $50.
No doubt, the OPEC PR machine will respond, but it will have lost a lot of credibility. The OPEC Secretary General made a remark that the U.S. should join future OPEC-non-OPEC cuts, otherwise they will be "incomplete."
Saudi Arabia's Energy Minister, Khalid Al-Falih, has said OPEC may need to cut again if prices do not stick. And so that may be their response to a test of $50. I project they will have to keep cutting as American shale oil production rises to maintain oil prices. But I am not sure how many others will keep cutting as they see shale oil "back-filling" their cuts.
It will be like the early '80s, when Saudi Arabia kept cutting back to support high prices, until their production fell so low, they decided to flood the market (November 1985).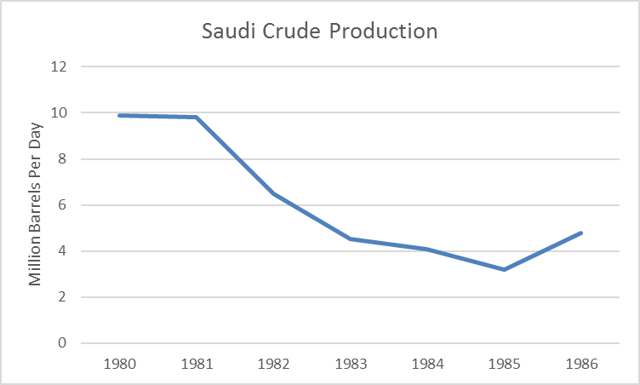 Disclosure: I/we have no positions in any stocks mentioned, and no plans to initiate any positions within the next 72 hours.
I wrote this article myself, and it expresses my own opinions. I am not receiving compensation for it (other than from Seeking Alpha). I have no business relationship with any company whose stock is mentioned in this article.