(Editor's Note: Updated 2/1/2017 12:00 p.m. to correct the return calculation.)
Opinions on Citigroup Inc. (NYSE:C) are divided. The stock price has risen significantly since February 2016, and investors are starting to worry it is overvalued. I believe Citigroup is still a promising investment and have the data to back this point.
CAPM and Returns
The best measure for long-term success is the return. To calculate the historic returns of Citigroup for the past five years, I will first use the Capital Asset Pricing Model to determine the discount rate. The discount rate is calculated as follows:

| | |
| --- | --- |
| Citigroup | Amount |
| Risk-free rate (5-year) | 1.95% |
| Company beta (5-year) | 1.6 |
| Expected market return (yearly) | 7.27% |
| Expected return | 10.46% |
(Sources: Seeking Alpha and Nasdaq)
The received returns should exceed 10.46% - this is the return you expect to get when facing the specific risk. Investors demand a higher return for companies with a higher risk (beta) to compensate for the risk.
| | |
| --- | --- |
| Citigroup | Amount |
| Share price Jan 30, 2012 | $30.23 |
| Share price Jan 30, 2017 | $56.61 |
| 5-year Return | $26.38 |
| Yearly Stock price return | 17.54% |
| Average 5-year dividend yield | 0.74% |
| Annual | 18.28% |
(Source: Seeking Alpha)
The return is the aggregate of the yearly return on the stock price and the dividends over the past 5 years. In this case the returns exceed the expected return by 7.82%. This means that investors are compensated more for the investment than they demand, this is positive news for investors.
I believe the return looks promising and that the historic overcompensation of 7.82% is a decent prospect. But it's not all down to plain math, and it's important to assess the fundamentals as well.
Fundamentals
For financials, I place great value in the price-to-book value, as it is an important tool to check whether a company is undervalued. At the moment, Citigroup trades around 75 cents to the dollar with a book value of $74.51 per share, which indicates the stock might actually be undervalued.
There is one catch, however - the annual cash flow. With the annual report from 2016 not released yet, it looks like the cash flows have been suffering over the 2013-2015 period, with 2015 having a negative change in cash and cash equivalents of over $11 billion. However, looking at the quarterly cash flows reveals that the prospects for 2016 are positive, and there is no need to worry just yet. Although Citigroup has incurred massive negative cash flows from investing activities, changes in cash and cash equivalents stay at acceptable levels and investing promises future returns.
(Source: Yahoo Finance)
While fundamentals are a valuable tool in any analysis, let's go beyond the fundamentals and look at the operating environment.
Operating environment
Most of the loans Citi distributes are centered in North America. This is true for consumer loans as well as corporate loans. The 8% stake in Mexico looks like a red flag. However, other financials like Banco Santander (NYSE:SAN) (which I wrote about in this article) have a similar revenue distribution in Mexico, and I believe this is not a game-changing issue, because even though the peso is suffering, financials appear to perform at acceptable levels.
For consumer loans, the majority of income is derived from cards and mortgages. Citigroup sold a large chunk of its mortgages off lately, so this chart will most likely look significantly different in the following quarter if the firm invests the funds in other segments.
Corporate loans have a substantial share in emerging markets. The loans in emerging markets are largely comprised of corporate lending, while developed markets derive the largest percentage from private banking.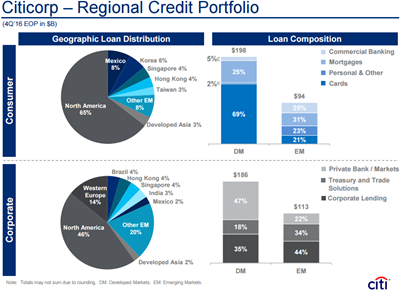 (Source: Company Data)
Conclusion and author's note
When projecting past returns to the future, I expect strong annual returns on Citigroup. The fundamentals look fine, and the operating environment has not yet proven to be a cause for concern. I believe Citigroup is a strong long-term investment and will yield positive results.
That being said, as a Dutch investor, I am worried about macroeconomic conditions and politics in the United States, and I am uncertain whether this is the time to invest or to sit out the storm and strike when/if prices drop. On the other hand, uncertainty on a larger scale would mean less investments and declining prices, which provides good investment opportunities as well. Despite this, I am certain that financials will prevail even in times of uncertainty. Financials in Mexico seem to prove this point.
Disclosure: I/we have no positions in any stocks mentioned, but may initiate a long position in C over the next 72 hours.
I wrote this article myself, and it expresses my own opinions. I am not receiving compensation for it (other than from Seeking Alpha). I have no business relationship with any company whose stock is mentioned in this article.