Ethan Allen (NYSE:ETH) reported lower-than-forecasted results last Wednesday after market hours, which made its share price dip -13%. It dragged the rest of the US home furnishing sector down on a day where New Home Sales indicators came short of expectations. While ETH has not issued a profit warning, we are certainly disappointed by the quality of the results since our last article. We will explain why we believe there are some valid reasons that justify a poor quarter, but also indicators that might cause some worries.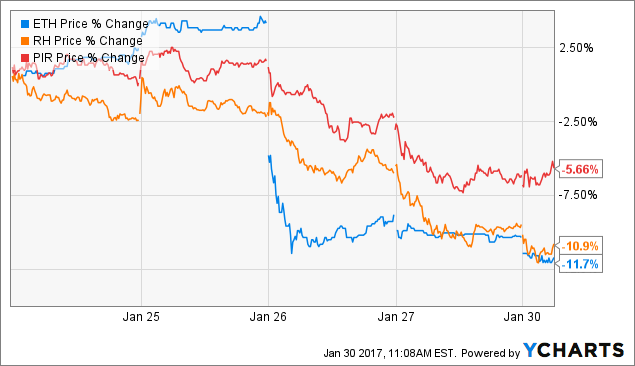 First and foremost, let's discuss about the positive elements that must not be undermined. The second quarter ended on December 31, 2016, covered the period of the US presidential election, which created a pullback from the consumer and a more promotional selling environment that we believe is short lived. In addition, the decrease in retail operating income due to more new stores was partly offset by an increase in average sale price and a reduction in clearance sales during the quarter, which is also an encouraging sign. The net new 4 stores that are company operated (3 in the US/1 International) partly explain the increase in COGS compared to last quarter, so we believe there is nothing really alarming. Of course, these 4 new stores didn't generate enough revenues to compensate the negative trend on consolidated net sales (301 stores). Putting numbers into perspective, comp. written sales growth has decreased by -4% on a difficult comparative basis of +15% in the same quarter last year. Moreover, the time lag compared to the prior-year quarter for the expenses associated with the Disney new product launch weighed on gross profit margins without deteriorating the near-term outlook. In fact, year-to-date gross margin slightly increased to 55.8% compared to 55.5% in the second half of 2015.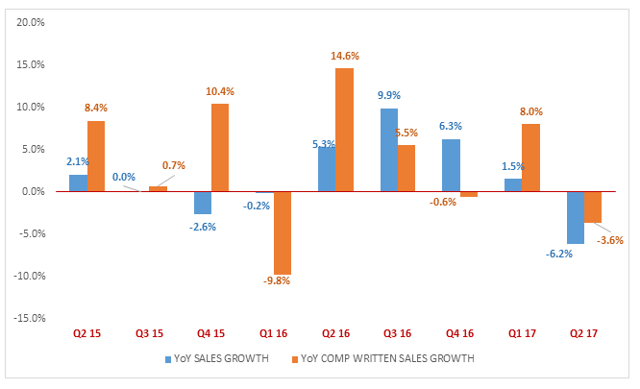 Source: Company information
Nevertheless, Ethan Allen is facing difficulties that we do not want to ignore. Wholesale segment revenues are decreasing at a faster pace than the retail segment, while wholesale is the most profitable segment (12.5%), which does not bode well for future EBIT growth. Management acknowledges that the wholesale segment experiences some disruptions in manufacturing as they change tooling and methods, build prototypes and then ramp up production. Disruptions also occur in design centers; however, we have limited information regarding the impact of these disruptions on sales and expenses.
It was quite intriguing to notice that cash provided by operating activities increased during the second half of 2016, while net income has decreased. The reason to that: lower working capital items (current assets less current liabilities). It's not clear to us how inventories have come down during a period of new store opening. Accounts receivable has also decreased, which means that less payments are expected from customers for the following quarter. The company has managed to decrease its customer deposits and payables to suppliers during the 2nd half of 2016. This leads to lower current assets and lower current liabilities, but the differential between both items is greater than the differential for the second half of 2015, hence optimizing working capital. Another cash flow activity that should be highlighted is the cash used in financing. While payment of cash dividends have slightly gone up, Ethan Allen has repaid very little of its long-term debt and capital lease obligations. We do not blame the company, but want to insist that this is probably one of the most important reasons why cash and cash equivalents have gone up, hence the cash flow statement is not as rosy as it seems. Last but not least, it is interesting to notice that the company has not repurchased any of its shares during the quarter. According to the latest 10-Q filing, Ethan Allen repurchased 107,700 shares in the second half of 2016 compared to 441,329 shares in 2015, while the Board authorization to repurchase 1,650,160 shares were still in effect. We appreciate management decision not to repurchase shares when they are trading close to 8-year highs. Consequently, one would wonder whether you should buy at this price level.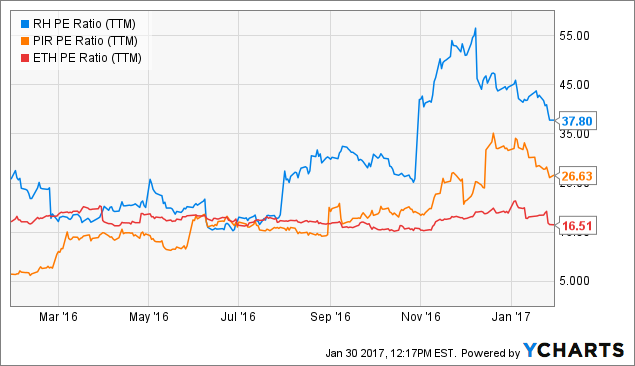 ETH PE Ratio (TTM) data by YCharts
In our opinion, the company has a strong competitive advantage, thanks to its vertically integrated structure. 75% of manufactured furnitures are coming from North America (majority located in the US) at a time where the "Made in USA" hasn't been as pivotal. This should provide a long-term leadership position to the company in addition to its custom-made products. The doubling of its upholstery manufacturing facility in Mexico by the end of 2017 shouldn't change much to the sourcing mix. Despite a pricing pressure that could last another 6 months, we believe the company has strong programs in place that will help it differentiate from the competition and outperform peers in growing its market share in an extremely competitive market. We think that trailing 12-month P/E multiples haven't come down significantly to make the investment attractive yet. In conclusion, we would wait for further visibility to overweight our exposure to Ethan Allen after the recent selloff.
If you have enjoyed this article, feel free to hit the "Follow" button for more articles with a long-term investment horizon.
Disclosure: I am/we are long ETH.
I wrote this article myself, and it expresses my own opinions. I am not receiving compensation for it (other than from Seeking Alpha). I have no business relationship with any company whose stock is mentioned in this article.