Earnings Reporter
My goal in this segment is to unlock both short-term and long-term growth in stocks that have just reported earnings. These stocks are specifically subject to enormous volatility, as earnings reports are seen (and rightfully so) as a significant display of a company's progression in the market. What I offer you is an analysis of the economic well-being of the company, and whether I think the stock is a Buy, Hold, or Sell for either (or both) the short term or long term. To get used to the format of this segment, take a look at my last article on Ross Stores (NASDAQ:ROST).
After careful consideration, I have rated Under Armour (NYSE:UAA) as a Buy for the long term.
Under Armour's Tumultuous Year
Under Armour has seen a crazy year of trading in its stock, as seen in this chart: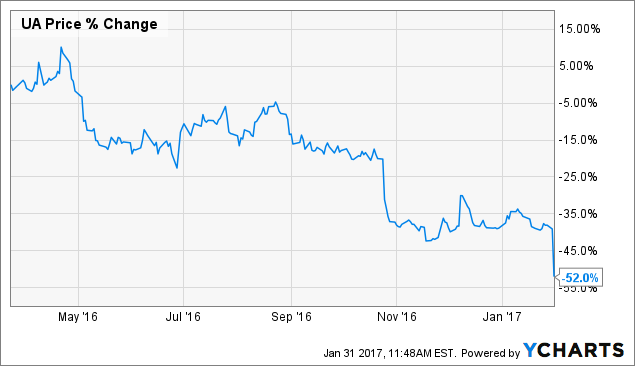 The stock has lost over half its value, and looks like it is cratering more. Why has the stock been under fire so much over the past twelve months? Has something fundamentally changed within the organization?
Quarterly performance has been weak for Under Armour, there's no escaping that. Industry-wide headwinds have harmed the company, stemming from discounted inventory from other companies (such as Sports Authority, which is no longer a player). Having a company sell off $2.6 Billion in discounted inventory is certain to cause ripple effects in sports lifestyle companies.
Under Armour has previously stated that it wants to have sales of $7.5 billion by 2018, a major increase from levels today. A potential bright side for the company is focusing sales efforts on the international community, resembling its closest competitors in strategy. Overseas sales have increased 50% from 2014. This is a key market for Under Armour to focus efforts on, and can bring very strong sales numbers in the future. The middle class is going to be the key for Under Armour, as these statistics show: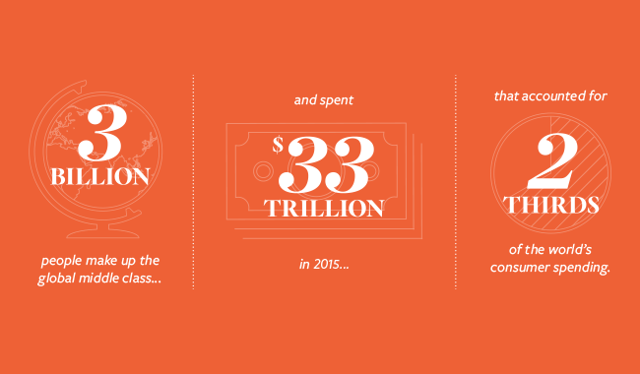 China has been experiencing a big boost in the form of a wealthier middle class. This will be a key market for Under Armour to target moving forward into 2017.
The Recent Quarter
Under Armour reporter sales of $1.3 Billion for Q4, up 12% Year Over Year. Direct to Consumer sales were up 23%, and international growth came in at 55%. This is stellar growth, yet investors were extremely responsive to Under Armour's challenges this past quarter. Foreign exchange costs were higher than expected, inventory management was an issue, and, as mentioned before, industry headwinds all harmed margins. Gross margin fell to 44.8%, down from 48%. This is a significant drop, and definitely warrants some concern by investors. Operating concerns subsequently dropped 6% to $167 Million.
After digesting all this, it seems ludicrous that the sell-off was as large as it was. Analysts were expecting a 23% growth for the first quarter, but Under Armour guided for mid-single digit growth. The company still anticipates to grow at a 12%-13% clip for 2017, a respectable amount for such a large company. Look at the revenue growth seen over the past year in Under Armour: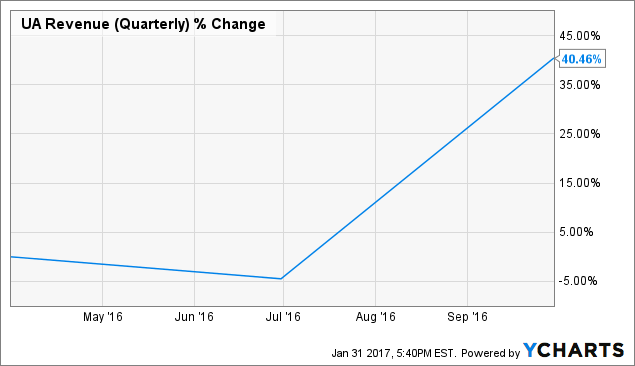 UA Revenue (Quarterly) data by YCharts
Looking Forward
At the end of the day, Under Armour is still a quality company. They are expected to grow significantly in 2017, just not at a lightning-fast clip. Much of their competition, at least the brick and mortar stores, are declaring bankruptcy. After that inventory is sold out, however, Under Armour will have more of a market to stake itself into. They are continuing expensive investments into their brand, which is why despite a significant boost in revenue is expected, operating profit is expected to drop by over $100 million. Under Armour is investing in its brand heavily, seeing significantly strong results from its overseas market, and anticipates strong revenue for 2017. The sell-off is overblown, and investors should take advantage.
Disclosure: I/we have no positions in any stocks mentioned, and no plans to initiate any positions within the next 72 hours.
I wrote this article myself, and it expresses my own opinions. I am not receiving compensation for it (other than from Seeking Alpha). I have no business relationship with any company whose stock is mentioned in this article.