The S&P 500 (NYSEARCA:SPY) is on pace for its fourth straight day of losses, which would mark the longest losing streak for the index since the election (leading up to the election, through 11/4, the index was down for nine straight days). While the four-day decline has been relatively modest, whenever equities slump, we like to see how things in the high yield market are playing out in order to see if there are any warning signs in this area of the fixed-income market. Historically speaking, spreads (yield premium over treasuries) on high yield debt have been inversely correlated to the equity market. In other words, when spreads on high yield debt increase, equities usually decline, and vice versa.
Taking a look at the chart below, spreads on high yield debt have narrowed significantly over the last year. After hitting a peak of 887 bps back in February of last year, spreads contracted by more than half through their recent lows which occurred last Friday at 393 bps. In yesterday's trading, spreads widened a bit, which is understandable given the increased risk aversion in the market. However, with an increase of just 3 bps, like the equity market, high yield debt markets aren't showing a high degree of concern at this point.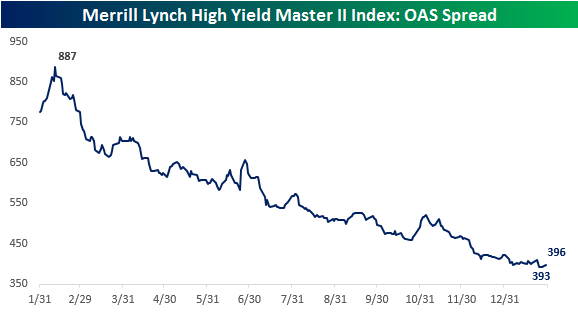 Thanks for reading the article. Follow our account to get our articles as soon as they're posted to Seeking Alpha. To get our full newsletter, sign up for Bespoke Newsletter PRO. Subscribers to that service get access to Bespoke's model stock portfolios, actionable data-driven insights, and in-depth analysis of everything that drives the markets, among other things.