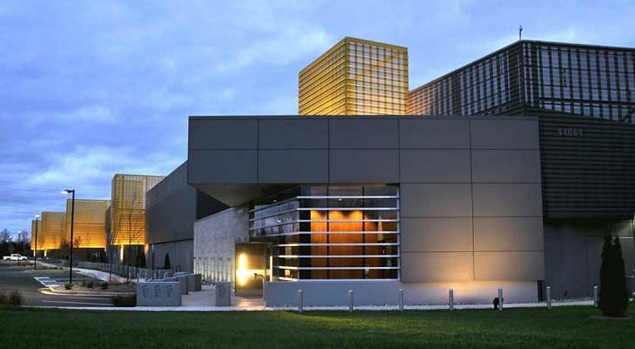 Source: Data Center Frontier
It is important for investors to understand the unique nature of 2016 data center demand, net-absorption and development activity in order to make wise decisions in 2017 and beyond.
The wholesale leasing demand in 2016 was driven by a handful of cloud service providers, but mainly by Microsoft's (NASDAQ: MSFT) and Oracle's (NYSE:ORCL) demand for space and power.
The reports are now in from many well-respected brokerage and data center consulting firms active across the largest US markets. This article contains highlights from presentations and interviews which I have conducted over the past couple of weeks.
A Key Market To Watch
Tyson, Virginia-based Jones Lang LaSalle (NYSE: JLL) Managing Director Allen Tucker presented last week at the CapRate 2017 Data Center Outlook. The conference was held in Ashburn, VA, which is considered to be the epicenter of Loudoun County's "data center alley." Mr. Tucker made himself available to me for a detailed phone interview to discuss some of the key aspects of his presentation.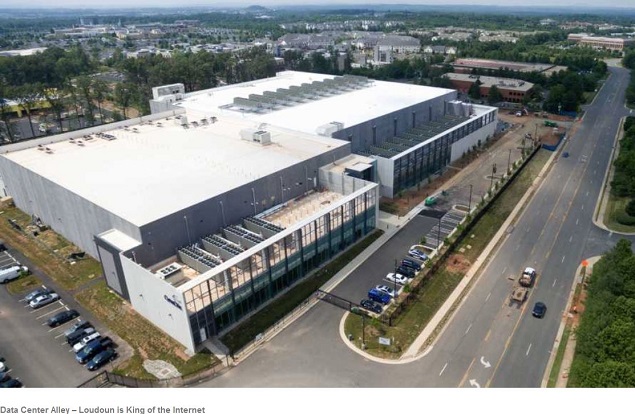 Source - LoudounTribune.com
Unparalleled network connectivity, ample and affordable power, tax incentives, plenty of zoned land, ease of permitting, and a well-educated work force combine to create a healthy environment to operate and grow massive data center campuses.
Tucker's presentation contained data compiled from a vast array of sources, as well as his own market knowledge and research. There are many insights which can be derived from the full presentation. However, any way you slice it or dice it, the Northern Virginia, or NoVA market, dwarfs the rest of the US data center markets, especially for large data center deployments.
Back last fall, JLL pegged NoVA leasing at 105 MW through September 2016, with another 40 MW under negotiation and expected to be signed by the end of the year. However, the leasing spigot in NoVA slowed to a drip in Q4 2016, according to all reports. However, the additional 40 MW expected to be signed by year-end 2016 reflected budgeted IT demand, mainly from enterprise users, according to Tucker.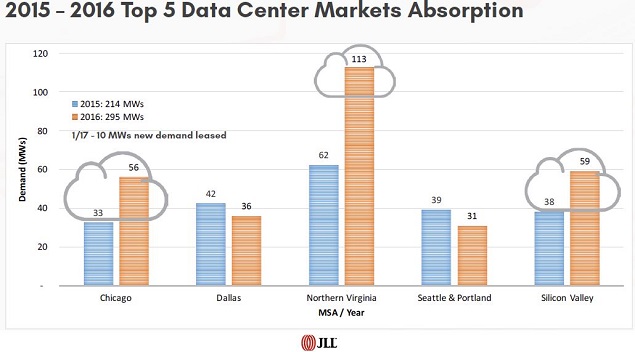 Source: JLL Allen Tucker
The next three largest US markets are Silicon Valley, Chicago and Dallas as shown above.
The Pacific Northwest with low-cost power and Asia/Pac subsea cable connectivity continues to attract large scale deployments as well. Tucker believes during the next decade, the Hillsboro, Oregon, data center "forest" outside of Portland will continue to grow into a major US market.
Notably, the NoVA 113 MW tally does not include Amazon.com's (NASDAQ: AMZN) Amazon Web Services powered base buildings (essentially triple-net leased building shells), which accounted for another estimated 90-100 MW of NoVA hyperscale cloud provider demand.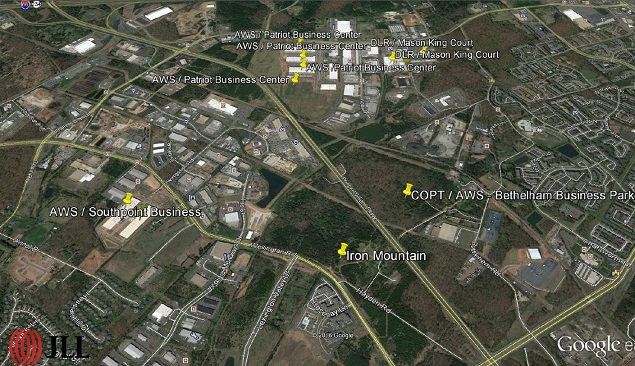 Source: JLL Allen Tucker - image Google earth
The aerial photo above covers a portion of Prince William County where a large number of pins in the map correspond to powered shells operated by AWS. It also shows the location of the Iron Mountain (NYSE: IRM) 83-acre site where development has begun for the first phase of four planned multi-tenant data centers at this location.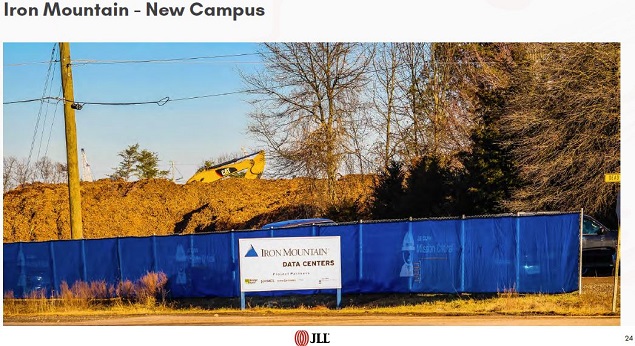 Image - Allen Tucker
This Manassas, VA, campus is a new strategic initiative for Iron Mountain data centers, which I detailed in a December article after interviewing management.
2016 - Microsoft and Oracle
The JLL presentation slide below shows NoVA at a glance. Notably, AWS demand for data center space is slightly over 50% of all other users combined, but is considered separately.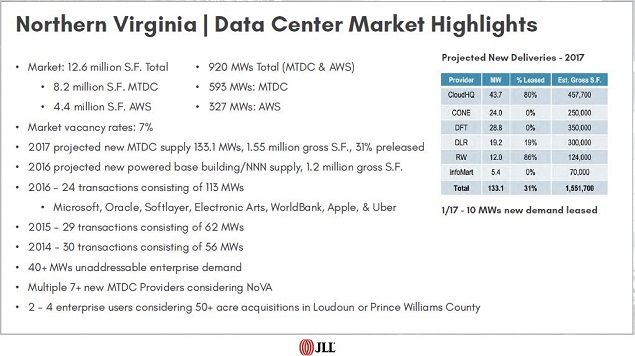 Source: JLL Allen Tucker
The level of multi-tenant data center leasing in 2016 reflects how serious Microsoft has become in growing market share for its Azure/Office 365 cloud offerings to compete with Amazon.
Size Matters
Leases of 1 MW to 2 MW and larger are generally considered to be "wholesale," with separately metered power and lower rent per square foot, compared with smaller colocation leases.
Here are the 10 biggest US data center leases signed in 2016, according to Jim Kerrigan's North American Data Centers report:
Microsoft: 35 MW with CloudHQ in Manassas, Virginia
Microsoft: 30 MW with EdgeConneX in Elk Grove Village, Illinois
Microsoft: 22 MW with CyrusOne (NASDAQ:CONE) in Ashburn, Virginia
Microsoft: 16 MW with DuPont Fabros Technology (NYSE:DFT) in Santa Clara, California
Microsoft: 13.5 MW with CyrusOne in Phoenix, Arizona
Microsoft: 9 MW with CyrusOne in San Antonio, Texas
Oracle: 6 MW with CyrusOne in Sterling, Virginia
Oracle: 5 MW with CyrusOne in Ashburn, Virginia
Oracle: 5 MW with Digital Realty Trust (NYSE:DLR) in Ashburn, Virginia
Based upon numerous interviews with industry pros, both the cadence and scale of Microsoft cloud deployments in 2017 still remains unclear as of this writing. Clearly, how this actually plays out will have a huge impact going forward.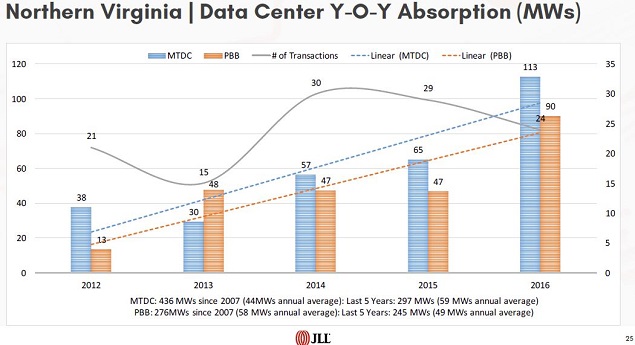 Source: JLL Allen Tucker
So, one of the key questions for 2017 remains: Will public cloud providers continue to step up to the bar and commit to take down the large slugs of space being developed?
Will Supply Help Create Demand?
If you build it, will they come? That is the difficult calculus underway in many data center REIT board rooms. Massive data center builds are underway in both Loudoun and Prince William Counties in Northern Virginia.
Read more: Digital Realty Signals the Gloves are Coming Off in 2017
The record leasing in NoVA has spawned a brave new world where the development of massive powered shells has become accelerated. Last year, speed to market became an important consideration in snaring large cloud deployments.
Here are photos of some of the projects which are underway in order to get a feel for the level of activity.
Image - Allen Tucker (for all construction in progress photos)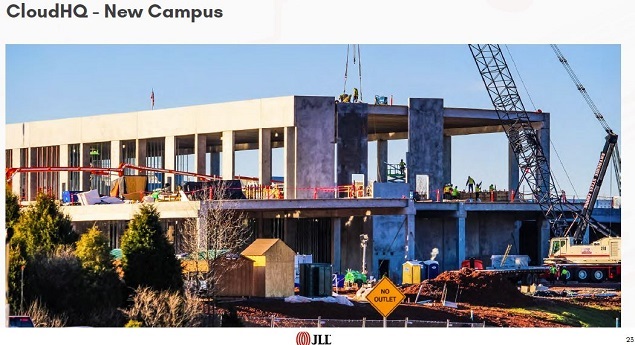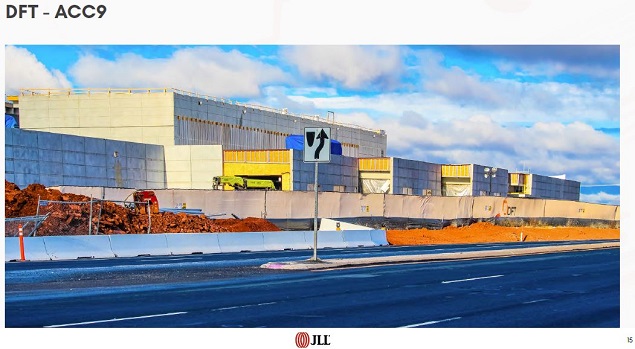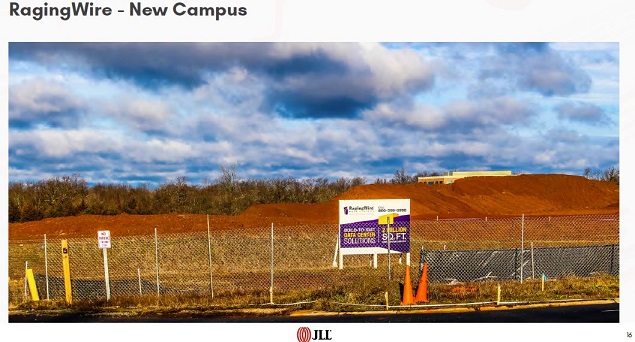 The sign is difficult to read, but Raging Wire intends to build 2 million square feet at this location over time. However, only 12 MW, or 124,000 SF was included in Tucker's 2017 summary slide.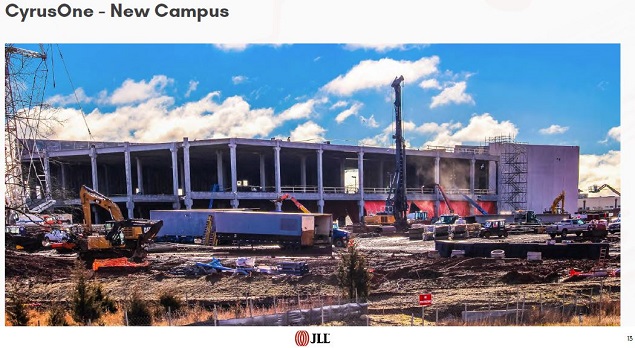 Notably, just 24 MW, or 250,000 SF of CyrusOne's massive 650,000 SF powered shell, was included in the 133 MW of projected deliveries detailed on Tucker's summary slide.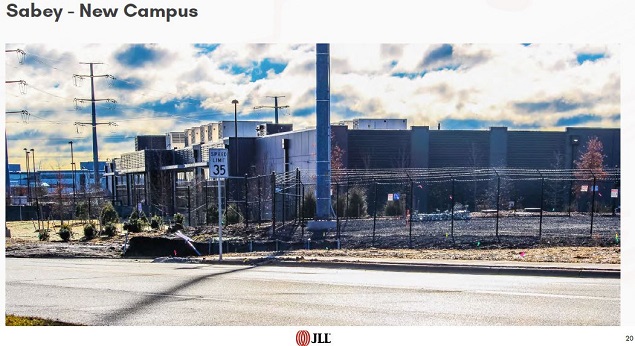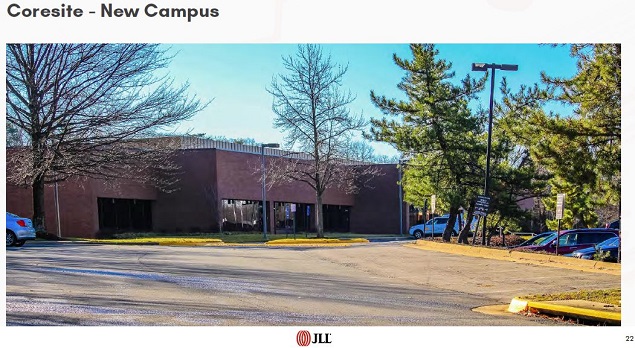 Notably, there is no shortage of competition for the publicly traded data center REITs when it comes to capturing large deployments.
What About Dallas?
The other top tier US data center market with ample land and cheap power is Dallas/Fort Worth.
A lack of wholesale data center supply in the Dallas market last year is being addressed by both privately held data center operators and public REITs, including: Digital Realty, CyrusOne and QTS Realty. Notably, 100% wholesale-focused DuPont Fabros, a major player in NoVA, is not active in the Dallas/Fort Worth market.
Read more: JLL: Expect the Dallas Data Center Market to Have a "Chicago Year" in 2017
Here is a rundown of the new data center supply coming online this year, compiled by Dallas-based JLL Managing Director Bo Bond:
Digital Realty Trust: A small amount of available capacity "turn-key" unencumbered today. However, they have ~10.8 MW under construction set to deliver in 2017 on their Richardson campus, and are rumored to have pre-leased 60 to 75 percent of the capacity under construction. They quietly took down 46 acres of land in Garland in late 2016.

QTS Realty: Two halls of varying available capacity "turn-key" remaining. They have plans into the city to develop a ground-up data center adjacent to their existing facility and ample land for additional buildings, including a large parcel across the street.

CyrusOne: Approximately a hall and a half of available today. However, they are likely to announce their next DFW data center development in early 2017, which will be a parcel of land they will develop from the ground-up.

ViaWest: 5 MW of "turn-key" capacity in their brand new ground-up facility in Plano just delivered in late Q4'16.

Databank: 2MW of available capacity "turn-key" unencumbered today, and have an additional 1 MW under construction at their downtown facility today. Like CyrusOne, rumored to be in the market for expansion.

RagingWire: Under construction on brand new campus in Garland. The first 250,000 square foot building delivering Phase 1 8MW in May.

Aligned Data Centers: their model is a bit different based on their proprietary deployment, but estimates have 2MW immediately available with the ability to deploy rapidly.

T5/Lincoln: Developing a 155,000 square foot building with 2.25 MW's delivering in Phase 1 in August.

Compass for TierPoint: Compass is delivering a 30,000 square foot 'turn-key' building for TierPoint in Allen.
Additionally, Skybox will deliver a powered shell in Q1. Stream is moving dirt on a powered shell that should deliver Q3. Ascent is retrofitting the former Capital One-occupied data center for Q3 delivery, according to Bond.
After the bell on Monday, January 30, 2017, QTS Realty announced the acquisition of a 226,000 square foot data center owned by insurer Health Care Services Corp. for about $50 million, or just over $6M per megawatt. The existing 8 MW facility is located on a 53-acre campus which can support another 300,000 SF of development and a total power capacity of 60 MW. This sale-leaseback deal anchors the second QTS campus in the Dallas/Fort Worth market.
Estimating Demand Is Tricky
Boots on the ground and local knowledge, combined with big data and research, reveals a dynamic marketplace where past results will not necessarily be the best predictor of future outcomes.
This makes it difficult for analysts and investors to try and predict how Northern Virginia will play out for the incumbent data center operators that are now competing with an even larger group of new players.
Tucker's initial NoVa market forecast would be for ~80 MW of wholesale MTDC demand in 2017. In January, 10 MW of new leases had already been signed to kick off Q1 2017. Notably, while 80 MW would be a significant slowdown compared with last year, it would still represent the second highest total ever, for any US market.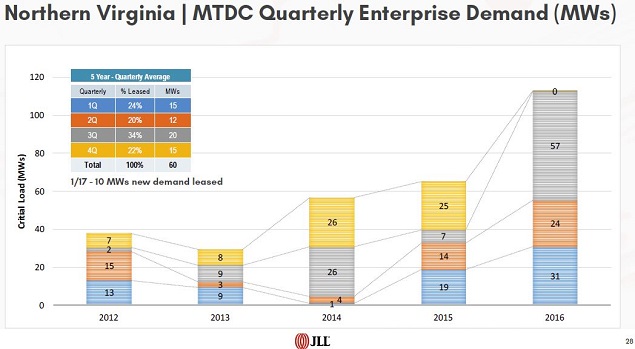 Source: JLL Allen Tucker
The year-over-year quarterly data shown on the slide above contains plenty of food for thought. The immediate takeaway is that essentially no new leases were signed in Q4 2016. This deviates from the past two years. Notably, the 57 MWs leased in third quarter 2016 alone, was equal to a "normal" year for the NoVA market.
Investors are left to ponder if the drop off in enterprise and cloud demand in Q4'16 was due to uncertainty regarding the national election, or simply an anomaly after such a strong quarter ended Sept. 30, 2016. In many respects, the national forecast remains equally cloudy.
However, here are some actual and estimated national demand trends to ponder: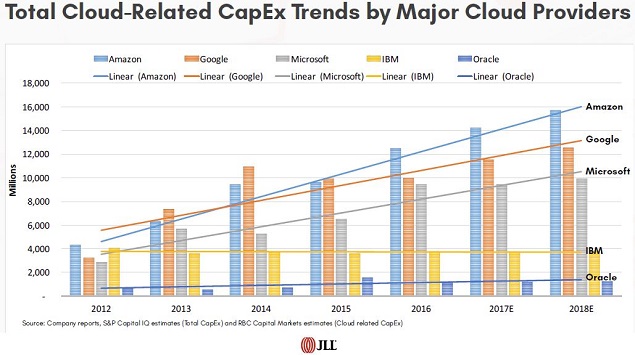 Source: JLL - Allen Tucker (S&P Capital IQ & RBC Capital Markets)
If Alphabet (NASDAQ:GOOG) (NASDAQ: GOOGL) were to announce meaningful Google Cloud Platform deployments with third-party landlords, this could pick up some slack. Google has plenty of cash, but they are playing catch-up with AWS and Azure. Speed to market is what leasing can provide for the Google Cloud initiatives, along with some greater flexibility down the road.
Meanwhile, the slide below shows that social media giant Facebook (NASDAQ: FB) is a huge cloud player. Facebook has historically deployed the majority of IT capex spending on company-owned data center campuses and for funding subsea cable growth.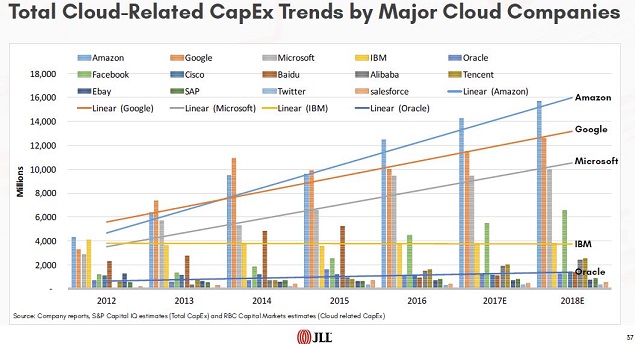 Source: JLL - Allen Tucker (S&P Capital IQ & RBC Capital Markets)
The chart above graphically illustrates that it would take a substantial boost in cloud IT spend for other players to even begin to make a dent in total MTDC demand.
Bottom Line
When it comes to trying to ascertain the "new normal" for large data center deployments in the top US markets, it's as much an art as a science.
These large deployments are a zero-sum game, with only one winner at a time. By spreading the wealth among several pre-qualified landlords, large cloud providers can help to maintain some leverage regarding pricing.
However, there is another dynamic that will also be playing out over time. The ability for global scale cloud service providers and Fortune 1000 enterprise customers to shift workloads from building to building and region to region.
Looking ahead, software defined networking and elastic provisioning of network, storage and compute resources will be an increasingly important dynamic going forward. This trend could be an argument in favor of multiple deployments with the same landlord. Particularly for enterprise customers seeking this type of flexibility, as well as "one throat to choke" regarding security and compliance issues.
Investor Takeaways
One takeaway from this article should be that there is significant private and public capital competing with the publicly traded REITs for wholesale deals - especially for creditworthy tenants, on long-term leases. It is all too easy for investors to become myopic and focus only on the publicly traded REITs.
The slowdown to end to 2016 could bode well for 1H2017 if there truly is pent-up demand. Regardless, it appears both sequential and year-over-year quarterly leasing comparisons are going to be difficult when Q4 2016 results are announced.
The earnings spotlight will no doubt be on CyrusOne, a major winner of the 2016 wholesale leasing derby. Citi analyst Michael Rollins lowered CONE to a Sell rating with a $43 price objective last week. Rollins and his team are concerned with possible lower margins, straight-line rent adjustments, and the phase-in of revenues over time as customers begin to occupy these massive build-to-suit spaces.
Of the six data center REITs, I expect the CyrusOne earnings call and guidance to be the most impactful for shareholders. Last quarter, despite announcing a leasing bonanza, there were huge intraday swings in CONE shares, (in part due to an unexpected CFO change which was announced along with Q3 2016 results). I would not be surprised to see similar volatility when CyrusOne hosts its earnings call on Feb. 23, 2017.
In my view, the long-term drivers for data center REITs continue to make this sector one of the best bets for investors for the next five years. Owning more than one name in this sector, including connectivity and interconnection focused CoreSite Realty (NYSE: COR) and Equinix, Inc. (NASDAQ: EQIX) for the long term, can help to smooth out some of the peaks and valleys that are baked into wholesale leasing.
In that same spirit, Digital Realty now has its quarterly Telx colocation and interconnection revenue to augment wholesale leasing. QTS Realty derives the majority of its revenues from its colocation and cloud and managed services, while still signing strategic custom wholesale deals.
I am contemplating whether to launch a Seeking Alpha Marketplace Premium subscription service. I would appreciate any feedback from readers who may be interested. Feel free to share them in the comment thread below, or send me an Inbox message.
I relentlessly hunt for diamonds in the rough and rising stars, in addition to closely following data centers, covering REIT blue-chips and breaking news. Please consider following me as a Seeking Alpha author if you would like to be notified when my future articles are published.
Disclosure: I/we have no positions in any stocks mentioned, but may initiate a long position in CONE, COR, DFT, DLR, QTS, IRM over the next 72 hours.
I wrote this article myself, and it expresses my own opinions. I am not receiving compensation for it (other than from Seeking Alpha). I have no business relationship with any company whose stock is mentioned in this article.