Company Business
Xerox Corporation (NYSE:XRX) is engaged in imaging, business process, analytics, automation and user-centric insights. The company's segments include Services, Document Technology and Other. The company's Services segment comprises two types of service offerings: Business Process Outsourcing (BPO) and Document Outsourcing (DO). Its DO offers services, such as managed print services (MPS), which include workflow automation and centralized print services (CPS). Its BPO business includes services that support enterprises through multi-industry offerings, such as customer care, transaction processing, finance and accounting, and human resources, as well as industry-focused offerings in areas, such as healthcare, transportation, financial services, retail and telecommunications. Its Document Technology segment includes the sale of products and supplies, as well as the associated technical service and financing of those products. Its Other Segment includes paper sales in its market countries.
(Source: E*Trade)
Stock Screen
I found this stock by using the following screen:

(Source: Author's Work)
I named this screen the ARF (Author initials) Heat Map Screen. The focus is on strong Fundamentals and Dividends. Out of the total universe of US market stocks, it returned one stock: XRX.
Screen Results

(Source: E*Trade)
ARF Heat Map
To further my analysis, I developed a 3 color (Red, Yellow & Green) Heat Map based on certain financial criteria. The Heat Map uses a total of 18 indicators and calculates a Normal Rank based on linear regression with numbers between 1 & 99.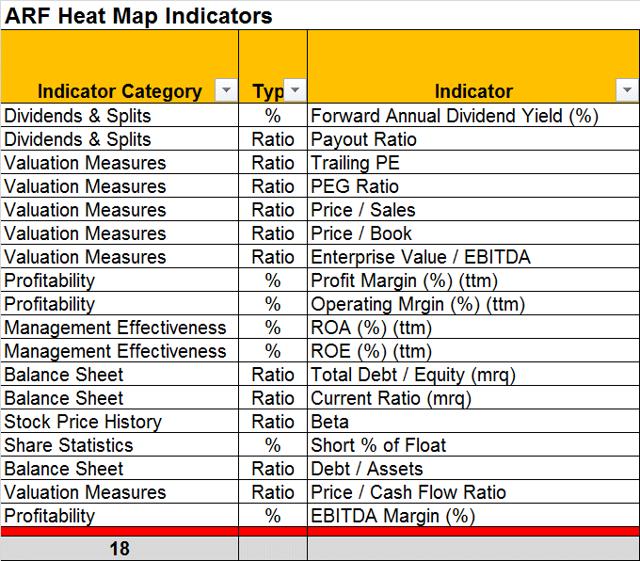 (Source: Author's Work)
Heat Map Results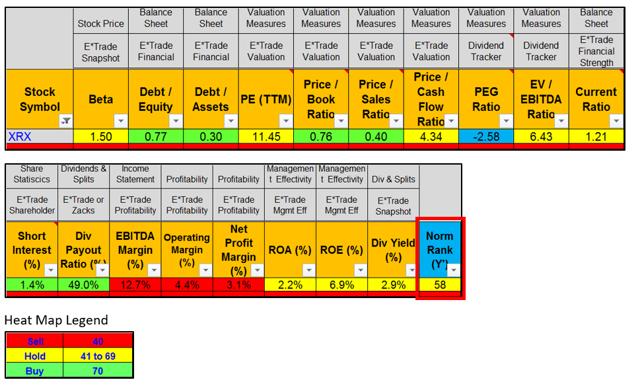 (Source: Author's Work)
Note, there is one (color blue) exception for the XRX PEG (Price/Earnings/Growth) Ratio. In this case the ratio is negative. PEG Ratio = 1 implies that the stock is fairly valued given the expected growth rate. PEG ratio < 1 means the stock is undervalued as the markets are currently underestimating growth. Also, this could be the case where the current earnings are negative, or the future earnings are going to decline.
XRX has a Normal Rank of 58 out of 99. Based on this data, my opinion is that XRX is a HOLD.
Industry - Computer Services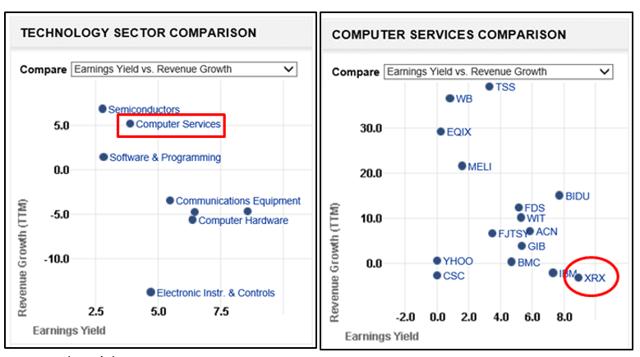 (Source: E*Trade)
The Computer Services Industry shows a strong 5% Revenue Growth (TTM). XRX shows Revenue Growth is flat compared to its peers.
1-Year Chart (E*Trade - Weekly Candle Stick Bars)
5-Year Chart (E*Trade - Monthly Candle Stick Bars)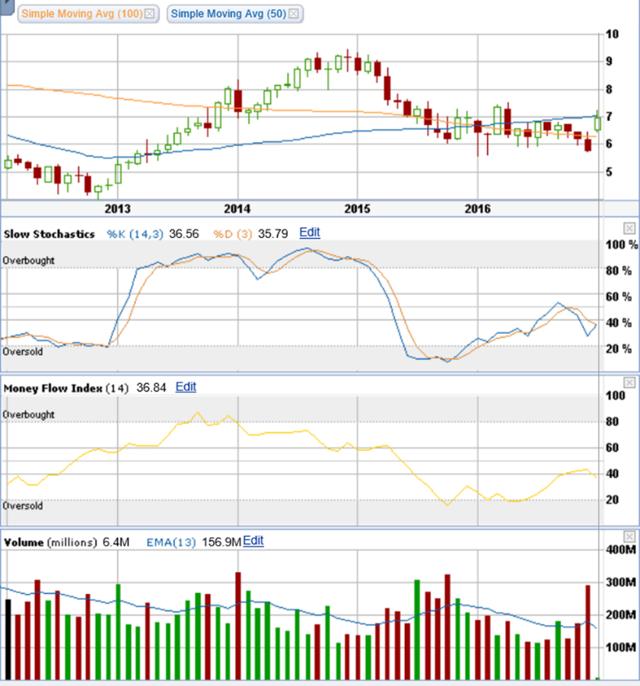 (Source: E*Trade)
The 1-year chart Slow Stochastics indicates the stock price is overbought. However, if you go out to 5 years, the Slow Stochastics and Money Flow Index shows the stock is in a reasonable buy range.
Analysts Price Targets Summary

(*) Difference = Estimate Price - Current Price
(**) % Difference = Difference/Current Price
At a recent price of $6.96 per share (see table above), XRX appears to be undervalued. Even at the low estimate price ($7.90), I think the reward (22.1% gain) outweighs the risk. For value investors, this could be considered a safe bet with little downside risk. I always use a 7-10% trailing stop loss in case I am wrong.
Analysts Buy / Sell / Hold Recommendations


(Source: Zacks)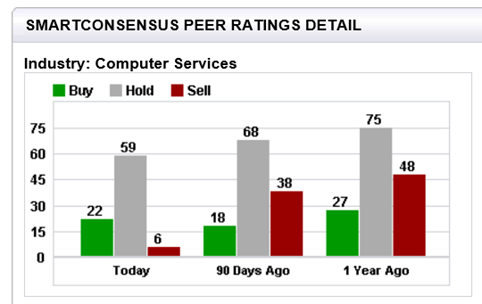 (Source: E*Trade)
Thomson Reuters


(Source: Thomson Reuters)
The consensus varies quite a bit from a strong sell (Zacks) to a weak buy (Thomson Reuters). Based on everything discussed in this article, my opinion is still HOLD XRX and BUY on dips.
Annual Earnings Per Share (EPS)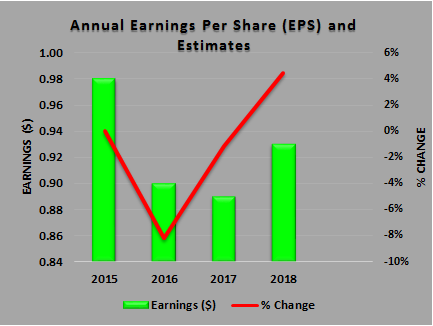 (Data Source: E*Trade, Table & Chart: Author's Work)
2016-2017 EPS estimates are down significantly from 2015 levels and are expected to start growing again in 2018. I do not expect XRX to grow much over the next couple of years. However, for value stocks, the estimates may be acceptable. Dividend history data is provided below to support the value case.
Annual Revenue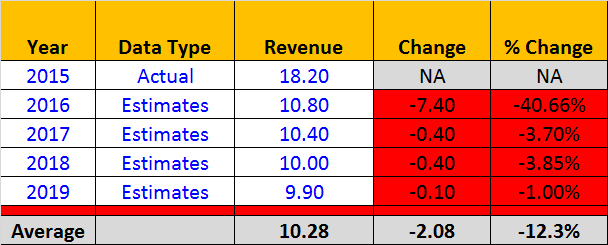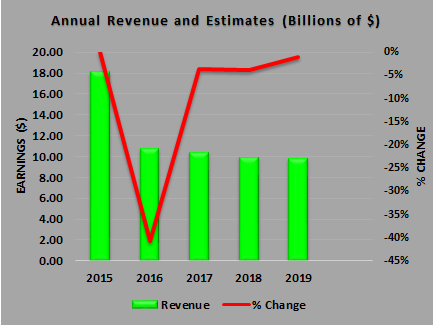 (Data Source: E*Trade, Table & Chart: Author's Work)
2016-2019 Annual Revenue estimates are flat to decreasing. However, the % Change in revenue predictions is improving (i.e. less negative), which is a positive for the stock.
Annual Cash Flow Per Share and Estimates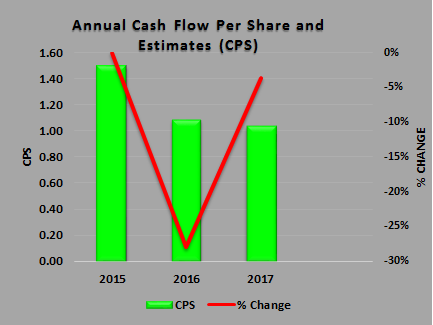 (Data Source: E*Trade, Table & Chart: Author's Work)
2016-2017 Annual CPS estimates are decreasing. However, the % Change in CPS predictions is improving (i.e. less negative), which is a positive for the stock.
Net Cash Ending Balance (Millions of $)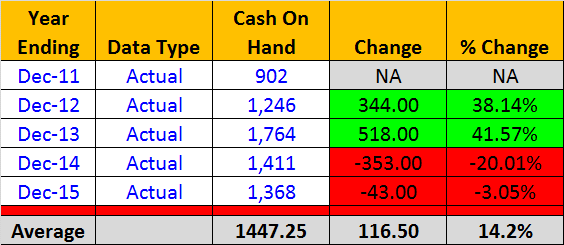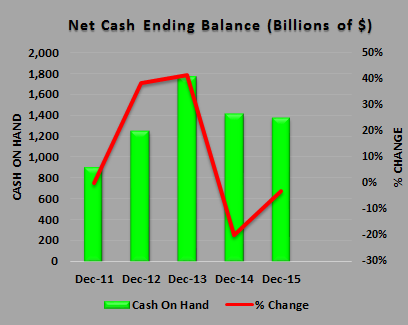 (Data Source: E*Trade, Table & Chart: Author's Work)
XRX COH took a hit in 2014 but remains healthy at about $1.4B as of Dec. 2015 year-end.
Dividend Payout History
Dividend Payout & Growth Rate Summary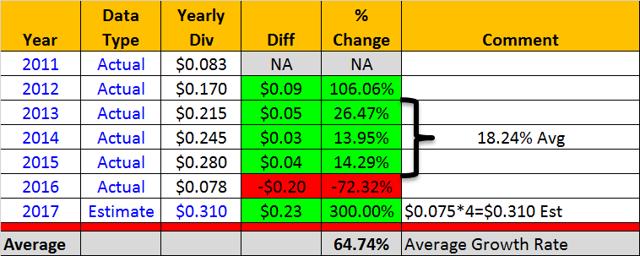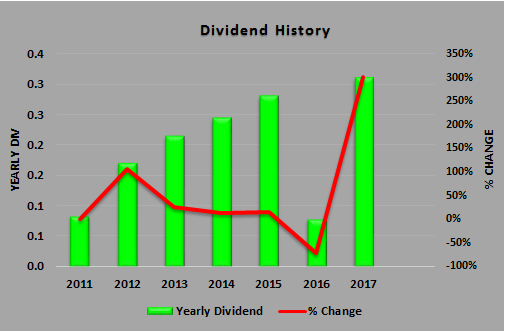 (Data Source: streetinsider.com)
(Tables & Chart: Author's Work)
2016 proved to be a challenging year for XRX as the dividend was cut early in the year. However, there was a payout of $0.075 in Jan. 2017 with Ex-Div Date of Dec. 2016, so I expect similar payouts per quarter for the remainder of 2017 ($0.075*4=$0.310 est).
Debt Data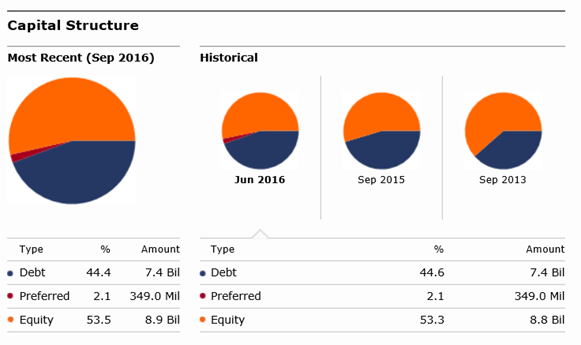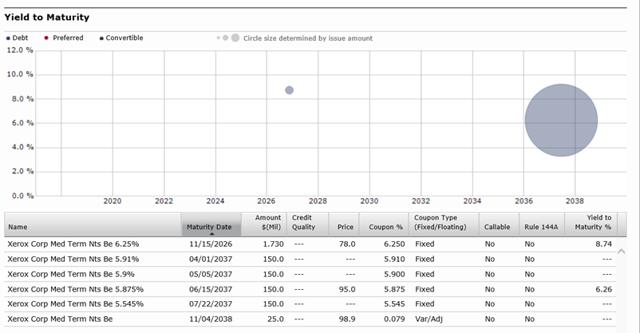 (Source: Morningstar Bond Data)
Recently, Xerox spun off its Business Process Outsourcing Arm, Conduent (NYSE:CNDT), as a separate publicly traded company. Xerox's shareholders received one share of CNDT for every five shares of Xerox. Fractional shares were sold in the open market. The net proceeds from the sale of the resultant fractional shares were paid to Xerox. CNDT paid XRX $1.8 billion as a cash transfer, as a part of the split. XRX plans to use the funds received from CNDT to pay off debt.
Sector ETF
I chose Technology Select Sector SPDR ETF (NYSEARCA:XLK) to see how the Technology Sector is doing.

(Source)
XLK (Yearly Chart With Weekly Candlesticks)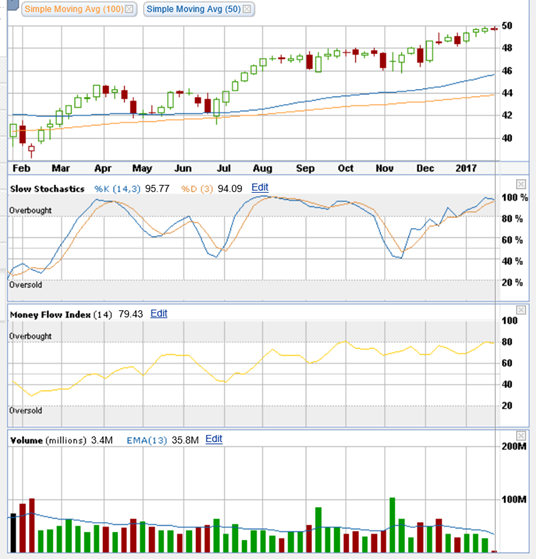 (Source: E*Trade)
The Technology Sector, as indicated in the chart above, is doing well, which should help XRX. The new Trump Administration is proving to be pro-business and pro-UK (think Brexit). Xerox has a lot of exposure in the UK so the "Trump play" may be a benefit to the company and help lift XRX earnings in the months and years to come.
Conclusion
XRX may not be what you would consider a growth stock. Based on the data provided above, it may be a good fit for a value investment. XRX has a low P/E (11.45) and a good dividend yield (2.94%), making it attractive to value investors. XRX has a good history of dividend payouts with the exception of the dividend cut in early 2016. The dividend resumed in the 4th Qtr 2016 and will likely continue into 2017. The Dividend Payout Ratio is 49%, which is safe. Opinion: XRT is a HOLD but BUY on dips when the Slow Stochastic indicator drops to around 40%.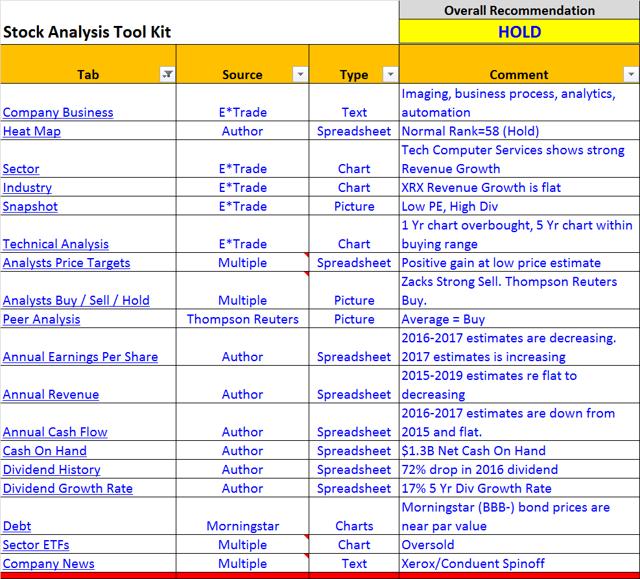 (Source: Author's Work)
Disclosure: I/we have no positions in any stocks mentioned, but may initiate a long position in XRX over the next 72 hours.
I wrote this article myself, and it expresses my own opinions. I am not receiving compensation for it (other than from Seeking Alpha). I have no business relationship with any company whose stock is mentioned in this article.