Originally Published January 20, 2017
We're working on some internal data research tools at Stockopedia which will contribute to a lot of editorial insights, and we hope, some really great product launches in future. Here's a few insights from my own recent research into the performance of UK StockRanks strategies in the last few years.
1. Sector Diversification - does it reduce returns?
How did a NAPS portfolio process (picking the top 2 stocks from each sector) stack up against selecting the top 20 ranked stocks without any additional diversification? Here's a chart of the NAPS based approach…
Meanwhile the top 20 by StockRank without additional diversification: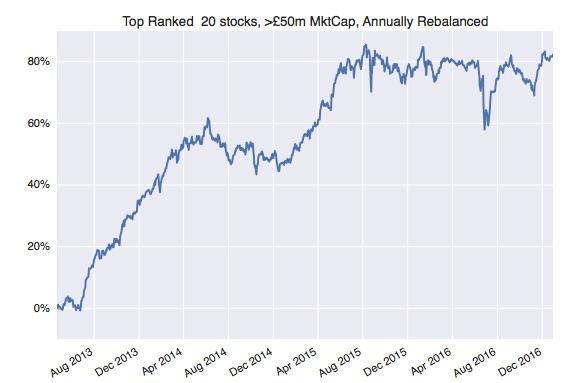 The performance was very similar, but the sector diversified portfolio performed much more smoothly. The "Top Ranked" portfolio was only invested in an average 3 sectors throughout the whole period, whereas the NAPS invested in 10 sectors consistently. Essentially, the NAPS process led to stronger risk-adjusted returns.
The observant will know that my New Year's NAPS portfolio (written up here) returned only just over 5% in 2017. The reason it didn't keep up with the first chart above was because I meddled with my original rules! Meddling with rules hasn't paid.
2. Just 10 stocks - do concentrated portfolios outperform?
Does extra breadth in a portfolio really add any performance? I've long argued that if you are a systematic investor, it makes sense to broadly diversify. If you are genuinely a talented stock picker (which you probably aren't), then you should concentrate. Here's a chart of a Top 10 only NAPS portfolio.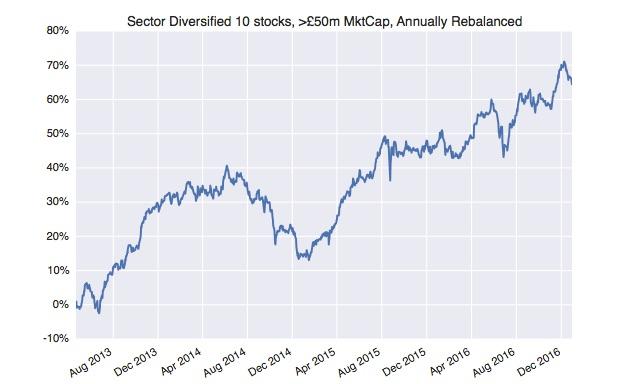 A nice performance, but it shows a significantly reduced return versus a more broadly diversified 20 stock portfolio and a lot more volatility. Concentration hasn't paid.
3. Microcaps - is there an edge in hard to trade shares?
All the above tests have a minimum £50m market cap cutoff - i.e. they are excluding the microcaps. If we drop that to a £10m cutoff to let in the top ranking microcap shares how would it have done?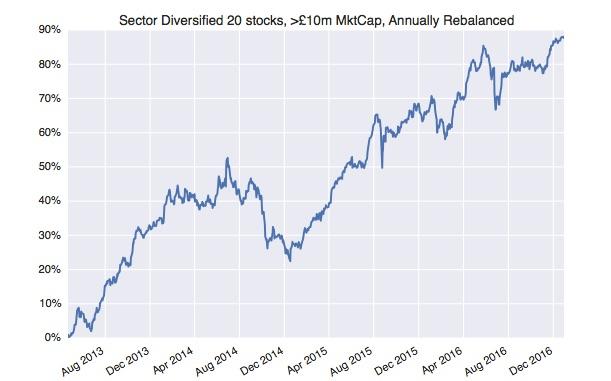 It's squeezed a bit more performance, but I'd argue that the additional transaction costs and volatility may not warrant the extra effort required to trade them. Microcaps appear to pay… but at what cost?
4. Large Caps - can you beat the FTSE 100?
The FTSE returned 16% in the test period. If you had spent 10 minutes per year picking the top 2 ranked shares from each sector in the FTSE 100 and holding for a year what would the performance have been like?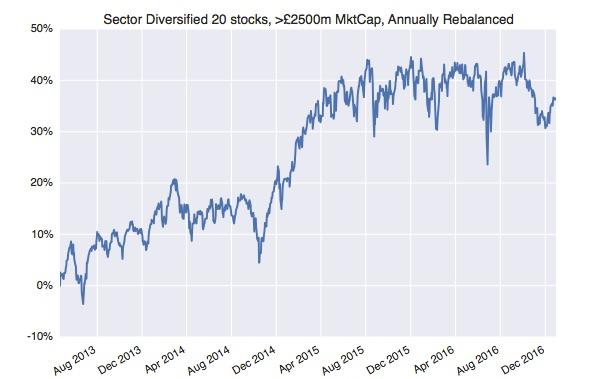 36% over nearly 4 years. That works out at over 8% annualised…. certainly better than savings rates and crushing the FTSE 100. I still wonder why so many people buy tracker funds… they are market cap weighted and not designed with sound investment principles at heart. FTSE trackers don't pay.
5. Randomised NAPS portfolios?
So let's say we don't select the top 2 shares from each sector… but we randomise. The following chart takes the top 10% or ranked shares in each sector and then selects 2 stocks at random. It then plots the performance of all onto the chart. This shows the range of outcomes that someone using their personal discretion to pick 2 stocks in each sector could have experienced.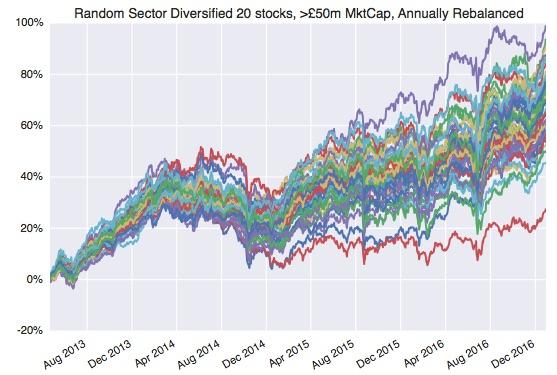 The average performance for all these portfolios was a 68% return - i.e. 15% annualised. Given there's been a handy 3.5% dividend in most of these portfolios annually… it's a chunky return. Even throwing darts pays.
Comparing against the first chart in this piece, it's clear that selecting higher ranked shares generated a portfolio at the top end of the distribution. That's an encouraging result, but there's no guarantee it will continue in future!
NB - All the tests above were done using the LSE StockRank data we have on archive since the StockRanks were first published in April 2013. I used that April data set, then rebalanced each portfolio using the close price on the 31st December each year since. Only primary listed stocks were included in the analysis.
Onwards…
We'll be doing some more work to investigate the benefits of diversification - across breadth, sectors, regions and size groups - in the coming few months. I'll try and run the same tests across European, Asian and North American markets too. Watch out for it.
Disclaimer: Past performance not an indicator of future results etc.